Kimberley Coover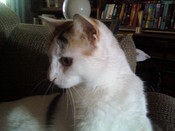 Features & Posts
134 comments posted.

Re: Cowboy SEAL Homecoming (7:52am January 11, 2018):

Eve Dallas and Roarke - JJ Robb has captured me completely with this
world.
The Breeds -all of them in Lora Leigh's world
What can I say, invigorating.
Eve Duncan and Joe Quinn. The raw emotion and fantastic mysteries
keep me coming back


As you can see, I could go on and on.

Re: Divorced, Desperate, and Daring (6:43pm December 23, 2015):

How bout a scalding hot cup of coffee thrown in the face
making the person slip backwards and crack their head open!

Re: Justified (6:38pm December 23, 2015):

I loved making cookies - any kind really. But this year it is
just me and baking seems silly.

Re: Katie in Waiting (2:46pm November 23, 2015):

Years ago...reindeer, stars, Christmas trees, candy cane..
Now I live alone and don't bake cookies - too much temptation
for me!

Re: What Lies Behind (2:44pm November 23, 2015):

This is going back 20-30 years.... Diana Palmer, Tami Hoag,
Iris Johansen, Debbie Macomber, Joan Hoal, Catherine Coulter,
Nora Roberts...the list is endless

Re: Lucky Shot (2:41pm November 23, 2015):

As a child (in honesty, even now) leftover turkey - slicings
and eating it while standing by the counter! lol.
Always have all the fixing the second day...then onto soup,
hash...whatever we think will work!

Re: Soul's Prisoner (2:38pm November 23, 2015):

I gotta have Mama's Eastern Dressing (bread) and Daddy's
Southern Dressing (cornbred). This says holiday to me!

Re: Blowback (10:57am November 4, 2015):

As a child of a Marine, I love military
romance/suspense/intrigue stories. I love finding parallels
between fiction and fact....but I don't know if I want to
"know" which is based on fact - my imagination leads me to
many wonderful subplots/stories.

Re: Forever And Always (10:44am November 4, 2015):

As with all of your books, this one sounds fantastic! I
would love to win this book and add it to my "Leigh Greenwood"
bookshelf. Happy Holidays

Re: Reservations for Two (6:37pm September 13, 2015):

I think food in fiction is a connection for readers to our
lives.. I love when an author includes recipes, especially if
it is something I can make easily.

Re: Every Bride Needs a Groom (6:34pm September 13, 2015):

My morning ritual...brush teeth, deodorant, go to kitchen turn
on elec kettle feed cats breakfast, empty literbox. Wash
hands, make coffee, turn on computer and check email....curse
cable company for millionth time. drink coffee. Start day!

Re: A Rancher of Her Own (9:53am July 1, 2015):

I really enjoyed The Cowboy's Little Christmas Surprise. I
love forward to the rest of the series!

Re: Hot Beach Romance: Sand, Sunshine and Sizzle (9:52am July 1, 2015):

love the recipes and the stories sound fun....

Re: Caught (9:50am July 1, 2015):

I, too, agree with your qualities and agree with Clare James
about the eyes. I also like my hero to have a fault (big or
small) that he recognizes and strives to overcome.

Re: Her Greek Doctor's Proposal (9:47am July 1, 2015):

I'm in Texas...It is HOT! I love the rain (even
thunderstorms). I love to sit and read and listen to music.

Re: Protector for Hire (9:46am July 1, 2015):

I can't wait for this book. Loved your secrets!

Re: Daughter of Valor (3:46pm June 11, 2015):

My parents and brothers are my heroes.

Re: Daughter of Valor (3:45pm June 11, 2015):

This sounds very very interesting....now on my tbr list

Re: Against the Tide (3:44pm June 11, 2015):

How can I choose just one....My favorite is the one in the
book I am reading at the time I'm reading....lol

Re: Shadow Fires (3:42pm June 11, 2015):

I think this is a common plot twist in books and life. If we
only stuck to someone exactly like ourselves..how boring would
life be!

Re: Never Resist A Rake (3:40pm June 11, 2015):

dinner, quiet evening alone to talk and get reaquainted

Re: Men Under Fire (3:34pm June 11, 2015):

I would have to say New Orleans or DC

Re: At the Spy's Pleasure (1:58pm May 27, 2015):

I do believe in 2nd chances and love stories with them. We
have all had 2nd chances in our lifetime, and given a few too!

Re: Against the Tide (1:57pm May 27, 2015):

I've always wanted to go back to the North Eastern coast in
the autumn. I would love to see the leaves changing.

Re: Passionately Yours (1:54pm May 27, 2015):

So hard...I have to pick Olivia, but I am really looking
forward to Caro's story!

Re: A Family for the Bull Rider (1:48pm May 27, 2015):

how can I pick just 1???? Love 'em all

Re: Cupcakes and Crushes (11:35am April 22, 2015):

My family is close...My daughter and her two small sons
moved from my house in Texas to Colorado 6 weeks ago...I
have been on grandsons withdrawal since. We talk daily,
text and send pics.. This last couple of years I have not
been as vigilant in keeping in touch with my siblings, I
have made myself a promise to do better from now on.

Re: Duchess By Mistake (11:32am April 22, 2015):

I think it is a viable option, as long as it is entered with
the knowledge of both parties. The goals and needs of both
must be clear and precise...in fiction anything is possible,
in real life, everything takes hard work, honesty and
perserverance

Re: The Millionaire's Unexpected Proposal (6:07pm April 1, 2015):

I have made snap judgement a time or two. Some I have lived
to regret others not so much. Marrying a divorced man after
dating 3 days is one I have come to regret. My mother told
me once a cheater always a cheater. Being young I said no
way. Boy was she right! After 34 years married he walked
out ...things have come to light that I question if he was
ever faithful to me...

Re: The Mystery Writers of America Cookbook (5:48pm April 1, 2015):

When the kids were young and at home....cookies disappeared as
fast as they came out of the oven (hint...the oldest kid, my
husband was the main culprit!)

Re: Two Week Seduction (6:57pm December 13, 2014):

I love Autumn...Cool, crisp and clean...a nice change from the Texas heat...and helps get us ready for the Winter temps...40's and lower sometimes. LOL Loved your post

Re: Wicked Temptation (11:15pm June 4, 2014):

I would love to be paid to read books, too! I would also love to go to Ireland , Scotland, Wales and Tahitti!

Re: Love For Beginners (10:59pm June 4, 2014):

I would love to try a female run garage. I have been treated by male mechanics as if I knew nothing and with disrepect. This series sounds wonderful, I have added it to my tbr.

Re: Tempest In A Teapot (10:56pm June 4, 2014):

I have a lot of memories of my childhood, they bring smiles and sometimes tears my face. I let my memories be that just memories - I don't need to re-evaluate from my adult perspective. thanks for the chance

Re: A Plain Man (12:39pm April 20, 2014):

THis book sounds like a book I would love to read. Thanks for the chance to win!

Re: Paige Turned (12:37pm April 20, 2014):

Love the excerpt. Life never turns out exactly how we plan. There are always twists and turns and surprises. I always thought I'd have at least 6 kids...instead I had 3 step daughters and 1 adopted daughter....I am blessed 4 times over - but I did think I would carry a few of my own babies!

Re: An Unexpected Sin (11:32am April 20, 2014):

Love the blurb! I am most intrigued by your concept and can't wait to see the story unfold for myself!

Re: Repossessed (5:30pm January 21, 2014):

I really enjoy your books. Congrats on the new release. Thanks for the giveaway. Keep the books comin'

Re: Love Songs for the Road (5:23pm January 21, 2014):

Congratulations on your first book....I look forward to the next!
As a mother of 4 girls (all grown and on their own), I had to deal with myspace with my youngest(now 24)...It was and still is scary. It is amazing what people(adults and kids) will say and share pics with the world and not realize that once whatever they post is out there it is forever, and out of thier control once they send it out to the WWW. end of my rant LOL Thanks for the giveaway!

Re: What the Heart Wants (2:13pm January 5, 2014):

I loved your blog. My momma was Irish and called Jan. 6th little Christmas. Our Christmas tree stayed up thru the 6th, then all the decorations were put away for another year. I still hold on to this tradition. Of course, this year we didn't put the tree up until Dec. 22 - and only had light(white came on the tree) a silver star and 48 candy canes (varying flavors) that my almost 4 year old grandson Colin put on the tree! It is beautiful!

Thanks for the giveaway ! Happy New Year!

Re: The Groom's Gamble (2:07pm January 5, 2014):

I have to agree with everyone else...The man has charisma..Love the covers. I, too, love your books and would love to win the set. Thanks for giveaway.
Happy New Year!

Re: Sunroper (1:39pm January 4, 2014):

I love outside the box, I live a very traditional life. I love being transported to another world and into the lives of people unlike me. Thanks for the giveaway!
Happy New Year

Re: The Temptation of Lady Serena (1:36pm January 4, 2014):

Once again, I am completely captivated by the excerpt. I can't wait to read it! Thanks for the chance to win a copy.
Happy New Year!

Re: Rugged Hearts (3:17pm December 6, 2013):

Thank you for your eloquence, you have aptly put my feelings into words. I am most thankful for my family, near and far. As we age, health problems have crept into our everyday lives but we are all hear and happy!

Re: Legend Of The Highland Dragon (3:09pm December 6, 2013):

This is sounding goood! Thanks for the giveaway. Fingers and toes crossed

Re: Everlasting Enchantment (3:07pm December 6, 2013):

I would love to be a shifter...big cat (but also able to shift into a house cat) ...

Re: Stranded (2:56pm December 6, 2013):

I have not read Dani's books yet. But I have added them to my tbr list. Thanks for the giveaway.

Re: Tempest's Course (2:51pm December 6, 2013):

I started reading gothics, then went on to Barbara Cartland then historical. Today I read anything that catches my eye. Love mysteries, romance and paranormal. I don't want to limit my choices, so I read anything that looks/sounds interesting. Thanks for the giveaway. Congrats on you book@ Merry Christmas & Happy New Year

Re: Norse Jewel (12:10pm October 28, 2013):

I love a book with a twist..especially if I didn't see it coming. It has to make sense, even in an odd way.

Re: How To Entice An Enchantress (2:23pm September 18, 2013):

I take the Library everytime!!!!
I love your books, thanks for the fantastic giveaway.

I love audiobooks 'cause I can do my chores and not lose "book time"!

Re: Wish You Were Here (11:28am June 28, 2013):

I was the baby of the family...When I started school my oldest brother was graduating high school, my middle brother was starting high school. I was the spoiled baby girl of a career US Marine. So being the youngest and moving frequently - my Mama introduced me to friends that I would be able to take with me where ever I went...books! I fell in love with reading anything..Aesop's Fables where a favorite..Bobbsey Twins, Nancy Drew...the list goes on. I have never lost the love of reading. I am never without a book(really books)!

Re: Secret Santa Baby (1:59pm December 27, 2012):

You caught my attention with this book. Another added to my tbr list. Congratulations! and Thanks

Re: Counterfeit Cowboy (8:47pm December 11, 2012):

I don't want a "perfect" hero...I want a man who can love me and live with me and accept me warts and all - that man is perfect to me. I don't want to live my life trying to live up to the "perfect" man...I want a man who stumbles, falls and gets up and keeps on going. This imperfect hero has had ups and downs and can relate to me. He doesn't want a perfect woman...he wants a real womnan.

Thanks for the giveaway!

Re: Love Thy Sister (8:34pm December 11, 2012):

Thank you for sharing with us. What wonderful family you have. Thank you for the wonderful giveaway.

Re: Christmas Confidential (7:56pm November 29, 2012):

This tradition I started when my daughter, Hollie, was 3 because she wanted to open a present on Christmas eve (our tradition is on Christmas morning). I let her open 1 present which was a Christmas themed nightgown. It has be 20 years and she still asks about opening a present every year and every year she gets a nightgown. Even though she knows what it is - she still gets excited and so so happy to opened that gift and rush to the bathroom to put it on. This year I will start to include Colin, Hollies' 35month old son, in this tradition..

Life is good...Merry Christmas

Re: Wolfishly Yours (10:47pm November 23, 2012):

Happy Black Friday - I love this series and am anxious to read Wolfishly Yours. Thank you for the giveaway.

Re: Untamed (10:45pm November 23, 2012):

We don't have any day after traditions...I did decide that I wanted to go to Target at 9 last night to try to shop. My husband decided he would go to(lol). As we pulled into the parking lot at 8:55 he saw the line to get in was wrapped around the whole shopping center he didn't even slow down..just kept on driving until we reached home. I think that is his new "black Friday" tradition. LOL

Re: The Warrior (3:14pm November 1, 2012):

I love all types of music. Growing up my mom listened to records: Dean Martin, Edie Arnold and especially the Clancy Brothers. I didn't really listen to anything else til jr high school. In 1966-67 my mom and brothers moved to Ireland (Carrick-0n-Shannon) while my dad was in Viet Nam. I was only 8 (would have appreciated it far more at an older age) and loved it. We visited Blarney Castle to kiss the stone...I couldn't do it (scared of heights) so my Mom kissed it twice and had me kiss her!

I love castle and the stories about them...the age and history, secrets they hold in the very mortar.

I think Gerard Butler - oh lordy the things he can inspire. Love his accent!

Re: A Home For Nobody's Princess (11:54am September 26, 2012):

Home has always been Family....Home was my parents and their house..I felt loved and safe there. My parents are gone now, so the house where I raised my youngest daughter is Home...The memories and love that has filled this house has made it Home for me and mine...I look back on my childhood and hope that I am that rock of love and safety for my kids and grandkids...The greatest gift my parents gave me was the feeling of home. I hope that I can pass those feelings to my kids and grandkids.

Congratulations on the new release. Fingers crossed that I am fortunate enought to win.

Re: A Place Beyond Courage (8:44am September 8, 2012):

What an interesting book...sounds good. Thanks for the chance to win it!

Re: In Rides Trouble (8:42am September 8, 2012):

Love the premis of this series. My husband is a long time rider (40 yrs) and still loves to ride. I loved it when I was younger, thiner and more limber. I can't wait to read this series. Thanks for the chance to win!

Re: Magic Gone Wild (1:21am September 1, 2012):

Congrats on the new release! I love your books - I always smile while reading them. I would love to win!

Re: I Own The Dawn (3:56pm August 2, 2012):

Love the blog! I can't wait to read this book. Congratulations on the release! Thank you for the chance to win.

I love laughter - not silliness - but good, honest laughter!

Re: It Begins with a Kiss (6:32pm July 3, 2012):

I am a longtime fan of ALL of your books. This series sounds fantastic and I can't wait to meet all 9 (10) heroes and heroines....Thanks for the giveaway.

Congratulations on the new series and the ebook release.

Re: The Princess and the Outlaw (10:46pm July 1, 2012):

I read and live many lives through the imagination of the many talented authors that I have been privledged to enjoy their books.

Fun - I play with my 2 year old grandson and forget for a little while I am going to be 54 this month!

Re: Wicked Nights (11:27am June 29, 2012):

Congratulations on the new relase...love all your books!


I think I would have to say S.Kenyon's Archeron. I loved that this character appeared in approx 11 books, so we got to know him and crave more, before he got his own book.

Re: The Marriage Bargain (9:31pm June 16, 2012):

I'm a sucker for the happy ending...they always leave me wanting to know what happened later.

Re: Grill Me, Baby (9:29pm June 16, 2012):

I think the one food that brings back the richest memories - my Nanny's (grandma's) Bananna Pudding. We would come back to my daddy's mama's house for our yearly vacation...Nanny made everything from scratch - I knew we were home when I tasted that bananna pudding. I have never had it anywhere else, nothing measures up.

Re: Chase Me (6:48pm June 7, 2012):

I have to agree with your list...they are all fantastic. I also love Acheron by S. Kenyon, and who could forget John Wayne .... thanks for chance to when. I love your books.

Re: Where There's Smoke (10:03pm May 25, 2012):

I love paranormal romance. This books sounds fantastic. I have never been disappointed by a Karen Kelley book...and I have read 'em all. Enjoyment front to back! Thanks for the giveaway. Congratulations on the new release

Re: Kiss Of The Goblin Prince (10:08am May 12, 2012):

I love your books. I can't wait to read this one...love the cover. Thanks for the giveaway...fingers and toes crossed...lol

Re: Blackmailed by the Italian Billionaire (12:26pm April 22, 2012):

I think we will see heroines a little older, stronger. But I also think that these books are escapism for many of us. So a variety of characteristics, ages etc will be needed. The older I get, the less relatable an 18 year girl is to me. Occassionally reading romance involving a girl is ok, but I tend to like older heroines.

Love your books. I started reading harlequins after I had finished all the Barbara Cartland books. The little used book store sold the harlequins 10 for $1 (dating myself here) and I was hooked.

Re: The Devil and Miss Jones (2:38pm April 9, 2012):

I love this tittle, I don't know what it is about it but it made me smile and want to read the book. It is different from the run of the mill titles lately (nothing wrong with them). This title stand out. I look forward to reading The Devil and Miss Jones. Congrats on the release and thank you for the giveaway.

Re: One Hot Cowboy Wedding (2:34pm April 9, 2012):

It's all of the above. I love your books. They make me laugh out loud, groan and blush....Can't wait to read the latest addition to the family! Thanks for the giveaway and congrats on the release.

Re: Trouble Me (2:29pm April 9, 2012):

Well, I have just added 3 books to my tbr list. I would love to win Trouble Me....thanks for the great post and giveaway!

Re: Texas Baby Sanctuary (1:15pm March 28, 2012):

I love books based in Texas....My hero, my daddy, was born and raised in Texas. He was a marine for 30 years, but Texas was always home. I love reading books with heroes that have the same characteristics as my Daddy....Honor, compassion, no nonsense type of man.

Re: The Chase (12:57pm March 28, 2012):

I love Castle, Unforgetable, CSI, NCIS, Body of Proof...the list goes on. My favorite, which is ending, is The Closer. I love that the lead is a southern woman, who is able to be both beautiful and intelligent. I like that Brenda has weaknesses (candy) and is portrayed with all as a regular human being - caring, selfish, right, wrong, mean, nice...well rounded. Being from Texas - I love her "bless your heart" attitude (being so nice, even when you mean it the opposite). I love mystery and romance and puzzles. Castle and other shows of the genre fufills my needs. Thanks for the giveaway.

Re: The Stubborn Dead (8:37pm January 28, 2012):

I collect books (3000 and counting) My books are in boxes, tubs and shelves. Also Unicorn statues, plush toys...anything unicorn (125 or so).

As to relaxing - I love a good pot of tea and reading. I have a oversized reclining chair (though I don't recline in it) I sit and read with my feet tucked to the side. I love my chair (which I bought specifically to read in), tea and books.

Thank you for the chance to win. I love the cover of the book and have added it to my TBR list.

Re: Hunter Of Shadows (10:08am December 2, 2011):

I love paranormals, too. My last whoa moment came from a tv show: Sons of Anarchy - When Sam was shot! OMG didn't think they were gonna do it... I think when reading, the final whoa moment is the one when I realize the book is finished...that is a sad sad Whoa..

Re: Darn Good Cowboy Christmas (11:50am November 4, 2011):

oops! not accrodinly ACCORDINGLY sorry

Re: Darn Good Cowboy Christmas (11:49am November 4, 2011):

I would ask that my daughter realize her worth and realize that her 18 month old son could not have a better Mama. I would ask that her fiance would realize the same and how lucky he is that he has won her heart and start acting accrodinly.

Re: Embrace The Highland Warrior (11:02am November 1, 2011):

I am one who has to check out the noise. I have always feared the human "monster" in our world more than the "other" type. I don't watch the slasher movies..to bloody and gory. Give me a pyschological thriller anytime. The mind is a wonderful thing and nothing can scare you more than your own imagination!

Thanks for the giveaway - your books are a treasure!

Re: Ecstasy Untamed (2:07pm October 26, 2011):

I love your books - I love your imagination even more! I, too, don't go to the movies all that often - rather read the book. I guess the movie would have to be either WATCHER IN THE WOODS or THE SIXTH SENSE. After I post this I know I will think of other movies...lol

Re: Baer Truth (5:58pm October 3, 2011):

I love romance, cowboys and especially books! Thanks for the chance to win. Congratulations!

Re: To Sketch A Thief (1:52pm September 16, 2011):

I take the names as they are given...I feel that eventually I will understand why an author has used a name. Names are very powerful things and very sacred - whether someone is naming a child, pet or character in a book. It is refreshing when a character is given a name and you assume what the character is going to be like (a female lead is BAMBI- blond, blue eyed 36ddd) and the character is the complete opposite (mensa genius, redheaded and svelte)...It makes the book so much more.

Re: Sweet Justice (2:35am September 3, 2011):

I think right know that the most evil is the "Bad Guy" is Iris Johansen's villian in her Eve Duncan series. Anyone that kills a child - that is just plain evil - no getting around it. There is a special place in hell for those that evil.

Re: Undead And Undermined (4:05pm July 22, 2011):

hehehe I love your humor...I, too, haven't read or seen the Twilight movies..I love your books and find that your have the mix of humor,sex and scary down pat! I find that I like to read books mainly about adults (ya now people over the age of 21). Occasionally Iwill pick up a "teen" read. But I find reading about teenagers in the paranormal world harder to lose myself in the story.

Re: The Lost Summer Of Louisa May Alcott (11:20am June 16, 2011):

Oh, this sounds wonderful. I loved Little Women. Congratulations on the release!

Re: Virgin (11:17am June 16, 2011):

Great interview..The book sounds intriguing to say the least! I love getting to know the characters alittle before I read the book...they make me chuckle!

Re: SEALed Forever (2:12pm May 20, 2011):

I loved the excerpt and am looking forward to reading the book...As a child of the military (dad was Marine for 30 years, oldest brother was Navy for 30 years) I love books that honor our soldiers and their families...

Re: Tangled Threads (3:12pm April 18, 2011):

Congratulations on the new releases! Thank you for having this give away. It is so thoughtful.

I love NCIS - Gibbs be my drug of choice!
I am also addicted to: The Closer, Castle, NCIS LA, and the CSI shows and Law and order.
A new show that I like is Body of Evidence.

Now that we have dvr with our cable. I record my shows, then watch them later so that I can skip the commercials! LOL

Re: Sink or Swim (9:46pm March 25, 2011):

I love some of the reality shows (especially the cooking shows). other shows seem more shock reality and very scripted. The shows where they pick their "future spouse" scary...

You book sounds wonderful, I look forward to reading it!

Re: Call Me Irresistible (11:52am March 6, 2011):

Ted Beaudine

Re: Emily And Einstein (11:41am March 6, 2011):

Her sister's name is Jordan....
This book sounds great, can't wait to read it!

Re: Pleasure Me (2:29pm January 14, 2011):

I love losing myself in the story..A well written story will make me feel a gamit of emotions...anger, embarrasment,arousal, contentment, joy. I love it a few days after I finish a book trying to remember Was it a movie I just saw or a book....It always amazes me when I realize that it was a book. So well written that the words came alive in my mind and a movie was played...Your books always become a movie in my mind. Thank you!

Now I am trying to figure out what is the impairment that he is so concerned about....

Re: Beneath The Thirteen Moons (2:33pm December 8, 2010):

This book sounds great. What a fantastic world to visit!

Love at first sight - yes and no - I think love at first sight is attraction...it opens you up to the possiblity of love. Love comes with knowledge of who the person is.

I think opposites do attract and can do very well together. My husband of 30 years is very outgoing, never met a stranger loves trying new things and going places. I am shy and tongue-tied around strangers..Love to stay home..My favorite thing is family. He makes me spread my wings a little, and I ground him a little. We compliment each other - streghten each others weaknesses, as it were...

The key with opposites - do not try to change the person. You fell in love with who they are - if you try to change them that person no longer exists. Some change and growth is going to happen, the key is to be open to this and accept it and love the person more!

Re: Outrageously Yours (9:46am November 30, 2010):

You have my attention....I can't wait to met Simon and Ivy and learn all their secrets. Happy Holidays!

Re: Grave Witch (12:03pm October 16, 2010):

I like to think of death like the character in the tv program about angels...the one with the traveling angels..Death was an angle sent to cross over the souls to the next segment of existance. He was not evil, he was not stealing souls or hurting the dying. He comes at our end time to escort us to the next plane of existance. I love a book that can take something we used to view as scary and make
give him human characteristics and maybe even allow him to be a hero.
I love the premise of your book and can't wait to read it. I look forward to more of your work as well.

Re: Sinful in Satin (7:43pm October 3, 2010):

I dream all the time. I am always me. Alot of my dreams feature my parents (who have both passed away). They are really weird, I wake up sad yet happy because I can recall their faces better and their voices are fresh in my mind. After last hearing my dads voice 15 years ago, my moms 22 years ago, this is a comfort and precious gift to me.
Could climbing all the ladders relate to decisions that you must make? It's a thought.

Re: Building Magic (7:39pm October 3, 2010):

Loved the post....hope to win the giveaway LOL

Re: One Touch of Scandal (12:59pm September 26, 2010):

My me me me list
reading
buying books and reading
starbucks White Chocolate Mocha (non-fat,no whip of course)
best free reward: having my 3 kitties cuddle up while I read!

Thanks so much for donating to such a wonderful cause :)

Re: The Bride's Necklace (9:12pm September 18, 2010):

I love all the covers..but the men have to be given 1st place! Congratulations on your upcoming releases!

Re: Wicked Highlander (9:09pm September 18, 2010):

Congrats on the new release!
I love the Irish and Scotish myths. My mother was Irish and when I was little she would make up stories about my leprechaun doll Paddy. There was a whole slew of "Mixed Up Paddy" stories. I wish she would have written them down for me - she had a wonderful imagination!

Re: Rebel (3:22pm September 14, 2010):

First let me say that I have been a fan of all your books (in all genres).

I love the paranormal romances. All kinds, but angels are so special...A big what if....possibilities out the ying yang LOL. This genre has opened up so much fiction and imagination! I love it...keep writing it and your other books too....I always have room on my bookshelf for your books!

Re: Atlantis Betrayed (2:01pm August 31, 2010):

Congratulations on the new book! I can't wait to read it!

Good luck with your overseas move. Moving is a chore if you move 1 block or thousands of miles. My thoughts and prayers are with you. Just remember - the important things are your family anything else is just gravy. Make lists, break the packing into smaller areas and then do each small area/room. this will help whittle down the large overwelming task into easier portions. God Bless!

Re: Deadly Fear (10:23am August 27, 2010):

I agree with you, giving the paranormal characters human traits enable me to accept and root for the "monsters". I find that these "monsters" are a lot less scary in the light of day compared to their human conterparts. When evil takes root, grows and expands in the heart and soul of a human being - there can be nothing scarier or more frightening. I find reading books with human "monsters"(ie serial killers, phychopaths etc) is more scary - this type of being has been proved real- they have left devestation is our world. HOw can we understand why this happens and how to prevent it...

Re: Dark Warrior Untamed (10:12am August 27, 2010):

Well your short list also made mine. I, like you, tend to be drawn to honor and duty (I guess it was because I was lucky enough to be raised by such a man! My dad was a marine, he was the ideal definition. I was also blessed with 2 older brothers who I can honestly say are also my heros.....What a very lucky girl was I?

Re: The 1st Wife (4:51pm August 22, 2010):

What a worthwhile endeavor. Thank You

Re: Hell, Yeah (8:59am August 11, 2010):

What a great interview! Cathy has me intrigued and itchin' to read the book.

I would ask Travis "can you live up to all of our readers expectations?"

Re: The Quick and the Thread (2:24pm August 7, 2010):

Thank you for sharing your experiences with us. Sometimes we, readers in general, forget that authors are just people too. I am so in awe of your talent, that I place all authors up on a pedestal. I promise to remember that y'all are exactly like readers - with a little special something thrown in.

Re: The Wild Irish Sea (10:25am July 8, 2010):

You Top Ten list is spot on..
My mother was just made being an American and was born in New York. Her folks are from County Mayo. When my dad did his first tour in Viet Nam - Mom packed us up and we went to live in Ireland (Carrick on Shannon and I was 6). It was interesting year - but I wish that I was older so I could appreciate the expierence more. I can't wait to read this book... I really really love brogues!

Re: The Master & the Muses (3:41pm June 28, 2010):

The perfect hero, is the imperfect man who does the right thing for the right reason. I believe we have all met a perfect hero at one time or another in our lives, we just don't neccessarily know it. No one is perfect, no one is ever not wrong about something. A perfect hero may last only that one moment that the act of heroism is needed at that time...The act may not seem to be heroic to all, but only needs to be heroic to 1 living being.

Re: Crush On You (12:31pm June 11, 2010):

Tomorrow is my 30th wedding anniversary. I was wearing a white halter dress with full skirt. My mother had made it for me! He was wearing jeans, cowboy boots and a cowbow hat! He was a deputy sheriff in the town we lived..We went out Monday, Tuesday and Wednesday (saw the movie Urban Cowboy, he proposed). We flew to Las Vegas and was married on Thursday. lol

Re: Seducing the Knight (12:27pm June 11, 2010):

I loved the first book in the series and am anxious to read this one. +
I think treasure hunting sounds exciting. I would love to look for some obscure piece of history from Ireland or Scotland. Wouldn't matter what it was - just looking in those places would be exciting for me!

Re: Think Twice (9:11pm May 2, 2010):

I just finished "Touched By An Alien" by Gini Koch. This was a great book. It had my laughing thru out! It was just what I need at the end of a very stressful week. I would recommend it to anyone who enjoys paranormal romance/sci-fi. I also enjoyed the anthology "Inked" it was one of the better anthologies that I have read in the last year!
Please enter me in your contest. Thanks

Re: The Stolen Crown (4:05pm March 15, 2010):

I have gotten away from reading historical fiction in the last few years. But your book has caught my eye and I have added it to my tbr list

Re: Drive Time (4:35pm February 1, 2010):

Loved the excerpt. Keeping secrets - Boy the age old dilemma. I think things said in confidence should be held in confidence. The exception being: life and liberty are at stake. If someone told me that they hurt someone and somebody else was being blamed - That is not a secret to keep.
If someone told me something
(say someone famous) and a reporter offered me money to tell - NO WAY. Money doesn't trump integrity.

Re: Come Hell Or High Water (8:26pm January 6, 2010):

I love this series. I am looking forward to the next book.
I guess the biggest mistake was when I went to apologize to my fiance (just to make peace) and found him in bed with another girl. Biggest mistake (apologizing) Best results: dumped him!

Re: Fugitive (10:39am January 5, 2010):

Wonderful interview...I love all the characters in the whole series...The heat..wow the humor fantastic. I can't wait for the next book!

Re: Seduce Me (3:26pm December 3, 2009):

Congratulations on your new release. The book sounds wonderful and the cover - enticing! Writing sex scenes, boggles the mind. I don't know how you do it. I do know that if I have to but the book down for a minute, blushing, then start reading -that was some scene. I am not looking for over the top unbelieveable sex. If I can't believe it, the book is no longer interesting. The characters and their actions have to be one - a sex scence that comes out of left field and is not true to the characters in it will ruin the book. This is why I love to read your novels...the connections is fluid and true.

Re: Seeing Red (3:19pm December 3, 2009):

I was born into a Marine family. The first 14 years of my life were spent on military bases. This is a world of its own. A town within a town. the 1960's& 1970's were a fantastic time to grow up on a military base. We had free reign of our housing area. There were no fears for our safety. There were no strangers- they were Marine familys therefore your family. My childhood consisted of riding bikes, running around free and carefree. My dad didn't have to worry about us. When he had to deploy, he knew we were safe. Lots of friends who could understand what your life was like.
In 1970 my dad was back in Viet Nam - we went to live near his mom in Tyler, Texas. Tyler was small then, but it was hard to make friends and to belong. Civilian kids didn't have the same worries and concerns - their parents where home all the time. My dad was not.
It made me appreciate the friends I had made on the bases more. When dad returned and we went back to Camp Pendleton,(Oceanside, Ca), the feeling of community returned...I was truly blessed to be born to my parents and the Marine Corp.

Re: Sex Drive (3:09pm December 3, 2009):

I luv series. When I read a book I become invested in the characters, series give me the opportunity to keep learning about what is happening in the lives of their lives. It becomes like distant relatives- you may not get to see them, but you get to know what is going on in their lives...

I love the series of these authors: SEP, KMM, Julie Garwood, Diana Palmer, Shelly Laurenston, the list just goes on.

Re: Searching For Pemberley (2:55pm December 3, 2009):

I love the sound of this book. Triple the romance and Jane Austin's Pride and Prejudice intertwined. Can't wait to read it. It is authors like you that make reading a joy! Thank you

Re: Over My Dead Body (1:12pm November 16, 2009):

My mother was an awesome cook..no recipes needed. She has been gone for 21 yrs and I still miss her and her cooking.

My father's mother, Nannie was a wonderful cook. The thing I will always associate with Nannie is her Banana Pudding..I have never tasted anything to compare. Hers was made from scratch....

Re: The Cowboy From Christmas Past (2:16pm November 7, 2009):

This year will be the first that I will be alone. My husband is going to visit his Mom (she's 86) for his birthday (11/24) and staying till after Thanksgiving. My baby girl(20 y.o.) will be spending the day with her boyfriend and his family.
My plans are to read,read and read then buy dinner at a restaurant!

Re: Santa Honey (2:09pm November 7, 2009):

I love your books. They make a bad day better, and a good day great! I love the thought of ebooks..I don't have an ebook reader yet, but would love one. I have 3000 books and every month I collect more. I love the feel and smell of books. I hope that we become more "green" but would not give up my books for anything!

Re: Rainwater (2:06pm November 7, 2009):

I usually watch the book trailers after I read the books! I like my interpetation of what everyone looks like to be based solely on what I read..

Re: Captive Desires (11:05am November 2, 2009):

P.S. I want Donny to win DWTS! What can I say - crush still strong after all these years LOL

Re: Captive Desires (11:03am November 2, 2009):

I love your books too! I am not really very creative. I like to try alot of things, but am master of none. Reading is my favorite past time. Immersing myself in a book and letting the story take me away. I see the book unfold in my mind and it becomes a movie..days later I may mistake a book that I have read as a movie that I have watched...So I guess that is my creative venue. Taking the hard work of an author and seeing it as a movie.

Re: Possess Me At Midnight (12:01pm October 22, 2009):

I love the Doomsday Brethren series! I can't wait for Possess Me At Midnight
The first two books were fantastic and have made this series a keeper for me! Thank you so much for all your hard work. I am reaping the benefit for sure!

Re: The Cowboy From Christmas Past (12:44pm September 24, 2009):

We are truly blessed when we open our hearts to others, especially animals. The love, peace and joy that pets bring to our lives is limitless. After 17 years of love and joy, I lost my Russian Blue - Heidi Marie and 3 monthes later my Tabby - abigail. Heidi was my "baby" and Abby was her "baby". The pain of losing them was devastating - but I would go thru that pain any day of the week to have the 17 years of love and joy and happiness again. It has been 4 years since they passed, I still miss them, but the memories of 17 years still bring joy to my heart.

I have learned: Never shutter your heart to the opportunity of love. Pain is a small price to pay for the all the rewards that comes to you when love enters your life.

Re: Mr. Perfect (2:08pm July 12, 2009):

The latest book with the hype for me was Archeron, by Sherrilyn Kenyon. I loved this book - finally, answers that have been niggling at you thru the whole series!

Re: The Guernsey Literary And Potato Peel Pie Society (12:05pm July 5, 2009):

I would have to say Hornet's Nest by Patricia Cornwell. I love her Kay Scarpetta novels! I was unable to get into this book.

Re: Between A Rock And A Heart Place (8:47pm February 25, 2009):

I would want to be a tiger..wild and free (as long as it was temporary)..I would like to be able to try a lot of different animals...just to see the world through their eyes.