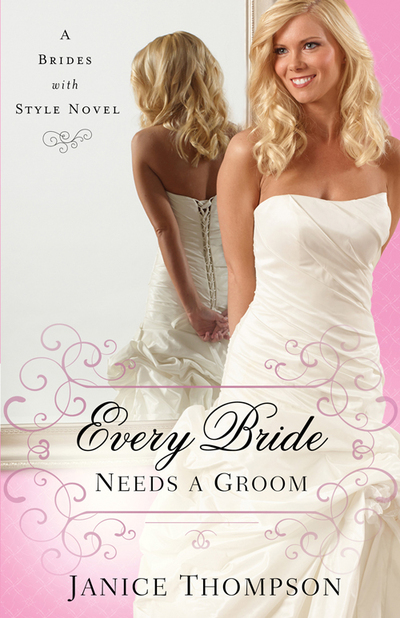 Purchase
Brides with Style #1
Revell
April 2015
On Sale: April 14, 2015
Featuring: Katie Fisher
369 pages
ISBN: 0800723996
EAN: 9780800723996
Kindle: B00MBTYC98
Paperback / e-Book
Add to Wish List

Somewhere in a sea of tulle and taffeta, satin and crepe, Katie Fisher needs to find a key ingredient of the perfect wedding--the groom.
Small-town girl Katie Fisher is busy planning her fairy-tale wedding. Sure, her boyfriend hasn't managed to pop the question just yet, but that doesn't mean she shouldn't enter a contest in Texas Bride magazine to win the dress of her dreams, right? Anyway, she's sure he'll be getting down on one knee any time now. And a one-of-a-kind designer dress doesn't just fall out of the sky right when you need it.
But when Katie's boyfriend takes a job in another town and breaks up with her--on the very same day she wins her dream dress--her world is turned upside down. Dare she go to Dallas to claim her prize? And will the hunky pro basketball player who runs the beyond-swanky bridal shop--yeah, you read that right--discover her humiliating secret if she does?
Brides with Style
Comments
40 comments posted.
My morning schedule is more like a scene from Groundhog
Day. lol After the bathroom ritual is complete, as well
as the litter boxes, I head my way towards the kitchen,
where my 2 kitties are waiting for their breakfast!!
Depending on the time, they either get fed right away, or
I hold off a bit. I usually wake up before my Husband,
so there's suet and seed to go out for the birds, right
before sunrise, and in the Summer, the Hummingbird
feeder. A few minutes before my Husband is going to wake
up, I start the coffee. By then, I've already been on
the computer for a couple of hours, trying to play catch-
up with my sites, as well as my 25,000 (no typo) pieces
of mail. On the day I volunteer to teach my knit/crochet
class, I have to turn things up a notch, and speed things
up a bit, by getting off the computer early, but this is
pretty much how my days go. My Husband and I are
managers at the apartments where we live, and if a tenant
has a problem, they come to see us, so that tends to
change things completely!! So far, we've gotten through
on a lot of Faith, and a little shoestring to tie it
together. I'm looking forward to reading the book that's
showing on your posting. The cover is stunning!! It's
going on my TBR list when I'm through. Sorry for the
long answer.
(Peggy Roberson 9:10am September 11, 2015)
Coffee and breakfast then read.
(Marissa Yip-Young 9:29am September 11, 2015)
Breakfast and play with my kitty's. Go on computer to look
for work. Get dress put on some makeup. Go for a work before
lunch.
(Emily Stemp 10:37am September 11, 2015)
Tea and then a lovely walk in the foothills.
(Sharon Berger 10:57am September 11, 2015)
My morning ritual-trying to figure out where I am, awakening,
taking a shower, reaching for the coffee and breakfast, and
then making plans for what my day will bring.
(Edward Washington 11:29am September 11, 2015)
my mornings are filled with getting my girls up and ready for school. Breakfasts, lunches and out the door. Then it's a little me time and browsing the websites now that I am unemployed again.
(Maria Smith 12:33pm September 11, 2015)
Mine is get up and ready... feed my fish, birds, & cats... then sit down to eat breakfast...
(Colleen Conklin 1:05pm September 11, 2015)
Get up read the paper, so my husband can take it to work
with him. Feed my three cats who all want something
different.
(Jeri Dickinson 5:23pm September 11, 2015)
Bathroom, coffee, wake my son, get dressed for the day, feed my puppy, kiss hubby bye and head out the door
(Amanda Ray 5:42pm September 11, 2015)
Out of bed, into the bathroom for a pit stop and into my bathrobe, then out the front door with the dog...while he's performing his duties, I'm staring at the night sky....this morning blessed with an array of the neon pink, green Aurora, while saying my prayers, thanking God for another day and for all the kindnesses He has granted everyone, praying that I might be useful in some small way during the day. Then into the house, feeding the dog, making the coffee and reading the paper. Thank you for the intro to Janice.
(Kathleen Bylsma 7:40pm September 11, 2015)
Kiss my husband, my cup of tea, check my emails and go on fresh fiction then get dressed...I'm retired so no work!! Then I clean and read and prepare dinner!!!
(Bonnie Capuano 10:03am September 12, 2015)
Got to have that big cup of coffee and something to eat. Don't talk to me until afterwards .LOL
(Joan Thrasher 10:39am September 12, 2015)
Up, bathroom, check sugsr and take shot, then breakfast and
dress for the day.
(Mary Hay 11:19am September 12, 2015)
breakfast and play with my kitty. go to work.
(Emily Stemp 2:56pm September 12, 2015)
I wake my husband, get his lunch ready and him out the
door. Then I prepare my three daughters' school lunches.
I get myself ready for school. (I am an high school
English teacher.) Then help my youngest daughter get
ready. Usually answer a dozen questions asked by my two
teenage daughters. I wake my son. Listen to him
grumble. Load up the girls and head to school!
(Amy Morgan 8:45pm September 12, 2015)
My morning ritual is getting up, brush my teeth, wash my face, feed the kitties, clean the litter box, and make coffee. If I wake up early enough, I would stop by a diner on my way to work and order breakfast to go. Hopefully, no one will ask me any questions until I have a couple sips of coffee.
(Kai Wong 3:30am September 13, 2015)
Sleep in if I can except when my cats want food NOW
(Jeri Dickinson 2:08pm September 13, 2015)
Read my paper and eat my banana.
(Wilma Frana 4:40pm September 13, 2015)
My morning ritual...brush teeth, deodorant, go to kitchen turn
on elec kettle feed cats breakfast, empty literbox. Wash
hands, make coffee, turn on computer and check email....curse
cable company for millionth time. drink coffee. Start day!
(Kimberley Coover 6:34pm September 13, 2015)
watch tv go back to sleep.
(Ann Unger 11:11pm September 13, 2015)
breakfast, play with and feed my cats. shower. work.
(Emily Stemp 2:22pm September 14, 2015)
get up do laundry don't do breakfast
(Jeri Dickinson 2:53pm September 14, 2015)
I stumble into the kitchen and get myself a cup of coffee and
then I get my grand daughter up and ready for school.
(Denise Austin 4:02pm September 14, 2015)
I'm bone on bone in my spinal column. Non surgical because of
my medical history and allergic to all the usual meds,
including steroids. Pain is my middle name, laughter is my
first! If I didn't have this sense of humor, I'd fold my tent.
Your books and others like it are just the ticket!
(Kathleen Bylsma 6:15pm October 7, 2016)
When I am down or stressed... a good laugh helps lighten things up for me... a funny movie, book or talk with a friend is the best!
(Colleen Conklin 8:24pm October 7, 2016)
My husband and I laugh every day and try not to take things so seriously. Stress can be so hard on your body but laughter lightens up everything.
(Bonnie Capuano 9:40am October 8, 2016)
This really looks like a great book and I hope I win and get to read it really soon! Laughter really is one of the true best medicine and if I didn't have my husband to laugh with I don't know what I would do!
(Ann Thaxton 9:47am October 8, 2016)
I know that when something bad has happened or when I am
feeling sad, when I watch a comedy show or movie that makes
me laugh it makes me feel so much better. Laughter takes
my mind off of my troubles at least for a little while.
(Tanja Dancy 10:14am October 8, 2016)
I always can find something that makes me laugh. The world is always an amusing place when you know where to look!!
(Cate Sparks 10:59am October 8, 2016)
When I had to have treatment for breast cancer and experience
the difficulties my husband would joke, and was very
entertaining which was the best treatment ever.
(Sharon Berger 12:29pm October 8, 2016)
When Mr Wonderful left me - with no money, no food, no long distance phone,and no knowledge of how to drive a car, I had to get a job. A friend found me a job (this was during the holiday season) working as a conductor on a mall's tiny train for children coming to see Santa. My uniform was Oshkosh- B - Gosh stripped overalls, a white shirt, and a striped hat to match. I looked like a tall, wrinkled toddler. At first, every time I saw a family, I wanted to cry. Then I started seeing this scene as it really was, it was hysterical.

And I got out of the house, had something to think about and made a teeny tiny bit of money. I will not even talk about the fact that I bought my first car with a credit card.
(Annette Naish 1:49pm October 8, 2016)
There are a couple of movies that I can count on for laughs if I need a lift.
(Melanie Rosen 7:51pm October 8, 2016)
Out of my family, I'm one that can definitely bring some laughs to the conversation. And I think that's a great thing. Life can be so serious all the time, why not have some funnies while we are at it?
(Megan Wilson 9:10pm October 8, 2016)
Laugh and the world laughs with you. Cry and you cry
alone. In my family, we were always taught to try to find
the ridiculous side of any situation so that we could heal
faster. Sometimes it was stupid stuff - like Mom telling
us to make sure we wore decent underwear so that if you
tripped and fell at church, she wouldn't be as
embarrassed. (Yes, my MOM actually did that.)
(Marcia Berbeza 1:32am October 9, 2016)
What a dilemma fora girl. Sounds like a fun read. Need a good
funny book to read right now. Life is getting very stressful.
A great,funny book would be great now.
(L Green 1:33pm October 9, 2016)
I suffer from chronic migraines. I know laughter helps and so does
reading because it can be done quietly.
(Patti Paonessa 12:48pm October 11, 2016)
Since I don't laugh a lot when I watch or read something funny it really makes me happy
(Jeri Dickinson 4:01pm October 11, 2016)
I have friends who know I enjoy a funny story, so they include them among my e-mail. It seems to make my day brighter.
(Anna Speed 12:08pm October 12, 2016)
I am lucky enough to have a husband who always makes me
laugh. He'll come out with something at the oddest times!
His older brother is the same way. I once asked Artie if
they stayed up at night thinking of witty things to say!
(Maria Proctor 4:17pm October 12, 2016)
My mom sees the worst possible, my dad sees the better - I see him use humor everyday to get mom out of her perspective!
(Beth Elder 8:45pm October 18, 2016)
Registered users may leave comments.
Log in or register now!