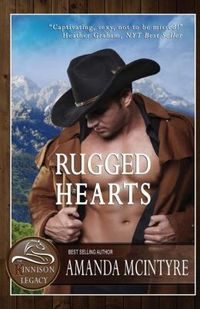 Purchase
The Kinnison Legacy #1
Decadent Publishing
April 2013
On Sale: April 21, 2013
Featuring: Aimee Worth; Wyatt Kinnison
254 pages
ISBN: 1613335296
EAN: 9781613335291
Kindle: B00CH3NZAK
Paperback / e-Book
Add to Wish List

Rugged, quiet, hardworking, Wyatt takes his position as head of the Kinnison family seriously. But the scars of betrayal by the women to whom he once trusted his heart now prompt his stark, simple game plan, and no one in hell is going to convince him any differently. What matters most, besides the welfare of his brothers, is to manage the ranch left to him and never risk his heart again to something as foolish as love—but after meeting Aimee, Wyatt begins to realize that a man should never say never to a determined second grade teacher.
When vivacious, resilient Aimee Worth loses her twin sister in a tragic accident, she makes the choice to live out her sister's dream of teaching in the small mountain community called End of the Line, Montana, never suspecting she'd meet her Mr. Right in the middle of nowhere—he just doesn't know it yet. Used to challenges, her spirit shatters the perceptions that have kept him isolated from living life beyond the ranch, proving to him that when it comes to love, the greatest risk is not taking one.
The Kinnison Legacy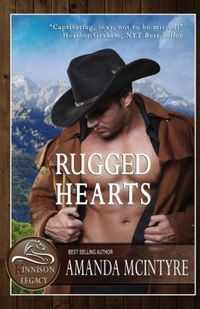 Rugged Hearts
#1.0
Amazon.com | BN.com | | |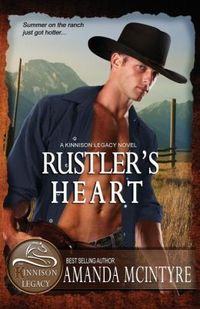 Rustler's Heart
#2.0
Amazon.com | BN.com | | |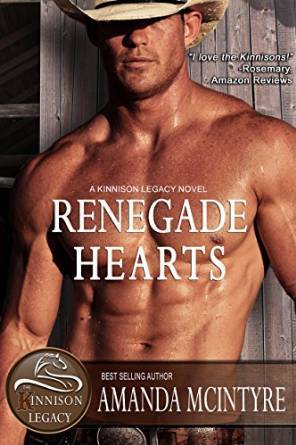 Renegade Hearts
#3.0
Amazon.com | | | |
Comments
163 comments posted.
Re: Rugged Hearts

Please enter me in your contest, Amanda...I was thinking of posting on my timeline wall, CHRISTMAS IN JULY, great idea.
(Juanita Decuir 10:10pm July 23, 2013)
My grandmother was a tremendous influence in my life. She was such an humble, kind, sweet, and helpful person and her advice helped me to make friends much-easier than I feel I would have otherwise. Everyone simply adored my grandmother.
(Gladys Paradowski 12:21pm July 24, 2013)
my mom was a influence in my life she showed me told me
things i needed to know when i grow up and helped me
emotionally and i have learned so much from her
(Denise Smith 12:25pm July 24, 2013)
I had a boss who believed in me and encouraged me to "be all that you can (I could) be"! With his encouragement, I completed my 4 year degree (night school) and earned several good promotions at work.
(Betty Hamilton 1:20am July 24, 2013)
A neighbor down the street. I barely know him. He is a recovering alcoholic. And he gave me some great advice. He also told me some very hard and honest truths. I cant say how much I appreciate him. He has truly made an enormous impact on my own life, my own mental, emotional health.
Thanks for asking! :-)
(Lisa Hutson 1:43am July 24, 2013)
My Grandchildren have been the biggest unexpected influence in
my life. I thought the love of a child was the deepest love
of all (and it is), but to be able to love and be loved by
your child's children is a blessing none can compare to.
(Sandie White 1:50am July 24, 2013)
My granny . She suffered a stroke at a young age which left
her paralyzed on the right side of her body, but she never
let that slow her down . That woman loved to cook and she
would feed anyone who showed up at her house. It never made
any difference to her if we brought home all our friends to
eat without telling her she would work it out every time and
leave the kitchen with a happy smile cause she knew the
townful of kids had a full tummy that night. She was truly a
treasure and i miss her dearly
(Jennifer Mathis 2:51am July 24, 2013)
My 8th grade math teacher would probably be the biggest who would be unexpected. During her class (back in 1979), she showed us a key punch reader machine which was used for computer programming back in the day. I was mesmerized. I decided I wanted to go to college (first and only one in my family) and be a computer programmer. I did this profession for 20 years until I decided to "retire" and be home with my 3 daughters.

Thanks for the chance. This books sounds fun and I sure enjoy that cover! ;)
(Sue Galuska 8:48am July 24, 2013)
a dear friend whom i met in my late 20's and she in early 30's...she celebrated her 90th recently and we talk almost every day...and i still value her opinions and she does mine. ...and she has helped me keep my sanity when various things have happened!
(Mal Kaplan 9:02am July 24, 2013)
A close friend who lived 2 houses away. I can't thank her enough for everything she's taught me and I've learned from her. This is a wonderful giveaway. I think I'll go cross my fingers for the day.
(Cathy Thomas 9:53am July 24, 2013)
A neighbour hired me as her babysitter when I was 14. She asked me to apply for my first summer job (which I got, with her recommendation). When I applied for my first full-time job, it was HER reference that made the difference, as my employer knew her well through the volunteer organization in which they both belonged. When I was laid off from that job (computers came along and replaced workers, and last one hired, first one fired), I got my next job because THAT employer knew my neighbour AND my previous employer through that same volunteer organization. If I hadn't had this most recent job noted, I wouldn't have met my now husband of 32 years, nor had my two wonderful children. I wrote that neighbour about 20 years ago to thank her; she was thrilled and touched; made it all worthwhile for me....
(Elaine Seymour 10:26am July 24, 2013)
Thanks for the great giveaway!
(Lynn Anderson 10:29am July 24, 2013)
There were several people who have influenced me over the years for different reasons, but two have stood out. The first one is Helen Keller. When I was a little girl, I saw the "Miracle Worker" on tv, and was fascinated with it, so I read Helen Keller's autobiography. After reading it, and realizing all the obstacles she had to overcome, and everything she had accomplished with her life, I decided to pattern myself after her the best I could. The other person who influenced me was an English teacher that I had in High School. We always had to write short stories and turn them in. She was so impressed with my stories, that she told me to continue to write, because I had a gift for writing. I always loved the English language, and wish that I had taken her advice. Perhaps I'll still write that book, but for now my life has been too cluttered with other obligations. I've been influenced by a few people who have helped shape my destiny, and I should also mention another teacher in Junior High who, if it weren't for her patience, this Southpaw would never have learned how to crochet!! Now I'm able to crochet and knit, and bring joy to the faces of friends and family with the click of the needles!! As the saying goes - they come into your life for a reason.
(Peggy Roberson 10:30am July 24, 2013)
There was a woman who offered a class for high schoolers and I just happened into the class - thru a series of "coincidences"! That class helped me learn so much about myself - and THAT was such a great help to me at that time in my life. Your book sounds great - and thanks for the chance to win.
(Nancy Reynolds 10:31am July 24, 2013)
A friend I met in middle school. He was my close friend and
we actually dated for a little under two months (ah, high
school...) After breaking up he told me he was gay. When I
didn't turn my back on him, (we live in a small minded area)
we became even closer. Now he's the only friend I keep up
with from high school, and we talk regularly on the phone
and see each other at least once a month.

He is also the reason I am strongly involved in efforts to
cut down on the unfair treatment of the GLBT community.
(Karin Anderson 10:34am July 24, 2013)
My mom. See she's not my biological mom, but she's my real mom. She took me in when no one else wanted me, and showed me that family takes care of each other. She is the most amazing person I know, and she inspires me to be a great mom!
(Veronica Jarvis 11:30am July 24, 2013)
My grandmother was the best influence in my life... made me feel like I was somebody and that I had someone in my corner... as for an unexpected influence, I would say a coworker years ago... she became a wonderful friend that was there whenever needed and helped me come out of my shy shell a bit...
(Colleen Conklin 12:39pm July 24, 2013)
When I was in college and then in my first job I was tested
for aptitudes and always pointed toward computer processing,
but it was always math related and sounded very boring to
me. But I was put thru a training program at work and ended
up with a very good career as a computer programmer. I
learned that people should pay attention to their natural
aptitudes, develop them and find a way to apply them to
things you enjoy.
(Diane Sallans 12:40pm July 24, 2013)
A friend's mother. She is a great example, someone I look up. She's was there
with a kind and encouraging word as a grew up, there often when things weren't
always so great at home. A fine Christian woman, who just by being herself was
a positive influence on how people should and can be.
(Faith Huffman 12:59pm July 24, 2013)
My friend Wanda has been a great influence on me. She is a kind, caring, generous person who is a great role model.
(Crystal Broyles 1:03pm July 24, 2013)
Unexpected? I don't know. Teachers, parents, relatives, are all expected.
Maybe the judges whoever they were who gave me a scholarship to a
writer conference. Did all kinds of intangible things for my writing.
(Penny Mettert 1:28pm July 24, 2013)
In my life my grandmother was the best influence on me. She grew up in the 1930's through the 1960's and she told me all about the civil rights movement and much of African American history as well as the music from that era down to the people that made Motown famous. She was was an independent woman and she was a nurse that brought everything she ever owned with cash. My grandmother was a woman to look up to and learn from. I loved her very much and i miss her even more now that she has passed on
(Anthonia Sharp 1:30pm July 24, 2013)
I had an English teacher in high school that was a great
teacher - I took a World Lit class from him - and he inspired
my love for reading. I was a Lit major in college, too.
(Sharlene Wegner 1:58pm July 24, 2013)
I had an aunt who was loving and nurturing - and helped me tremendously. My English teacher for my junior and senior years of high school encouraged me to be the best I could be, and she was heroic to me.
(Annette Naish 2:44pm July 24, 2013)
My oldest daughter taught me so much about dealing with the problems life throws at you. Even while fighting a terminal illness she stayed positive and brave.
(Lisa Guertin 2:44pm July 24, 2013)
Thanks for the chance to win. I think everything and everybody has influenced me in some way. Sometimes I see a post that states something that holds a lot of common sense and is put in such a way that I just GET IT.
(Sally Hannoush 2:52pm July 24, 2013)
My mother guided me through my life and influenced my life choices, BUT the unexpected influence came from my high school French teacher. The woman was amazing, we once decided we didn't want to take a test and instead cooked French food and planned a party instead. We came down the hall singing the Marseilles. She had us write out our recipes in French and share them. She conned us into taking summer school for enrichment purposes. She took us on trips to both France and Canada to practice speaking the language. Forty years later, I still keep a bottle of wine in my refrigerator to cook with. And it is all due to her.
(Marcia Berbeza 2:57pm July 24, 2013)
When it comes to a big influence in my life, I would say my
grandmother - who lived across the garden when I was growing
up. I spent lots of time at her house wathcing her cook,
sew, plant a garden, tend to animals (and humans)! She had
a very strong work ethic, which I have inherited, and I know
she greatly influenced the way I embrace (and sometimes
tackle) life!
(Marguerite Guinn 3:02pm July 24, 2013)
I had a teacher that saw potential in me at a young age so he nurtured it
and because of her I am the person I am today. Of not for her wisdom,
guidance and faith in me I might not have saw my own potential. To this
day we talk all the time and she still encourages me to push harder and be
more.
(Stephanie Fredrick 3:15pm July 24, 2013)
My mother, who died 20 years ago, has had the strongest influence on my life. People tell me that I am very much like her which is a huge compliment.
(Cheryl Castings 3:15pm July 24, 2013)
Hi Amanda!I have to say that the person who has the most positive influence on me, has to be my husband. After my first failed marriage, I lost faith in myself! And then, I met him, 27 years ago, he gave me back the strength to continue ma life as a beautiful person. He is always there to give me that little push that I sometimes need! He is my Hero! [email protected]
(Nicole Laverdure 5:23pm July 24, 2013)
I forgot to say Thank you for the beautiful giveaway! I loved reading Rugged Hearts!
(Nicole Laverdure 5:25pm July 24, 2013)
Where I grew up, a man named Hans Hartung was first a
mechanic in the shop of a grumpy guy, when that was the only
auto shop in town that serviced Volkswagens. Later, he
opened his own shop. My father got to know Hand and both
shops because of our lemon of a VW bus, and he told me about
Hans. He said that when Hans opened his own shop, the grumpy
guy lost nearly all his customers. Hans was pleasant,
honest, and a skilled workman. Sadly, Hans died about ten
years later when his tractor turned over on him, when he was
working on his farm.

My father's story about Hans and respect for him resonated
with me, and definitely contributed to my understanding of
what makes for a good life, and what "success" means.
(Mary Ann Dimand 5:38pm July 24, 2013)
I LOVE Christmas in July!

When I was in high school, I was strongly influenced by two math teachers. Each convinced me that I could succeed in a subject that I didn't care for and wasn't particularly adept at. I was so very grateful for them both. When I entered college, I tested out of my first college-level math course, due in large part to the confidence and practical skills they'd gifted me.
(G S Moch 6:02pm July 24, 2013)
My fifth grade teacher, Mrs Shaw, she encouraged me to read . She would point out books that I might like and it worked.
(Deb Pelletier 6:09pm July 24, 2013)
The children's librarian at our local branch when I was a child. She would talk to each child, discover likes and dislikes, then pointed us to books we would enjoy, fostering a love of reading.
(Mary C 6:32pm July 24, 2013)
I was influenced by our nice school librarian at the school I attended from third grade through ninth grade. She always let me come to the library and help her with the typing, sitting at her big raised desk checking out the students books, filing books away, putting the outer jackets on the new books, etc. I loved it so much, that she formed a library club and she kept track of our volunteered helper hours at the library, so she could award us prizes at the end of the year. I always had 60 to 125 hrs. The prizes were for 50 hrs. I got a brand new huge dictionary one year and a brand new huge encyclopedia the next year. I always thought I'd become a librarian, but in high school changed over to secretarial courses and became a secretary, which I loved very much. I got my first job right after graduating from Vocational/Technical college secretarial courses, and worked the the Area Chamber of Commerce & Tourist Information Center. I had a wide variety of jobs (including lots of typing on electric typewriter--no computers back then), and loved every minute of it!
(Linda Luinstra 6:42pm July 24, 2013)
A person that interviewed me for my first job. She was really rude and patronizing. I promised myself that I won't do that!
(May Pau 6:45pm July 24, 2013)
My mom and grandmother were huge influences on how I see and deal with the day-to-day life. They both encouraged me in whatever I was interested in, including books. Several librarians had a poisitive influence on me, encouraging to read and think about what I read, including writing 'blurbs' for books.
(Lisa Root 6:54pm July 24, 2013)
I think my older brother had a huge influence on getting me interested in wanting to learn all about and start collecting muscle cars. I enjoy reading auto collector books and magazines and going to antique auto shows around the state I live in. Cars today aren't built like they were before the 1970's.
(Rich Cook 7:21pm July 24, 2013)
I can't think of any unexpected influences. My expected influences were my parents. My father, especially, instilled in me a love of reading and learning.
(Janie McGaugh 7:55pm July 24, 2013)
while family & friends (even my dog) have all influenced me at one time or another (ok, even many times) ;) I can't think of any unexpected instances, for that I'd say it would prob be catching instances of strangers showing kindess, politeness or courtesy to others (incl strangers to them) that help remind & influence me to do the same.
(d Kenney 7:57pm July 24, 2013)
My current bf has been a huge influence on me in many ways than one. It didn't happen all
at once or in specific areas of my life, but his charisma slowly changed me. From the way
I use to think, to the way I express myself. I've become stronger than I already was just
being with him.
(Lazydrag0n Puff 8:00pm July 24, 2013)
I would have to say Jane Austen. Because of reasons. :-)
(Chelsea Brooks 8:37pm July 24, 2013)
My cousin Rob. He taught me that I have a beautiful spirit.
(Terri Quick 8:40pm July 24, 2013)
Some of the people I work with. I learned so much about myself from them and pushed myself because of them. Christmas doesn't seem that far away this year for some reason.
(Laura Gullickson 8:58pm July 24, 2013)
My dad's been the biggest influence in my life, even if he's not exactly
unexpected. No matter how crazy things have gotten, how stupid I've been, or
anything else, he's always been a strong and steady shoulder to cry on, a good
listener, and a sound advice giver. Of course, crazy is normal in our family, so
he's had a lot more experience handling it than I have! So I always ask his
advice when things are going a little haywire!
(Becca Luman 9:07pm July 24, 2013)
Wow, I want to thank each of you for sharing your wonderful
stories of those who have helped or influenced you in ways
unexpected. Each one is inspiring in its own way;)and has
made me take a step back as well to consider those people in
my life that have made a difference. And while I may not
personally know many of you,I count you among those who by
supporting my writing have/and do continue to influence my
writing career. So thanks to all and best of luck to each of
you!
(Amanda McIntyre 9:24pm July 24, 2013)
A dear friend grew up very poor and he strived to
achieve great things and he did! He's retired
military, has a government job, and a private
business. He's the hardest working person I know
and he always has time to help someone in need. I
am proud to have him as a friend. He is prroof that
you can achieve great things with great
determination and hard work.
(Rhonda Brittingham 9:43pm July 24, 2013)
It's more a group then a person. My father was a alcoholic. When I was 16 I
joined a group called AlaTeen. It was for children of alcoholics. The group
and its members changed my life. I also met my husband in the group.
(Lori Meehan 10:07pm July 24, 2013)
Wow, Congrats on your new book: RUGGED HEARTS and I am like
Wyatt in your book that my ex husband beat on me for the 4
years we were married and hurt my heart and soul a bunch. I
was divorced for 8 years and moved from Kansas to Austin, TX
and then met a nice man where I worked at the State Govt.
offices and we became friends and then got married and now I
have been with Jesus married 25 years. He has been the
unexpected influence in my life because I gave it up to God
and figured that I would be single and divorced forever but
God turned my life around and I am blessed now. I would
really love to win and read your book this summer because it
really hits Home for me. Thank You very much. Cecilia CECE
(Cecilia Dunbar Hernandez 10:18pm July 24, 2013)
My teacher in the 5th grade, Mrs Hamilton, she was one of my
teachers that made class fun. She was always there with a
smile and she remembered me, by name, years later when she
came into my work. She showed me to love school and that
when you are positive with people it can make a huge
difference in how people view things. I didn't enjoy school
that much at the time because we had moved quite a lot, but
having her as my teacher I began to view school differently
from then on.
(Nicole Caroen 10:18pm July 24, 2013)
My uncle...when I was about to give birth and very scared, he told me "Don't worry, this too shall pass" That little bit of advice has stayed with me and helped me so often!
(Diane Pollock 10:20pm July 24, 2013)
My husband is probably the best influence in my life. He always strives to give 110%, even when life is trying to knock him down. It makes me want to be a better person.
(Kristin Bingham 11:26pm July 24, 2013)
It's my high school instructor. He encourages me when I messed up. He doesn't belate me for failing but make me try harder.
(Kai Wong 11:31pm July 24, 2013)
My husband ... he sees me more clearly than I do myself. No matter how down I get he's there to pick me up or kick me in the backside (and he always knows which will work best). He believes in me and loves me ... which sometimes is all I need to know.
(Annetta Sweetko 11:34pm July 24, 2013)
my Family is the biggest influence in my life.and still
are.not always in a good way but they always wore there for
me.
(Stacey Smith 11:36pm July 24, 2013)
The lady who is my best friend now (more like a sister). She's
the person who is ALWAYS there to help whenever something
needs done. She's the definition of compassion and I strive to
be like her.
(LaQuita Parks 11:40pm July 24, 2013)
I had an advisor at college that was always blunt and honest with me and we developed a great friendship over the years. She taught me so much about myself and just learning to be an adult. I've always been grateful for everything.
(Jamie Fortney 11:52pm July 24, 2013)
My good friend has been an important influence in my life, for she sticks by me no matter what happens. It is great to have a friend who is so dependable.
(Marilyn Nowlin 11:55pm July 24, 2013)
From a very young age God and my wonderful, God loving grandmother were and is the number one influence in my life. To live a life that God wants me to, by reading His Word, THE HOLY BIBLE and applying it to my life everyday. Thank you for this chance to win. Your book sounds like a great inspirational read.
(Esther Somorai 11:57pm July 24, 2013)
My husband of 39 years. He taught me to not be shy and to stand up for myself.
(Cathy Phillips 1:18am July 25, 2013)
My grandmother. She raised me and she is the
most influential person in my life. She was the
first one born in this country and 1 of 9 children.
She quit school in 9th grade to help support her
family by working in a plant, which she did until
after the war. She married and 13 years later
became a widow. Started her own business,
which got destroyed in the civil rights riots. She
went on to get a real estate license and sold
homes. Got remarried, designed and built her
home, started businesses for other family
members. In her 70s she worked with high
schoolers and got her ged at 75. She has battled
breast and lung cancer, and currently battling
colon and liver. She is a survivor. She taught me
to sing and laugh, to love stories, to read, most
importantly she taught me love. She is the
person that gave me my values, who is the
definition of sacrifice and joy. I would not be
who I am or who I dream to be, I would have
never had the skills of life if not for her. She is
my heart. They day the word for God on a child's
lips is mother and she is mine. Now and always
(Carla Carlson 1:49am July 25, 2013)
My 93 yr old mom. She is so easy to get along with, loving, always doing things for others, always puts others first - a person to really look up to and aspire to be like. We are all blessed to still have her with us.
(Pat Lieberman 7:55am July 25, 2013)
My late mother instilled many values and principles which I
carry on with my own children. This was always important to
raise productive and happy children and adults who contribute.
(Sharon Berger 9:30am July 25, 2013)
I can't think of anyone unexpected. My mom was probably the greatest
influence in my life, though. She was a stay-at-home mom and spent a lot
of time teaching me, nurturing me, and, most of all, loving me. My mom
passed away three years ago, and I think about her all the time. I find
myself remembering little things she did or said. If it weren't for her, I
wouldn't be the woman I am today. Congratulations and thanks for the
giveaway!
(Linda Brennan 1:29pm July 25, 2013)
A good friend of mine has been a big influence in the
shortened time she moved on this earth. She was unbiased and
taught me tolerance and how to collect sunsets, which take up
no space except in the mind.
(Alyson Widen 8:51pm July 25, 2013)
My family moved to a new town when I started 10th grade. I was so angry that it happened and that I was forced to leave my friends, my school, and forsake all of my fledgling plans. It did not start well, but my new English teacher sensed that I needed some specific challenges. Miss Sue wasn't a nurturer, but a taskmaster. A woman already in her 60s and suffering from crippling arthritis, she wasn't about to give anyone a free ride, and I was seriously annoyed when I got back a few assignments with more red ink than I had yet seen in my whole school career. She taught everyone in her classes the skills we would need to critically analyze information. She taught us to write, and to value language and literature. She encouraged me specifically to participate in both our school newspaper and drama productions, two activities that opened my mind to new friends and new passions. And although she never lost her red pencil, my assignments started coming back with fewer criticisms and more encouraging notes. It wasn't until years later that I learned that she had been responsible for a college scholarship that eased my way into a brighter future than I would have experienced had she not been an influence in my life.
(Janet Martin 8:55pm July 25, 2013)
My mom instilled values in me that I have passed on to my own two children. Being kind, caring and honest are the standards she lived by and that I live by also. My mom passed away ten years ago and not a day goes by that I don't think of her. I will see her again one day and when I do we will laugh until our stomachs hurt like we used to do.
(Rita Wray 10:11pm July 25, 2013)
My father got me interested in taking care of myself, which helped me when I became disabled.
(Carol Woodruff 6:22pm July 26, 2013)
I always looked up to my mother and she was always supportive of me. I still miss her after losing her 23 years ago.
(Marcy Shuler 8:07pm July 26, 2013)
My husband. I was a very wild girl when we met. Loved to party and hated responsibility. He on the other hand never misses a day of work, saves money, is nice to everybody and always helps people if they need it. He has made me a much better person. We met 20 years ago and I can say that I'm a calmer, nice, gentler person than when we met. But I've always loved to read no matter what !!
(Susan King 9:02pm July 26, 2013)
I don't know about unexpected influences, but I think a lot of
people I have met along the way have influenced me in some
way.
(Mary Preston 9:25pm July 26, 2013)
I think that it is my Mother. When I was younger, I stayed angry at her all the time. Now, each time I think about her I remember more wisdom that she gave me. She is influencing me everyday.
(Janet Shook 9:42pm July 26, 2013)
My Dad was the most influential person in my life. He was loved by everyone because of his easygoing and forgiving nature He died 14 years ago and is still missed.
(Monica Vargo 3:34pm July 27, 2013)
One unexpected influence that I still remember fondly is from when I was a little girl in AWANA. I was a pretty awkward kid--chubby, quiet, had acne, wore glasses, had no fashion sense, always had my nose in a book, and always felt uncomfortable in social situations. Anyway, once, one of the AWANA leaders asked me if I needed help with the week's lesson, and when I said "No, thank you," she said, "I didn't think so. You're a pretty smart cookie."

It was a quick, innocuous comment, but it actually meant a lot to me at the time that somebody outside of my family noticed and approved of one of the few things about myself that I thought were worthwhile. I still remember that and feel grateful for it. :)
(Sissy Gifford 10:01pm July 29, 2013)
I'm listed as a winner but I never recevied an email or prize...please let me know what I need to do to claim my prize. Thanks.
(Rhonda Brittingham 9:38am October 15, 2013)
I like the names of the 3 brothers.
(Leona Olson 12:08pm November 29, 2013)
I admit you are a new to me author but after reading the blurb for "Rugged Hearts" I am hooked.
(Wanda Craighead 12:04pm December 4, 2013)
I love your words, "it's the tiny moments today, that will be the big moments
one of these days." We certainly need to take in the tiny moments and not
let them slip by. I am very grateful for my family, that I still have both
parents that are in relatively good health,that we all live close and I can see
my three precious grandchildren often.
(Melanie Backus 1:06am December 4, 2013)
I'm most thankful for health of my family, also the many friends. Makes a great life. I love cowboy stories, so looking forward to reading your books!
(Barbara Wells 7:36am December 4, 2013)
The best random act of kindness was the year an anonymous
person gave my son (with autism) an iPad. The note said to use
it to be the best person you can be. We are still honored by
this gift.
(Robyn Roberts 8:25am December 4, 2013)
I also am most grateful for those random acts of
understanding and kindness to my son who is on the autism
spectrum. He tries so hard... and some people respond by
giving him a few minutes of their time. If they only knew
that their actions may be relished by him (and me) for
years! They mean so much. We often go to the local theme
parks - he's a real theme park nerd :-))) so my best
memories are usually from one of the parks.
(Linda Townsend 8:43am December 4, 2013)
Sounds like a good read - bah humbug cowboy. No ramdom act of kindness but love Robyn's comment. How wonderful of than donor.

I am thankful for my friends and family and the good health.
(Pat Lieberman 8:44am December 4, 2013)
We as a family try each year to show kindness to one or more families. We
also like stress free holidays.
The book sounds really good and I love this quote "the Grinch of the
Ranch." Thank you for the giveaway chance.
Shared and tweeted
(Lori Meehan 9:15am December 4, 2013)
LOVE YOUR BOOKS HOPE I WIN I NEVER WON ANYTHING IN
MY LIFE AND I REALLY WANT TO WIN SOMETHING!!!!
(Shelly Caggiano 9:16am December 4, 2013)
I am thankful for having a roof over my head, after losing my house not too long ago, and having to live in a pop-up camper with my Husband and dog, leaving most of our belongings behind. I'm also thankful for our 2 kitties, who have taken the place of our dog, who passed away suddenly, 3 years ago. They are the loves of our life!! I'm also thankful for my good friends, friends whom I've made over the years and still have, and friends who I will make in the future. They help keep me going.
I'm looking forward to reading your book, since I've run across a few "Grinches" over the years. Have a wonderful Christmas, and the very best of New Years'!!
(Peggy Roberson 9:34am December 4, 2013)
I am grateful for my friends and family.
(Pam Howell 10:06am December 4, 2013)
I'm thankful I'm alive. I did try to kill myself a few years back. The holidays are very hard having no one to spend them with. This book has been on my list to read. I always have wanted to win a giftcard.
(Cathy Thomas 10:22am December 4, 2013)
Rugged Hearts is on my to-read list.
(Wendy Jensen 10:31am December 4, 2013)
What means the most to me is being with my wife and kids. A few years ago i had gotten very sick and spent 4 months n the hospital,my only fear was i would never see them again.
(Richard Randazzo 11:04am December 4, 2013)
I just loved Rugged Hearts! I am rereading this again as part of my Christmas reading. Can't wait to see you again next year.
(Margie Hager 11:19am December 4, 2013)
As always, I'm most thankful for my family. Christmas time tends to make me nuts but the "time with family" part makes it worthwhile.
(Angela Hoagland 11:55am December 4, 2013)
I am thankful that my family is near... always there when they are needed! Happy Holidays!
(Colleen Conklin 12:08pm December 4, 2013)
I am grateful for my family and friends.
(Pamela Jaenke 12:12pm December 4, 2013)
My family! My two beautiful little girls...
(May Pau 12:19pm December 4, 2013)
I am most grateful this season for my job. It helps me to
support the family it is flexible so I can work around and
assist through family emergencies/difficulties. My boss had
given me this promotion fairly early. It was a leap of
faith on their part since I had stepped back into the
workforce in an entry level position after being a homemaker
for over one and a half decades.
(G. Bisbjerg 1:13pm December 4, 2013)
I am thankful for my good health and my family. That is all that I really wish, because I think it's the most important thing to have. Thank you Amanda!
(Nicole Laverdure 1:50pm December 4, 2013)
I think the older I get, the more I "Whoa!" It's okay if things aren't picture perfect. What needs to be done will be done. Looking at decorations with the grandkids or celebrating daily mass during the Advent season reminds me of what's important.
(G S Moch 1:52pm December 4, 2013)
Sounds like a great read!
(Michelle Schafer 2:12pm December 4, 2013)
I'm most grateful for the family I have left to celebrate the Holidays with. We have lost two beloved members of our family this year, and it just makes me appreciate the ones I have left. It also brings to mind something my grandfather once told my mother when she asked him what he wanted for Christmas. He told her that all he wanted was a little bit of her time. Remembering that always makes me say "Whoa!" and makes me take time to spend with my loved ones - even if the dishes need washing or the clothes need washing. It's more important to spend the time with family because you can never get that time back.
(Tonya Coley 2:15pm December 4, 2013)
I am very blessed to have a wonderful husband and 2 crazy
boys... I enjoy spending time with them and in the case of
my boys Love seeing their faces light up when Santa brings
them gifts... Also seeing them take part in our churches
christmas program is also very special for me. I had the
pleasure of meeting you at LLRAW this year and being
introduced to your books. :)
(Jeannie Platt 2:53pm December 4, 2013)
I'm my grateful for the health of my family and the devotion of my animals.
(Sue Farrell 3:05pm December 4, 2013)
What means most to me, not just this time of year, but all the
time, is being with my family -especially family I don't get
to see often enough.
(Margay Roberge 3:09pm December 4, 2013)
I'm grateful for my kids, including the married in one, my (patient) husband and all of our dogs. Our Frenchton had puppies. She is 1/2 French Bulldog and 1/2 Boston Terrier. My daughter's dog is a French Bulldog. They mated, and our Frenchton had 8 adorable puppies by C-Section. She and all the puppies lived. We have a lot to be thankful for this year!
(Sandy Fielder 3:25pm December 4, 2013)
I am grateful for my family and my health, after a breast
cancer diagnosis last year.
(Sharon Berger 3:40pm December 4, 2013)
I am grateful for my family and friends
(Ann Unger 4:06pm December 4, 2013)
I am very thankful that my daughter had access to a hospital quickly and then survived emergency surgery.
(Elaine Seymour 4:34pm December 4, 2013)
This holiday season I am grateful that the whole family is getting together for the first time in five years...I am so looking forward to seeing many dear faces and giving (and getting) huge hugs...Skype is nice, but happy to have our global family together again in person!
(Amy Baker 4:36pm December 4, 2013)
I'm grateful that my family is healthy and that we will all be getting together to celebrate Christmas together.
(Maureen Emmons 5:09pm December 4, 2013)
im grateful to have my family whole for christmas
(Jennifer Mathis 5:40pm December 4, 2013)
Always grateful for my family and my faith!!! ALWAYS!
(Bonnie Capuano 5:52pm December 4, 2013)
My family means the most to me. My health hasn't been the best this year, but my family is there to help me when I need it.
(Marcy Shuler 5:58pm December 4, 2013)
I'm grateful that my family is healthy. I don't get to see my adult sisters and brothers very often but am glad when I hear from them and that they're doing well. My oldest son's twins (boy & girl) will get to celebrate their first Christmas this year (they're now 7 mos. old). Western romance is my most favorite genre...so I can't wait to read Rugged Hearts, and I'm grateful it's out in paperback.
(Linda Luinstra 6:01pm December 4, 2013)
I am so blessed to have the family I have, even with all our warts, whines and tears. We love each other and no matter where we are in this big country of ours, we always know that one of us needs a little telephone call to say hi and that we are loved.
(C Culp 6:30pm December 4, 2013)
I live in a nursing home, so it means a lot to me that my sister, brother-in-law and niece visit me and keep in supplies I need. Without their help and visits I don't know where or how I'd be.
(Carol Woodruff 6:38pm December 4, 2013)
I so enjoy hearing about people and their random acts of kindness, especially when it comes to people so less fortunate. I think so many people forget about little things that mean so much to others this time of year. I think I feel most grateful to help someone or do small favors (esp. for the elderly).
(Rich Cook 6:40pm December 4, 2013)
Sounds like a good book :)
(Terri Quick 8:08pm December 4, 2013)
As we age all that running around slows down . Thank goodness.
Let the others enjoy the craziness of the Holidays. I'll have
some hot coco and read a good book. :-)
(Deb Pelletier 8:22pm December 4, 2013)
My husband & I took care of my mother for 6yrs, she was in a nursing home also & we went to see her every week & took supplies to her. I am thankful that my husband & family supported me through all this & at the time of her death this year. We try to help out all our family when they need us.
(Lois Imel 8:26pm December 4, 2013)
Wow, Congrats on your new book: RUGGED HEARTS. I love the
sexy western book cover too! I am first of all, thankful to
God for giving us his son Jesus Christ to save all of us
from our sins. I am grateful for family and friends and my
husband of 25 years supporting me in many ways. I am
thankful for our 4 little dogs loving us too. I would love
to win and read your new book this Christmas. Thank You very
much. Cecilia CECE
(Cecilia Dunbar Hernandez 8:41pm December 4, 2013)
my family and my job
love the cover
(Jennifer Beck 8:41pm December 4, 2013)
Thanks for the giveaway!
(Stephanie Christensen 8:52pm December 4, 2013)
I don't receive random acts of kindness but I give them. I am a true believer in paying it forward & have done so throughout the year.
(Susan Coster 8:52pm December 4, 2013)
My family and my health. Thanks for a chance to win your book.
(Linda Hall 10:01pm December 4, 2013)
I do a few random acts of kindness through the year, nothing major, just little things! I'm grateful for my family and our health. Thanks for the chance to win.
(Martha Lawson 10:29pm December 4, 2013)
I'm grateful for my family and friends. I can't think of a recent act of kindness to me, though I did let someone in front of me in line yesterday.
(Janie McGaugh 11:05pm December 4, 2013)
I am thankful for family and friends
(Lucinda Schmaltz 11:46pm December 4, 2013)
I'm grateful for my loving husband, who helps out a great deal & never complains when I'm not able to do things.
(Christine Schultz 11:57pm December 4, 2013)
I'm grateful that my Mom is alive today. Last Christmas, she got seriously sick and the doctors in the hospital didn't expect her to make it past New Year's. She beats the odd and made it through this year's Thanksgiving and hopefully Christmas and New Year's.
(Kai Wong 12:10pm December 5, 2013)
I'm grateful that family and friends are well.
(Mary C 1:43am December 5, 2013)
I'm grateful for family too. They mean the world to me.
(Mary Preston 4:19am December 5, 2013)
I love all the comments you've received so far. It makes me even more thankful for the life I have and the family, and job, husband and pets. We lost my brother this year very unexpectedly and that makes me appreciate my family and how we support each other all the more. Your book looks fantastic. Thanks for the chance to win. Happy holidays to everyone!!!
(Nancy Reynolds 11:06am December 5, 2013)
Thank you for the awesome giveaway. I'm most thankful that I'm not homeless.
(Terri Childress 11:54am December 5, 2013)
I'm just thankful to have a happy, healthy family.
(Deidre Durance 3:00pm December 5, 2013)
Awww, what great ideas. We have gotten very spoiled since our granddaughter came along. We take her to Disney every year at Christmas time. Its no easy trip of course. But it is loads of fun. And we aren't focused on all the madness. Just her.
(Lisa Hutson 7:51pm December 5, 2013)
Sounds like an interesting read
(Terri Quick 8:48pm December 5, 2013)
I love holiday stories. I cant wait to read this one.
(Denise Austin 10:45pm December 5, 2013)
Since my Mom fell serious ill, I have been on my best behavior in not to upset her since her illness left her with a weak heart. I value every day that she is still with my family.
(Kai Wong 1:08am December 6, 2013)
We try to look back at the years past, rekindle those memories and some of our departed loved ones. We keep their memories alive with the stories we share from the times we had with them.
(Darci Paice 1:24am December 6, 2013)
I know it has been said before but I too am grateful for my family. I am blessed to have three wonderful children and a dear husband. I am looking forward to spending the holidays with them.
(Kathleen Yohanna 5:05am December 6, 2013)
Wouldn't we all love to heal a broken spirit, and have a HEA.. :-)
(Lori Howe 8:42am December 6, 2013)
I love cowboys and this really sounds so good thanks so much
(Denise Smith 8:47am December 6, 2013)
Always grateful for my family. I look forward to reading this book...love holiday themes.
(Bonnie Capuano 8:49am December 6, 2013)
I work at Pier 1 Imports and I love it when random customers
will open the door when I'm carrying something heavy/large.
You'd be surprised how many DON'T!
(Karin Anderson 10:35am December 6, 2013)
Corny as it sounds, my children and husband are the things I am thankful for. I married at 18 years and 3 months and was told it would not work! Now 30 years later I have a daughter who is a teacher, a son who is a policeman, my youngest daughter is at University studying archaeology and my husband and I are still very much in love - so take that you doubters!
(Barbara Hanson 10:39am December 6, 2013)
I'm grateful for my children, grandchildren and great-grandchildren.
(Wilma Frana 10:52am December 6, 2013)
I am most grateful for my family and my health.
(Sue Galuska 10:56am December 6, 2013)
I am fortunate to have a wonderful family and some good friends. They brighten my part of the world.
(Anna Speed 12:46pm December 6, 2013)
one christmas, while living in florida, i received the greatest act of kindness i have ever witnessed. i was a single mother with three small children. wehad just been abandoned by my husband and i had recently started working. i was struggling just to make ends meet, and i knew there weren't going to be any presents for the children on christmas. i said something about how torn up i was, because christmas had aleays been a big deal in my home. to my surprize, on christmas eve, i answered the door, and there stood santa clause, in all his glory, wool suit and great big beard,(it was 95 degrees) he had very expensive toys and clothing for the kids and even had beautiful things for me. it was the owner of the company that i worked for, and he stayed quite awhile, till his suit was soaked through with sweat. when he left, he hugged us all, and said that some of his helpers might be by later to check if we liked our gifts. about an hour later, three of the managers showed up with three trunkfuls of groceries and edible goodies and even a grocery store gift card for 100$. i will never forget how kind people can be to a relative stranger. and the kids remember that christmas as well.
(Sue Hieber 1:06pm December 6, 2013)
Thank you for your eloquence, you have aptly put my feelings into words. I am most thankful for my family, near and far. As we age, health problems have crept into our everyday lives but we are all hear and happy!
(Kimberley Coover 3:17pm December 6, 2013)
I'm thankful for my pets. Have a lovely holidays.
(Leslie Davis 4:29pm December 6, 2013)
I'm thankful that the whole family will be together this year
and that we have a new addition who is 15 months old - really
looking forward to him taking it all in.
(Diane Sallans 4:52pm December 6, 2013)
We've been through a lot, particularly healthwise, so I'm
thankful for family & just the fact we're here & together. We
don't have much, be we do have each other.
(Kay Martinez 5:15pm December 6, 2013)
Happy Holidays! The book sounds great. Jen
(Jen Hunt 5:24pm December 6, 2013)
I think I'd have to say I'm thankful for my family. After losing my dearest and closest sister, well, I'm grateful for my nephew and my one remaining sister.
(Vennie Martinisi 5:24pm December 6, 2013)
I'm grateful for my new job that I like. It's so nice not to have to worry about money this time of year.
(Laura Gullickson 5:38pm December 6, 2013)
my grandchildren are the most important to me and I am grateful of them every day.
(Janet Gould 6:33pm December 6, 2013)
I wasn't much into westerns until this year when I read one of Lori Handeland's. It
was great. So, I'm thankful for westerns!
(MaryAnne Banks 7:05pm December 6, 2013)
I'm thankful for my dear husband and kiddies - who are now not so little (16 and
18).
(Molly Wilsbacher 7:50pm December 6, 2013)
I just might check out your book :)
(Terri Quick 8:27pm December 6, 2013)
i am greatful for my family and my job!!
(Jennifer Beck 9:24pm December 6, 2013)
love your books... can't wait to read this one
(Mari Kenobi 10:17pm December 6, 2013)
Registered users may leave comments.
Log in or register now!