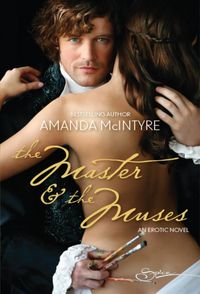 Purchase
Spice
June 2010
On Sale: June 1, 2010
Featuring: Sara; Thomas Rodin; Helen
384 pages
ISBN: 0373605447
EAN: 9780373605446
Kindle: B007SNB8G2
Paperback / e-Book
Add to Wish List

Other Editions
Audio (reprint - June 2010)
Romance Historical | Romance Erotica Sensual
Icon, rebel, unabashed romantic with a single look painter Thomas Rodin conveys the ecstasy of creativity, the pleasures awaiting the woman who can fuel his artistry.
the Innocent
What did this master artist see in me? Genius abided in his soul, rapture in his flesh,I doubted not. To refuse him my folly. To surrender my sensual salvation.
the Upstart
I chafed at the bonds of servitude until he set me free. I turned my back on all that I knew to follow him and found myself between two men, master and student, one whom I loved with my heart...the other with my body.
the Courtesan
I understood, perhaps better than any, his needs. I stoked the fires of his soul, the spark of his creativity he made me a legend. But never could I forget his searing touch...
Three transcendent tales of women bewitched by a master of seduction a slave as much to his art as to his boundless passion.
Videos
Comments
35 comments posted.
The perfect hero and/or
heroine is someone who isn't
perfect but is redeemable. All
to often, a hero or heroine
does something that I'm not
happy about and I can't get
past it enough to enjoy the
rest of the novel.

Also, I prefer my heroes and
heroines to have great senses
of humor. I especially like my
heroes to be laid-back, fun,
smart and honorable.
(Jacqueline Cook 3:44am June 28, 2010)
The perfect hero is one who is ever-changing to life in general. Strong, but open to new feelings.
(Joanne Reynolds 6:27am June 28, 2010)
definition of hero: a man distinguished
by exceptional courage and nobility and
strength.
(Tina Werner 8:43am June 28, 2010)
The hero/heroine should be an everyday person who really doesn't want to be one, but they are. They are loyal and believe in equality.
(Leni Kaye 10:56am June 28, 2010)
The perfect hero is someone who cares about others more that they care about themselves.
Blessings,
Marjorie
(Marjorie Carmony 12:32pm June 28, 2010)
I agree with Tina about what a hero should be but add ripped and that is him.
(Vickie Hightower 1:02pm June 28, 2010)
My perfect Hero is strong and has a soft heart.
(Theresa Buckholtz 1:54pm June 28, 2010)
Perfect hero... hmmm... I think the perfect hero is one that goes through the challenges before him and comes out at the end better for it!
(Colleen Conklin 2:21pm June 28, 2010)
The perfect hero or heroine has faults and seems human one that I can relate too but that has a much stronger sense of self than the average person.
(Darci Paice 2:47pm June 28, 2010)
My perfect hero is the person you call at 3 a.m. when you need help with a broken water pipe or any disaster that happens in the middle of the night.
(Roseann Moss 3:00pm June 28, 2010)
the perfect hero is someone with despite there personal problems or limitation always manages to do the right thing.
(Sherry Russell 3:09pm June 28, 2010)
The perfect hero, is the imperfect man who does the right thing for the right reason. I believe we have all met a perfect hero at one time or another in our lives, we just don't neccessarily know it. No one is perfect, no one is ever not wrong about something. A perfect hero may last only that one moment that the act of heroism is needed at that time...The act may not seem to be heroic to all, but only needs to be heroic to 1 living being.
(Kimberley Coover 3:41pm June 28, 2010)
Dependable, hot and have a great sense of humor. Okay, he may not do the right thing at the right time every single time, who does, but he does try to do so and tries to make up for it when he can.
(S Tieh 3:49pm June 28, 2010)
I love a hero that has some sort of internal struggle; he doesn't quite meet his own standards, even though he meets everyone else's, he doesn't see himself through the eyes of his friends or his loved ones. It never hurts when the hero is attractive, but I like to see a hero figure out during the course of the book that he is worth of... Whether that be life, or the woman, or whatever.
(Kelli Jo Calvert 5:24pm June 28, 2010)
Perfect hero/heroine to me has more to do with what type of person that is emotionally, morally than what they look like.
(Tamara Shurling 5:51pm June 28, 2010)
I think that the perfect hero is someone with faults and strengths of his own, but he is always there for you when he is needed.
(Cathy Phillips 6:06pm June 28, 2010)
I agree with what you said about heroes being created, not ready-made/born.
Just as in real life, a protagonist in a novel only becomes a hero through his ability to rise up and meet life's challenges with a spirit of
grace and fortitude, whether they be physical, mental, or emotional, ranging from the guy who goes to work everyday to provide for his
family to the guy who helps an elderly person put his/her groceries in the car. In other words, a guy who takes the time to use his strength
to help others, even if it's in everyday situations---not just rescuing from a burning building, for instance.
Julie
(Julie Robinson 6:10pm June 28, 2010)
I am so intrigued by these answers-I'm not at all sure I would know how to relate to a "perfect" hero type-course then there is always ripped anti-hero...but thats another blog LOL
Great answers!
Thanks for pariticpating!
Amanda
(Amanda McIntyre 6:51pm June 28, 2010)
the perfect hero is a good guy that is also good looking
(Sagrario Vigil 6:56pm June 28, 2010)
The perfect hero is strong, vulnerable & imperfect. The perfect heroine is also strong, she is feisty & does not wait around to be rescued.
(Mary Preston 7:25pm June 28, 2010)
Someone who is REAL. They have their flaws just like everyone else.
(Lisa Garrett 7:32pm June 28, 2010)
There is no perfect hero, but I like it when the hero is not the stereotypical hero, as that makes him boring. Different is good.
(Pam Howell 7:35pm June 28, 2010)
Flaws make heroes seem not so perfect like in real life. I like mine to be tough and rough on the outside, yet have a heart and show compassion at irregular intervals.
(Alyson Widen 8:33pm June 28, 2010)
My male hero is masculine,loyal,and always there when you need him.
(Deb Pelletier 8:53pm June 28, 2010)
There is no perfect hero. In fact if they are too perfect, they aren't believable.
(Brenda Rupp 8:54pm June 28, 2010)
Heroes/Heroines have flaws. It is the question if they could overcome their flaws which makes them memorables.
(Kai Wong 9:31pm June 28, 2010)
I agree with Brenda, if the hero is too
perfect, he's unbelievable. I like my hero's
to have a "past" so when they are
redeemed, they have a reason to be
grateful for what they have.
(Molly Wilsbacher 10:09pm June 28, 2010)
I like when the hero goes against everything to do what's right, even if it means he or she loses it all.
(Cathie Veres 10:58pm June 28, 2010)
It's important to have a flawed man as the main character, because he then can be understanding of the flaws in others, without judgment.
(Alessandra DAgostino 11:17pm June 28, 2010)
There are no perfect heroes, just men
who have faced great adversity and still
strive to do their best and hold on to all
that makes life worth living.
(Sue Ahn 11:32pm June 28, 2010)
My hero would be attentive to me and not be a self absorbed man. Will suprise me with a new book, a rose or plant, or a dinner he prepared. He will not think women are beneath him and treat us equally. He will be understanding, loving but not demanding and loves his mother (respect & love).
Will be willing to help around the house, make repairs and general maintainance and take care of our cars. Will not be a couch potato and expect me to wait on him. lol.. I don't ask for a lot do I.. lol.. No man is like this so he is just a dream a lovely dream.
(Brenda Hill 11:39pm June 28, 2010)
to fall in love with an unloveable hero is a big mistake, but if her looks like the man on the cover of your book, you would be a fool not to fall in love with him lol
(Irene Nash 12:36pm June 29, 2010)
The physical "beauty" of the character
isn't high on the list. It is the inner
character that is most important. In a
heroine or hero, I look for an
honorable and honest individual.
They don't have to be perfect and may
have to grow greatly during the story,
but in the end they are a good person.
In the end, they should do what is
right for the greater good, not just for
their own self interest. They can have
a variety of character flaws, but basic
goodness and honor must be present.
(Patricia Barraclough 1:15pm June 29, 2010)
I WILL WANT TO READ THIS VERY SOON
(Debbi Shaw 1:26pm June 29, 2010)
Thank you for all of your thoughts on heroes and heroines, its a question with endless variations, and yet commonalties that show how beautiful the human heart is.

It took seeing Thomas through the eyes of his muses, to understand him better and for him to see himself through their eyes that made him a better man.

Until next time, be well~
Amanda McIntyre
www.amandamcintyre.net
(Amanda McIntyre 1:51am June 30, 2010)
Registered users may leave comments.
Log in or register now!