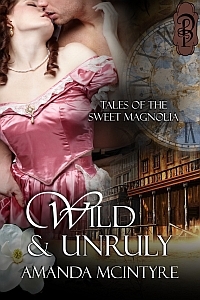 Purchase
Tales of the Sweet Magnolia #1
Decadent Publishing
September 2011
On Sale: September 1, 2011
Featuring: Lillian; Jake Sloan
ISBN: 1613330065
EAN: 9781613330067
Kindle: B005KD7J6K
Paperback / e-Book
Add to Wish List

She's single, sequestered in a librarians job, and goes home to a three-legged cat every night. Is there any doubt why Lillian fantasizes of a cowboy to take her away from all of that? Instead, she live vicariously through the stories of the bawdy old west, until the day she finds a gorgeous red amulet that will change her life forever.
Sheriff Jake Sloan is Deadwater Glutches 'good son.' But even as the Sheriff runs for district deputy his heart yearns for the one woman he can't touch, not in the way he wants to. But Lil is a hard fantasy to cast aside, and when her life hangs in the balance, all rules get tossed aside, even if it means having to explain to the voting public, why he's sharing her bed.
Can a librarian with secret fantasies, make it as a bordello madam? And can a Sheriff, with his career in the balance, fall in love with her? Be careful what you wish for!
Sweet Magnolia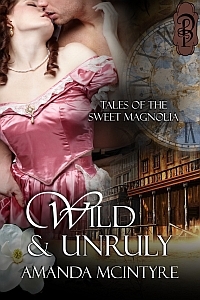 Wild and Unruly
#1.0
Amazon.com | BN.com | | |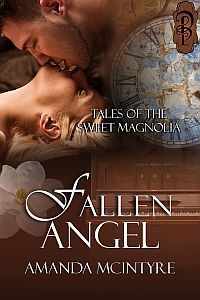 Fallen Angel
#2.0
Amazon.com | BN.com | | |
Comments
44 comments posted.
Re: Wild and Unruly

I believe that time travel may be possible, but the human race would reek havoc if allowed to change history! My favorite time travel book so far would have to be A Knight in Shining Armor. Please enter me and thanks for the interesting blog and giveaway.

Patti
(Patti Paonessa 5:49am June 27, 2011)
Yes - I think time travel is possible. Think of all the wonderful things you could experience. Please enter me in the contest.
(Karen Schmidt 12:32pm June 30, 2011)
Time travel is possible but if we tamper with the past to change the future, the question would be: Would we have a better future or make the future worse than we left it? My favorite book is A Knight in Shining Armor and my favorite time-traveling TV series is Quantum Leap.
(Kai Wong 1:01am June 30, 2011)
I think that humans would destroy things if they had this capability.
(Debra Simning-Chapman 1:31am June 30, 2011)
you know it is a very rare gift that a writer has when he or he can captivate the reader so much that the reader becomes one with the story. I am an avid reader and have read many many books, I love to read, and I've found that you are among those writers whom I respect and admire so much with the ability to make me become one with your story line! Yours is a God given talent and I am so thankful that you chose the profession that you have because it would have been a great loss on all of our parts if you hadn't. Thank you for sharing yourself with me and with the rest of the world, you are truly amazing!
(Ronald Riedel 3:09am June 30, 2011)
I discuss this theory of time, all the time (pardon
the pun). I love the idea that space is curve and
that the possibility that not only is time, but time
folds upon itself. I love using simple examples of
blackhole theory and incorporating it even
further. Is travel possible.. why not. Who is to
say what has/hasn't been done to further
humanity or our existence. There is so many
layers yet to peel away from this mystery and it
will only be revealed when it is "time". I loved
Somewhere In Time, the theme song was even
my fist husband and my wedding song..he was
actually the one that turned me on to the movie.
Ironic as that sounds. I fell for this one book
called Always by Trevor Meldal-Johnsen,Always
My Love by Carla Simpson, Rememberance,
Knight In Shining Armour.. think I have kept and
re-read all my TT books, just can't depart from
them.
(Carla Carlson 3:21am June 30, 2011)
yes it is possible
(Ronald Riedel 3:25am June 30, 2011)
I think we would muck things up as we usually do - it would be nice to go back and change what we consider wrong but changing them may make things worse! Fantasy is so much better!
(Barbara Hanson 8:25am June 30, 2011)
Sure why not? Anything is possible!
(Dawn Staniszeski 8:54am June 30, 2011)
rare find i will read this one
(Debbi Shaw 10:50am June 30, 2011)
Thanks to all the comments regarding this topic!! Its a fascinating debate, no doubt! And I think that in reality, chnaces are as humans (fallible beings that we are) given such power we'd likely muck things up a bit...which brings to question, could this already be part of teh problems we face? What if the majority of issues in the world were created by those who've caused a ripple in the universe?

Being a writer, its a curse to have such thoughts.But I do think that there are many mysteries, perhaps better left as mysteries. Is it vital that we know every single thing?

Still, for purposes of storytelling, the options, the "what if's " make for glorious possibilities!

How would we behave if we found ourselves thrust back into the old west? There is a great movie coming soon called 'Cowboys and Aliens" (?) with Harrison Ford that looks amazing!!

Stay cool inside today!

Amanda
(Amanda McIntyre 10:54am June 30, 2011)
Just as a side note, WILD & UNRULY will actually be released Septemeber 2011, in print and ebook formats simultaneously!!

A.M.
(Amanda McIntyre 11:57am June 30, 2011)
Anything is possible, including time travel, in our imagination and dreams. Isn't life wonderful!
(Anna Speed 2:28pm June 30, 2011)
I would love to go back in time and fix all the mistakes I made.
(Deb Pelletier 3:49pm June 30, 2011)
YES, my husband's name would be great for YOU because it is JESUS and JESUS and Angels go hand in hand just like putting GOD First in our lives too. Thank YOU, Cecilia
(Cecilia Dunbar Hernandez 4:48pm June 30, 2011)
I think that time travel could be possible but it might be only for a matter of seconds. (Think of all those physics experiments that need to measure in fractions of seconds to prove a theory.) For a favorite movie, it is hard to beat Dr. Who. I think that Diana Gabaldon's Outlander series is probably the most loved time travel series today.
(Carol Drummond 6:46pm June 30, 2011)
I love The Time Travelers Wife!
(Lisa Garrett 7:01pm June 30, 2011)
I don't think time travel is possible, but it's kindof a modern concept with some superstitions. I like stories that have the flavor of going back in time like A Conneticut Yankee in King Arthur's Court.
(Alyson Widen 9:38pm June 30, 2011)
The Gunslinger (Dark Tower Series) is my favorite T/T series.
I think I would do it if I could too! I love the idea of
seeing that which has only been read!
(Michele Powell 10:13pm June 30, 2011)
I've never really sat down and seriously thought about time travel, but if this counts, I believe that I've already lived in a prior life, and was put here, at this moment, to live for some specific purpose, which to me is unknown. To you, it would make sense, but to others, it might sound a bit crazy. There are things that I've seen or experienced that make me feel as if I've already experienced them many years ago, or have seen them decades ago. It's rather hard to explain. Part of it is a bit spiritual. I love the premise of your book, and would love to read it!! Thank you for coming up with a book that you can sink your teeth into and should be refreshing since it's so far from the norm.
(Peggy Roberson 10:32pm June 30, 2011)
I believe time travel is possible but I don't think we should do it. I just don't think it is a good idea. Too many risks.
(Jennifer Beyer 10:40pm June 30, 2011)
I don't think time travel is possible,but I still enjoy all the Back to the Future movies.
(Sheila True 10:41pm June 30, 2011)
While time travel is intriguing, I think it is a while before we are able to actually able to take advantage of a trip. I enjoyed Jane's Warlord. I Also like the Back to the Future series.
(Lisa Kendall 11:02pm June 30, 2011)
Anything is possible.....however, it's the dimension in time that is questionable. Certainly everyone dreams.....do we time travel already?

Submitted by a brunette, military brat Librarian whose tall, fair, handsome Texan married her in London.
(Carla Schuller 11:02pm June 30, 2011)
Why wouldn't time travel be possible? Maybe it's already here but we just can't see it.
(Mary Preston 12:28pm July 1, 2011)
Ok so I was reading, early in the morning before coffee!,and read cosmotologist instead of cosmologist.. thinking why would she be quoting a cosmotologist?? Any way, I think time travel is possible and only wish I could experience it!
(Cate Sparks 7:27am July 1, 2011)
One of my favorite movies is Back to the Future-since I like the comedy as well as thinking of what might be if we could go back and forward in time.
(Jody Hollenbeck 7:28am July 1, 2011)
I think time travel will some day be possible. For the present, I will let my dreams take me to other times and places. As for a T-T author, I love the work of Gwyn Cready and the earlier books of Karen Marie Moning.
(Robin McKay 7:29am July 1, 2011)
I think that given enough time and technology time travel will be possible.I like the movie frequency. Even though he isn't traveling back in time, he is communicating with his father in the past.
(Debbie Penny 7:57am July 1, 2011)
I think time travel is possible but I'm glad I won't be around to see it. Seems it would make life far to complicated. I like Back To The Future and would like to read The Time Traveler's Wife.
(Holly Caulfield 8:11am July 1, 2011)
Who can say--we already move through more dimensions than our ancestors dreamed of.
(Janet Martin 4:04pm July 1, 2011)
I m with Carol --- DR WHO and the OUTLANDER series is the Best!!!!!!
(Audra Holtwick 6:06pm July 1, 2011)
Anything is possible. But probable in our lifetimes? Probably not.
(Diane Sallans 6:25pm July 1, 2011)
I don't believe Time Travel is possible, but it's fun to think about it and use our imaginations as if it were. I have 2 favorite TT books - The Time Traveler's Wife and Outlander. Both moved me when I read them and I thought about them for months afterwards - still do!
(Molly Wilsbacher 9:05am July 2, 2011)
I believe that time travel is possible, I would love to find the people that are working on it. I have watched Dr, WHO and even though I believe in time travel I do not believe its in a telephone booth.
(Rebecca Delio 10:17am July 2, 2011)
Recently, I read Erin Quinn's Haunting Beauty and Haunting Warrior - both involving TT and changing the past. Both are set in Ireland, which is one of my favorite places on earth. I also really enjoyed reading Son of the Morning by Linda Howard and the Outlander series by Dianna Gabaldon. Although I really enjoy reading these books, I don't believe in TT.
(MaryAnne Banks 4:15pm July 2, 2011)
Sure, why not time travel? However that doesn't mean there
are people changing history all over the place. Also, I would
think it'd be easier to go forward than backward in time, but
I'll leave that to theoretical physicists and authors. :)
(S Tieh 6:12pm July 2, 2011)
No, I don't believe that time travel is possible. But, it sure makes interesting material for a good novel.
(Kathleen Yohanna 3:02am July 3, 2011)
The prospect of time traveling is something I would like to do both to the past and into the future. I'm a believer!
(Janice Milliken 12:10pm July 3, 2011)
The Highlander is my fav movie due to the way be says my
name, Heather.
(Heather Pearson 7:53pm July 3, 2011)
I love time-travel, it is a fantasy I can live out and experience in books and movies. For me it's not so much about changing history but to personally experience it. The changing times, the laws, the fashions and even food it would be quite differnt and I love books where this is vividly described to make it all the more "real".
(Na S 12:06pm July 4, 2011)
I beleive it only one item on a long list of science problems unrealized. I would sure like to beleive in a future w/ a beam me up Scotty button............
(Marcelle Cole 5:53pm July 5, 2011)
I would like to think it is possible. My husband thinks we are all still living in other slices of time. My first time travel book was "The Time Travelors Wife" I loved that book. NOw I look for books that are based on time travel!
(Brenda Rupp 10:13pm August 28, 2011)
I enjoyed reading your article and found it to be informative and to the point. Thank you for not rambling on and on just to fill the page.
short funny jokes
(World wide Web 2:49am January 7, 2012)
Registered users may leave comments.
Log in or register now!