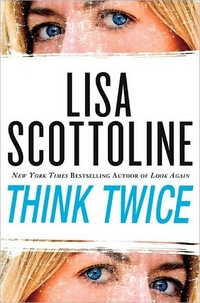 Purchase
From the blockbuster New York Times bestselling author of Look Again comes a novel that makes you question the nature of evil: is it born in us or is it bred?
Rosato & Associates #11
St. Martin's Press
March 2010
On Sale: March 16, 2010
Featuring: Alice Connolly; Bennie Rosato
384 pages
ISBN: 0312380755
EAN: 9780312380755
Kindle: B003BQZ86Q
Hardcover / e-Book
Add to Wish List

Bennie Rosato looks exactly like her identical twin, Alice Connolly, but the darkness in Alice's soul makes them two very different women. Or at least that's what Bennie believes, until she finds herself buried alive at the hands of her twin.

Meanwhile, Alice takes over Bennie's life, impersonating her at work and even seducing her boyfriend in order to escape the deadly mess she has made of her own life. But Alice underestimates Bennie and the evil she has unleashed in her twin's psyche, as well as Bennie's determination to stay alive long enough to exact revenge.

Bennie must face the twisted truth that she is more like her sister Alice than she could have ever imagined, and by the novel's shocking conclusion, Bennie finds herself engaged in a war she cannot win—with herself.
Rosato & Associates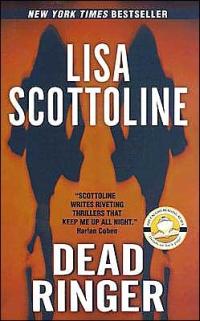 Dead Ringer
#8.0
Amazon.com | BN.com | Apple Books | Kobo | Google Play
Comments
46 comments posted.
Re: Think Twice

I just read JR Ward's new book Lover Mine. It was fantastic.
(Laurie B 12:34pm May 2, 2010)
I have been very involved in things in April and haven't read my usual number of books. I did read Moonlight Road by Robyn Carr. Lots of characters in that book and lots of details. I have a number of mystery books waiting for my attention. Maybe May won't be a busy as April.
(Gladys Paradowski 1:14am May 2, 2010)
I read Robyn Carr's Forbidden Falls, Angel's Peak and Moolight Road. Plaster and Poison By Jennie Bentley, Homicide, hostages, and Hot Rod Restorations by J.J. Wilson. What Lies Within by S.D. Tooley. Victim Six by Gregg Olsen and I'm almost done with Rissian Hill Murders by Shirley Tallman. I usually read more than this but have been busy with other things this month.Getting the yard and garden done) I have a stack of books that are calling my name....LOL and I'll try to get to them during May
(JoAnn White 2:00am May 2, 2010)
I enjoyed Lucy Monroe's Moon Craving and Lydia Dare's A Certain Wolfish Charm and will read the second book when it is released. Also Kresley Cole's newest IAD Pleasure of a Dark Prince kept me up late reading.
(Lindsey Ekland 6:34am May 2, 2010)
Haven't read as much as I would have wanted in April, but did read Have a Little Faith by Mitch Albom, which was uplifting.
(Joanne Reynolds 7:14am May 2, 2010)
I got to read a lot of good books in April:
Robyn Carr's Angel's Peak, Moonlight Road, Forbidden Falls,
Kristan Higgins - The Next Best Thing, MM Daughtridge - Sealed with a Ring, Julie James - Somthing About You - all v.g.

Was disappointed with Janet Chapman's latest contemp - ?Tempt me if You Can? not sure of the title.

Lots of good contemps coming out in the next months.
(Pat Lieberman 9:28am May 2, 2010)
Last week I finished reading
Sliver Born by Patricia Briggs,
and Bengal's Mate and Lion's
Heat by Lora Leigh. They were
all fantastic.
(Tanja Haack 10:01am May 2, 2010)
Every now and then, I like to read
something other than romance -
usually a thriller w/ historical
elements. This month I discovered
James Rollins and his Sigma Force
team, who are investigating the stolen
bones of the 3 wise men. Very
interesting.
(Molly Wilsbacher 10:28am May 2, 2010)
All those listed by |Lindsey Ekland - I too have read those - weren't they great! Will finish Christine Feehan Wild Fire today and then I have J R Ward Lover Mine to look forward to!

Was disappointed with Dragonbound by Jade Lee - not what I expected maybe.
(Barbara Hanson 11:23am May 2, 2010)
Just bought Karen Rose new book, haven't read it yet. Also J.T. Ellison-The Cold Room. Excellent & Stella Cameron 2 fr. her series. The third coming out in May. My week for reading suspense & a little more.
(Pat Wilson 11:52am May 2, 2010)
I read the latest More Than Words book too. I also read I Spy a Wicked Sin by Jo Davis, Malice by Lisa Jackson, Naked Edge by Pamela Clare, Something About You by Julie James and The Heart of a Stranger by Sheri Whitefeather. Now I'm reading the third Bride book by Nora Roberts, Savor the Moment. All are authors I'd read again.
(Jill Hayden 11:56am May 2, 2010)
I read Danielle Steel's Big Girl.If you like to get into the minds of your characters then you'll like it. I enjoyed Claire Thompson's Texas Surrender and Laura Baumbach's A Bit Of Rough.
(Leni Kaye 12:00pm May 2, 2010)
I have been under the weather lately, so have not read as much as ususal... but I did enjoy what I read! Loved Karina Bliss' WHAT THE LIBRARIAN DID...
(Colleen Conklin 1:08pm May 2, 2010)
Finished Amelia Grey's AN EARL TO ENCHANT. Really enjoyed the witty dialogue. I usually shy away from "thick" books, as they take too long to read, but with this one, I read the entire 343 pages in one day because I couldn't put the book down.
(Elaine Seymour 1:24pm May 2, 2010)
Jessica Andersen's Demonkeeper and Roxanne St. Claire's Make Her Pay are action pack and do not slow down.
(Kai Wong 2:07pm May 2, 2010)
Well I didn't get much reading done. I read 2 books in a series by Alyson Noel, Evermore and Blue Moon. They are good but I had trouble getting into them but once I did they were good. They are young adult and I am reading a book by Yasmine Galenorme (sp?) it is very good as well.
(Brandy Blake 2:07pm May 2, 2010)
Would love to win this contest - Thanks for the opportunity!
(Katherine Reese 2:20pm May 2, 2010)
I read Hard to Hold by Stephanie Tyler and several other suspense books.
(Karen Triolo 2:52pm May 2, 2010)
I used to work with special needs students and I really enjoyed Mark Haddon's book The curious incident of the dog in the night-time.
(Karin Tillotson 3:11pm May 2, 2010)
I read several by Sherryl Woods including her latest Sweet Magnolias, a few by Debbie Macomber and Stef Ann Holm's Pink Moon, Robyn Carr's Forbidden Falls, and Kate Angell's Curveball.
(Joanne Vitale 3:26pm May 2, 2010)
Well, April flew by me in a drug induced blur. Remember doing my taxes, then got a big whiff of whatever triggers asthmatic bronchitis, and whew! Still having trouble breathing, but in between naps read some great books. Jean Brashear's GODDESS OF FRIED OKRA is wonderful. It's funny, poignant, just runs the emotional gamut up and down the scale while you're smiling. Great characters. SUMMER AT TIFFANY, a Memoir was great for the 60+ group who will remember the summer of 1945 VJ-Day as two young Iowa co-eds work in NYC and are the first females hired by Tiffany. Jennifer Ross THE ICING ON THE CUPCAKE -- tout sweet! Clever.

I love all of Laura Child's mysteries, especially her latest ones at the Crackleberry Club/Cafe. She's a super author. Have the latest Winspear and can't wait to get into it. Love the way that author writes.

Here's to everyone having a good week as this year barrels by at the speed of light!
(Betty Cox 3:28pm May 2, 2010)
I read lions heat by lori leigh and i enjoyed it

meandi09@yahoo.com
(Jennifer Mathis 4:41pm May 2, 2010)
While reading comments I saw that someone read What The Librarian Did. I read that last month, and was introduced to an
author to watch. I'm really glad to see so many people reading Robyn Carr. Due to the thoughtful friends I have I'm going to
be able to read two of Robyn's older books very soon! I can't wait.

I still haven't read book three from J.R. Ward, so will be putting off her newest for a long while. Just really not into paranormal,
and if I am in that mood I'm reading Dakota Cassidy, Michele Bardsley or Jaye Wells. I'm also anxious to delve into Nora
Roberts new Bride book.
(Sandi Shilhanek 4:47pm May 2, 2010)
Cozies are a favorite of mine.
(Alyson Widen 4:54pm May 2, 2010)
Last week I read an excellent book by an author I'd never heard of and I am sooooo glad I did. I could not put it down and when I was finished I felt refreshed because there was hardly any bedroom scenes. Lately there seems to be so much sex in books and it tends to take up so much of the story that I feel cheated out of a plot. Sorry....I just don't know where that came from (lol).
The Apothecary's Daughter by Julie Klassen was wonderful and I wholeheartly recommend it. Another great book I read last week was Pleasure of A Dark Prince (#9 immortals after dark series) by Kresley Cole. Loved it!!! Ms. Cole never disappoints.
(Kate Mobley 5:09pm May 2, 2010)
In April I managed to read 13 books! Needless to say I won't list them all here!! I discovered Nevada Barr and her Anna Pigeon books that take place in our National Parks. The first one is Track of the Cat which I enjoyed. Two other books that stand out for the month are Nicholas Sparks, The Lucky One and Instant Temptation by Jill Shalvis. This book is her most recent release and did not disappoint. Jill is one of my favorite authors. Both were very good. All the other books were good but there is always some more outstanding!
(Donna McClure 5:42pm May 2, 2010)
I finished Amanda Quick's new book, Burning Lamp, the second in a trilogy; wishing the third one was sooner. An am now reading Blood Born by Linda Howard and Linda Jones.
(Diane Sadler 5:43pm May 2, 2010)
I had a slow reading month due to personal circumstances. I enjoyed Lucy Monroe's Moon Craving & Barbara Delinsky's Not My Daughter.
(Cheryl Bradley 6:01pm May 2, 2010)
I just finished Drood,a little creppy but well done
(Catherine Myers 6:25pm May 2, 2010)
I have to agree with Barbara... I too was rather disappointed by Dragonbound by Jade Lee. This book was definitely not up to her usual standard. I can't put my finger on exactly what went wrong with it, but somehow it just never comes together quite right and I struggled to get through it.
(Donna Holmberg 6:27pm May 2, 2010)
I have been reading the Laurell K Hamilton vampire hunter books. Have read Guilty Pleasures-The Laughing Corpse-Circus of the Damned-The Lunatic Cafe and just started Bloody Bones.I also read Debbie Macomber's The Perfect Christmas and Hothouse Orchid by Stuart Woods.
(Teresa Ward 6:44pm May 2, 2010)
A book that stood out to me from my reading last month was by a new to me author. It was Once Bitten by Clare Willis. It was a fresh style on the vampire romance.
(G. Bisbjerg 6:46pm May 2, 2010)
I read Naked Edge by Pamela Clare (awesome), Passion by Lisa Valdez, Nine Rules to Break When Romancing A Rake, Wild Heart, Tempt Me If You Can, How To Seduce A Texan, Lion's Heat and The Marriage Ring. It Was A Great Month!!!
(Mitzi Hinkey 6:51pm May 2, 2010)
I read Horns by Joe Hill. It was excellent. That acorn didn't fall too far from the tree - he writes like his dad's early books.
(Vikki Parman 6:52pm May 2, 2010)
I am actually not too sure what qualifies as a cozy mystery. Chances are I have read my fair share though.
(Mary Preston 7:06pm May 2, 2010)
My sister and Mom love cozies. I just finished the Mammoth Book of Special Ops, Lions Heat, No Longer Mine and Rocky Mountain Haven.
(Elizabeth Mitchell 7:30pm May 2, 2010)
I just finished "Touched By An Alien" by Gini Koch. This was a great book. It had my laughing thru out! It was just what I need at the end of a very stressful week. I would recommend it to anyone who enjoys paranormal romance/sci-fi. I also enjoyed the anthology "Inked" it was one of the better anthologies that I have read in the last year!
Please enter me in your contest. Thanks
(Kimberley Coover 9:11pm May 2, 2010)
In April I tried a new author - Julie Hyzy. I enjoyed her 'State of the Onion' which is the first book in the White House Chef Mystery series.
(Rosemary Krejsa 9:17pm May 2, 2010)
I love reading books.
(Gloria Walshver 9:24pm May 2, 2010)
Linnea Sinclair's Dock Five Universe series is awesome! Book four, Rebels & Lovers, Came out the end of March and I read it two or three times in April! (I reread each book in preparation for the release of the next; so can go a couple of weeks on nothing else) Also, I enjoyed "What Do You Say To A Naked Elf?". After that, definitely JAK/Jayne Castle's series.
(Susan Driskill 9:52pm May 2, 2010)
Oy, I'm finally keeping track of what I'm reading. Now I need to go back through the past blogs to find what I read in January - March. What I read this month:
Home in Carolina – Sherryl Woods
Sweet Tea at Sunrise – Sherryl Woods
Welcome to Serenity – Sherryl Woods (reread)
Sarah's Child – Linda Howard (reread)
More to Love – Dixie Browning (reread)
The Daddy Quest – Lori Handeland (reread)
Jake's Way – Kathleen Korbel (reread)
Bluebird Winter – Linda Howard (reread)
Nobody's Baby But Mine – Susan Elizabeth Phillips (reread)
I didn't have a much time to read in April because of the electrical work & drywall finishing, then I had family visit.
(Summer Sharp 10:26pm May 2, 2010)
No books I would say to avoid. I
didn't get to read much in April, only 3
or 4 books. Finished BREAKING DAWN
by Stephenie Meyer. It took a few
unexpected turns, but was good. I
read two books in a series by Carla
Neggers and will definitely be reading
the last one. I read THE WIDOW and
THE ANGEL. Next up is THE MIST.
(Patricia Barraclough 10:29pm May 2, 2010)
I have not done much reading this month, finished ONE GOOD DOG by Susan Wilson which was excellent. I have jotted down a few titles noted here for my next shopping trip. I do have a couple of Karen Kay and Debra Webb set out to start any day now.
(Barbara Studer 11:08pm May 2, 2010)
I just finished "Tender
Morsels" by Margo Lanagan.
The ending upsets me because
the main character, Liga,
doesn't get a happy ending.
This book has implied incest,
gang-rape and sodomy and it's
a YA book!
(S Tieh 2:22am May 3, 2010)
Hi Sandi--I read 7 books in April which is about average for me. The best one was Fireworks Over Toccoa by Jeffrey Stepakoff. It is his debut novel and is a wonderful read. I has a little of everything--romance, history, suspense. I would highly recommend it!
(Mary Perry 1:39pm May 4, 2010)
I read twelve books in April and that is pretty good for me. There were three I would recommend - Nora's Savor the Moment, nice contemporary, not a lot of angst - Amanda Quick's Burning Lamp - good historical, second in the Dreamlight series and like 7 or 8 in the Arcane series - lastly, the Doctor's Lost and Found Bride by Kate Hardy, good book about an ex-couple reuniting after a miscarriage tears them apart. All were good. Not sure what I am looking forward to in May other than the new Lois Grieman book.
(Kathleen Schilling 3:39pm May 4, 2010)
Registered users may leave comments.
Log in or register now!