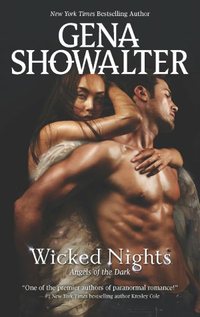 Purchase
Angels of the Dark #1
HQN
July 2012
On Sale: June 26, 2012
Featuring: Annabelle Miller; Zacharel
384 pages
ISBN: 0373776985
EAN: 9780373776986
Kindle: B007WRFVOO
Paperback / e-Book
Add to Wish List

From the New York Times bestselling author who brought you the Lords of the Underworld comes a dark, seductive new series featuring angels poised on the brink of destruction....
Leader of the most powerful army in the heavens, Zacharel has been deemed nearly too dangerous, too ruthless-and if he isn\'t careful, he\'ll lose his wings. But this warrior with a heart of ice will not be deterred from his missions, at any cost...until a vulnerable human tempts him with a carnal pleasure he\'s never known before.
Accused of a crime she did not commit, Annabelle Miller has spent four years in an institution for the criminally insane. Demons track her every move, and their king will stop at nothing to have her. Zacharel is her only hope for survival, but is the brutal angel with a touch as hot as hell her salvation-or her ultimate damnation?
Comments
74 comments posted.
Re: Wicked Nights

Zacharel caught my attention.
(Cheryl English 4:29am June 29, 2012)
I still love Roark from J. D> Robbs' Dallas series.
Blessings,
Marjorie
(Marjorie Carmony 5:26am June 29, 2012)
Mostly as a young person I read about horses and dogs. Animal stories are often used as metaphor but I think mainly the authors just loved animals. So Kunama in Silver Brumby's Daughter was a firm favourite. Brumbies are the Australian version of mustangs. If you want a person, then Mistie Seaton in Fabulous by Dorothy Benedict. Mistie lived on a mountain ranch and had a palomino mare and a Pony of the Americas which is marked like an Appaloosa. I thought she was so lucky, as well as so brave and determined!
(Clare O'Beara 7:08am June 29, 2012)
With a name like Zacharel, how could he miss?
Keep writing!

Pat Pascale
(Patricia (Pat) Pascale 7:32am June 29, 2012)
I like so many characters in books but Smokey in Yasmine Galenorn's Otherworld series really caught my attention.
(April Harvey 8:38am June 29, 2012)
wow love the cover i liked pat
(Denise Smith 9:11am June 29, 2012)
Curran from the Kate Daniels series by Ilona Andrews. He is taunted by the heroine and we first meet him as a 5' (at the shoulders)tall lion. An impressive start.
(Anne Muller 9:14am June 29, 2012)
I read so many books and fall in love with the characters,
it's hard to name just one.
Yours sounds good to me, though.
(Mary Hay 9:15am June 29, 2012)
I can't wait to read Wicked Nights! I love all your books, Gena. I'm excited
to see what your newest series will bring us.
Hmm... A hero character that grabbed my attention right away and held
it... I'd have to say Reyes from Darynda Jones's Charley Davidson series.
He is quite an intriguing and sexy bad boy.
(Debbie Burdeen 9:42am June 29, 2012)
Oh, so many! But I think it really began with Miles Montgomery
from Jude Devereux's "Velvet" series. He was one of the
Montgomery brothers in a medieval romance series and if I
remember correctly, I had to wait for the fourth book to get
his story - but it was worth the wait!
(Margay Roberge 9:46am June 29, 2012)
the book sounds great; another for my TBR list. thanks for the draw.
(Barbara Studer 9:51am June 29, 2012)
I am currently lost in the witchy world of Dorcas and Ambrose Lowell by author Vicki Lewis Thompson. I love that they are both slightly past middle-age but not elderly, still very much sexual and passionate, and refuse to "act their age."
(Angie Lilly 9:56am June 29, 2012)
there's been different ones, but one guy who caught my attention quickly & finally had his story told several books later was Joanna Bourne's Adrian/Hawker
(d Kenney 10:03am June 29, 2012)
Hi
I am usually caught up in the book I am currently reading
and the character that grabs me is one from the book I am
reading. I am now reading Elizabeth Hoyt's Maiden Lane
series and of course Lazarus (Lord Caire) has caught my
attention.

Thanks for the chance.
(Pam Brewer 10:17am June 29, 2012)
Too many characters to fall for actually! :) I like Roarke from J.D. Robb especially and your Zacharel sounds like a presence too! :)
(May Pau 10:25am June 29, 2012)
Like everyone else...I've read so many different books by so many different authors but I must say I fell in love with Zacharel...thanks!!!
(Bonnie Capuano 10:56am June 29, 2012)
I would say Dain from Lord of Scoundrels by Loretta Chase.
(Maureen Emmons 11:08am June 29, 2012)
Congratulations on the new relase...love all your books!


I think I would have to say S.Kenyon's Archeron. I loved that this character appeared in approx 11 books, so we got to know him and crave more, before he got his own book.
(Kimberley Coover 11:27am June 29, 2012)
I think Marianne from Green Dolphin Street was one of the first. She was so prickly and hard to love but she wanted to be so badly.
(Lisa Elwood 11:48am June 29, 2012)
Larissa Ione's Wraith had me from the beginning :).
Congratulations on Wicked Nights!
(Victoria Sloboda 12:16pm June 29, 2012)
I love your books and i have been waiting for a book with zacharel in it! I always felt his character kinda stuck out in the (l.o.t.u.w)because of his almost amusement/disgust at the others for the emotions that they showed. I say bring on the big bad demon slayer he has a few things to learn....lol
(Daniel Abel 12:20pm June 29, 2012)
always a good day when i see a gena showalter book i havent read. I'll have to read it soon!! love your works keep it up gena!!!
(Kindra Faith 12:28pm June 29, 2012)
I would have to say Jamie Macpherson from Sue-Ellen Welfonder's BRIDE FOR A KNIGHT. For some reason he just had me from the first time I read about him and I know he was in other books before this one. I will have to add this one to my list. This is the first time I have seen it but I want to read it.
(Patti Paonessa 12:41pm June 29, 2012)
Too many to mention, though there are a few that stand out a
little from the crowd. Wraith (Larissa Ione), Zarek (Sherrilyn
Kenyon), Honor (David Weber),Tia (Anne McCaffrey) and Vanyel
(Mercedes Lackey) are some of them.
(Ilona Fenton 1:13pm June 29, 2012)
I love Finn fro the Elemental Assassin Series by Jennifer Estep
(Audra Holtwick 1:53pm June 29, 2012)
I am always caught up with the character in the book I am now reading. Since I'm not reading anything right now, I will say Rhett Butler in Gone With The Wind. He has stayed with me the longest of any of the other characters I have read.
(Cathy Phillips 1:57pm June 29, 2012)
Sherrilyn Kenyon's Acheron caught my attention immediately thought he wasn't a main character in the book I read.
(G. Bisbjerg 2:38pm June 29, 2012)
Clay from Kelley Armstrong's Otherworld series :)
(Amy K 2:52pm June 29, 2012)
Hmmm... that is hard... I guess I will say the characters Caris Roane has created have really grabbed my attention lately.
(Colleen Conklin 3:10pm June 29, 2012)
Barron's from Karen Marie Morning Fever series...he was so yummy.
(Norma Todd 3:20pm June 29, 2012)
Mr. Darcy, Heathcliff, Dickon (Frances H. Burnett - I never got past my childhood crush), Roarke (J.D.Robb), Duncan MacKenzie(Sue-Ellen Wellfonder), Eirik of Ravenshire (Sandra Hill), Kyrrin en Arr (yours, of course, Zarek (Sherrilynn Kenyon), Alex Montgomery (Catherine Anderson), and any of Katie MacAlister's dragons. That's just a start. I'm a hopeless addict to romance heroes and plan to NEVER attempt to break the addiction.
(Sharon Mitchell 3:24pm June 29, 2012)
Karvonen Aurelico from The Raven Ring by, Patricia C Wrede. He was an honorable thief with a great personality.
(Chelsea Knestrick 3:51pm June 29, 2012)
Jennifer Ashley's Ian McKenzie caught my attention and still holds it.

Good luck and happy writing!
(Tracie Travis 5:06pm June 29, 2012)
Amelia Peabody from Elizabeth Peters' historical Egyptological series (mystery) and Bella Swan from the Twilight books.
(Michelle Fidler 5:10pm June 29, 2012)
J.D. Robb's Roarke!
I'd arm wrestle Eve Dallas for him any day!
(Sonja Warmath 5:12pm June 29, 2012)
Your characters reach out to me especially Torin ~ can't
wait for his story! Another character from Jennifer Ashley
is Ian MacKenzie "The Madness Of Lord Ian MacKenzie", that
story still sticks with me. Then there's the spunky,
spirited and way smart Gillyanne Murray from Hannah Howell's
"The Highland Bride". I adore all of Shelly Laurenston's
characters from her shifter wolves, cats and bears to her
wonderful dragons in her G A Aiken Series - can't wait for
Sept's book about Eibhear in "How To Drive A Dragon Crazy".
And lastly for brevity sake is Sandra Hill's Magnus Ericson
potency and numerous children and time traveling dilemmas in
"The Very Verile Viking" ~ I laughed until I cried with that
one :-)
(Lenna Hendershott 5:14pm June 29, 2012)
Love J.D. Robb's Roarke. I have several faves. Love the name Zacharel. Can't wait to read WICKED NIGHTS.
(Linda Luinstra 5:42pm June 29, 2012)
Azriel in a dark angels novel by Keri Arthur
(Jennifer Beck 7:24pm June 29, 2012)
Acheron (Sherrilyn Kenyon) & Kahlan Amnell (Terry
Goodkind)
(Jan D 7:27pm June 29, 2012)
There are so many - it is hard to choose one - LOL - all of your Lords - the crew of the Black Dagger Brotherhood - they are all tops for me!
(Felicia Ciaudelli 7:52pm June 29, 2012)
Barrons, he grabbed me and never let go.
I love that you had to shatter Zacharel, this book sounds dark and tempting.
Congrats on the release and the new series spin off!
(Lexi Hansen 7:53pm June 29, 2012)
Milan Jacovich is a private eye in Les Roberts mystery novels like The Irish Sports Pages.
(Alyson Widen 7:58pm June 29, 2012)
Ragnar from 'The Wolf and The Dove' by Kathleen Woodiwiss! He was
the protaganist but he was all tall, dark, handsome, and sexy!!
(Beth Kaake 8:07pm June 29, 2012)
If I understand your question correctly, it's really hard to give you a direct answer. To take over my 45+ years of reading books, and remember characters from the first time I read them is hard. I enjoy reading about the characters in Janet Evanovich's books, and I've read every one from "One for the Money" through "Explosive Eighteen. Ranger stands out the most in those books, although I love all the characters dearly. There are a few series that I have gotten involved in, as well as some stand alone books through the years. The character in your book hit me right to the core, and I would love to read it. He sounds so regal and you can't wait to find out what really makes him tick!! I love the cover as well. So seductive it begs you to open the cover!! Congratulations!!
(Peggy Roberson 8:43pm June 29, 2012)
Some of them are: Chapman's Robbie & Kenzie, Moning's Barron, Kenyon's Zarek, Armstrong's Clayton, Andrews' Kate & Curran, Briggs' Charles, & Roberts' Cian. Just started The Darkest Seduction and am already enjoying Zacharel in it; noticed he seemed to be setting up for his own story!
(Janie McGaugh 9:36pm June 29, 2012)
i enjoy the mental picture of zacharel of moving into the
first level (love) of the 6 levels of perfection. this book
sounds wonderful.
(Susan Jeffers 10:13pm June 29, 2012)
Lothaire in Kresley Cole's IAD series :-)
(Chelsea Brooks 10:14pm June 29, 2012)
I must admit that Harry Potter grabbed me right from the start...The Boy who Lived. I was hooked beginning to end.
(Catherine Lee 11:04pm June 29, 2012)
I am rarely drawn to a character immediately. I am more of a slow burn reader. I loved Alexia from the Parasol Protectorate series by Gail Carriger. I also loved Mercy from the Patricia Briggs series. But one that bowled me over from page one was Mercy Gunderson from the series by Lori Armstrong. Such an amazing heroine and so complex.
(Jennifer Beyer 11:12pm June 29, 2012)
I think I fall in love with so many of the characters I read. Some I love to loathe too.
(Mary Preston 11:57pm June 29, 2012)
Sienna, When i first read about her with Paris, and then when she was killed after getting him going twice, I was hoping for his sake that there would be a some type of a revival for her. And then getting to see her story come to life was amazing.
(Taryen Owen 8:38am June 30, 2012)
I have been hesitant to start the new series just because I
love LotU so much... but I have softened towards it quite a
bit. Can't wait to start it!
(Danielle West 8:41am June 30, 2012)
Paris from Lords of the Underworld is my dream man! :)
(Kristina Sakal 8:57am June 30, 2012)
Aidan the berserker from Kresley's IAD series. Such a fierce and alpha-
like male with such a tortured soul once he comes across Regin in the
compound.
(Karoline Lawson 9:11am June 30, 2012)
Lucas Hunter from Nalini Singh's Psy-Changeling series! Swooooon
(Iulia Dragan 9:11am June 30, 2012)
There are so many. In fact, almost every time I pick up a new book, that character does it for me. Some of my top pics....Eric Northman, cause I
love a hot Viking Vamp. Archeron, my heart has melted since the
beginning for him. Jericho Barrons....wow....just wow...'nuf said.

So many books, so many men....I love them all! Looking forward very
much to new series.
(Linda Gehring 9:12am June 30, 2012)
So many books, so many men! I guess I would have to say Bones from the Night Huntress Series by Jeaniene Frost :)
(Allison Westcote 10:11am June 30, 2012)
The first character I remember reading about that has stuck with me
since I was 13 or so, is Puck from Shakespeare's a mid summer night's
dream. He made me laugh, but I also felt sorry for him. I remember
wondering what it would be like to read a story about him falling in
love. Plus I love mythology.
(Lisa Durange 10:51am June 30, 2012)
Can't wait to read about Zacharel. LOVE Gena's books. I'm a huge fan of her work.
(Melody Shamtoob 12:39pm June 30, 2012)
It's a hard question I can't pick one character there are so many but off the top of my head the character that has stayed with me is Zsadist from J.R. Ward's Blackdagger Brotherhood series. He's one seriously tormented anguished character who's experienced unbearable tragedy and abuse for 100 years. He's pretty terrifying but there is just something about him that makes you wonder maybe there is more to him. And oh boy was there! I was captivated by him from the very first book. I was totally enthralled by him. He's physically scarred, doesn't like to be touched and likes his personal space very much. To get around all that and break through his barriers and see him discover good in life and happiness and love was very VERY addictive. His book Lover Awakened (book 3) was just heartwrenching and wonderful on so many levels.

Like Gena mentions here seeing a character find redemption and find love is what makes a story and character's journey so enthralling. Characters who aren't perfect, are rough around the edges and not looking for anything are the ones that surprise you the most!
(Melody Shamtoob 12:41pm June 30, 2012)
I think a character that grabbed me from the first time I read about her,
within the last few years, was Sienna. She was so shy and sweet and
normal. Not drop dead gorgeous like Anya or Gwen. Then BAM! She's
working for the hunters and out to get Paris, one I the yummiest guys ever!
She grows so much as a character, completely justifying my obsession with
her. I mean, wait, no spoilers!! Look where she ends up!!
(Stephanie DeSantis 12:55pm June 30, 2012)
I would have to say that Paris has always stood out to me.
(Megan Blodgett 1:43pm June 30, 2012)
Anita Blake From Laurell K Hamilton's, Anita Blake' s Vampire Hunter
series is a character that I have always been fascinated by.
(Lee Binion 3:36pm June 30, 2012)
I think Sienna from The Darkest Seduction! She is like the underdog, the
one who is not much to look at to start with, but Paris becomes addicted to
her. All of your heroines are fantastic, we relate to them & their insecurities.
Thank you Gena Shoalwater
(Juanita Van Dam 6:58pm June 30, 2012)
Well the characters in Gena's series that have me the most intrigued were Torin from the first and William and Zacharel as they appeared the first time. I'm so glad that Zacharel got his book.

Fun post!
(Sophia Rose 9:57pm June 30, 2012)
Hard question, but I am crazy about Dtimun from The Morcai Battalion by Susan Kyle (Diana Palmer), but I have to admit that I am also crazy about Maddox from The Darkest Night. I absolutely love the Lords of the Underworld and your new one Wicked Nights. Thank you for continuing to write these stories! Can't wait for the next one!
(Dana Simmons 10:49pm June 30, 2012)
The first time a read a book in english ( I am from Ukraine and my english was bad at the time) was Lover Awekenedby j.R. Ward , Zadist. He was the first one that captured my attention from the first line and carried it till the end of the book. When the book was over it felt that I lost something. So, I started reading it again. After second round I decided to find something like that again. I found your series of the Lord of Underwold and I love Strider with his Harpy. How can you not love the guy-demon? So lovely and at the same time funny..... YOu write an amazing books and I am 200% sure Zacharel will capture my attention and carry me through the book with love and determination of finding love!!!! Thank you for your books Gena.!!! YOu are amazing
(Lena Postle 10:58pm June 30, 2012)
The very first character that 'grabbed' me was Aragon in the Lord of the Rings series. I first read them as a young girl and really fell in love with him. Tolkien was such a master at making his characters seem alive and easy to identify with.
(Denise Boyd 3:12am July 1, 2012)

(Linda Scarchuk 4:03pm July 1, 2012)
Love your characters--always anxious for your next book to be available.
(Lynne Mauro 4:23pm July 1, 2012)
Bran Cornick from Mercy Thompson series.
(Tracy Wickman 4:33pm July 1, 2012)
Eve Dallas from J.D Robbs In Death Series
(Ashley Wyer 8:43pm July 1, 2012)
I have to say that Barrons from Karen Marie Moning's Fever series instantly
captivated me. He was so mysterious and fascinating, and even after reading
the whole series, we don't exactly know who or what he is!
(Lacey Thach 10:56pm July 1, 2012)
I love LOTU and I'm so thrilled Zacharel has his own book.
I'd say Roarke from the In Death series. Instant attraction :) Then of course there is Acheron from Kenyon's Dark Hunters and Torin. He found his way into my heart almost immediately. Hoping he has his HEA.
Carol L.
Lucky4750 (at) aol (dot) com
(Carol Luciano 9:03pm July 6, 2012)
Registered users may leave comments.
Log in or register now!