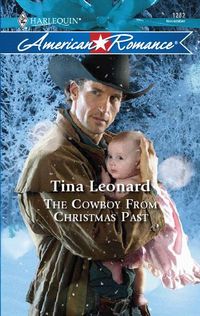 Purchase
The Cowboy From Christmas Past
Tina Leonard
Harlequin American Romance
November 2009
On Sale: November 10, 2009
Featuring: Dillinger Kent; Auburn McGinnis
224 pages
ISBN: 0373752865
EAN: 9780373752867
Mass Market Paperback
Add to Wish List

Romance Contemporary | Romance Series
Is He Her Christmas Miracle?
Dillinger Kent is getting ready for a lonely Christmas on his Texas ranch. All that changes the night the widowed gunslinger hears an infant's wails...and is swept into a time and town definitely not his own.
After ditching her fiancé at the altar, Auburn McGinnis is on the run, trying to figure out how to hold on to her family's perfume company. The rough-and-tumble stranger who just showed up with a baby girl in tow could be the hired gun-and protector-she needs.
At first, all Dillinger wanted was to get back to his ranch. But with the resourceful, enchanting Auburn in his life, the twenty-first century is looking better and better.
Have they both found what they're looking for? A love that transcends time?
Comments
324 comments posted.
Re: The Cowboy From Christmas Past

Haven't seen THE CURIOUS CASE OF BENJAMIN BUTTON yet. We just watched VALKYRIE last evening & it was excellent. It makes you wonder how history would have been changed if Operation Valkyrie had actually succeeded.
(Cheryl Snyder 4:05pm July 3, 2009)
The story sounds good.
(Patsy Hagen 5:21pm July 3, 2009)
I still not sure who I am
(Patricia Kasner 9:40pm July 3, 2009)
Wow! What a story! And just the type of "happening"to bring the writer out in you! Love that you've shared that sense of "adventure" not only with your college kids, but your children too.
(Jean Merriott 3:36am July 4, 2009)
Sorry I missed out on the whole college dorm thing!
(LaRonda Atchison 6:45pm July 4, 2009)
I've been looking forward to seeing
Benjamin Button. :)
(Emily Lehmann 7:34pm July 4, 2009)
I don't think we ever get to find out who
we really are, unless we get to go listen
to the eulogy at our own funeral, like
Tom Sawyer.
(Mary McCoy 9:52am July 5, 2009)
Gosh, I'm heading off to college in a few weeks, and I'm kind of hoping I don't get to meet rock stars in the dorms! Sounds like fun, but I'm all into, you know, sleep!
(Ashley v 10:00am July 5, 2009)
Sounds like your college days were a fun time. Such good memories.....
(Ruby Davis 11:48am July 6, 2009)
It is nice to have such good memories.
(Cindy Madson 5:38pm July 6, 2009)
Love hearing about your college antics. Reminds me of the guard,Shultz, on TV show Hogan's Heroes when he says, "I see nothing. I see nothing."
(Alyson Widen 11:37am July 7, 2009)
Alyson W., you made me LOL when I read your post!!!
Hi, Cindy M!! They are good memories--those girls were awesome.
Ruby D.--I was lucky. My dad was patient with me in college, so I got to go to another college when I didn't enjoy the first one. It was ever so much better!
Ashley V--good luck in college! Have fun!
Mary M.--But the journey is fun, isn't it? :)
Emily L--I don't really like Brad Pitt, but the movie was pretty cool, I have to say!
LaRonda--it depends on the dorm, I think! I had some super-lousy roomies!! ;)
Jean M--those girls were a hoot! Always into something fun!
Patricia K--I'll never know who I am!! lol
Patsy H--thanks, dear!!
Cheryl S--I've been wondering about Valkyrie . . . hmmm. May have to spend a $ to rent. Thanks for the tip!
Barbara E--I have not watched Felicity--thanks for the suggestion!
Carol T--it's all true, lol. But no one's life is drab--we just take different journeys!
Tabatha B--I felt it best to change the rockers and bands names involved--I never really knew what happened that night on the floor!! Except that everybody seemed to have a great time! lol
Diane S--my daughter is tackling Research Statistics or something like that right now . . . eewwww. LOL!!
Thanks to everyone who has commented so far!
(Tina Leonard 1:32pm July 7, 2009)
i missed out on college and all givin up my young yrs to kids ,
(Tami Bates 4:46pm July 10, 2009)
I was always to timid to do anything exciting. Now I can see what I missed.
(Rosemary Krejsa 6:13pm July 12, 2009)
LOL I really enjoyed your post Tina. I didn't really do anything to daring and went to a local college/did classes online so missed the whole dorm thing.

Congrats on your upcoming Nov release!
(Pamela Sinclair 10:48am July 13, 2009)
My daughter spent one semester in a dorm but then she moved back home. She has completed two Associate Degrees and is returning this fall for her B.A. in Agriculture. But she is taking a lot of her classes online.
(Jane Squires 9:25pm July 13, 2009)
Never went to college myself. Sounds like your college days were a fun time. Such good memories.

Some good movies I've watched recently are: Benjamin Buttons, Valkyrie, Paradise Road and Narrow Margin. The last 2 films are rather old but excellent viewing anyway.
(Karen Haas 9:52am July 15, 2009)
We had great R.A.s in our dorm and I don't remember a curfew.
(Maureen Emmons 5:13pm July 15, 2009)
I haven't Been part of dorm life either but it sounds like a great part of the college experience!
(Audra Holtwick 4:02pm July 17, 2009)
Your contest sounds exciting.
(Gloria Walshver 3:34pm July 19, 2009)
I LOVE this post, T! Which dorm?
(April Massey 3:07am July 21, 2009)
Ha! April, I dare not tell! :)
(Tina Leonard 1:05pm July 21, 2009)
Brings me back to my fun and wild college days! I loved my RA in college.
(Kristen Harvey 3:05pm July 22, 2009)
LOL! Will you email it to me? I'll tell you which dorm I lived in.....
(April Massey 9:27am July 24, 2009)
I am looking forward to watching Benjamin Button tonight. I borrowed my moms dvd when she was here visiting last week.
(Linda Willette 2:39pm July 26, 2009)
I laughed when I read this! thanks!
(Laura Merrill 11:25pm July 26, 2009)
I've heard that rockers and bands aren't all that innocent to begin with but it was nice of you to change the names anyway. LOL
(Dawn Detkowski 12:45pm July 27, 2009)
Hahaha...Mr. Fearsome! :D I'm really curious to know who Mr. Fearsome really was...
(Sara Denluck 5:31am July 27, 2009)
sounds great !!
(Joeelle Jappissont 6:53am July 27, 2009)
Hi Tina!! So love your cowboys! So emotional reads! Beautiful on your daughter finding her career and sharing this beautiful post with us!
(Cathie Morton 12:34pm July 30, 2009)
Wow Awesome story! LOVED THE
COWBOYS!

Val
(Val Pearson 1:29pm July 30, 2009)
I never experienced dorm living, but this was an enjoyable story.
(Kelli Rolvaag 6:52pm July 30, 2009)
I likewise never really experienced dorm living but your story makes it sound very interesting!
(Steve Ellis 11:41pm July 31, 2009)
Just remembering: My Grandmother lost her sight towards the end & missed reading terribly, especially the newspaper.
(Mary Preston 1:14am August 2, 2009)
One of my worst fears is becoming blind. My biological father is blind due to diabetes, and I've had glasses since the second grade. I always thought, out of all the five senses, vision is the cream-of-the-crop one. I'd rather perish than live without sight.

However -- after reading this piece, and learning all about your beloved Mimi and her attitude about her weakening sight, I feel less afraid.

It was lovely when she held back to let the elderly, grumpy man vent, even though her plight was greater.

Not everyone wants a solution, they simply wish to be heard. Mimi is terrific!
(Queen Priya 3:44am August 2, 2009)
This has made me feel very grateful that I am able to enjoy my favorite pastime-reading. Thanks for sharing Mimi's story. My grandmother
got me started reading romance books at a young age and it was something we enjoyed together while she was alive.
(Julia Stover 9:13pm August 2, 2009)
Wow she sounds so great
(Patricia Kasner 10:20pm August 2, 2009)
I wish you had been MY R.A.!!!
(Joyce Bair 10:49pm August 2, 2009)
One of my worst fears, too, is losing my eye sight. Mimi's attitude and outlook on life is one we should all strive for.
(Joyce Bair 11:06pm August 2, 2009)
Losing one's sight is a very scary proposition.If this ever happened to me I would be very angry at first but then I think I would be thankful I could still hear. That way not everything would be lost, as I would still be able to enjoy books on tape, music & of course interacting with all my friends & relatives.
(Christine Schultz 12:40pm August 3, 2009)
hi well i dotn now what ot say i love to read and since iam recouping form surgery aftrere surgery i like to read and would like yurs
(Desiree Reilly 7:13pm August 3, 2009)
Reading is one of my favorite things to do if I lost my sight it would be a horrible thing to get used to- but you Mimi is an inspiration to us all,
(Audra Holtwick 7:51am August 4, 2009)
I can't imagine not being able to read all the books to my kids or myself that line our bookshelves and overflow onto the floors of our house, but you adapt to what life gives you--- and maybe my kids would read more than, cause they would have to read to me......
(Kelly Holt 5:14pm August 4, 2009)
Your Mimi is an inspiration. I love to read and hope that if anything would ever happen to my eyesight I could also be greatful for the people and things in my life that I could still enjoy.
(Lori Duhoski 10:12pm August 4, 2009)
Reading is so important to me. I would hope I can continue to read as long as I live.

Linda Henderson
(Linda Henderson 12:35pm August 7, 2009)
This is a must read!
(Mary Smith 10:42am August 8, 2009)
As a person with pretty terrible eyesight, and one who really loves to read, I can imagine how hard it was for your grandmother to lose her ability to read. She is an inspiration and I sure hope if I manage to live that long and suffer a similar misfortune, I'll be able to deal it with half as well as she.
(Barbara Elness 4:05pm August 8, 2009)
A very interesting and inspiring tale.
(David Sites 10:41pm August 8, 2009)
Great story! I love to read and would be lost without books, audio books are just not the same. Makes you appreciate the things you have, especially eye sight.
(Julie Trimm 10:55pm August 8, 2009)
Tina,

Your Mimi sounds like a wonderful woman! So great to have those sorts of amazing influences in our lives. My dad's dad had a lot of heartache and pain in his 98 years, but he never complained about anything. My dad is much the same.
(April Massey 8:40am August 9, 2009)
Your grandmother sounds like a remarkable woman. It is so difficult to watch people lose what they love when they age. My grandmother is 92, and as she says--she is ready to go. She has pain every day and has lost her husband, her son, and her independence. It breaks my heart, but I ceratinly understand her being ready.
(Michelle St. James 7:12pm August 9, 2009)
All I can say is to be grateful for what you have in life, and continue to live your life to the fullest, because you never know what may be taken away from you. My motto is to live, love, and laugh.
(Cheryl English 10:09pm August 9, 2009)
What an inspiration your Mimi is!
(Mary C 1:00pm August 10, 2009)
I LIKE TO SAY THAT I IN JOY THE CONTEST THEY HAVE HERE AND I LOVE THE BOOK MY FEAR IS GETTING BITE BY A SNOKE A FIAN
(Desiree Reilly 1:42pm August 10, 2009)
I think as long as I am able to read, I will be able to face getting old(er). I would be lost without my books. Your story did touch a chord inside, though.
(Nancy Gilliland 8:08pm August 11, 2009)
I am recovering from eye surgery and would be devestated if it were not success and was blind.Your book helps to face getting older...keep a up note and looking ahead.
(Shirley Sego 1:24am August 12, 2009)
I am like a child in a candy shop every time I go into a book store. My eyes try to take in all of the many different genris to choose from, it's like trying to choose different flavors or colors of candies, and I want one of each.
(Wanda Maynard 5:46pm August 12, 2009)
Not to be able to see and read a book would be a worse fate than death for me.
(Debra Kelley 10:30pm August 12, 2009)
Your life with your grandmother mirrors my own in many ways! Oh - and we have the entire J&W series on DVD :)
(Susan Barton 11:28am August 13, 2009)
Mimi sounds like a wonderful grandmother.
(Cheryl Snyder 1:26pm August 13, 2009)
Your grandmother accepted what life gave her with grace and courage. I'm glad that you have wonderful memories.
(Rosemary Krejsa 1:04pm August 15, 2009)
I would like to think that I would cope as well with a condition like that, but I would probably be more like th old man.
(Laurey Martin 12:47pm August 17, 2009)
Enjoyed reading the coments. As much as I love to read, I hope I keep my vision to do so.
Your Grandmother sounded like a fun person.
(Joy Isley 3:07pm August 17, 2009)
Your grandmother sounds like a lovely woman.
(Maureen Emmons 3:20pm August 18, 2009)
You story hit to close to home. I am so happy that your Mimi is able to cope with her macular degeneration. My mom is in the same situation and is very unaccepting of it. I have taken her to several different Opthamologists trying to satisfy her in her search for better eyesight. She has had cataracts removed from both eyes and glaucoma; but until the MDG hit she was able to read. (She also suffers from stacato vision: her eyes/brain mix up letters and words; a kind of dislexia) She is 88 and I am so upset for her. She tries to read, but it wears her out. I wish she could listen to audio books, but a tape player confuses her and many readers speak too fast for her to comprehend. (early stage big A). She watchs TV and that's the extent of her entertainment. Hopefully they will have a cure...for me when I'm her age. Reading is just about everything to me.
(Cait Voss 1:00am August 20, 2009)
I would love to read this book sounds like a heatwarming story.
(Colleen Jensen 8:56am August 20, 2009)
Great story about your grandmother.
(Marlene Breakfield 5:20pm August 20, 2009)
Wow what a great story. I recently had a scare with my eyes. I thought I had a retinal detachment and the first fear I had was not being able to read if I went blind. It scared me to death. I'm so thankful I can read. It is such a major part of my life.
(Jonie Ricks 7:14pm August 21, 2009)
I am glad you talked about macular degeneration that your grandmother had. My mother has the wet form and it is hard to talk about it to other and you did a excellant job of it.
(Susan Lathen 2:28am August 23, 2009)
I am terrified of losing my sight
(Raelena Pavey 12:42pm August 23, 2009)
Oh my. That is one of my fears, that I will lose my sight and not be able to read, to have the book in my hands, turning the pages. Your grandma was a strong lady, indeed. On to a happier, topic, I remember the Jeeves and Wooster series!! Loved them!!! Read all the books I could get my hands on, too, of course!!
(Anne Harris 8:36am August 25, 2009)
My mother in law has macular degernation, in the dry form and she really doesn't see much at all, she uses her side vision.
(Brenda Rupp 1:02pm August 25, 2009)
Your Mimi was obviously a gracious and wise woman who didn't need eyesight to really see what was around her.
(Debra Mowatt 3:20pm August 26, 2009)
I agree, losing my sight would be catastrophic. Reading & watching movies are my 2 favorite pastimes. I was diagnosed with cataracts last year. I notice changes in my vision, but it is a slow, progressive problem and fortunately, it can be corrected when the time comes.
(Karen Haas 10:39am August 27, 2009)
What a touching story. I do not know if I could take being blind so well. Movies and books are my escape.
(Theresa Buckholtz 6:13pm August 28, 2009)
My great-grandmother lived with us when I was a child and taught me to love books. She was bedridden, but never let it stop her from reading to us. She was a person who had always been busy and going somewhere, but did not let the loss of mobility keep her from enjoying what she did have, much like your Mimi.
(Sharon Mitchell 7:56pm August 29, 2009)
How sad that her love of books was taken from her. I also have a deep love of books, and holding them as you describe. Glad that she had you and the family to help her cope with the changes in her body.
(Joanne Reynolds 7:24am August 30, 2009)
Great story, it was so heartwarming. One of my greatest fears is losing my eyesight too as I love to read.
(Jenny Ng 3:46pm August 30, 2009)
I canceled my TV service because I didn't watch it enough to justify the cost. I would much rather read. I have very poor vision, but get good results with glasses. I cannot imagine how rough it would be for an avid reader to lose their vision. What a sad story.
(Caroline Kolb 4:26pm August 30, 2009)
I feel bad about your grandmother. I am developing a cataract and my husband has macular degeneration but we are doing everything to keep our sight. I read hours a day and my husband does also with the help of magnifiers. I don't now what I would do if I could not read.
(Gayle Oreluk 10:17pm August 30, 2009)
Thanks for the insights on macular degeneration. I've been told that I need to watch out myself for this terrible debilitating disease. I don't know what I would do if I lost the ability to read.
(Steve Ellis 11:21pm August 31, 2009)
Such fascinating stuff!
(Joanne Reynolds 6:25am September 1, 2009)
Very enjoyable. Loved the part about picking up the shards "feeling sorry for myself."
(Krysten Hager 11:16am September 1, 2009)
very interesting
(Raelena Pavey 11:55am September 1, 2009)
Want to read more when I read "But an angel came to my rescue as I was picking up the ceramic shards."
(Susan Kramer 2:40pm September 1, 2009)
Dog sounds like a great dog.
Men always come around on dogs or at least my dad did
(Patricia Kasner 8:29pm September 1, 2009)
Your story reminds me of our dog that we had for over eleven years.
(Maureen Emmons 6:15am September 3, 2009)
My Mom lost a leg, she accepted it so gracefully. When masular degeneration was diagnosed, she had a HARD time with acceptance. Thank you for your insight.
(Mary Jo Hinkel 9:40am September 3, 2009)
What a wonderful tribute to the world of dogs. And a great plug for older and/or multibreed dogs. Thanks for the memories.
(Carol Donnermeyer 11:20am September 3, 2009)
Great story. Reminds me of the time my daughter brought home a cat from the animal shelter, without my prior permission. She swore that she and my son would take care of him. She bought everything needed to take care of him too. Well, the cat was young and not 'potty trained'. Guess who played mother cat and showed the kitty what the litter box was for? Not daughter. Good thing the cat learned quickly. She named him Rochester...I just called him Cat. The kids forgot to feed Cat...so the job fell to me. I'd holler 'come on Cat' and he would come running for his dinner. Eventually Cat decided the best place to snuggle was next to me in my chair. He would totally ignore the kids who were to 'take care of him'.
(Karen Haas 11:51am September 3, 2009)
My husband is a reluctant pet owner as well. Your description made me laugh out loud. This last summer my reluctant pet owner found a kitten in the back yard and despite my determination that the two cats we have were enough, he insisted. I now am a proud mother of 3 cats and Bramble - the baby - is the quirkiest of the bunch but still nurses at my blankets before bed. Don't know how I would sleep now without his warm little body and rumbly purr.
(Bethany Ewers 1:17pm September 3, 2009)
I ABSBSOLUTELY loved your article today. As you can have guessed I am a DOG person! It would be great if in the future you can post a little about them in the future.
(Susan Lathen 2:04pm September 3, 2009)
We had a dog too, when my brother was 12 and my sis and i were dating. she became 'my' dog -- she was a shoodle [sheltie/poodle]. when she was 17 (!) my dad was recovering from surgery and my mom took her to the vets while he was in hospital. unfortunately, time had come to put misty to sleep. we still miss her -- it's been 23 years! -- my folks still have her collar, and my dad still looks for her when carving meat.
(Sandy Haber 3:31pm September 3, 2009)
I am not a dog lover, cats are my thing. However, I enjoyed your your article very much.
(Susan Allen 4:23pm September 3, 2009)
Love the article. I am dog
lover, have two dogs....a
dalmatian and a labrador. Love
them like my babies.
(Archana Ganju 10:38am September 4, 2009)
It never fails to bring tears to my eyes when I hear stories of scruffy unwanted animals becoming a true gift from God. They become family and bring joy.
(Maude Allen 7:00pm September 4, 2009)
I loved your story ad can understand the feelings you get for your pets since they become an integral part of your family; I had two cats from birth to the day they died and would never have thought of hurting them or abusing them and you do hear about stories like that; no, I cried when my babies left and to this day still miss them both. They died of old age! knowing they had been loved and wanted always.
(Diane Sadler 10:01pm September 4, 2009)
Loved the saga of the family pets. You've been lucky to have such loving and loyal dogs. Here's hoping Bailey is around for a long time to come.
(Latesha Ballard 10:30pm September 5, 2009)
I loved the story about your pets. James Herriot was also a favorite of mine. He had one day a week (or month??) he would sign books at his clinic. People would come and sit and wait all day to meet him. Even after his books were famous, he was still primarily a vet.
(Caroline Kolb 2:24pm September 6, 2009)
I love dogs. My favorite TV shows growing were about animals...Lassie, My Friend Flicka, Mr. Ed. The house just wouldn't be the same without one.
(Mitzi Hinkey 1:22am September 7, 2009)
Sounds good
(Marjana Kaly 6:42pm September 7, 2009)
I loved hearing about your various dogs and the way they gained your husband's heart. Aren't dogs wonderful?
(Patsy Hagen 3:33pm September 8, 2009)
What a wonderful, pet-filled life! Your dogs were blessed to live in your home, and I'm sure you, too, felt blessed to have them.
(Debra Mowatt 9:54pm September 8, 2009)
Without our pets, who would we be? When our dog Shadow passed from cancer the whole family went into deep mourning- we'd had her 15 years. Finally I found a free Belgian Shepherd- with a lovely personality who has made herself at home in our hearts- but she's a bit psycho. She has to back through doorways. Our vet says she has the best hips of any shepherd he's ever seen her age and she's just got psychological problems so ignore the backing up 8~)
We wouldn't be as human without our dogs.
(Maribeth Curry 3:37pm September 9, 2009)
Your story about the dogs are very sweet. One of these days I would like to get a small dog mix.
(Rachel Morse 9:30pm September 9, 2009)
I'm a cat person- my husband and boys want a Dog but we have no pets right now
(Audra Holtwick 9:02pm September 11, 2009)
I loved hearing about your family pets, they're sure wonderful to have, aren't they?
(Barbara Elness 7:41pm September 12, 2009)
Love the books and also like that you share family news with me..the animals sure have good home and I know you enjoy them. I am a cat lover and have one whose very spoiled. I just entered your fresh fiction contest and wanted to see a comment to this also. I love books and read every day now that I am retired and have more time. Have a great day. susan L.
(Susan Leech 11:59am September 14, 2009)
The cover of Cowboy From Christmas Past reminds me of country singer George Strait. susan L.
(Susan Leech 12:00pm September 14, 2009)
Lovely story! Dogs are so loyal and devoted that they just work their way into your heart.
(Cheryl Castings 12:26pm September 16, 2009)
wow what an amazing story!
(Charee Carey 9:48pm September 16, 2009)
What a wonderful column! All of my dogs have found me...I often wonder who rescued whom. Thanks so much...I enjoyed the read.
(Valerie McClintock 7:47am September 18, 2009)
We are definitely a dog family. Loved
your story. Our dog is named Tucker, but
we like to call him King Tuck, because he
rules this home. He is laying at my feet
on the foot of my bed as I write this.
(Judy Killen 9:26pm September 20, 2009)
Thanks for mentioning the rescue dogs. I have a friend that is hard of hearing who has an absolute sweetheart that came from there.
(Norma Storms 12:44pm September 21, 2009)
I love Shep and Bailey. All of my family's dogs came from shelters or rescues. They are as precious to me as my children.
(Gayle Oreluk 12:46pm September 23, 2009)
I'm a dog person. Don't have one unfortunatly but I love dogs in stories, especially comedies (Jennifer Crusie anyine ?).
Great blog !
(Joeelle Jappissont 5:38pm September 23, 2009)
We are truly blessed when we open our hearts to others, especially animals. The love, peace and joy that pets bring to our lives is limitless. After 17 years of love and joy, I lost my Russian Blue - Heidi Marie and 3 monthes later my Tabby - abigail. Heidi was my "baby" and Abby was her "baby". The pain of losing them was devastating - but I would go thru that pain any day of the week to have the 17 years of love and joy and happiness again. It has been 4 years since they passed, I still miss them, but the memories of 17 years still bring joy to my heart.

I have learned: Never shutter your heart to the opportunity of love. Pain is a small price to pay for the all the rewards that comes to you when love enters your life.
(Kimberley Coover 12:44pm September 24, 2009)
Any book that centers on dogs is heart warming.
(Donna Lubanski 10:58am September 25, 2009)
I love dogs, esp my Bella. She just loves me no matter what. Dogs are so loyal!!!
(Vicki Hancock 3:27pm September 26, 2009)
Awesome!I love all your books and this one will be outstanding.
(Paula Simecka 3:27pm September 27, 2009)
Such a sweet story. I personally do not own a dog at this time, but I know several people who have rescued and taken in animals that have gone on to become beloved parts of their families. Kindness always comes full circle!
(Krista Kimmel 8:37am September 28, 2009)
You have been very lucky with your four-legged friends. Loved your story about them all.
(Catherine Lemanski 5:29pm September 28, 2009)
Tina, as I read your story, pictures of pets from my past flashed through my mind. What joys they are and how we laugh at their wonderful antics, even after they are gone. Nice story.
(Debra Miller 5:36pm September 28, 2009)
Good for you for rescuing a dog. There are so many homeless animals. Our last dog was almost 18 years old when she past and I decided no more dogs. Two weeks later I had 2 pugs, I now have 3 and take care of 2 more during the week. I figured out very quickly I need a dog or dogs in my life.
(Theresa Buckholtz 6:05pm September 28, 2009)
I didn't know you spent a lot of time in Tennessee. That's my home state! :)
(Deborah Anderson 6:33pm September 28, 2009)
I love your stories of your dogs and especially how your husband came to love them.

loretta,
[email protected]
(Loretta Canton 8:17pm September 28, 2009)
I have to say this story is a lot like one my family has. It is so wonderful that in some way all the world can be connected through the love of pets. I think all can gain a sense of belonging together when we see that our need for love and to need to give it even after terrible hurt are the same. Thanks for this blog. It lifted my spirit tonight.
(Pameula Henson 9:11pm September 28, 2009)
Tina, you have such a way of writing! You still amaze me. Loved the tales about the tails. LOL! I'm allergic to dogs and cats, so I admire them from afar. Hope you all are doin' well! Hugs!!!
(April Massey 12:38pm September 29, 2009)
Just started reading and I really like the story
Connie Lovato
(Connie Lovato 8:34am September 29, 2009)
Hi Tina :)
Loved the article & the way the dogs won your hubby over.
Animals will always do that.
(Mina Gerhart 9:31am September 29, 2009)
great story
(Kim Courville 10:29am September 29, 2009)
Wonderful story!
(Melissa Cleaver 11:59am September 29, 2009)
I have had dogs since I was a little girl. I made sure my children had pets also. We had a special long haired yellow lab when my my daughters were little he went missing one day and we assumed he had been taken. He had went missing 3 months earlier and found his way home.
Charlie was the best bodyguard my babies had when they were little.
Now I have a female English Springer Spaniel which is the princess of the house. The girls are both in college and my ten year old pup is the daughter in the house now. I know that she is getting older but she still loves to tease us with her toys. I can tell the arthritis gets to her some days but she has a heart of gold.
(Gigi Hicks 12:12pm September 29, 2009)
I loved reading your post. It brought a tear to my eye. Pets love us unconditionally and become one of our children.
(Rosemary Krejsa 8:28pm September 29, 2009)
Your wise words are so good. I'm looking forward to the November release. I haven't read a good cowboy book in a long time. I enjoyed your whole post, very touching. Our pets are like our babies and I can't imagine our life w/out them.
(Dena Walton 2:31am September 30, 2009)
It's ironic, my husband never wanted any of the animals that we obtained over the years, but they all end up to be his. More loyal to him than to anyone else, even MY new puppy seems to gravitate to the man.
(Wanda Sissle 3:08am September 30, 2009)
I read this story before but didn't comment. Even though I only originally came back to leave a comment to enter for the contest, when I saw which story it was I had to reread it! I absolutely loved reading this the second time just as much as, if not more than, the first time! Thank you so much for sharing! I can truly understand the love we have for our pets. We currently have a nearly 10 month old purebred great dane named Harley. She is such a big oaf I often call her Harley Horse or Moose but she is the sweetest dog I've ever had in my life! We've had her since she was old enough to take home and it's wonderful to see the bond she has especially with my now 2 year old daughter! Thank you again for sharing and giving us a chance to share with you!
(Dawn Detkowski 10:43am September 30, 2009)
Dogs do indeed have a special place in our hearts!
(Linda McCool 11:57am September 30, 2009)
Hi Tina! You get the best cowboy covers for your books (for the best cowboys stories too) So thrilled on this new release and for all you do!!
Cathie
(Cathie Morton 5:52pm September 30, 2009)
I enjoyed your story, I can't have animals, other than fish due to allergies. I think it would be nice to have a dog!
(Brenda Rupp 1:30pm October 5, 2009)
Tina what a awsome column this month. Talking about starving artists and talking about their works brought back a multitude of memories of forty years as a fan. I started with Laura Ingalls Wilder when I was eight and recently "My Fair Lady" when I added it to my collection of old musicals. You are certainly an amazing woman to weave all this together.
(Susan Lathen 1:10pm October 7, 2009)
I LOVE MY FAIR LADY! I took a private vocal session when I was in uni and one of the songs the instructor had me learn was actually ON THE STREET WHERE YOU LIVE. Yes, it's performed by a man in the musical, but it's really great for either gender! As for the 'starving to death', my oldest nephew, when he was small, had another that he would throw in. He would be 'thirsty to death'. LOL! Hard to believe he's in his 1st semester of uni now! Tell the fam, "Hi!"
(April Massey 5:49am October 9, 2009)
I would love to read this book! I'll definitely check it out!
(Melissa Cleaver 10:38pm October 21, 2009)
Love reading your column! Thank you for the opportunity to win your book!
(Joanne Reynolds 6:25am October 22, 2009)
Really enjoy reading your column. Look forward to the next one.
(Pat Wilson 10:02am October 22, 2009)
I think you are just an amazing writer!
(Katie Smith 1:46pm October 22, 2009)
Enjoyed your column, and your sharing memories of your mother. I never starved, but my mother was not an accomplished cook. She was an accomplished artist. (For example, once, she decided the lasagne she baked didn't have the exact color she wanted, so she proceeded to pour ketchup on top.) Family stories are the best.
(Catherine Rome 8:14pm October 22, 2009)
I really enjoyed your column.

[email protected]
(Lisa Garrett 9:16pm October 22, 2009)
I like your play on words. Starving is in the eye of the beholder and many kids tall and short use it to describe not being served a meal and having to throw something edible together for themselves. I enjoyed reading a book by Frank McCourt called 'Tis, which has humor sprinkled throughout many difficulties and missteps. I think it was Little Women by Laura Ingalls Wilder where their family was kind and generous in neighborly sharing with those in need.
(Alyson Widen 10:54am October 23, 2009)
Enjoyed readng the comments.
Great contest this time
(Joy Isley 3:37pm October 23, 2009)
My father would tell us that in his house when you were called for dinner you came right away because with his family the food went fast.
(Maureen Emmons 6:07pm October 23, 2009)
I love reading your articles and
especially loved it this month. I
haven't thought about Laura Ingalls
Wilder in so long!

Val Pearson
[email protected]
(Val Pearson 7:37pm October 24, 2009)
I have a good friend who is literally a starving artist- thankfully his wife works but it causes tension sometimes when his income is slow to come in.
In today's economy, hunger is once again becoming reality- especially for the 1/50 children who are literally homeless. As winter approaches I think of them and wonder how they'll make it through the cold- I feel so sorry for their parents. One year we lived on the LEFTOVERS after the soup kitchen truck fed the homeless- it was awful- but at least we had something to feed the kids- thankfully those days are long gone for us now- but yet, how many of us live one or two pay checks from disaster?
At least reading is a cheap escape!
Thanx for writing!
(Maribeth Curry 9:53pm October 24, 2009)
Great article! I don't think you have to
go through hard times personally to
be changed, but if you can relate, feel
compassion and be open minded you
can learn and grow from another
person's struggles.
(Sue Ahn 11:19pm October 24, 2009)
I have now become like you in that a mom who cooks is a luxury. I used to do evreything including work, cook, clean and school and after school stuff but as my children got older it began to change. I still do the holidays with all the trimmings like your husband is used to but not so much the day to day stuff.
I loved your article and hope to read more.
(Gayle Oreluk 5:19pm October 25, 2009)
I can identify with some of the writers you mentioned and as a mother I to have told my girls that while they get hungry they have never been starving. Because of my history I always keep a full pantry.
(Sarah Ulfers 7:50pm October 25, 2009)
It's just so hard for kids of today to understand what life was once like. With this recession, we could get there again.
(Deidre Durance 8:31pm October 25, 2009)
I loved your article about starving and perspective. I know when I was young that we never went hungry-my Mother was a fabulous cook. She made Chicken ala King taste like a million bucks. We always had food on the table, my parents rarely (maybe once a year) would eat out. McDonalds and White Castle were the fast food joints in the area, I can count on one hand how many times we had fast food. It's strange that today fast food is the norm, but given how kids and young adults are starving for money-I see where it goes. LOL
(Gail Siuba 9:54pm October 25, 2009)
I grew up loving Laura Ingalls Wilder, thanks for the clue in about her book. I learn so much reading things I find on this site.
(Donna Holmberg 3:42am October 26, 2009)
I really enjoyed reading your column. It gave me much to think about. What a great way to start the day!
(Rosemary Krejsa 8:50am October 26, 2009)
Great column. I had to laugh about the description of your hubby on Thanksgiving. Sounds like my hubby. When it comes to holidays he is a traditionalist.
(Cherie Japp 12:00pm October 26, 2009)
Great Entry, Laura Ingalls Wilder kept my imagination busy as a child.
(Mary Lynn Hayes 2:17pm October 26, 2009)
Great post, really enjoyed it.
(Marilyn Shoemaker 4:26pm October 26, 2009)
I remember The Long Winter: it
was when I started to find the
series irresistible.
(Elizabeth Krentz-Wee 10:39pm October 26, 2009)
We lived in the country and grew our own vegetables and fruit. One of my earliest memories is sitting on the back porch steps shelling peas from the garden. My mother canned everything she could to feed us until the next garden was producing so we never went hungry, but it was a lot of work for all of us.
(Ruby Davis 11:28pm October 26, 2009)
Good article! Your words make me think! I think that nothing worth anything comes easy. I think we have to have hard times to make us better people and to really appreciate what we have. Nice article. I can't wait to read some of your books;-)
(Jeanette Huston 4:00pm October 27, 2009)
Having Just started doing book reviews I have a better understanding of the writing industry. I was amazed to learn the number of authors that I love to read often work at a "day job" so they can afford to do what they love, and that is to write. I thank them all for the hours of enjoyment and the many new "friends" that I have from their books.
(Doni Miller 1:08pm October 29, 2009)
What a great article this month. Thanks so much. I have never known true hunger either for which I am so thankful.
(Alicia Day 2:48pm October 30, 2009)
Hi Tina!! So love that cover with the cowboy and winter! It goes perfect together! I'm looking forward to it being in the stores in a few days to read!

I've read many of Laura Ingalls Wilder and I remember a couple years ago when I was going through my surgery and dealing with not just the pain physically but emotionally too and my hubby decided that I needed a small trip and he took me to the library. I ended up picking up LITTLE WOMAN to read in a sitting there and that comfort all came back to me.
(Cathie Morton 7:46pm October 30, 2009)
Doesn't everyone use the pot lid sometimes. My mom, daughter and I do to save time and washing up. There's a lovely biography of Audrey Hepburn by Barry Paris.
(Sharon Mitchell 8:33pm October 30, 2009)
Great post! Love your books!
(Amy Smith 10:10pm October 30, 2009)
Tina, it sounds like an excellent book, I can't wait to read it. I love your books.
(Colleen Laginess 6:13am October 31, 2009)
Loved this month's column, Tina. I think I'll pick up the book A Writer's Life. Sounds like a fascinating read. Happy Halloween!
(Latesha Ballard 10:04am October 31, 2009)
WOW that part about weining your son off What's for dinner struck a cord since I grew up in a household where the whole what's for dinner happened every day and my mother worked 5 days a week and still cooked. Parents did not want me worrying about food just grades and my dad worked construction and my mother did not want to burden him with cooking so she did it all. I however think I will be weining my kids though only 3 cause my mom has paid alot to make sure we had dinner every night even on nights when I could have done without.

Love the column in general. Nice getting into your head.
(Desiree Dalton 4:42pm October 31, 2009)
It amazes me that with a column pertaining to starving, you have given me so much food for thought. Thank you.
(Marsha Beamon 5:40pm October 31, 2009)
Your article makes me remember my mothers wonderful cooking....Gads, I sure miss her.

Great article.

Happy Halloween!!!
(Mitzi Hinkey 7:34pm October 31, 2009)
Tina - Enjoyed the colum on starving artists. While I'm an avid lover of books (and respect all Starving Artist authors), I also love Music and as you are aware, there are many Starving Artist musicians who we should also keep in our thoughts. Thanks - Steve
(Steve Ellis 8:26pm October 31, 2009)
My mother was a great cook, too. She never used recipes. Thanks for reminding me with your column.
(Paul Taylor 8:34pm October 31, 2009)
Looking forward to reading your newest book!
(Sabrina Gibau 12:36pm November 1, 2009)
anxiously awaiting your latest!
(Lauri Coates 1:10am November 1, 2009)
You aren't the only one who has cooked a turkey with the giblets still inside. One of my aunts did the same thing one holiday. Have you ever eaten a turkey cooked entirely breast side down? Been there,done that. Some people should never cook a turkey,ever.
(Lorna Thomas 1:40am November 1, 2009)
UGH! I HATE cooking a whole turkey! i have to have my husband remove the giblets .... shudder!! How about some Chineese Food and Pizza instead!
(Stefanie Finn 10:04am November 1, 2009)
This will be my first holiday season with my daughter in the Marines. Not looking forward to the holidays this year.
(Sandy Draheim 10:23am November 1, 2009)
You are such a great author and I can't wait to read your next book :)
(Katie Smith 11:20am November 1, 2009)
ok i'm in , thanks for the contest and i love your books
(Debbi Shaw 5:07pm November 1, 2009)
Thanksgiving is a favorite of mine too since it's a wonderful meal and then a few days off to relax.
(Maureen Emmons 4:28pm November 2, 2009)
What a great column. I can remember watching the "little house" television series and never really thought about what it "really" was like, even after eventually reading the books!
(Joyce Bair 6:54pm November 2, 2009)
I can't wait to read your next book!
(Raelena Pavey 10:21pm November 2, 2009)
I would love to have my family sit down for an old movie, but it's difficult when at least one person isn't fluent in English, and the others won't go for something non-English.
(Thao Nguyen 10:53am November 3, 2009)
I haven't had that problem with cooking a turkey I always call my Mom or my Grandmother for advice as it is something I would only do about once in five years. There is only the two of us so unless we were having company turkey, a whole bird, wouldn't be on our menu, take out would! dancealert at aol dot com
(Brenda Rupp 3:10pm November 3, 2009)
I don't get to have family dinners because my hubby and I both work retail and families are far away!!!!
(Audra Holtwick 7:49am November 4, 2009)
Loved your post Tina and the wise words at the end were so true, thanks. I love turkey dinner with the fixings and the family being together so much that four times a year we do a thanksgiving dinner. The other three on a bit smaller scale but the best part is getting together.
(Dena Walton 9:56am November 4, 2009)
you have to cherish your time
with your family because you don't know when you might lose them .
(Patricia Kasner 10:48am November 4, 2009)
Family means so much
(Diane Pollock 2:16pm November 4, 2009)
Eating a big turkey dinner then spending the rest of the day reading-my idea of a great holiday! I'm looking forward to your next book.
(Debra Kelley 2:47pm November 4, 2009)
love the holdays home with family and food and football lol
please count me in
thanks
(Kim h 6:53pm November 4, 2009)
My family tends to mix holidays. My sisters birthday was last month my nieces was the month before that mine is in 5 days add that to leftover Halloween candy and Thankgiving turkey and Christmas fudge I swear there is enough weight put on between us all that we could make another person.
(Tabatha Basham 6:39pm November 5, 2009)
This year will be the first that I will be alone. My husband is going to visit his Mom (she's 86) for his birthday (11/24) and staying till after Thanksgiving. My baby girl(20 y.o.) will be spending the day with her boyfriend and his family.
My plans are to read,read and read then buy dinner at a restaurant!
(Kimberley Coover 2:16pm November 7, 2009)
I've been celebrating the holidays by myself for the last 3 years or so. It isn't so bad, since I get to do anything I want - which is read, watch movies and play on the computer. I usually use Skype to talk to my sister and her family, and talk to my son and friends on the phone, so I don't feel forgotten. Cooking, that doesn't happen. I usually pick up a cooked turkey breast and heat that up.
(Barbara Elness 3:30pm November 7, 2009)
White Christmas has always been my all-time favorite Christmas moovie. I too fell in love with it as a child and have introduced it to my children. This Christmas will actually be the first one in over 25 years where my entire family will be in one place and able to celebrate together.
(Donna Holmberg 8:31pm November 7, 2009)
I love your books and look forward to reading your book.
(Linda Henderson 12:04pm November 8, 2009)
Enjoyed your column. I learned to cook at an early age. My Mom was a terrible cook. She fried everything and shoe leather probably would have tasted better. I loved your Cowboys by the Dozen series and read them twice already. They are Keepers. Looking forward to your latest book.
(Evelyn Day 8:27pm November 8, 2009)
Thanksgiving should be a breeze. My
Mother has invited me to her home. Now
on the other hand I am having all the
family here, to see the new house.
(Shari Eggleston 2:53pm November 9, 2009)
Holidays are generally a peaceful time spent eating too much food with too much family. Can't wait for all that pie!
(Mary Lynn Hayes 9:25am November 11, 2009)
I am cooking the family dinner. Should be good since I am an inventive cook!
(Joy Isley 1:18pm November 12, 2009)
You made me laugh when you mentioned White Christmas - which is one of my favorite Christmas movies. My sisters and I sing "Sisters" all of the time. I had Thanksgiving one year when my parents were out of town and I lived in a small one bedroom apartment - well dinner was great - we were talking about White Christmas and my brother started singing - We'll Follow the Old Man Wherever he wants to go... It was hilarious that he knew all of the words.

Happy Thanksgiving!!!
(Josie Roetemeyer 2:29pm November 12, 2009)
Happy Turkey Day! We're spending the holiday with our godchildren's family which is fast becoming a tradition. The husbands cook the turkey (and if they leave the giblets in we don't say a word!)and the ladies do the sides. I'm looking forward to the next book!
(Norma Storms 2:44pm November 12, 2009)
Happy Holidays to you & yours! Thanksgiving sure came fast & I'm so unprepared for it. Christmas is even worse! But, as in years past everything will fall in to place & I'll be able to enjoy family and friends.
(Cheryl Snyder 7:00pm November 12, 2009)
I love to watch old Christmas movies tooo!

[email protected]
(Lisa Garrett 10:48am November 15, 2009)
Love reading other people's holiday traditions. My favorite is taking a walk in the woods with my dad and our dogs at midnight on Christmas Eve as we try, every year, because of the legend that says that is the time, if we listen with our hearts and not our ears, we can hear the animals speak.
(Michelle St. James 3:21pm November 16, 2009)
i LOVE x-mas movie binges! it gets me in the spirit of things :)
(Bella Franco 11:11pm November 16, 2009)
Thanks for keeping us entertained at a time where the world is not always filled with light....
(Marcia DiStefano 12:30pm November 17, 2009)
I too love holiday traditions. Growing up we celebrated Christmas eve with my mother's family. Every year my dad would take myself and my sister to Scarbroughs. He would buy my mother perfume and for us we got fresh roasted cashews. We would drive around the capital and look at all the Xmas lights. When I turned 16, he didn't take me. I was so disappointed until the next morning, when I opened my own bottle of perfume. He's been gone for 15 years but my sister and I still cherish those moments we had with him.
(Maude Allen 6:21pm November 18, 2009)
There are so many classic
Christmas movies. They seem
more into the true spirit and
less about shopping and
expensive gifts.
(Betty Dennis 6:21pm November 18, 2009)
This is going to be a very different Thanksgiving for me. My husband and I are driving to California to spend it with my father. He is ill and this will be his last Thanksgiving. I have not spent that particular holiday with him in about 30 years. My daughters, 14 and 24, will be making dinner with my mom who is coming up to stay with my teenager. I have made 4 trips to Dad's this year to help him prepare (and myself) and on this visit he just wants my husband and I. The kids wear him out. I love traditions and all that but this is the year I am breaking all of them. And I am glad. Glad to have this time with him. Happy Thanksgiving to everyone and give your families big hugs.
(Kirsten Kimball 9:51am November 21, 2009)
so many wonderful books to choose from cant wait to read several HAPPY HOLIDAYA ALL
(Suzanna Pickering 11:00am November 21, 2009)
I have to say that I love The Santa Clause...that has become one of my favorite Christmas movies!
(E Felder 7:34pm November 22, 2009)
Hi Tina,
I can't believe the holidays are already here. But I do love them. A Bishop's Wife, It's a Wonderful Life are favorites in our family with A Santa Claus thrown in for everyone. What an Angel Cary Grant was. :)I have A Cowboy from Christmas Past on t TRL.
Have a Happy Holiday.
Carol L.
[email protected]
(Carol Luciano 6:49am November 23, 2009)
This will be a change for me too. I will be spending Christmas with my son and mother this year. All the other relitives are going to florida to spend christmas at Disney World (I think it is)this year. It will be a quiet one. From 6 kids ranging from 2 to 17 and 11 to 15 adulots all cramed in one house. Very quiet this year.
(Jennifer McCambridge 5:38am November 24, 2009)
watching all the old movies is one of our biggest holiday joys!
(Terry Elliott 7:01pm November 26, 2009)
After reading this I'm very hungry. Happy Thanksgiving!
(Tamara Burks 8:21pm November 26, 2009)
I'm known throughout the family for
leaving the giblets in and the wrapper on
the ham. Will they EVERY let me live it
down?
(Val Pearson 8:30pm November 26, 2009)
I once cooked a turkey (or so I thought) and the whole family was seated at the table waiting. I took it out of the oven and discovered that the oven had turned itself off after about a half hour so we ended up having a deli Thanksgiving. I was so embarassed.
(Dorie Furman 8:45pm November 26, 2009)
Happy Thanks Giving!
(Sarah Ulfers 9:23pm November 26, 2009)
We Love Alister Sims A Christmas Carol Its an annual tradition for us.
(Carol Donnermeyer 10:49pm November 26, 2009)
Chocolate pecan pie, huh? Sounds good. Hope you had a great Thanksgiving!
(Erica Paczesny 10:55pm November 26, 2009)
Looking forward to Christimas and more good books-best gifts for me! Happy Holiday!!
(Barb Kettler 9:36am November 27, 2009)
Chocolate Pecan Pie sounds totally sinful! Love chocolate, love pecans! Hope you all enjoyed a wonderful Thanksgiving. I got a remastered DVD of Gone With the Wind for my birthday earlier this month...going to spend Black Friday night watching my all-time favorite film/book!
(Karen Haas 11:59am November 27, 2009)
I hope you had a great Thanksgiving.
(Andrea Infinger 12:03pm November 27, 2009)
I love watching old movies with Christmas themes. My favorite is probably Christmas in Connecticut with Barbara Stanwyck. I should get my sisters together for a Christmas movie marathon.
(Sheila Gallagher 10:39pm November 27, 2009)
It is time to get out the Christmas movies, thanks for the reminder.
(Teresa Roberts 3:25pm November 28, 2009)
Hope you had a wonderful Thanksgiving, making new memories to join the old ones :)
(Fedora Chen 1:13am November 29, 2009)
Tina shame on you! You were so graphicly detailed on the details of Thanksgiving dinner even though its another eight hours till breakfast I'm sitting here salivating and may make a pecan pie run to the kitchen.
(Susan Lathen 3:26am November 29, 2009)
Bing Crosby's voice and Danny Kaye's antics, can it get better? White Christmas is a holiday must see for us, along with Miracle on 34th St (the original). And then there's the Wizard of Oz. At 82 my mom still watches it with family for the holiday.
(Sharon Mitchell 3:43am November 29, 2009)
wow, that's quit a bit to take in!
(Steph Teague 7:09pm November 29, 2009)
I was real young when I had to make my first turkey, My Mom talked to me over the phone as I did her instructions as I was way up in Alaska.
(Richard Brice 8:50pm November 29, 2009)
Tina, I hope you had a wonderful Thanksgiving! We too are starting the holiday movie festivities ;)! Can't wait for your new release.

Happy Holidays!
(Pamela Sinclair 9:24pm November 29, 2009)
I would love to receive your new book to read over our long trip home during the holidays.
(Ashley Domes 6:00pm November 30, 2009)
If I had to make the turkey for Thanksgiving it would have been a disaster! Making the pies was enough. One was good; the other just so-so. A friend invited us one year and made a turkey tenderloin each , baked with stuffing in the pan. That was perfect - no leftovers. Simple and delicious.
Happy Holidays, Tina,
(Elaine Carlini-Davis 9:27pm November 30, 2009)
Hi Tina!! Each year I add a new Angel ornament to my tree in memory of my mom. Its a beautiful tree now with 9 Angels on it. A friend helped me through the first Thanksgiving with doing this and I so love to look for a new Angel ornament to add. We are not able to do the exchanging of gifts but we treasure those times watching some funny Christmas movies (we rarely miss watching National Lapoon's Christmas Vacation)!

You have a wonderful holidays and congrats on a new cowboy release! Love them!
(Cathie Morton 9:30pm November 30, 2009)
What great memories! I had a laugh :)
(Emily Bickell 12:27pm December 1, 2009)
Your Grandma was a treasure! All the best memories to hold close & share with your family, friends, & fans! Happy Christmas! Joyous New Year!
(Jill Merriott 1:36pm December 1, 2009)
Thanks for the laughs! My family also loves to chuckle at other people's expense...I confess that I would have laughed at the bee incident as well! I also printed out the poem to give to my husband...Merry Christmas!
(Laura Merrill 4:54pm December 1, 2009)
Thanks for sharing your wonderful memories with me. I hope you have a wonderful holiday.
(Gayle Oreluk 11:36pm December 2, 2009)
That is so neat. I wish I had that with my grandmom
(Patricia Kasner 5:20pm December 3, 2009)
Loved your walk down meemory lane with Mimi. She is such a hoot! I see where you get your sense of humor. Merry Christmas to you and yours.
(Latesha Ballard 9:55pm December 3, 2009)
Your handmade ornaments are a treasure for all generations. We have some made by various family members (some by little ones and some by experienced crafters) and those are the ones that mean the most, as we remember past Christmas moments with family.
(Sharon Mitchell 9:26pm December 5, 2009)
Enjoyed your post. Have a wonderful holiday.
(Dena Walton 8:06pm December 6, 2009)
I loved the poem and shared it with my family across the globe. They in turn are sharing it with loved ones. So its getting lots of giggles all across the world.
Thanks for sharing Merry Christmass and Happy New Year!
(Jennifer McCambridge 1:38am December 7, 2009)
Your grandmother sounds like a lot of fun. I enjoy pulling out the ornaments our kids made when they were little.
(Maureen Emmons 3:53pm December 7, 2009)
Your grandmother was a hoot - I love older people and the knowledge they pass along to us, such a treasure. Had me giggling - wonderful memories got stirred for me too! Thanks!
(Linda Farrell 2:41pm December 12, 2009)
The Retirement poem was cute and right on the mark
(Joy Isley 5:32pm December 12, 2009)
Those are great memories of your holidays with your grandmother.
(Cheryl Bradley 11:10pm December 13, 2009)
I loved that poem! Grandmas make every single day very special. I miss both my Grandmas!
(Debra Kelley 9:48pm December 14, 2009)
I enjoyed this musing, of your grandmother! What a treasure! I enjoyed the poem, how cute!
(Anne Harris 7:28am December 15, 2009)
I love the poem!
(Raelena Pavey 11:16am December 15, 2009)
Thanks for sharing your memories! I love the family and friend times during this season!
(Fedora Chen 7:22pm December 15, 2009)
Memories are great and some of yours are a real hoot
Keep writing. Love your books
(Sharon Baker 5:19pm December 17, 2009)
You made me smile. I love sharing funny poems. Your writing has laugh appeal.
(Alyson Widen 8:23pm December 17, 2009)
that was a fun read :) thank you for sharing!!
(Michelle Santiago 10:06pm December 17, 2009)
Your grandmother was definitely a keeper!! I hope you got the recipe box, and found more poems like the one you shred with us there! Thanks you for the great memory.

Later,

Lynn
(Lynn Rettig 10:23pm December 18, 2009)
wow a million books and best selling author, your post is very informative and interesting. Happy Holidays and hope you get to two million books. Grandma's are special people
(Gloria Vigil 2:36am December 19, 2009)
It sounds like Mimi knew what it takes many of us thousands of hours of therapy to know. What a great lady and great memories.
(Carol Donnermeyer 4:48pm December 23, 2009)
Yes--Christmas is such a great time for memories--many of my grandmother, too
(Sue Farrell 12:35pm December 24, 2009)
What a great memory to have, and I love the poem
(Candy Gorcsi 1:12am December 27, 2009)
i hope everyone had a good christmas!! and happy [almost] new years! :)
(Michelle Santiago 4:11pm December 27, 2009)
What a wonderful gift to have such people in our lives!
(Catherine Rome 7:55am December 28, 2009)
My Husband or 45 years spent Xmas day together for the first time ever. OKC was snowed in so we didn't travel. Had a great time together
(Pat Wilson 11:01am December 28, 2009)
Thank you for sharing your memories of Mimi. Somehow, your story seemed to sharpen memories of my own grandmother.
(Deborah Rosen 12:01pm December 28, 2009)
What a wonderful article. Like your grandmother, I always seem to find the humor in every situation. It's what keeps me sane!
(Diane Fisher 1:25pm December 28, 2009)
Each of us knows so many wonderful characters--maybe your cake recipe needs a bit of cigarette smoke? Thanks for sharing your Mimi with us.
(Charlotte Babb 4:55pm December 28, 2009)
I loved your memories of Mimi. My grandmother was one of those grandmothers who was young at heart and could make a mean Sweet Potato Pie!
(Lauralee Emerson 6:20pm December 28, 2009)
Loved the poem.
(Maryann McLain 6:37pm December 28, 2009)
You're lucky to have had such a wonderful grandmother!
(Nancy Bird 11:22pm December 28, 2009)
My grandmother was my mentor and my friend, and I miss her dearly. This post really hit a soft spot for me... plus the poem made me spit my last mouthful of tea out of my nose when I read it. Good one!
(Donna Holmberg 3:32am December 29, 2009)
What a great story!
(Melissa Maringer 9:02am December 29, 2009)
Love your writing style. Holds my intrest easily.
(Micchelle Thomas 9:23am December 29, 2009)
Thanks for sharing your wonderful memories and your Grandmother with me!
Happy Holidays!!
(Sarah Drake 9:39am December 30, 2009)
Aren't grandmothers great
(David Holder 2:00pm February 4, 2010)
Anthologies are nice to read when I don't have time for a full length story. And we are definitely drinking a lot of tea this winter. Apple Cinnamon is a favorite here.
(Maureen Emmons 7:26am February 7, 2010)
The fact that anthologies are based on a theme and you get different viewpoints interests me. I like to discover different authors teamed up with my favorites and check out their style of writing.
(Alyson Widen 3:32pm February 7, 2010)
I love reading anthologies!
(Raelena Pavey 5:19pm February 7, 2010)
Tina,

I enjoy reading your blog and hearing about all the things that happen to you. I am glad all turned out well with the liquor store. Wishing you a very Happy Valentine's Day as well.
(Latesha Ballard 9:20pm February 7, 2010)
I read constantly. I love anthologies and story collections. Short stories are especially entertaining when the author is able to make you care about the characters quickly and wonder what might have happened next in a novel
(Lauri Coates 11:37pm February 7, 2010)
Anthologies are some of my favorite stories to read.
(Kristi Gengler 12:23pm February 8, 2010)
I loved reading your post today.
I'm with you on the disposal of snakes. lol
Thanks for sharing.
Carol L.
[email protected]
(Carol Luciano 6:21am February 9, 2010)
Tina,

I agree that writing a short story would be harder than writing a long one, but I enjoy short stories that can be finished in, of course, a shorter time. But it was your experience with the scam artist that rung a bell with me. I was in a dollar store recently buying snacks that my dog loves. As I was checking out, the young clerk was talking to another clerk and kept saying something about a $100 bill. I later read in the paper about a guy who had been going all over our city and as he was checking out any place, showing a $100 bill to let the check-out person see it, but all the time chatting up the clerk. He actually never handed the $100 bill to the clerks, but he ended up getting them so engrossed in his spiel that they gave him back change for a $100 bill. He successfully pulled this scam throughout the city. The next time I was in the dollar store, there was a huge sign displayed saying "We do not accept $50 or $100 bills in payment." I knew then that the clerk I had seen earlier had been a victim of that scam artist written about in the paper. Sad to say, there are always crooks.
(Gladys Paradowski 6:28pm February 9, 2010)
glad to be entered in the contest. Snakes are not my favorite critters. Happy Valentine's Day to you.
(Susan Leech 2:39pm February 10, 2010)
I read all the time, and anthologies help me discover new authors I can check out later. I understand the strain of writing much shorter stories, but I think stretching (or should I say bunching?) your writing muscles that way helps you set your stage in a much more succinct way. Some authors tend to get comfortable with the longer novels, forgetting that there indeed has to be a gripping conflict that, yes, grips the reader so they don't start reading diagonally to avoid the schmaltz...
(Alexina Paiement 12:59pm February 11, 2010)
I like anthologies because sometimes they offer little snippets of a new-to-me author's work. A good way to discover new authors without jumping entirely into the lake.
(Karen Haas 1:08pm February 11, 2010)
My Mother-in-law liked the short stores because she could read them and not have to read a big book. But she is gone now.
My Mother taught me to love books and it is hard sitting here right now going through books I sent her with Best Mom in the World inside - dates, messges, etc. over the years.
I am putting all her old Grace Livinigston Hill books in order by dates and some go back to 1914. These she got from our church Library and belonged to my Sunday School Teacher in 8th grade - amazing.
I just buried my Mother's body last week but God took her home and it is hard as I've sit here a week not wanting to unpack or put away the books.
You have been a special friend of mine for sometime and I love checking in ofen.
(Jane Squires 2:49am February 12, 2010)
I love anthologies as well. I just plain love to read, period!
(Debra Kelley 11:44pm February 12, 2010)
I enjoyed your story and your winterizing recommendations. I need to try some of that hot peach tea with the next book I read.
(Cheryl Castings 1:52pm February 16, 2010)
I have to disagree. Anthologies leave me wanting more.
(Rosemary Krejsa 7:47pm February 19, 2010)
I love romance novels This book sounds great. Keeping my fingers crossed
(Missy Crace 9:30am February 20, 2010)
Interesting idea. I think this will be a great read for anyone. I loved it.
(Teresa Ramdial 12:23pm February 21, 2010)
book sounds like one my wife would enjoy.
(Jeffrey Russell 4:28pm February 21, 2010)
Like anthologies. They are good for a
quick read and sampling authors. I like
your aunt's way of dealing with snakes. It
is what we'd do. Like the sound of
COWBOY FROM THE PAST.
(Patricia Barraclough 10:30pm February 23, 2010)
I like reading anthologies, especially when i'm in a bad or grumpy mood, not really sure why, but that's usually when I grab one! Maybe it's because I don't have the patience to read a long novel. And i'm glad to hear the liquor store adventure worked out for you, personally I would have been heading for the hills after hearing him talk about bullets! lol Hope you had a wonderful Valentine's Day!
(Candy Gorcsi 3:34pm February 26, 2010)
I keep a few anthologies in the guest bathroom and have lost guests for quite a while if the stories are really great.
(Sharon Mitchell 1:10am February 28, 2010)
Wow, that's an exciting visit
to the store, Tina! As for
anthologies, I love them--
whether they're a collection
by a single author or
selections by different
authors, I gobble them up! :)
(Fedora Chen 1:12am February 28, 2010)
Your grandmother sounds like an awesome woman who's lived a very interesting life.
(Soha Molina 12:44pm March 6, 2010)
Love the tennis stories. I would have argued with her that Ivan Lendl was the best of them all. :) And I know exactly which cucumber/onion salad you are talking about because my grandmother made that too. They never wrote down the recipes. There was no need.
(Deborah Anderson 5:34am March 6, 2010)
It sounds like your grandmother led an interesting life.
(Cheryl Bradley 12:07pm March 6, 2010)
It would be great if someone wrote her stories down for new family could know them
(Patricia Kasner 12:35pm March 6, 2010)
Mimi sounds wonderful! I'm close to my grandmother too.
(Yuka Liew 12:29pm March 7, 2010)
Your grandmother sounds like quite a character.
(Maureen Emmons 6:45am March 7, 2010)
This sounds like a wonderful story.
Thanks for writing it.
(Deborah Lary 5:16pm March 7, 2010)
The relationship between grandchild and
grandparent is uniquely special. My
grandma raised me after the early death
of my parents.
(Jung Ja Ahn 1:49am March 8, 2010)
I'm spellbound listening to stories told by family, friends and especially their relatives, because that's where you learn more about them and the foundations for thinking as individuals influenced by groups who don't always remain anonymous. And, in the retelling of the same stories, facts become richer, embroidered and embellished to suit the ears of the listener and to build up a sense of facts to prove the case by the teller.
(Alyson Widen 10:59am March 8, 2010)
I would have loved your grandmother. Old people are so wonderful. My grandmother was stopped by a cop once and he said ,"Do you know why I stopped you?" And she said, "Yeah cause you couldn't catch anyone else!"

He let her go!
(Tami Winbush 6:49pm March 8, 2010)
She sounds like a trip. She would have gotten along great with my Nana.
(Shannon Scott 4:19pm March 9, 2010)
I loved the stories about your grandmother. Mine died when I was around 10, but I still have fond memories of her teaching me how to knit and crochet.
(Barbara Elness 5:59pm March 13, 2010)
Your grandmother sounds wonderful.
(Ginger Hinson 1:29am March 14, 2010)
Mimi sounds awesome!
(Joanne Reynolds 8:00am March 14, 2010)
Your grandmother sounds like a character!
(Debra Kelley 10:56pm March 14, 2010)
How lucky you are to have a grandmother who lived life to the fullest!
(Rosemary Krejsa 8:03pm March 17, 2010)
I loved your Grandmother. My Grams was just like her. I miss her very day of my life.
Thank you for a great story...
Heidi
(Heidi Shafer-Wilson 1:59pm March 18, 2010)
Unfortunately, my maternal grandmothers passed away when I was five. The other wasn't able to relate to us grandkids very well. The only way she found was to buy things for us. I really missed having a story-telling grandmother. It was my mother who told us the stories of her life when she was young. My father never did.
(Sigrun Schulz 10:40pm March 18, 2010)
What a great grandmother! She sounds adorable!
(Melissa Maringer 9:38am March 26, 2010)
My grandmother (Mimi, also) couldn't go fifteen minutes after your arrival without feeding you - even if you were not hungry. She always had time for games and walks to get hot dogs and ice cream, even though we lived at the top of a steep hill and the shop was at the bottom. Her laugh was full-boddied and frequent.
(Sharon Mitchell 4:19am March 30, 2010)
What a great woman your grandmother was! And what a great legacy she's left you in her stories :)
(Fedora Chen 3:27am March 31, 2010)
Mimi sounds alot like my Grannie Brown who I lost in 67'. She was my favorite and loved to tease and dress up and come to the front door and put on show that keep us kids laughing or scared that if we were bad something might happen to us.
I still miss her.
(Brenda Hill 11:54am April 2, 2010)
Both my Grandmothers lived to be a little short of a hundred and were as different as night and day. My maternal grandmother referred to my husband as my beau and because she was in her 60's when my parents adopted me she kept me in line while babysitting telling me how the gypsies were going to snatch me if I didn't stay by her side and other stories that would have made Stephen King proud. My paternal grandmother was not as close to me because I wasn't a "real" member of the family and I was constantly being compared to my cousins. But I remember one story that stuck with me I was told right after the wedding where I was told never let my new husband close the house's windows because a gentleman in the small town she was from did it in a hurry and caught a member and had to go through the rest of his life like he invented Viagra and that was 30 yrs ago!
(Susan Lathen 2:37am May 31, 2010)
Registered users may leave comments.
Log in or register now!