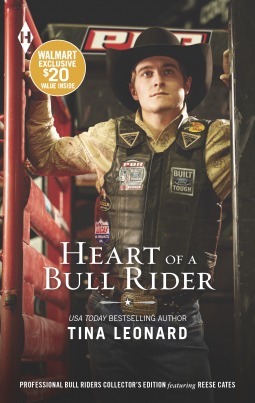 Purchase
AVAILABLE EXCLUSIVELY AT WAL-MART
Harlequin
April 2015
On Sale: April 21, 2015
Featuring: John Carruth; Chloe Winters; Jake Fitzgerald
ISBN: 0373826656
EAN: 9780373826650
e-Book
Add to Wish List

The Billionaire: When New York billionaire John Carruth is summoned to No Chance, Texas, to save the local rodeo, he has no idea he is going home. Now the long-lost twin to the town's favorite son is determined to win over the people he left behind—and capture the heart of Chloe Winters, a Texan who has her own ideas of what it means to be part of a small town! The Bull Rider: Jake Fitzgerald, champion bull rider, didn't know he had another half. John may be kin, but he's still a stranger in these parts. With his billionaire brother hell-bent on changing Jake's world, Jake knows he has to take a stand. Will he choose family—or will he take a chance on Erin O'Donovan, a woman who has always meant family to him?
Comments
18 comments posted.
Last night I asked my daughter if her daughter's boy friend
was also coming to visit and she said no because no one to
take care of his dog. So, I said what about Stoney and said
that today one does not call anyone "stoney"; the friend is
named "Stormy" (real name). I said I was thinking it was a
name and that there was the TV show when Jack Lord played a
rodeo rider named Stoney Burke ( I hope this is the name)
and I was thinking of that name. I am really dating myself;
it was a great show.
Thanks for the post. Sounds like a great read.
(Leona Olson 10:43am May 21, 2015)
The area that I'm currently residing at only shows TV shows
broadcasted from Canada, so I'm at a loss as far as watching
anything to do with bullriding. I remember seeing footage a
few years ago, showing Mr. Lane doing a remarkable job. He
was truly one of a kind. Mr. Cates is one of a kind as
well, taking his share of lumps as well. To be a bullrider
takes a special kind of person with nerves of steel and
unending resolve, which Mr. Cates seems to have. I'm sure
I'll be reading about him in the paper in years to come, and
will root for him from the sidelines and in my prayers. I'm
also looking forward to reading the books that have been
mentioned, since they will be the first time I've read a
book of this sort. They sound exciting and fun, and I've
put them on my TBR list.
(Peggy Roberson 2:10pm May 25, 2015)
Justin McBride
(Renae Kelly 5:39pm May 25, 2015)
I use to follow the rodeo a lot like in the mid-70's and 80 and now I watch it when ever I can but my favorite rodeo guy was Larry Mahan but my son knows all the top rodeo guys for he's a big fan! I love it too but just don't have a favorite!
(Carole Fiore 11:13pm May 25, 2015)
Happy to know that these tough young men are doing something other than
rodeo with their lives. Those injuries take a lot out you. And so glad that the
rest of their lives are full.
(Kantu Malhotra 12:22pm May 26, 2015)
REESE IS A COWBOY THAT IS SWEETER & GIVES ME MORE PLEASURE THAN THE CHOCOLATES! TINA ALWAYS KNOWS WHAT WE GIRLS CRAVE...
AND THAT'S NO BULL ;)
(Nina Crespi 3:44pm May 26, 2015)
always loved watching the rodeos. have been riding since i was a child. still own horses. would love to read these books. they look great.
(Donna Sweatman 4:45pm May 26, 2015)
I don't have a favorite bull rider - i don't know much about them! But both Harve
& Rider sound awesome!!
(Lily Shah 6:05pm May 26, 2015)
I loved spending summers in Colorado with my grandparents when I was
growing up, and being around the rodeos and such. I've lived in the city all
my life though, so never got super involved in them. My dad worked at
them when he was a teen though, and still watches every televised one he
can. He knows about all the bull riders, as that's one of his favorites! I don't
personally have a favorite, though I love to read about them. I also love
Tina's books!
(Teresa Williams 8:39pm May 26, 2015)
I've never been to a live rodeo. I've only caught bull riding on TV, so I don't have one favorite rider. But I'll be watching out for Reese now!
(Marcy Shuler 1:14am May 27, 2015)
It has really enjoyable and informative. After that i am
reading its getting some great information. Good work.
get
a paper written
(Micheal Elijah 2:57am May 27, 2015)
I'll go with Reese being my favorite bull rider. He's from Arkansas so he's got to be best.
(Joan Thrasher 10:32am May 28, 2015)
Reese is my favorite now! I wish him the best of luck and
great rides!
(Diane Sallans 2:59pm May 28, 2015)
I don't have a favorite bull rider. Being from Detroit, I really don't know much about the sport but I wish them the best of luck.
(Karen Mikusak 7:07pm May 28, 2015)
I would be way too scared to be a bull rider!
(Lindsey Andronak 3:40pm May 29, 2015)
I love bull riders, cowboy boots and cowboy hats! YUM!
(Teresa Stebbins 4:27pm May 29, 2015)
Payday Loans Payday advances are a passing
credit, when it is obliged the most...usually between
paydays! Payday credits are a remarkable approach to
manage get some money to hold you over to your next
paycheck. The objective of payday advances is to support
you with stores to meet that unforseen crucial.
(Sharuk Mithun 12:04pm May 31, 2015)
It's a Tina Leonard book! That says it all!
(Kathleen Bylsma 6:55pm October 2, 2015)
Registered users may leave comments.
Log in or register now!