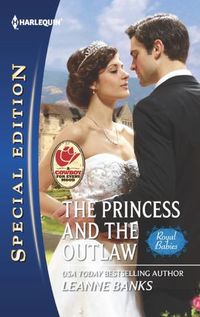 Purchase
The Princess and the Outlaw
Leanne Banks
Royal Babies
Harlequin Special Edition
July 2012
On Sale: June 19, 2012
Featuring: Nic Lafitte; Pippa
224 pages
ISBN: 0373656807
EAN: 9780373656806
Kindle: B007UNC1W0
Paperback / e-Book
Add to Wish List

The shy, studious one among the royal Devereaux family of Chantaine, Pippa wasn't known for controversy.

So her brief romance with Texas tycoon Nic Lafitte—of the detested-by-the-Devereaux Lafittes—had to end. Too bad Pippa couldn't get the darkly handsome, modern-day outlaw out of her mind!

Given their generations-long family feud, Nic was stunned when the sweet princess secretly defied the Devereaux clan to fulfill a Lafitte's dying wish. But if Nic gave in to his attraction to Pippa, he'd break her heart—again. He tried to resist her…until a night of passion led to a little Devereaux-Lafitte! Now the royal and the Texan have to somehow bring two worlds, and two families, together.
Comments
60 comments posted.
Re: The Princess and the Outlaw

I use books to escape into other worlds that are filled with magic, romance, and adventure.
(Chelsea Knestrick 1:16am July 1, 2012)
To make life fun, I like to not act my age. Doing the simplest thing is more fun than being serious all the time. Peter Pan definitely has a point about not growing up. It's more fun being a child.
(Kai Wong 1:48am July 1, 2012)
I welcome my children and their friends into my home. I have a nice backyard which is great for parties. Just today the young people sang a ditty for me about a boy with chapped lips. What fun.
(Kathleen Yohanna 2:08am July 1, 2012)
To bring a little fun into my life I try to see things the way my 9yr old daughter does. She is amazed and delighted by things that I am not so I try to look at everything from her point of view. We also go rollerblading together (I hadn't been on skates in over 20yrs) both at the local roller rink as well as on walking paths in the area.
(Denise Boyd 3:47am July 1, 2012)
I read, and our cats constantly provide humor for us.
Blessings,
Marjorie
(Marjorie Carmony 6:01am July 1, 2012)
My magical moment was last week when on my way to work I realized that the drive which had gone from not long ago being during the dark of night to the most majestic sunrise. I know that it didn't happen overnight so I imagine I've missed a few being wrapped up in my inner thoughts about the day ahead and missed some. I'm going to try not to let that happen anymore because life is too short to spend it worrying about things that you lose sight of the hear and now.
Good luck and happy writing!
(Tracie Travis 6:02am July 1, 2012)
My husband and I make our lives more fun by traveling the world. We have had many magical moments seeing new people and places.
(Cheryl Castings 8:36am July 1, 2012)
I plant butterfly bushes and enjoy the action around them, for one thing!
(Mary Ann Dimand 8:47am July 1, 2012)
We have a vine in the back yard that attracts hummingbirds but every time my husband sees them and tells me they take off. I am determined to capture them on film.
(Maureen Emmons 8:57am July 1, 2012)
i really love a book that has homour in it so excited to read
(Denise Smith 9:15am July 1, 2012)
My husband and I are visiting Claremore, OK for the 4th of July and our annual family reunion. It's wonderful to see the family and especially the grandkids!!!
(Bonnie Capuano 10:30am July 1, 2012)
My 3 dogs make my days full of fun.
(Terri Quick 10:38am July 1, 2012)
My happiness is with my children and grandkids
(Gloria Walshver 11:23am July 1, 2012)
I enjoy reading, playing computer games, doing jigsaw and crossword puzzles, plus doing sequin art.
(Wilma Frana 11:34am July 1, 2012)
Yes, we have Rose of Sharon flowering hedges that are
beautiful like the Butterfly Bushes and we have 4 little
Chawinnies; Chihuahua/Dachsunds that love our flowers and
garden too. Thank You very much and God bless everyone!
Cecilia CECE
(Cecilia Dunbar Hernandez 11:53am July 1, 2012)
I love to go on country drives when the weather is nice and sunny on mornings and just enjoy nature in the EV mode of my Prius. I take my camera and have gotten some really great wild flower and wild animal shots. My most recent magical experience was when driving along a river following road, I looked over and saw this huge nest in a tall sycamore tree. It was amazing and turned out to be a bald eagle nest with the bald eagle sitting it it!!! I am still amazed that I found that!
(Angie Lilly 12:09pm July 1, 2012)
To add a little fun I like to have a girls' night out with friends!
(Rebecca Whitehead-Schwarz 12:58pm July 1, 2012)
Fun in my life.. playing video games, watching anime, reading, and spending time with my little nephew!
(Colleen Conklin 1:41pm July 1, 2012)
I do a lot of computer work, and it can be monotonous. I enjoy getting TV series and having it on in the background--I'm watching all sorts of series I've never seen before!
(Kathleen Conner 1:55pm July 1, 2012)
I enjoy reading, spending time on the computer, and gardening. Unfortunately, I'm having to water the garden and lawn because of the hot, dry weather we are having.
(Anna Speed 2:03pm July 1, 2012)
I escape to a world of another life in books whenever my world
becomes too much for me. Maybe that's why I have so-o-o many
of them!
(Mary Hay 2:44pm July 1, 2012)
I enjoy the simple things in life.
(Sheila True 2:50pm July 1, 2012)
My daughter is on a 23 day trip across the US with a group of 80 other high schoolers. They are not allowed cell phones.They were not able to call until day 6 just after she had hiked the Grand Canyon, which leads me to my magical moment: hearing her voice after a week without speaking to her.
(Kristyn Stroupe 3:15pm July 1, 2012)
My son is getting engaged to a wonderful Korean girl and he just bought the stone for her ring! What a magical, celestial moment that was!
(Susan Coster 3:18pm July 1, 2012)
I am experiencing my granddaughter growing up.
That is always magic and fun.
(Pat Lieberman 3:38pm July 1, 2012)
Funny you mention the bad hair, because after you described
her, I DID check out Pippa's hair on the cover of the
book...and I can see how they were trying to make it look
less smooth, but it still looks pretty well contained to me,
too.

What do I do for fun? Garden, play with my dogs, take my
daughter shopping, goof with my son...ride with the top
down. Chat with my favorite author friend on fb ;)
(Janet Pepsin 4:04pm July 1, 2012)
Read,relax and enjoy a great cup of java
(Darci Paice 4:19pm July 1, 2012)
Seriously, every moment you're alive and well is magical!
(Lynne Mauro 4:26pm July 1, 2012)
Music. A little guitar every day helps me stay centered and happy!
(John Billiris 4:43pm July 1, 2012)
I live vicariously through my kids, daughter 23 and son 21. :-) Neither my husband nor I get around like we used to, so we don't go out a lot. Both my kids are enjoying 'romance' – my daughter in a 5 year relationship (taking things sloooow - waiting for his college graduation) and my son with a first girlfriend in a very new relationship. I get to relive all the joys of new love! And, I get to hear all, well, most ;-), of their exploits – travels, outings, etc. Thankfully, we are a close family and the kids actually LIKE their parents, so even though they are older, we still enjoy our Family Movie Night gatherings, in-depth discussions, and laughing together!
(C-Jay McCann 5:24pm July 1, 2012)
For fun, and for magic, I play chamber music at least twice a week. However, in July, our cellists disappear to the wilds of Vermont for a three week long chamber music workshop, so no quartetting!! Instead, I play in the pit for a local theatre group. This summer, it's Brigadoon. If that's not magical, I don't know what is!!

Later,

Lynn
(Lynn Rettig 5:43pm July 1, 2012)
Books! Hugging my daughter! :)
(May Pau 5:46pm July 1, 2012)
best thing coming into my life is a new great-nephew! Lookin'
forward to meeting the little guy!
(Diane Sallans 5:51pm July 1, 2012)
add kids, dogs and books..thanks
(Debbi Shaw 6:05pm July 1, 2012)
I decided at 40, I needed some fun, so I bought a motorcycle,and started doing charity runs! I met all kinds of new friends and even took a trip to a small island and we camped for the night with only what we could carry on the motorcycle! We have so much fun!
(Rebecca Thieman 6:37pm July 1, 2012)
My neighbor had a butterfly bush and I have yet to see butterflies around it. As for anything "fun" it's playing in facebook and checking out what each author has new to say rather it's about a new book, thier dog's, husband's, trips, etc. This week I started my own "bucket list" and have so far done the first three things!!! The next thing I gotta do is come up with more fun things to do!!!!
(Pamela Hamblin 7:13pm July 1, 2012)
I usually have my grandchildren overnight on the weekend. They provide so
much fun and silliness....it carries me through the next week. This week, my
grandson discovered the silliness of a book called A is for Salad by Mike Lester.
his chuckles are still with me even though he has gone home now.
(Sherry Fraser 7:31pm July 1, 2012)
To make my life more fun, I read Great Books as often as possible! Thanks for the fun column.
(G S Moch 8:02pm July 1, 2012)
I read, watch my favorite TV shows, or spend time with my grandchildren.
(Janie McGaugh 8:19pm July 1, 2012)
I have all of my books so that I can live vicariously through the fantastic characters and locales - I am never without a book wherever I go - I love reading all of the great adventures others have posted here, too - how cool - I also live vicariously through my son who is 28 = yes, I need a life! LOL
(Felicia Ciaudelli 8:20pm July 1, 2012)
Fun is playing with my brother's two dogs, hanging out with family and friends, and of course, reading!
(Mary C 8:37pm July 1, 2012)
I'm assuming Sea Mary is a spammer? Weird!
I don't think I've had a lot of magic lately. I am going out on a boat for a couple of hours tomorrow...on a river. That will be fun...and hot!
(Catherine Lee 9:23pm July 1, 2012)
We have fun with the babies, kittens and puppies. It's fun to cuddle.
(Deb Pelletier 9:24pm July 1, 2012)
Chelsea, so true about books! Kai, perfect! I'm going to
give that a try!:) Kathleen, I would have loved to hear
that ditty about chapped lips. Denise, good for you on that
roller blading. You are braver than I am! Marjorie, I keep
hearing that cats are entertaining! Tracie, that was
beautiful. Thank you for sharing. Cheryl, I love traveling
too! Mary Ann, I'm a big fan of butterfly bushes!:)
(Leanne Banks 9:26pm July 1, 2012)
Maureen, I love hummingbirds! They are so fast! Denise,
please let me know if you read the book. I'd love to know
what you think! Bonnie, congrats on the reunion! What fun!
Terri, I LOVE DOGS!!!:) Gloria, what a blessing that you
have good relationships with your children and
grandchildren. Wilma, arts and crafts can be so much fun!
Cecelia, good for you with your gorgeous garden and sweet
doggies!
(Leanne Banks 9:30pm July 1, 2012)
I keep in touch with friends and family - but more so when I think they need "someone". Right now, a good friend's wife is in the hospital, so he needs my husband's and my support ... another friend left his spouse, so my daughter and I find fun things to do to keep his mind off his troubles ... and I just visited a friend who misses driving, and we took a three-hour drive around the countryside after a lovely lunch out. Bringing a smile to my friends' faces brings a smile to mine.
(Elaine Seymour 9:31pm July 1, 2012)
Angie, an eagle's nest?!!! That is too cool! Rebecca, GNOs
are the best! Colleen, children really add a lot of
sparkle.:) Kathleen, I love discovering a new tv series.
Good for you doing it while you're working! Anna, I hear
you on the heat! It's ridiculous. Mary, books are sweet
comfort. Sheila, that's good advice for all of us.
(Leanne Banks 9:35pm July 1, 2012)
Kristyn, WOW! Now that was a magical moment -- for both of
you, I'm sure!
(Leanne Banks 9:44pm July 1, 2012)
Susan, I'm so thrilled for you. She's clearly lucky to have
you as a mother-in-law! Pat, I totally agree. I hope to
have a grandchild someday! May, good for you! Diane, A
BABY! YAY!:) Debbi, all good things. Rebecca, you dare
devil! I'm so proud of you! Enjoy your rides for ALL of
us!!!:) Pam, good for you on your summer bucket list. When
you get to the end of the season, you'll feel good about
what you've done! Sherry, a child's laughter is the BEST!
GS, good for you! Janie, that sounds like a fab list!:)
Felicia, you have a rich life.
(Leanne Banks 9:52pm July 1, 2012)
I lay back with my cat, a good book and ice cream!

:-)
(Mari Kenobi 9:53pm July 1, 2012)
Mary, I like your plan. Catherine, I think you'll have a
magical time on that boat tomorrow! Deb, so true, Elaine,
you are a goddess and an angel. Your life is rich because of
the person you are.
(Leanne Banks 9:54pm July 1, 2012)
I love talking to my brother and sister. So funny!
(Jennifer Beyer 9:58pm July 1, 2012)
I read and live many lives through the imagination of the many talented authors that I have been privledged to enjoy their books.

Fun - I play with my 2 year old grandson and forget for a little while I am going to be 54 this month!
(Kimberley Coover 10:46pm July 1, 2012)
going to new orleans for a trip with cousins and family
(Ann Unger 10:55pm July 1, 2012)
Because my life is so busy, to make my life more fun, I try to laugh as often as I can during the day, so I don't pull my hair out!! Some days are more nerve-wracking than others, since my Husband and I are caretakers of the apartments where we live. Need I say more? The most magical momemt that happened to me happened just a couple of months ago when a cat that my Husband and I befriended sat down next to me at my feet while I was at the computer, and began to give birth to kittens!! She was so skinny that we didn't know she was pregnant, and for her to be so trusting of me, and to witness the birth process was a miracle to behold. My Husband got a box and a towel, and she jumped in it. I gently picked up the newborn kitten, and placed it in the box for her. She proceeded to have another kitten, then finished cleaning them both. The next day, she had 2 more. I slept in my computer chair all night to be near her, since that was what she really wanted, and stayed near her for the first week, since she was a first time Mom. Her Mother was also pregnant, and had her litter outside. She ended up bringing her brood to our apartment, one by one, and now we have a total of 8 babies, running around our apartment, waiting to be adopted out!! I'm hoping to keep 2 of them, since they're Calicos, and they've won my heart over. Anyway, every day brings a new miracle around here, since I live in the country. Sorry I carried on a little long. I want to read your book very much. Love the cover!!
(Peggy Roberson 11:02pm July 1, 2012)
I read and listen to music for fun and my cats, dog, guinea pigs and hamster provide lots of fun too. Thanks for the chance to win!
(Natasha Donohoo 2:22am July 2, 2012)
I love to go to thrift/antique shops, summertime events such as fairs and antique auto shows, water ski shows, etc. for fun. I also enjoy reading every day, going on the computer and game shows on TV. I used to have a lot of irises in my huge flower bed in front of my home I lived in years ago, and I had a lot of hummingbirds when the sun was starting to set every day during the summer months. It was so exciting to watch them from my picture window. I haven't seen any since I moved to a different state, but I have a friend who lives in the country that had one flying around in her garage, and unfortunately, her cat killed it before she could get it outside.
(Linda Luinstra 4:32pm July 2, 2012)
I read as an escape and because I love books of all kinds.
(Alyson Widen 8:54pm July 2, 2012)
To have more fun I have done different things at different times, right now I check local media for writing contests to enter. I have just sent six short fiction stories to a national free competition. Sometimes I pay to enter others because it is great fun looking forward to maybe being shortlisted, maybe in line for a prize. If I get nowhere it is just a matter of looking for another contest with different judges. And writing another story every time I get an idea, so I have a pool of stories of different word lengths.
I have a purple buddelia bush (butterfly bush) outside my window and yesterday I did see butterflies but today it's raining.
(Clare O'Beara 5:57am July 3, 2012)
My kids say my life revolves around my horses! They say i will feed the horses before them. Of course my kids are 21&28 and still live at home. My horses are my life as well as my boys, but they don't talk back. if i am having a bad day i can goo to the barn and feel so much better. Thanks for the contest.Good luck everyone!
(Kim Cornwell 11:40am July 7, 2012)
Registered users may leave comments.
Log in or register now!