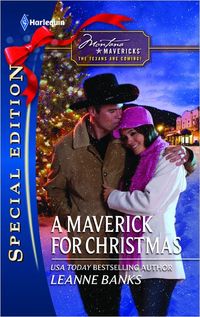 Purchase
A Maverick For Christmas
Leanne Banks
Montana Mavericks
Harlequin Special Edition
October 2011
On Sale: October 18, 2011
Featuring: Cade Pritchett; Abigail Cates
224 pages
ISBN: 0373656335
EAN: 9780373656332
Kindle: B005JSRAPG
Paperback / e-Book
Add to Wish List

Thunder Canyon Nugget
Hot Off the Presses:
Thunder Canyon's Most Upstanding Citizen Has Finally Found His Ms. Right…And She Isn't Letting Him Get Away!
The rumors have been confirmed: Abigail Cates is wildly in love with Hollis "Cade" Pritchett. But the honorable second Pritchett brother barely knows she exists. Until the youngest Cates daughter makes up her mind to get her man. Now the gossip mills are churning overtime as the town's tweeters try to out-scoop each other on this blossoming romance!
Maybe it's the wedding fever running through Thunder Canyon. Or maybe the town's most eligible bachelor is finally realizing that Ms. Right has been here all along. Could a marriage proposal be next? Stay tuned, dear readers, to find out if Cade will get up the courage to pop the question—just in time to throw the biggest Christmas wedding the Montana town has ever seen!
Comments
49 comments posted.
My husband and I have found that just being a good listener is one of the greatest things a friend can do. Giving advice comes in second.
Blessings,
Marjorie
(Marjorie Carmony 8:55am October 30, 2011)
Yes, there are people in my life that have stepped up and encouraged me when I was down. The friends and family who have done this are those that follow your heart, are true to themselves and me, say what needs to be said, are kind to others (not just me), offer a helping hand when they're able, and cherish the bond I share with them.
(Diane Brixius 9:18am October 30, 2011)
When you have been married as long as I have there have been hitches in your life ; having a wonderful friend to talk to and discuss can make you see there is always two sides and neither of you is necessarily wrong, just keep the dialogue going. There have been times for me when a friend was there and I was thete for her when she was having similar problems: that's friendship.
(Diane Sadler 9:33am October 30, 2011)
Small towns are homes to broad knowledge of people unlike oneself. A caring knowledge of each other is the best support there is-- fundamentally the only good support there is. Small towns make that, as well as destructive attention or dismissal, more possible than many places. I grew up in a small town where-- I hope-- I learned to give that attention to others.
(Mary Ann Dimand 9:49am October 30, 2011)
My husband and I have been each other's support for 17 years.
When one is down the other boosts him/her up. This year,
circumstances had us both down, which really brought home how
important we are to each other.
(Michele Lawrence 9:53am October 30, 2011)
I had several special friends who were also fellow teachers who helped me out in every way possible when my mother was diagnosed with breast cancer and there was no way she was going to survive. Without their support I don't know how I would have survived the last days of her life and been able to finish out the school year.
(Ellen McDaniel 10:05am October 30, 2011)
During the past few years of my life, I've had the pleasure of encouraging people in my life when they were going through some difficult times. I started out mostly as a sounding board, and if I had experienced something similar, I would tell them, and steer them clear of any pitfalls I may have encountered, to make things a little easier for them. I also had a bit of a rough time a couple of years ago when I lost my house, and my Husband and I had to live in a pop-up camper for a while. There were people there for me to keep my attitude "pumped up" when I thought I was doing just fine, and making sure that we were ok. It meant alot during such a traumatic time in my life. I'm a big fan of yours, and can't wait to read your latest book. The cover is "heartwarming" for the upcoming Fall and Winter up here in the North. Congratulations!!
(Peggy Roberson 10:08am October 30, 2011)
Like Diane Brixius, I too have a network of friends who have supported me in the past, and continue to support me now. This is my family of choice, and I have found more love and caring goodness with them than I ever have found with my biological family. Quite frankly, I probably wouldn't be alive today if it wasn't for these people!

Later,

Lynn
(Lynn Rettig 10:08am October 30, 2011)
My sister has had a lot of problems in her life. I have made sure I'm there with a helping hand and an encouraging word. She calls me all the time because she said when she's down in the dumps I make her feel better.
She's also there for me when I need someone to talk to.
(Rita Wray 10:37am October 30, 2011)
I have this book on my tbr shelf and can't wait to get into it... love your books.

I have the greatest friends.. I could not get through some of the touch times without them. I have the kind of BFF that when she found out my mother was not going to live and I was alone at the nursing home with her, she came right over to be with me. And I am there for them. But we have a lot of good times to share too.. I was not lucky enought to have sisters, I have four brother, although they are there for me, it is not same as having a female to turn to. I have three female cousins that I could turn too.. I am so lucky....
(Kathleen O'Donnell 10:58am October 30, 2011)
I have some great friends. They have helped me a lot just by listening to me.
(Wilma Frana 11:29am October 30, 2011)
Believe it or not--my dogs have always helped me when I'm down by letting me cry all over them and get them wet and listening to my every work no matter what it is and not leaving my side.
(Sue Farrell 11:45am October 30, 2011)
Good Friends - we are there for each other thru the good and the bad.
(Katherine Reese 11:54am October 30, 2011)
I am usually the one doing the encouraging, but I don't mind that at all. I love being the support system that can always be counted on by my family.
(Cheryl Castings 11:59am October 30, 2011)
Yes, there have been people who stepped up to the plate and helped me and people that I have helped. Positive discussion and listening are a very big part of helping people out. Of course, there are other ways as well: taking people somewhere when they can't drive and need to go, bringing people food, donating time, cleaning an ill person's house, sometimes just giving someone a smile, and in general, doing and being there for people. Those are all things that people have done for me and I have done for them.
(Cathy Phillips 12:03pm October 30, 2011)
I have always been the one to encourage lend an ear when friends and family need it. Not so lucky on the flip side. I guess they just assume that I have my act together and never notice when I need some encouragement when times are tough.
(Gigi Hicks 12:15pm October 30, 2011)
I had this approach and tried to help my s-i-l and it worked good for years, until she got a bug up her butt. She is in denial and unfortunately has broken all contact with my family. Sometimes you can have good intentions but in the end they have to want to accept the help. I look forward to reading this book Leanne.
(Christine Arcidiacono 12:27pm October 30, 2011)
My mother encouraged me to keep writing so that one day i would become a famous author. The i in turn encourage her towrite her own story about her life. Plus i also encourage some of my friends to try different things so they can learn and adapt to change.
(Anthonia Sharp 12:36pm October 30, 2011)
My daughters have always helped me and listened to me when I'm down.I love all your books and can't wait to read this one.
(Frances Namuth 12:42pm October 30, 2011)
When I was diagnosed in 1994 with breast cancer, a good friend gave me a
book on coping with a life-threatening illness. There were a lot of tips on
thinking positively and realizing there would be down days but that illnesses
can be conquered. I was lucky in that I only needed surgery and radiation and
have been fine since then. However, I will always remember the help that I
received from this kind gesture.

In return, some years later I helped another friend who was diagnosed with
the same thing. I felt that it was my turn to return the favor if you will.

Life is good! :-)
(Connie Fischer 1:08pm October 30, 2011)
My grandmother was my biggest supporter... no matter what she could always make me feel better. She made me feel important and that I could do anything...
(Colleen Conklin 1:13pm October 30, 2011)
My friend who could have been very ill - kept her company, went to dr with her, talked with her a lot on the phone.

Yest. my good friends surprised me with breakfast for my 65th bday. I am so blessed to have such wonderful friends.
(Pat Lieberman 1:13pm October 30, 2011)
I come from a large family that has always helped each other; now I have my own wonderful family: husband, son, and daughter/ best friend. We help each other through life's up and downs.

As I may have mentioned several dozen times, I love your books and loved this one as well! :-)
(C-Jay McCann 1:34pm October 30, 2011)
My sister's are my sounding board for both the good and the bad. They know me better than anyone and don't let me slide on stuff, and are my best fan club to celebrate those great moments too.
(Cathy MacDonald 1:42pm October 30, 2011)
My husband has been the one to cheer me on, to help me recognize my capabilities when I had doubts, and to encourage me to learn things that I thought I might enjoy/be good at.
(G. Bisbjerg 1:52pm October 30, 2011)
I have been having issues with my sister lately. I have been talking to my best friend to find out what I can do rebuild my relationship with my sister. My sister is arrogant, judgmental and so full of herself that she will not accept responsibilities for her actions.

My best friend has been helping me to try to rebuild my relationship with my sister.
(Kai Wong 1:53pm October 30, 2011)
I love small town stories and even better when it centers around the holidays. Very cozy.
My family are my biggest supporters and motivators. They advice, encourage and believe in me.
(Na S 1:54pm October 30, 2011)
I am not sure if it helps people, but I always try and
listen to what they are finding hard on their life and then
tell them the truth of what I believe. It might not always
be what they want to hear but I tell them anyway. If my
words help then they do come back for more advice, so I must
be doing something right.
(Ilona Fenton 2:21pm October 30, 2011)
I have a very large extended family. We support each other at all times.
(Mary Preston 2:25pm October 30, 2011)
I'm very fortunate. I have a terrific family to listen and encourage me.
(Anna Speed 2:34pm October 30, 2011)
I've been fortunate to have friends that have listened, shared and given me advice when I was feeling low in my life (while going through divorce). I don't know how a person could survive traumatic episodes in their lives if they didn't have friends and family's support. I've been my brother's sounding board for a very long time, through his difficult marriage, and I'm sure it's helped. He remains separated from his wife, although they remain friends and do many things together (it's been difficult for him to get over her affairs and her planning a wedding behind his back to her boss--even though it went sour and never happened). I have always tried to give positive encouragement to uplift his spirits and help him feel better through it all. If she'd just be sorry for everything she's done, instead of denying it, they'd probably be back living together. The trust is gone and most of the love is lost, but his outlook is very good and he jokes around a lot. I look forward to reading your book!
(Linda Luinstra 3:37pm October 30, 2011)
Normally, I am the listener. Most of the time, they don't really want advice. They want to rant, rave, and finally come up with the solution that works for them.
(Angee Bartlett 3:50pm October 30, 2011)
My daughters are the ones who are my listeners when I'm down, and vice versa. Thanks for giving me a chance to win your book.
(Linda Hall 4:19pm October 30, 2011)
I have great friends that are there for me, and I try to return the favor.
(Shirley Nienkark 4:48pm October 30, 2011)
Thanks for the giveaway! I'm very thankful for my boyfriend and my best friend, as they are awesome with encouragement and help whenever I need it. I just hope that I'm just as good to them as they are to me.
(Erin Fender 4:52pm October 30, 2011)
My husband tries to help when I am sad but it's kind of difficult for him because he gets fed up when I don't respond the way that he hopes I will. He feels like he has failed. I think it's easier for friends to cheer me up because they don't feel as much pressure.
(May Pau 5:03pm October 30, 2011)
Yes. I had amazing friends who all came together one night to help me move out..and away from an abusive husband. I don't know how my daughter and I would have made it without all those friends.
(Kirsten Kimball 6:04pm October 30, 2011)
I feel very fortunate. My mother and sisters were not supportive of me, because I am different from them in many ways. I met my husband over 20 years ago, and he has always been supportive, giving me unselfish advice, and wanting me to grow and be happy. One loving person really can make up for several less-than-loving people.
(Kathleen Conner 6:15pm October 30, 2011)
I'm a huge fan of my wife, who has always helped me find a balance between pursuing my dreams and doing the work I need to do.
(John Billiris 6:51pm October 30, 2011)
I think it's most important to make sure people know I am there to listen and support no matter what!
(Robin Daily 6:56pm October 30, 2011)
My BFF always steps up and encourages me when I'm down. I try to do the same for her by being there for her by offering sound advice when she needs it. I always listen to her complaints without judgement. She says that's one of the things she loves most about me.

Thanks for the chance to win!
(Jennifer Langford 7:57pm October 30, 2011)
I think I've been on both sides of this. I have definately encouraged friends/family and they have returned the favor.
Thanks for the giveaway.
(Patti Paonessa 10:18pm October 30, 2011)
Yes when I was down ,my friend Martha said" Keep your chin up". Just knowing she cared ,helped.
(Deb Pelletier 11:08pm October 30, 2011)
I have a great friend that needed my help, and I think that I
did so just by being there and listening to her. She is
feeling better about her troubles. I think that I depend on
my husband for help. We have been together for 30 years, so I
think that it goes both ways for us.
(Charlene Fraley 11:09pm October 30, 2011)
I am very good at listening to those that need to vent or just
express feelings, and think that is why I am a good friend. I
have had encouragement from my friends as well, and family
members, that keep me holding my head up.
(Stephanie Bondlow 2:01am October 31, 2011)
love reading your books
(Brenda Hook 4:08pm October 31, 2011)
Yep, my friends have a way of nudging me in the right direction when my whine grows old. They're there for the happy times, too.
(Alyson Widen 5:02pm October 31, 2011)
Wow, I loved reading all these responses. I can tell you're all such wise, caring individuals. The world is truly a better place because you're in it. Thank you so much for sharing your wonderful stories! xo, Leanne
(Leanne Banks 4:40pm November 1, 2011)
It was always my Mother who encouraged me to keep moving forward when I thought I couldn't. She always said :"Just get through today) and with her encouragement I was always able to move on. I also have 2 sisters and we keep each other going and always listen to one another.
Carol L
Lucky4750 (at)aol (dot) com
(Carol Luciano 5:23am November 3, 2011)
Registered users may leave comments.
Log in or register now!