Leanne Banks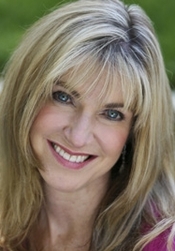 Blogging at Fresh Fiction
Leanne Banks | A Home For Nobody'S Princess
September 25, 2012
I'm excited about the publication of my Special Edition A HOME FOR NOBODY'S PRINCESS Read More...
Leanne Banks | Insider Secrets About The Princess And The Outlaw
July 1, 2012
Confession: I put secret things in my books to make them more fun for me.  In my current book, Read More...
Leanne Banks Celebrates A MAVERICK FOR CHRISTMAS
October 30, 2011
I'm so excited to be part of the fabulous Montana Mavericks series.  I love that it's set in a small town in Montana Read More...
Leanne Banks | Screaming Babies and THE DOCTOR TAKES A PRINCESS
July 8, 2011
I'm excited about my new Special Edition because it features a heroine who's not a baby person.  She's more of a "call Read More...
Leanne Banks | Not Your Average Royals
May 24, 2011
I'm having so much fun writing about my fun and slightly dysfunctional royal family, the Devereaux.  It all began with Read More...
Leanne Banks | Great Days
August 13, 2008
Thank you Fresh Fiction for allowing me to visit today. I'm having a great day because my book, BILLIONAIRE'S MARRIAGE BARGAIN, which features Read More...
Leanne Banks is a national #1 best-selling author of romance novels and she believes in the power of love. She is the winner of the Romantic Times Career Achievement Awards in Series Sensuality and Love and Laughter. She is also the winner of the Florida Writers Beacon Award, the Golden Quill Award, and the Georgia Romance Writers' MAGGIE Award. Her books have been recognized by the Award of Excellence Contest, the Romance Writers of America RITA Contest, and the National Readers' Choice Awards.
Leanne believes her readers work hard on the job and for their families, so she tries to lighten the load with stories featuring a strong sense of family and emotion. Reader response is heartwarming. One of her favorite letters was from a woman who had been suffering from severe health problems: "[Your books] did more for my health that all the medicine in the world -- as corny as this sounds, [your heroes] made me feel like life is `worth it'."
Leanne lives in Virginia with her husband and her pomeranian muse, Bijou. She loves music, chocolate, quotes, and new adventures. Her recent adventures include snorkeling the Great Barrier Reef and whale watching in New Zealand. She is currently writing a series of books for Harlequin Special Edition featuring the romances of a royal family named the Devereaux.
Log In to see more information about Leanne Banks
Log in or register now!
Series
Books:
Love, Christmas, October 2018
e-Book
Maverick for Hire, September 2014
Montana Mavericks
Paperback / e-Book
Island Promises, January 2014
Paperback / e-Book
Happy New Year, Baby Fortune, December 2013
The Fortunes of Texas: Welcome to Horseback Hollow
Paperback / e-Book
A Maverick For The Holiday, October 2012
Montana Mavericks Back In The Saddle
Paperback / e-Book
A Home For Nobody's Princess, September 2012
Paperback / e-Book
The Princess and the Outlaw, July 2012
Royal Babies
Paperback / e-Book
A Maverick For Christmas, October 2011
Montana Mavericks
Paperback / e-Book
The Doctor Takes A Princess, July 2011
Paperback
The Prince's Texas Bride, May 2011
Paperback
Royal Holiday Baby, October 2010
Paperback
The Playboy's Proposition, February 2010
The Medici Men
Paperback
From Playboy To Papa!, January 2010
Man of the Month
Mass Market Paperback
Billionaire Extraordinaire, May 2009
Man of the Month
Mass Market Paperback
Trouble in High Heels, March 2009
Paperback
Blackmailed Into A Fake Engagement, January 2009
The Hudsons of Beverly Hills
Mass Market Paperback
Billionaire's Marriage Bargain, August 2008
The Billionaires Club
Mass Market Paperback
Bedded By The Billionaire, April 2008
The Billionaires Club
Paperback
Hot Stuff, April 2007
Paperback
Footloose, September 2006
Paperback
Underfoot, June 2006
Paperback
Billionaire's Proposition, January 2006
Silhouette Desire 1699
Paperback
Red Hot Santa, October 2005
Paperback
Feet First, September 2005
Paperback
Shocking the Senator, December 2004
The Danforths #1621
Paperback
Home for the Holidays, November 2004
Paperback
Between Duty and Desire, August 2004
Man Talk # 1599
Paperback
When She's Bad, November 2003
Some Girls #2
Paperback
Princess in His Bed, June 2003
Desire Series #1515
Paperback
Some Girls Do, May 2003
Some Girls #1
Paperback