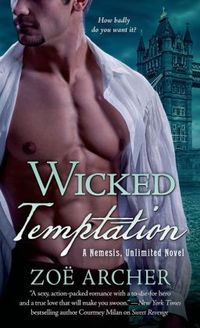 Purchase
Nemesis, Unlimited #3
St. Martin's Press
June 2014
On Sale: June 3, 2014
Featuring: Bronwyn Parrish; Marco Black
352 pages
ISBN: 1250015618
EAN: 9781250015617
Kindle: B00H0V1U3I
Paperback / e-Book
Add to Wish List

Award-winning author Zoë Archer returns with another novel of breathtaking suspense as Nemesis, Unlimited schemes to avenge injustice--and conquer a woman's heart--in Wicked Temptation.
FATE BROUGHT THEM TOGETHER.
Newly widowed, Bronwyn Parrish's fortune has been spent settling her late husband's debts—thanks to an unscrupulous business manager—and now there's nothing left. Society has no place for a woman without means, and with nowhere to turn, Bronwyn is lost…until, from out of nowhere, a handsome gentleman steps in and makes her an offer she can't refuse.
WILL DESIRE TEAR THEM APART?
Secrets and subterfuge are in Marco Black's blood. As one of Nemesis, Unlimited's most senior agents, Society women aren't his usual cup of tea. But Marco's sixth sense tells him that there's more to Bronwyn than meets the eye…and he wants to help the brazen beauty retrieve her lost fortune. But is his attraction to her worth the risk? His mission will lead him all the way to Les Grillons, France's most ruthless crime syndicate. Soon, Marco and Bronwyn will find themselves facing a danger that could cost them their lives—and a passion that is priceless.
Nemesis, Unlimited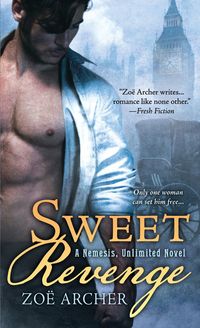 Sweet Revenge
#1.0
Amazon.com | BN.com | | |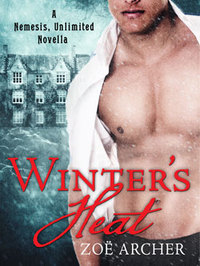 Winter's Heat
#1.5
Kindle | | | |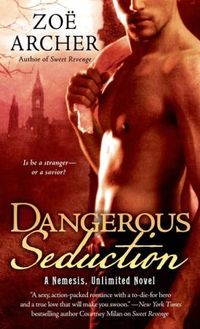 Dangerous Seduction
#2.0
Amazon.com | BN.com | | |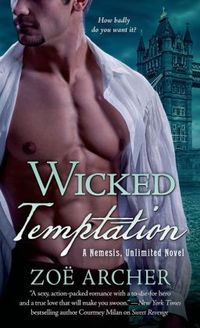 Wicked Temptation
#3.0
Amazon.com | BN.com | | |
Comments
29 comments posted.
What do I want to be? Don't we all ask ourselves that
question at one time or another and sometimes more than
once. What I want to be when I finish growing up (I am 52)
I have not decided. My dream when I was young was a Peds
Doctor, then it went to a Dancer/Singer, and then I had
children and it was just MOM. I am still trying to figure
out what I want to be when I grow up.
(Tina Ullrich 1:53am June 4, 2014)
I don't have a secret dream. I would love to read for a
living. Does that count?
(Mary Preston 8:13am June 4, 2014)
I would love to be a copy editor. For the moment, I do not
have the money to get the training I need.
(Karin Anderson 9:19am June 4, 2014)
a mega winner
(Kent Cook 9:37am June 4, 2014)
I have had several dreams, but one of them would be to be an
artist. My best Girlfriend is a professional artist, and
when we talk, just listening to her, with her ideas, and to
see her brush strokes on a blank canvas - the way they turn
out to make an amazing picture, takes my breath away every
time!! Not only do you have the type of stroke, but you
have the depth of stroke, along with the play of color. I
would love to read your book, to read about another love of
mine, as well as a love of yours. I enjoyed your posting
very much!! Congratulations on your latest book!!
(Peggy Roberson 11:01am June 4, 2014)
I'd like to travel! It's not a secret though. When I was young
I wanted to be a college professor.
(Sharon Shearouse 11:24am June 4, 2014)
I want to be independently wealthy!
(Betty Hamilton 11:34am June 4, 2014)
Hmmm, a dream of mine... when I was little it was to be a veterinarian... but seeing live surgery squashed that... I would love to be a lottery jackpot winner, lol.
(Colleen Conklin 2:09pm June 4, 2014)
I would love to be a history teacher!
(Brooke Showalter 2:16pm June 4, 2014)
I want to be able to sing in front of millions (without
stagefright).
(Julie Guan 5:34pm June 4, 2014)
Congrats on your twentieth published work! I would love to be
paid to read books :) Every book nerds dream :)
(Jolene Allcock 7:23pm June 4, 2014)
My current dream is to go to New Zealand.
(Janie McGaugh 9:03pm June 4, 2014)
I would love to take a trip all over Europe and Asia!!!
(Vicki Hancock 9:12pm June 4, 2014)
Hmmm when I grow up (if ever) I think I'd like to be a travel
writer and get paid to travel all over the world. :-)
(Glenda Martillotti 11:08pm June 4, 2014)
I would love to be paid to read books, too! I would also love to go to Ireland , Scotland, Wales and Tahitti!
(Kimberley Coover 11:15pm June 4, 2014)
I would love to have been a actress, a very successful one with complete anonymity. I know those two things are at odds with each other but fame is highly overrated and successful actors today have NO life because of it.
(Debbie Kelly 6:47am June 5, 2014)
I'd love to have enough money so my husband and I could travel and I could buy all the books I wanted instead of budgeting myself! Ha Love the cover!!!
(Bonnie Capuano 9:42am June 5, 2014)
I grew up wanting to be an artist... But my dream for myself
is to make enough money to be able to pay my bills, send my
boys to college, and retire with hubby and be able to travel
where ever we want. I am not talking loaded rich here... Just
enough to be able to live comfortably without any bills lol
(Jeannie Platt 10:51am June 5, 2014)
as a kid i wanted to be a rock star a singer now i dont have
any real dreams for myself i am a mom and wife my daughter has
autism and is non verbal so i always dream of her talking to
me that is my dream for her and me
(Denise Smith 11:14am June 5, 2014)
A dream for myself. A quiet alone place to read for an hour or two every day.
I can go half the day without anyone talking to me. Until I pick up a book.
(Lisa Hutson 12:39pm June 5, 2014)
To have enough money to live comfortably.
(Denise Austin 1:32pm June 5, 2014)
I'd love to have a beach house with a covered porch that looks
over the water - perfect place to read!
(Diane Sallans 1:34pm June 5, 2014)
I would love to be able to completely redecorate my home
(Shirley Younger 6:31pm June 5, 2014)
My dream is to own a bookstore so I always have on hand the newest books to read.
(Nancy Wolfe 6:56pm June 5, 2014)
I have sooo many, but I've always had a dream of being an
award-winning poet, and traveling the world with my true love!
(I'm definitely a romantic!).
(Michelle Brown 7:41pm June 5, 2014)
When I went to college I wanted to be a world class architect so I could design
homes, especially kitchens that were user friendly and not a crisis in the
making...Didn't work well for a timid girl in the early 70's, sigh. Now as a
mature adult I'd love to work in the cover department of a publisher working on
all those gorgeous romance book covers ;-)
Congrats with your release and I wish you the best success!
(Lenna Hendershott 7:58pm June 5, 2014)
I like to fantasize where I'm a kickass heroine. I always want to be daring and dangerous. It must be my alter-ego that wants to live a bit.
(Kai Wong 1:45am June 6, 2014)
A Country singer.
(Peggy Quidor 1:49pm June 7, 2014)
Congratulations on your twentieth publication! Wicked Temptation sounds fascinating. My secret dream is to become a world traveler and visit all the places I have read about.
(Bonnie H 10:55pm June 17, 2014)
Registered users may leave comments.
Log in or register now!