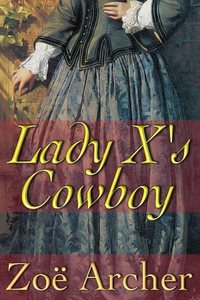 Purchase
Author Self-Published
September 2012
On Sale: September 7, 2012
Featuring: Lady Olivia Xavier; Will Coffin
ISBN: 0015685217
EAN: 2940015685213
Kindle: B009815AJS
e-Book
Add to Wish List

Other Editions
Paperback (February 2006)
Constrained by her life as a Society widow, Lady Olivia Xavier finds escape in two unusual ways: as the owner of a successful brewery, and as a secret reader of penny dreadful Western novels. But Olivia's beloved brewery is being threatened, and she has no ally in her fight. Until a mysterious cowboy steps out from the London fog, saving her from a terrifying brawl. Suddenly, Olivia isn't just reading about the Wild West, she's living it.
Colorado cowboy Will Coffin has made the long journey from his Rocky Mountain home to discover his birthright. While searching for his family, he encounters the beguiling Olivia. Will's never met a real English lady before—certainly not one as lovely and courageous as Olivia—and he can't resist coming to her rescue.
Olivia is powerfully drawn to the rough but honorable cowboy. She proposes a most scandalous arrangement: in exchange for helping protect her brewery, she'll help Will find his family. Even more scandalous is that he'll be sleeping under her roof. The entire arrangement sets Society's tongues wagging. Meanwhile, the danger to the brewery, and Olivia herself, keeps escalating. But nothing's as dangerous, or seductive, as the growing desire between the lady and the cowboy…
Lady X's Cowboy was originally published by Dorchester in 2006 and is newly revised by the author.
Comments
36 comments posted.
Re: Lady X's Cowboy

I say it loud and proud. When a new Head teacher started at our school and saw me readinga t lunch time he asked me what I liked to read and so I told him. Admittedly he hasn't asked about it snce but who cares - I enjoy them.
(Barbara Hanson 4:56am October 8, 2012)
Hmm. I don't think I hid anything but my mother, who loved her Georgette Heyers, used to say that romance stories were trashy and not worth reading. That was a long time ago and she was probably thinking of Mills and Boon. I presume she must have read one at some point to make the comparison.
At the same time she had some crime stories of the day which were entirely unrealistic and peopled by the same kinds of characters over and over. Country house type of murders, just a Chinese puzzle to see who was where and when and who was lying about an alibi. I read a couple and they were absolute rubbish.
So I read science fiction. That way I learned astrophysics.
(Clare O'Beara 7:38am October 8, 2012)
I have never really hid my romance novels from anyone. I have been teased and laughed at for reading them, but I just don't care because I love them!
(Christine Mead 9:26am October 8, 2012)
NO, I never had to hide my romance novels. Everyone knew what I read and no one seemed to really care. I always carry a book or Kindle/Nook wherever I go. Love to read!!
(Sharon Extine 9:59am October 8, 2012)
Hi
I never hid them because they were romance novels, in HS I
would hide them within a text book when I did not want to
study. LOL

Thanks for the chance, I am looking forward to reading your
book.
(Pam Brewer 10:07am October 8, 2012)
Oh I'd love to read this book. I love a good romance...
(Bonnie Capuano 10:18am October 8, 2012)
I tend not to read romance novels on the metro. People just look at you funny. Whereas if I am reading a popular non-romance, many times someone will notice and we talk about the book.
(Pam Howell 10:36am October 8, 2012)
My husband thinks they are dumb!!! But I love them!!!
(Ashley C 10:58am October 8, 2012)
Reading 50 Shades of Grey. Finally just admitted it. Shocked everyone I
knew!
(Vicki Hancock 11:43am October 8, 2012)
Romance is wonderful.... why hide?
(Susan Jeffers 12:00pm October 8, 2012)
No, I never hide that I love to read romance, even salicious romance!
I'm an empty nester who quit working when my husband retired and I figure I deserve to do what I want when I want as long as it doesn't hurt anyone. And I love to read romances with HEA's.
(Monica Vargo 12:07pm October 8, 2012)
A growing desire between the lady and the cowboy. Sounds fun, can't wait to read it! thanks so much!
(Teresa Sullivan 12:49pm October 8, 2012)
No, I haven't had any reason to hide my enjoyment of romance novels.
(Anna Speed 12:49pm October 8, 2012)
I had to hide them from my mother when I was a teenager---my cozy mysteries, too---because she thought I should only read the classics. I think I still am pretty quiet about my reading habits yet today because it was ingrained in my so young.
(Sue Farrell 12:53pm October 8, 2012)
I have never been ashamed of reading romance novels. Some people tell me that I need to read something of substance, but I just smile and read what I enjoy.
(Cathy Phillips 12:59pm October 8, 2012)
I love to read romance novels, especially historical ones, it lets you travel through time and enjoy yourself.
(Cynthia St. Germain 1:04pm October 8, 2012)
I am a romance reader who for years hid my reading habits. Was worried that people wouldn't take me seriously in general. Then met other readers, many of them fans of romance and realized that people don't care what I read.
(G. Bisbjerg 1:14pm October 8, 2012)
I do not hide what I am reading from my friends and family... the only exception is I will not read the books with the really racy covers around my little nephew.
(Colleen Conklin 1:39pm October 8, 2012)
Thanks for a fun post!!! And congrats on the new release!

OmG... yes!!! My family is very religious so I learned the
fine art of swapping dust covers and making mmp covers. Now,
it's not so bad. I'm an avid reader (and an adult) and
friends and family pretty much leave me alone. But... I
love, love, love my Kindle. I can finally read at work some
of the more "scandalous" books that I would've kept at home
in the past.
(Erin Fender 1:55pm October 8, 2012)
NO I NEVER HIDE THAT I READ ROMANCE NOVELS FROM MY FAMILY OR
FRIENDS. LOVE TO READ THIS BOOK ITS SOUNDS VERY INTERESTING.
(Shelly Caggiano 3:07pm October 8, 2012)
I don't hide the books I read. With all the electronic devices we have now, it would certainly be easier to do so.
(G S Moch 3:24pm October 8, 2012)
By the time I really got interested in reading, there was no one that really cared what I read. Hiding a book I read is not my thing.
(Sheila True 4:33pm October 8, 2012)
I know what I like to read, and I read for escape and
adventure. I have to have a HEA or I feel cheated or
dissatisfied. Therefore I READ ROMANCE of all genres. Yes
there are times I read with a book cover so I don't have to
answer my critics but they are fewer these days with 50
Shades on the book shelves.
(Lenna Hendershott 5:05pm October 8, 2012)
I started to ream romance when i was 12. So i hid the fact
that i read romances. My family figured it out pretty quick
but outsiders i would hide a book in a coat or pants pocket.
As adult when people ask what i am reading i would tell them
the author. Most people don't know them and move on.
(Colleen Hruska 5:34pm October 8, 2012)
There have been some covers that I have covered up over the years not because I don't want people to know I read romance but because the people were hardly clothed.
(Maureen Emmons 6:18pm October 8, 2012)
I had to keep my reading of romance series books secret when I was 13 yrs old. My older sister, who I looked up to, made fun of me for reading them. She said I should quit reading that trash and go out and live life. I felt so hurt. After this I read them in secret in my room or took them out on my bike and read them at a park so she thought I was out with friends. I was ashamed for yrs.
Now, many many yrs later, I have bkshelves of every genre of romance bks and every genre of fiction and my Kindle is packed with the same. I am proud to be a reader of anything.
Through the yrs I have learned that many people, both men and women, didn't grow up in a house with reading and have never read an entire book in their lives. They don't know how to relax enough to be able to take time to read for leisure. This makes me feel sad. The mind and imagination is so engaged while reading any book. These people have missed out on a vital piece of life.
I'm one of the biggest supporters of reading of all my friends and also people I meet out in public and start talking to.
(Laurie Murray 7:37pm October 8, 2012)
Oh I no doubt hide my romance reading ONLY with my family members.
But I'm all about telling my friends and explaining to them it's not as bad as
how it is said to be and I learn lots of interesting vocabulary! I started to
reading romance on accident once. It was the SEALed with a Kiss then it
was a Maya Bank's Cotler and Sweet series, I was 17 and now am 20 and
am a HUGE romance reader and fan!
(Yasmeen Abdulazeez 7:39pm October 8, 2012)
Looking forward to reading this!
(Hyunjin Jeon 8:15pm October 8, 2012)
No - I never had to hide just get used to being teased! Sounds like a book I woulld enjoy.
(Dianne McVetty 9:24pm October 8, 2012)
The first romance books I read belonged to my older sister. I fell in love with the genre - so nice to know that things will work out and there's a HEA. I will admit that some of the covers used to make me cringe, but that never stopped me from buying the books!
(Mary C 9:33pm October 8, 2012)
I love reading nearly any romance novel, so I would try it!
(Charlene Fraley 10:07pm October 8, 2012)
About the only time I "hide" one of my books is when the cover is a really old one from the 80's and it has Fabio or someone like him on the cover. :)
(MaryAnne Banks 10:13pm October 8, 2012)
Yes, I have hidden them especially if they are erotic romances. I have a prude of a sister who basically advertise that I'm reading porn to the whole world if she catches me reading them. The next thing I know is my parents are on my case that I'm a "bad girl".
(Kai Wong 11:03pm October 8, 2012)
Considering how Georgette Heyer wrote romance novels, I don't think Clare's mother (second comment above) had anything to nag her daughter about! In fact, that's how I got into reading romance!!

I've never really "hid" the covers, but there are some of my books I won't read in public because of the covers. (And no, I don't have a physical e-reader, when reading e-books, I do it on the computer.)

And when someone asks me what I'm reading, if it is a romance novel, I'm just as likely to answer, "A trashy romance novel!", even if isn't "trashy." It simply pre-empts them from making snide remarks about my choice of reading materials!

Later,

Lynn
(Lynn Rettig 2:57pm October 9, 2012)
I read mysteries in public. For some reason reading about how to get away with a grisly murder is more acceptable than a love story!
(Lisa Elwood 5:17pm October 9, 2012)
I started reading romance in high school, but got more into it in college and beyond. It's a great escape akin to going on a mini-vacation. I do not hide my books and always have one with me.
(Alyson Widen 3:06pm October 14, 2012)
Registered users may leave comments.
Log in or register now!