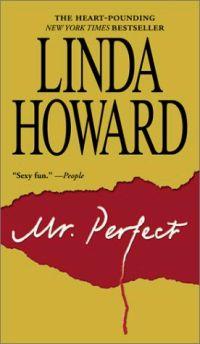 Purchase
What would make the perfect man?
Pocket Books
July 2001
Featuring: Jaine Bright; Sam Donovan
400 pages
ISBN: 0671027573
EAN: 9780671027575
Kindle: B0054S6N04
Paperback / e-Book (reprint)
Add to Wish List

That's the deliciously racy topic that Jaine Bright and her three girlfriends are pondering one night at their favorite after-hours hot spot: Mr. Perfect. Would he be tall, dark, and handsome? Caring and warmhearted -- or will just muscular do? As their conversation hears up, they concoct a tongue-in-cheek checklist that becomes an overnight sensation, spreading like wildfire at work and sizzling along e-mail lines. But what began as a joke among friends turns deadly serious when one of the four women is murdered....
Turning to her neighbor, an unpredictable police detective, for help, Jaine must unmask a killer to save her friends -- and herself. Now, knowing whom to trust and whom to love is a matter of survival -- as the dream of Mr. Perfect becomes a chilling nightmare.
Comments
50 comments posted.
Re: Mr. Perfect

I guess the biggest hyped book I read and loved was "Harry Potter and the Sorcerer's Stone." As an adult, at the time I felt odd reading this (in my mind) overly hyped kid's book, but wow, I could not have been more wrong. Like much of the world, I fell in love with Ms. Rowling's magical world and got my parents involved in the fun, too. I am not a big fan of hype, but sometimes it is spot-on.
(Michelle St. James 6:02am July 12, 2009)
I tend to be leary of hyped books (and movies) since I often am disappointed. Many years back I read "Three Women at the Water's Edge" because it had been recommended to me and I still re-read it once in a while.
(Sandy Miresse 9:28am July 12, 2009)
I read "Nobody's baby but mine" by SEP because of all the good reviews going on about it and wasn't disappointed (read it a dozen times eversince). I also read "The time traveller's wife" and once again, no disapointment. Didn't read it more than once though... the think made me cry and cry, DH was very concerned !!
(Joeelle Jappissont 9:45am July 12, 2009)
I flip through a few pages even with hyped books. A romance anthology that lives up to the acclaim is "Once Upon A Pillow" by Christina Dodd and Connie Brockway. It's a fun romp through the centuries with a solid bed in common.
(Alyson Widen 10:58am July 12, 2009)
Stephanie Meyer's Twilight Series. I thought that several adults that I knew who got in line to buy the books at midnight were crazy. However, after my daughter gave me the first one to read...
(Karin Tillotson 10:59am July 12, 2009)
I have to agree with Michelle (above) about the Harry Potter books! At the time, I didn't step too much out of my familiar genres but a friend recommended them to me. I went to town and bought the first one in PB, read it in one night and went back the next day for books 2 and 3.

That started the obsession. I went to the midnight release parties for books 4-7 and even bought British editions of the books when my mom and I took a vacation to London. And, yes, I also took pictures at King's Cross Station where Platform 9 3/4 should be!
(Jennifer Cline 11:00am July 12, 2009)
The Quickie by James Patterson. It was just very fast paced and the plot just kept twisting and turning. I could not put it down.
(Annetta Stolpmann 11:07am July 12, 2009)
The Twilight Series! Very addicting series. Quite a let down when you finish the last book in the series. Leaves the reader wanting more.
(Katherine Reese 11:15am July 12, 2009)
The first 6 of the Harry Potter's, The Guernsey Literary and Potato Pie Society (yes, I remember you didn't like it, but I did!), anything by Anne McCaffery (sci-fi/fantasy), and a few others I can't call to mind right now (too early in the morning!). I try to ignore reviews as much as possible, and go on what I have read previously by the author. If that's not possible (a debut book or new-to-me writer), I'll ask friends, or my books e-mail lists. Sometimes, all it takes to get me hooked is the front cover design, and the back cover blurb! (I'm easy that way!)

Later,

Lynn
(Lynn Rettig 12:09pm July 12, 2009)
Like some others who have already posted, I am somewhat leary of anything that is given too much hype. However, I have to say that when I first started the Stephanie Plum series by Janet Evanovich, I was certain I wouldn't like it as much as I was told (repeatedly) that I would. Turns out the hype was right and I loved the series!
(Kara Conrad 12:14pm July 12, 2009)
It's interesting to see that several of you have picked young adult books as the ones you
read and loved because of the hype. I read the first three Harry Potter books, but read them
aloud to my class, and I don't think they're really read aloud type books. Anyway..just
haven't found the motivation to move on.

I'm getting a lot of mixed comments about the Twilight books, and since it's not my typical
genre have been putting them off. I think I'll be waffling for a long time to come!
(Sandi Shilhanek 12:20pm July 12, 2009)
CL Wilson's Lord of the Fading Lands was a book I kept coming across when people were recommending a fantastic read. It stood up to every accolade.
(G. Bisbjerg 12:36pm July 12, 2009)
It would have to be the Virgin River books by Robyn Carr. While I've enjoyed some of the books more than others, they've all been good reads and as a whole the series has been very entertaining.
(Jill Hayden 1:02pm July 12, 2009)
I have loved the Virgin River Series from Robyn Carr and The Body Movers Series from Stephanie Bond. I look forward to each book as it comes out!! Now I have to wait unti 2010 to get the next set that goes with each one.
(JoAnn White 1:08pm July 12, 2009)
Since I mainly read historical romance, I was hesitant in branching out from that. But I had heard so much hype about the historical mystery/romance series by Deanna Raybourn that I gave in and read the 3 books; SILENT IN THE GRAVE, SILENT IN THE SANCTUARY, and SILENT ON THE MOOR. And I absolutely love them and will continue the hype by spreading the word. I have yet to succumb to the Harry Potter and Twilight hype, though I did see the movies and enjoyed them. There are just too many books to enjoy.
(Shauna George 1:19pm July 12, 2009)
OUTLANDER by Diana Gabaldon...and since this sucker is HUGE, I was relieved I loved it as much as everyone said I would, lol!!! I remember reading the next 3 in the series back-to-back and loving them almost as much as the first. Glad she's got another one coming out soon!!
(Cindy Ferrell 1:20pm July 12, 2009)
Jill and Jo...I've only heard one person say they didn't like the
Virgin River books, and I was so disappointed in that. Yesterday
I found out a good friend hadn't ever read them. I'd love to help
her out, but mine are autographed and no one is touching them!

Jo..I have the Body Mover books, and I love Bond, but I've not
read a one yet!
(Sandi Shilhanek 1:21pm July 12, 2009)
I usually don't choose my books by the hype that they receive, but rather by the author. If I like the author, I will read most any book he/she writes.
(Robin McKay 1:34pm July 12, 2009)
Recently?? Hmmm....I have to say I BOUGHT Jennifer Haymore's historical becuase of all the online hype about it, but haven't read it yet. Everyone is raving about how great it is!!
Ooh, I know~~Elisabeth Naughton, Stolen Fury. I read about it on SO many blogs, and the snippets caught me, so I bought it. and thought, I'll just peek...and read the whole book, lol, w/out setting it down. It is AWESOME!! I loved it, and am now on the hook for the next in the series.....
(Melissa Bradley 1:48pm July 12, 2009)
The latest book with the hype for me was Archeron, by Sherrilyn Kenyon. I loved this book - finally, answers that have been niggling at you thru the whole series!
(Kimberley Coover 2:08pm July 12, 2009)
I agree with others- I usally avoid the thype, but someone who loves chick lit wanted me to try MaryJanice Davidson and Sophie Kinsella, two sets of characters I usually can not find anything in common with to like. But I must say that quality of the writing overcame any doubts about the base of the characters. Now I read them when they come out.
(Sara Edmonds 2:45pm July 12, 2009)
the Harry Potter books, the Virgin River series, Lord of Scoundrels,SEP's football team series, and Julia Quinn's Bridgerton series
(Cheryl Castings 2:59pm July 12, 2009)
Susan L. Cooper's YA "The Dark is Rising" series. It wasn't hyped very much when it came out (in the mid-70's), as far as I know, but it's more than worth the hype. AND it's still in print!! I really can't recommend it enough!

Later,

Lynn
(Lynn Rettig 3:03pm July 12, 2009)
A lot of people have been raving about the Midnight Breeds series by Lara Adrian. So I got the first book and hated to have to put it down!!!. I read the second book to the series and it was even better. I now need to get my butt in gear and read the rest of the series because it's just amazing. I'm glad I listened to what people were saying.
(Debbie Beverley 3:49pm July 12, 2009)
Good ole Harry Potter! Though I would have gotten around to reading it with or without the hype. I haven't read Twilight series yet but it is sitting on my TBR shelf and I expect I will like it since it is right up my reading alley. :)
(Michelle K 4:06pm July 12, 2009)
I was pleasantly surprised with both the Twilight series and thr Harry Potter series, I do try and stay from the hyped and raved over books and movies. The one book that sticks in my mind is Nobody's Baby But Mine by SEP I will always love that book and is def on my keeper list.
(Ronica Rainge 4:29pm July 12, 2009)
I love Linda Howard by the way.
Ok that said, I read Twilight from a dare of a co worker who had read the series and kept telling me it was not just for teenagers and still didn't believe him so bought the book for my daughter who is not a teenager and she told me he was right and I would enjoy the books. So I read them and lost the bet but enjoyed the reading so much I didn't care
(Diane Sadler 4:58pm July 12, 2009)
I was surprised that Chelsea Cain's Archie Sheridan & Gretchen Lowell series was so good--HEARTSICK, SWEETHEART & EVIL AT HEART. I read all 3 in the last month can hardly wait till next year now LOL
(Barbs Ferris 5:24pm July 12, 2009)
Thanks to everyone for commenting. It's interesting to see how many love Harry Potter and Twilight.
Hmmm wonder what it is I'm missing.

Barb even though I haven't read the second Cain book I'm totally jealous you got to read the third!
(Sandi Shilhanek 5:42pm July 12, 2009)
Wow the replies here are like taking a trip down memory lane...most of them are books I loved!

For me it's not one book, but trying out different authors. In the last few years I discovered JD Robb, Janet Evanovich and Laurell K. Hamilton....imagine the fun I had reading their backlist.
(Tina Sporer 6:02pm July 12, 2009)
'The Bride' by Julie Garwood was one that I read because of all the hype. I loved it so much. I'm glad that I gave it a try.
(Rosemary Krejsa 6:05pm July 12, 2009)
I don't usually read a book because of any "hype" it gets! I will have to say besides Mr. Perfect, what a great book!! My next all time favorite book that I recommend is Jackson Rule by Dinah McCall (sharon Sala). I've read that sucker 4 or 5 times and I normally don't do that!!
(Martha Lawson 6:14pm July 12, 2009)
I usually read a book because of the
author, a recommendation from
someone who knows my likes, or on a
whim. Excessive hype usually turns
me off reading a series, and almost
made me pass up Harry Potter.
(Mary McCoy 7:03pm July 12, 2009)
Hi Sandi, another good question. I have to agree about Mr. Perfect. It more than lived up to the hype! It was my first by Howard and is still my favorite. Another book for me that exceeded the hype was The Outsider by Penelope Williamson. I love the book and it is one of my all time favorite books.
(Mary Perry 7:18pm July 12, 2009)
I read books that appeal to me.
Sometimes the reviews, etc. will point
me in the direction of a book, but I
have discovered the hype or even the
reputation of an author doesn't mean
it will be a good book. The last book I
picked up because of the reviews was
Ken Follett's Pillars of the Earth and it's
sequel World Without End. They were
both better than I expected.
(Patricia Barraclough 11:09pm July 12, 2009)
Back again. I'm in the middle of Harry
Potter week at my library and should
have mentioned that series. All the Harry
Potter books have been very good. They
lived up to they hype and then some.
(Patricia Barraclough 11:12pm July 12, 2009)
the biggest hyped booked I read and loved was Twilight and I'm glad I read it before the hype because I might have missed it because of the hype. I usually avoid those.
(Ramona Glass 11:59pm July 12, 2009)
Oooo - I'm torn between TWILIGHT and
HARRY POTTER! I loved them both and
they both lived up to all the hype!
(Maggi Savage 1:57pm July 13, 2009)
I would have to say the Twilight series. I haven't read them yet, but my Mother has and well she couldn't stop reading the series (she said she was going to wait for pb for the last two, well needless to say she got so hooked on the series she bought the last two in hb because she couldn't wait for pb.)
(Maggie Roso 5:21pm July 13, 2009)
On the whole, I don't go by big hype anymore--not since I found that I have a TBR pile longer than by expected lifespan. lol. So Twilight, Harry Potter and other books by newer authors are not on my horizon. That doesn't mean I won't read a newly published book as long as it's by one of my favored authors like, e.g., Linda Howard.
(Sigrun Schulz 11:56pm July 13, 2009)
some peoples taste are diffrent than others. I try not to go by reviews or hypes because i found out what they like sometimes i dont like. and what they don't like i like. so it depends on taste. that goes for books or movies. as for authors. my favorite is johanna lindsay i love most her books but there are a few that its hard for me to get threw the first few chapters.
(April Kirby 6:09pm July 16, 2009)
There is one book that I read over a year ago, and I can't get it out of my head. The title is Roses, and it's written by Leila Meacham. It was actually my first exposure to her, and I read the entire book within a day and a half -- I couldn't put it down!! The book is quite long at over 500 pages, but it's a love story that I felt was well worth the read. I heard she just has a new one out called Tumbleweeds, which I want to tackle within the next few weeks, when my life settles down!!
(Peggy Roberson 9:22pm April 18, 2013)
The book I am currently reading is well-worth recommending. It is The Struggle by Wanda E. Brunstetter. She makes her characters so realistic and actually there is great advice given in places in the story. The book so outshines the last book I read that there is no comparison.
(Gladys Paradowski 12:20pm April 19, 2013)
I read years ago a quote I've never forgotten:
A library is like a garden - It needs constant pruning and weeding.
Pruning means encouraging growth in new directions, while weeding refers to out of date material or less good writing - or doubles, which we all get!
So think of your precious collection as a garden, a garden of knowledge.
(Clare O'Beara 7:10am April 19, 2013)

(Pat Lieberman 8:07am April 19, 2013)
I am so sad to see book stores closing. While I have a nook, I do like to have the actual book to pass along to my mother and friends. It is nice to hit a used bookstore and find a long lost gem.
(Pat Lieberman 8:08am April 19, 2013)
I too miss the local bookstore. I prefer to hold books in my hand to read. My favorite author is Julie Garwood, but it's her historical novels that I love. I've reread any number of them more than once.
(Carol Woodruff 6:46pm April 21, 2013)
I read so many genres - I think it would all depend on the person. I do collect books and refuse to get an e reader because I love the feel of a book in my hand, the ability to put it on my shelf, to pass it on. I do give books so much that almost everyone I know, knows that they will receive a book from me a few times a year. Every Christmas I will definitely be giving stories more of a spiritual/good message and sometimes I come across a book that I buy 10 copies and mail them to all my family members and loved ones that I know would enjoy the experience. I think a book is a gift that is immeasurable.
(Carla Carlson 10:07am April 25, 2013)
5 years ago bookstores were still almost everywhere, and then all of a sudden they start
disappearing. I hate going to a mall and finding out that the bookstore(s) are closed down or has
been gone. I don't know if I'll ever switch to an e-reader because I love my paperbacks and
hardcovers so much. I am also in the process of weeding out the books that I haven't read at least
twice. A big indicator that I'll probably never think of re-reading them in the future. Maybe
someone out there will enjoy them more. That way, I can look for replacements that I'll be loving
for a permanent spot on my shelves. I too, have a Julie Garwood that has been across the ocean and
back, its been through some tough times. Lol
(Lazydrag0n Puff 12:39pm April 25, 2013)
I have about 2000 books in our family collection, we've just recently moved so now comes the weeding process. I'm trying to convince my children to give up books they have out grown. Now we just need to find a new used bookstore in our new city
(Janis Milford 7:47pm April 26, 2013)
Registered users may leave comments.
Log in or register now!