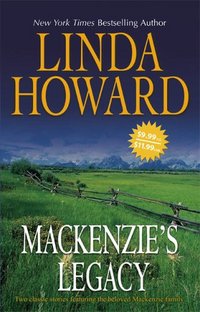 Purchase
Mackenzie's Mountain and Mackenzie's Mission
MIRA
August 2005
On Sale: August 1, 2005
Featuring: Wolf MacKenzie; Joe Mackenzie; Mary
496 pages
ISBN: 0778322548
EAN: 9780778322542
Paperback (reprint)
Add to Wish List

Romance Anthology | Romance Series
Mackenzie's Mountain
Book 1, 1989
When spinster schoolteacher Mary Elizabeth Potter confronts Wolf Mackenzie in order to get Wolf's son back in school, she comes face to face with a bitter and dangerously attractive man still paying for a crime he did not commit.
Mackenzie's Mission
Book 2, 1992
Night Wing-the revolutionary test plane with a top-secret weapons system-was Colonel Joe "Breed" Mackenzie's number-one priority. And weapons expert Caroline Evans was his number-one distraction. True, the stubborn blonde was giving him the cold shoulder, but Joe hadn't become the best of the best by giving up. Then he discovered someone on the inside was sabotaging Night Wing, and with her late hours and specialized expertise, Caroline seemed the obvious choice. Now Joe had to choose between allegiance to his country and love for his prime suspect...
Comments
38 comments posted.
There are so many characters I would love to revisit and see what was happening in their lives. When you love a book the characters become friends and even after the book is done you think about them every now and then. When I read a new book by an author that introduced me to a beloved character I always hope that maybe by chance that older beloved character might make an apearance in the new book. And when they do I'm very happy to see that. I've become so enamored of certain characters that I've emailed the author asking if there would be future books featuring the off-spring of the beloved character. When you find a truly wonderful book, it is hard to say good-bye to the characters that you've grown to love.
(Shauna George 10:09am July 26, 2009)
Whenever I love charaters I wonder what happens to them. I know I would love to have more of the trinity harbor series by Sherryl Woods. The dad King remined me of Daniel Mcgregor. I know when characters in books I have read pass away I cry like a baby. I love series that go on and on because it feels like going home everytime I read them!!
(Julie Harper 10:42am July 26, 2009)
Oh I would hate it if one of my characters passed away. It happens, but I'd rather think of them just going on and on -- always where I left them with their HEA!

I'm such a romantic!

best
billi jean
(Billi Jones-dimatteo 11:31am July 26, 2009)
A lot of times there are secondary characters who don't get their own story and I wonder what happend to them. In Never Too Much, Lori Foster had the hero's mother, Brooke Badwin and Kent Monroe. They had wonderful chemistry but I wanted to know more about them. They were mentioned in a later novella about Kent's daughter, but they were already married by then. In Foster's books, Jude's Law and Murphy's Law, there was a character, Danny Zip, who was a trainer and assitant to Jude Jamison. I'd have loved to read a story about him.
(Jill Hayden 11:36am July 26, 2009)
I love Robyn Carr's Virgin River series. I did cry when Doc died, but you know the stories continued and there are still characters I want to see in future books. Then again Doc was not in a book with his HEA. That said, I'd still like to see one more Mackenzie book, the oldest grandson.
(Summer Sharp 11:46am July 26, 2009)
I too love the charaters in Robyn Carr's Virgin River Series! I, along with others I'm sure cried when Doc passed, but that only made the storyline even better. I wonder what happens to all the other characters in the book. I love the way Ms. Carr follow-ups on the secondary characters in the next book. Can't wait for 2010 when the new books come out!
(JoAnn White 12:07pm July 26, 2009)
You don't have to kill them off - Laurie King wrote the Beekeeper's Apprentice about Sherlock Holmes in later years. It was fun to read - like revisiting an old friend.
(Karin Tillotson 12:13pm July 26, 2009)
I think that is why I enjoy books in a series. You get to see more depth in the characters and the secondary characters get their own story. Robyn Carr's Virgin River and Suzanne Brockmann's SEALS are another.
(Joyce Mandle 12:43pm July 26, 2009)
Ohhhhh, hmmmmmm, Okay, I know a co worker of mine would definatly say the Harry Potter new generation..... She is convinced that Draco would become the new Valdermort. LOL
But for me..... I would have loved for Betrice Small to give us a 20th century look at the O'Mally family and what those woman are up to as we hit the 21st century.... And the Characters in LMA's Little Woman series.....

I am sure their are more, but most of the ones I am caught up in lately are still being written about in one form or another. LOL
(Melissa Tackett 1:24pm July 26, 2009)
I would love to revisit some past favorite families. The Mackenzie's you mentioned are a family I love, but I don't think I could stand it to read about Wolf's and Mary's deaths.

In SEP's "What I did for Love", it was unexpected great fun to have Fleur Savagar from "Glitter Baby" and Dean Robillard's mother and rocker father (Shoot! I can't think of the names) from "Natural Born Charmer" show up in that unrelated book. I really like things like that.

Janet
(Janet Lewis 1:44pm July 26, 2009)
I loved the MacGregor Family from Nora Roberts and would love to see more in that series. Diana Palmer also has a series Long, Tall Texans that I would love to see more of what is happening with those characters.
(Mary Kirkland 1:56pm July 26, 2009)
I like to see characters some years later but like most I don't want to see my faves die or even age that much LOL the next generation of Christine Rimmer's JONES GANG have began to show up--it's fun to see their parents and grandparents LOL but does make me feel OLD!
(Barbs Ferris 2:17pm July 26, 2009)
It would be fun to see the next generation of MacGregor's with books. Like many others I did like the McKenzie family. If you have been following Robyn Carr you know that her Virgin River series is far from over. It was sad when Doc passed away but that is a part of life. I think it makes the series seems more real. Another series I really enjoyed were the MacKade brothers, another of Nora's families. There are so many series out there it would be impossible to keep up with them all!! :-)
I think that extending some of them might spoil the initial thrill of reading about those characters.
(Donna McClure 4:10pm July 26, 2009)
My choices? Nora Roberts "Cheasapeake Bay" series. The daughter/niece in the first three books is quite young, but in the last one, she is 19 or 20, and is planning to take over the boat building business from her uncles and father. I'd love to read her story!

And from the other way of looking at a series, how can you tell when it's gone on too long? Specifically, in "The Cat Who ..." series by Lillian Jackson Braun, the last three or four books have been downright painful to read. She started out this series years ago with books filled with detail, strong plots and characters, and a fantastic insight into how a cat's brain works. There was a time gap in there after the first two or three books, but it didn't seem to effect her writing very much. Unfortunately, it now seems as if she' writing "by rote", as it were. The plots are re-hashed and dumbed down, the plot details are almost non-existent, and Ko-Ko has gotten boring and Yum-Yum fat.

In contrast, the "Mrs. Murphy" series, by Rita Mae Brown, keeps growing with the characters. One knows that eventually, Mrs. Murphy will die, because cats do have a finite life span (even with nine of them!), but you know that the series will end on a good note, even so.

I guess what I'm trying to say is, if an author believes that the end of a series has come, maybe there is a good reason for it. Maybe we should be left wanting more, but not getting it. Maybe not, but it's not our place to tell the author what s/he must write, just so that we can be the ones to declare "finis" to a series.

Later,

Lynn
(Lynn Rettig 4:14pm July 26, 2009)
Two that I would like to know about are Elswyth Thane's Day family whom I followed from the Revolution to World War I or II and the Guinness Gang, five siblings who featured in five books by Lisa Gardner that she wrote as Alicia Scott. Those are just two that I'd like to know about that haven't already been mentioned.

The main character from the first book of Thane's Williamsburg series died in one of the later books at age 90 and the deaths of other beloved characters from the series died as a natural part of the aging process. I certainly was sad and it felt as if I had lost a family member. But as in such cases in real life, you do move on as the stories do and look forward to what comes next.

What I find much harder is the death of a character, especially of a child, that we've come to know even just a little bit in a book. Or when a character like Eve Duncan in the Iris Johansen mysteries keeps trying to find out what actually happened to her young kidnapped daughter as long as she doesn't have closure.
(Sigrun Schulz 4:32pm July 26, 2009)
Ach! Strike "the deaths of" at the end of the first line of the second paragraph.
(Sigrun Schulz 4:37pm July 26, 2009)
You know I love Jude Deveraux's Montgomery and Taggert's aLOT. They have spanned many many generations and she continues to add to the group. I love that. they aren't series so much since they don't have to be read together for the newer books, mostly, but they are related.

I too love Howard's McKenzie family and I'd love to see an update. There are others but my mind went blank. I think I'd be upset to see a believed character die however if they died of old age or natural causes I think I could take it, it's life. If it's paranormal they never have to die, but if not, then I think I'd be fine.

great great post.
hugs,
WendyK
(Wilma Keel 5:40pm July 26, 2009)
Another great topic Sandi! My favorited couple to find out about are Jamie and Clare from the Outlander series and fortunately another book will be out this fall. Clare and Tony from LLM's 'Look' trilogy I would love to find out about and Linda Howard's Blair/Wyatt books--would love another one to see how married life is working out for them. Also, Lex and Maggie from Evelyn Vaughn's Grailkeepers books and Valek and Yelena from the Study books deserve another look. I agree it is hard when a favorite character passes on in the on-going series but luckily these series keep us in touch with some of our favorites.
(Mary Perry 7:10pm July 26, 2009)
I also wonder about Nora Roberts' MacGregors and the MacKades. I miss JQ's Bridgertons. I wouild also like to catch up with Kleypas' Wallflower friends and family.
(Cheryl Castings 7:30pm July 26, 2009)
Some of Johanna Lindsay"s characters which she brings back sometimes were just great. Also some of Julie Garwood's historical books are family related and I'd love to see some of them again. And Jayne Ann Krentz's Arcane Society.
(Diane Sadler 7:56pm July 26, 2009)
Oh I would love to see some of the characters from the Texas and Vegas stories again from Fern Michaels.
(Kim Atchue-Cusella 8:29pm July 26, 2009)
Janet Dailey's Calder family saga - some characters related to the Calder's, ranch hands or fueding neighbors.
(Debra Knotts 8:38pm July 26, 2009)
Julie Garwood was the first romance
writer I read. She has several
historical books that are related. It
would be interesting to see how the
families fared and how the children of
those unions grew and what their
stories were. the history of those time
periods would have effected them so
very much.
(Patricia Barraclough 9:47pm July 26, 2009)
I like that Rachel Lee is finally doing a next generation of her conard county series! I love reading about the characters that have grown older and now have kids.
(Martha Lawson 10:03pm July 26, 2009)
I couldn't get enough of Stephanie Laurens' Cynster family, but somehow missed out on the last few books in the series - you've prompted me to get my hands on them! I might have to do a refresher reread of the others first!

Fun topic, Sandi!
(Laurie Damron 10:43pm July 26, 2009)
Hmmmm. For me it would be the Stanislaski Spelling) family by Nora Roberts. I wish that had kept going.
(Debbie Beverley 11:05pm July 26, 2009)
I'm a sucker for a series! Some of my favorite authors became that because of writing multiple books about the same characters.

R.A. Salvatore writes about Drizzt Do'Urden, Cattie Bree, Wulfgar and Bruenor while Nora Roberts writes about Eve and Roarke.

All of them are great characters that have gone down very different paths and I don't think it matters if we'll still like them because, in the end, it's that journey that we follow.

Our heart aches for characters like Wulfgar who go through hell (literally) and have to climb back out again. We find ourselves rooting for them to keep fighting and never give up and feel joy when they find a path out of the darkness that works for them, even if it wasn't what you'd hoped for.

It's that all important journey that helps you see Drizzt Do-Urden as more than a Drow Elf, but as a friend to humans and savior to some.

It's that journey that makes us continue to read about an assassin such as Artemis Entreri as he travels into the caverns of the dark elves. It's that journey that keeps us reading as he goes through his own trials and tribulations, learns about himself and the depth of his respect for Drizzt. It's the journey that keeps us reading.

I've never been a fan of Artemis Entreri because he has been a foe to Drizzt, yet (to his credit) Drizzt never killed him, even though he could have. However, the road that Entreri follows is to redemption (or at least it seems that way, but with Entreri, one can never tell), so I keep reading because I want to know about his journey. I want to know if he ever makes it to salvation or if he returns to his old ways and renews his hunt for Drizzt.

If characters are interesting enough and the journey an adventure that intrigues us, we read.

We want more if the ending isn't as complete as we feel it should be. Plus, we see characters as friends and life goes on for us, so we want to know what happens in theirs. It's just the na
(Carrie Hinkel-Gill 2:24am July 27, 2009)
I like T.J. Macgregor's Time Travel in which a daughter meets a mother she thought dead only to find she had gone back in time to avoid a bunch of nasty characters who themselves were time travelers. Time travel lets future generations find their ancestors alive.

Every time I read a novel I want to know what happens after the HEA.

Good topic Sandi.
(Ray Getzinger 6:20am July 27, 2009)
I don't know if I'd want to
see if their lives have
changed per se but I would
really want to meet Eve Dallas
and Roarke from JD Robbs in
Death series. They are the
characters that will forever
be in my heart.
(Meredith Link 6:45am July 27, 2009)
I have read so many books it would be hard for me to pick some of the characters out of just a couple. Alot of the cmts I have read have alot of the same characters that I have wondered about. One book that was one of my fav. was The Black Lion, I can't remember the author. I often wondered what happened to his family thru the generations. Did he passaway at a grand old age of 100 or was he killed when someone wanted his castle. Some times I wish authors would write a book that would make just touch on the past generations.

Terri RI
(Terri Heywood 9:29am July 27, 2009)
Oh, Mary Balogh's Bedwyn family definitely is my choice here. I'd love to find out how they are faring and whether they and Kit and Loren are still getting along. I'd also love to know if the Duke's son is turning out less stuffy than his father and whether Christine's sister has found a husband. I would imagine Christine's mother has passed away by now and would mourn her passing.

Pat CA
(Pat Henshaw 10:10am July 27, 2009)
The ones I wonder about are Nora Roberts' Donovan family. As the series progressed some of the characters had children that showed promise of having some of the paranormal talents of their parents. I'd love to read about them.

I'd like to read of the next generation of some of the other books I read, but I only want this generation to be sitting in their rocking chairs, not to be dying.

My relatives regularly live well into their 90's as do my husband's, so we should be able to read of at least three generations of families before there's any deaths.
(Donna Breitkreuz 1:02pm July 27, 2009)
Oh, good blog, Sandi!!
And I always wanted more MacGregors and MacKenzie's...but I couldn't handle the death of Daniel or Wolf...so probably best there aren't any more....Johanna Lindsey finally picked back up the Andersend and Mallory storyline a few years back, and I was SO thrilled, as I love them...I love the Jones family from JAK/Jayne Castle/Amanda Quick...and I really like the way she continues the story line through the different subgenres....Oh, and the Donovans, I'd love to see another generation of them. Oh, and Elizabeth Lowell...she never wrote the 2nd twins story in Rarities Unlimited series, Justin. I WANT his story some day.
(Melissa Bradley 3:25pm July 27, 2009)
Some of Nora Roberts characters or Robyn Carr's Virgin River series. Can't think of their names though.. I like the Hollow series. I like to read John Grogan's books too.. Marley and Me and his other one where he went on vaca with his parents. He cracks me up.
(Joy Hoormann 8:57pm July 27, 2009)
Any book that grabbed me is
one I wish the characters continue on indefinitely. And
sometimes the secondary characters are just as interesting. I, too, wonder
about JD Robb's Eve Dallas & Roark & his butler. I would
love to know more about the butler. And in Jan Karon's
Father Tim books, I wonder about the boy the priest adopted. He is written about a lot, but I would like to see
some books where he is the main character. Someone mentioned Elysweth Thane, her
families would be great to read more about. Do writers
ever continue writing about
the same people just because
the readers requested it so much?
(Linda Howell 9:10am July 29, 2009)
I read series fiction to follow a character or characters.Sometimes I wonder what happened to them after the book(s) is over.Some books have epilogs.One epilog I read took the future of the characters too far.It gave death dates.When you like the characters you don't want to know that.Maybe it's the Happily Ever After concept.You want to believe they go on forever.No one wants the story to end with And Then They Died.
(Lorna Thomas 1:08am August 1, 2009)
I adore Johanna Lindsey's Mallory books. I want that family to go on forever, but I DO NOT want to read about any of them dying...that would break my heart!
(Patsy Hagen 6:46pm August 2, 2009)
No one has mentioned Rebecca York's Light Street Series. She has crafted a number of loosely connected characters, but sometimes there are specific people the reader just isn't ready to let go of even with a HEA. Maybe an occasional anthology of short stories just to keep a devoted reader up to date on the developments in pet characters' lives. Most of my other favorite characters are from deceased authors and I would definitely not want someone else to try to write sequels. (Can you imagine anyone else trying to follow up on Louis L'Amour's Sacketts?) Interesting debate.....
(Susan Driskill 10:53pm November 23, 2009)
Registered users may leave comments.
Log in or register now!