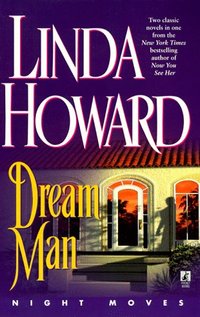 Purchase
Pocket
October 1998
On Sale: October 1, 1998
688 pages
ISBN: 0671027476
EAN: 9780671027476
Paperback (reprint)
Add to Wish List

Dream Man
Marlie Keen was trying to lead a quiet, ordinary life. She thought the clairvoyance that allowed her to witness crimes as they happened had been destroyed in the nightmare of her past. Then one night it returned with a vengeance, and she desperately needed to find someone to make it stop.
Detective Dane Hollister of the Orlando police department had never met anyone like Marlie. He had doubts about her clairvoyance, but there was no doubt how much he desired her. Her soft, sweet scent set his blood afire, and he wanted to wrap her in his arms and chase the sadness from her eyes. To Marlie, Dane was all heat and hard muscle, and he made her body come alive as it never had before. But not even she could foresee where their passion would lead: a hungry quest for the elusive, dreamy ecstasies of love...and a dangerous journey into the twisted mind of a madman who would threaten their happiness and their lives....
After the Night
A poor, outcast child in Prescott, Louisiana, Faith Devlin had always adored the town's golden boy from afar. But he called her white trash that sultry Southern night when his rich, respected father disappeared, along with her pretty mom. Now Faith wanted to hate Gray Rouillard...not to feel a powerful surge of desire. But she couldn't quench her passion, any more than she could hide the truth about the past she had waited so long to unravel.
Even when he raised hell, Gray Rouillard did it with style. Reckless, charming, and backed by Rouillard money, Gray controlled the town of Prescott -- and Devlin was a name he never wanted to hear again. But when he gazed at Faith Devlin, all he saw was a swirl of tangled sheets and her silken flesh beneath him. To care for her was impossible, unthinkable...because Gray Rouillard planned to use all his power to ruin her.
Comments
No comments posted.

Registered users may leave comments.
Log in or register now!