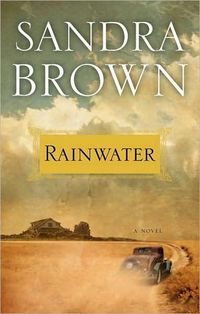 Purchase
Simon & Schuster
November 2009
On Sale: November 3, 2009
Featuring: Ella Barron
256 pages
ISBN: 1439172773
EAN: 9781439172773
Hardcover
Add to Wish List

The year is 1934. With the country in the stranglehold of drought and economic depression, Ella Barron runs her Texas boardinghouse with an efficiency that ensures her life will be kept in balance. Between chores of cooking and cleaning for her residents, she cares for her ten-year-old son, Solly, a sweet but challenging child whose misunderstood behavior finds Ella on the receiving end of pity, derision, and suspicion.
When David Rainwater arrives at the house looking for lodging, he comes recommended by a trusted friend as "a man of impeccable character." But Ella senses that admitting Mr. Rainwater will bring about unsettling changes.
However, times are hard, and in order to make ends meet, Ella's house must remain one hundred percent occupied. So Mr. Rainwater moves into her house...and impacts her life in ways Ella could never have foreseen.
The changes are echoed by the turbulence beyond the house walls. Friends and neighbors who've thus far maintained a tenuous grip on their meager livelihoods now face foreclosure and financial ruin. In an effort to save their families from homelessness and hunger, farmers and cattlemen are forced to make choices that come with heartrending consequences.
The climate of desperation creates a fertile atmosphere for racial tensions and social unrest. Conrad Ellis -- privileged and spoiled and Ella's nemesis since childhood -- steps into this arena of teeming hostility to exact his vengeance and demonstrate the extent of his blind hatred and unlimited cruelty. He and his gang of hoodlums come to embody the rule of law, and no one in Gilead, Texas, is safe. Particularly Ella and Solly.
In this hotbed of uncertainty, Ella finds Mr. Rainwater a calming presence. She is moved by the kindness he shows other boarders, Solly...and Ella herself. Slowly, she begins to rely on his soft-spokenness, his restraint, and the steely resolve of his convictions.
And on the hottest, most violent night of the summer, those principles will be put to the ultimate test.
From acclaimed bestselling author Sandra Brown comes a powerfully moving novel celebrating the largess and foresight of a great bygone generation. It tells a story that bears witness to a bittersweet truth: that love is worth whatever price one must pay for it.

Media Buzz
Early Show - November 9, 2009

Videos

Delightful Tale set in the 30s
Comments
87 comments posted.
Re: Rainwater

hmmm looks like its gonna be another great books!.. i love to read all Sandra Brown books...~
(Myen Smart 7:46pm September 29, 2009)
Can't wait to read this one...love, love, love Sandra Brown!
(Crickett Forrest 8:07pm October 3, 2009)
I usually don't watch book trailers. If I am interested in a book I'm going to read about it and maybe read an excerpt.
(Maureen Emmons 10:23am November 6, 2009)
Even if I've already planned on reading a book, the trailer gives me even more reasons to check it out. The more mysterious the better. I have been introduced to many authors that would have otherwise not been brought to my attention. Book trailers are a form of art that I appreciate.
(Leni Kaye 10:42am November 6, 2009)
I haven't really done the book trailer thing myself, but after hearing about the making of this one I'm intrigued.

Sandi
(Sandi Shilhanek 11:41am November 6, 2009)
I do watch book trailers that way I can get a feel for the storyline. If i pick up a book and read the back sometimes I just don't know if I want to read it. The information is sometimes misleading. I just don't like being disappointed. I have so many books that I have purchased and found after the first chapter I just don't like it. Your trailer looks wonderful!
(Lisa Glidewell 12:45pm November 6, 2009)
When I first saw a book trailer, I thought that my favorite author was having her book made into a movie. But then I had to laugh, my idea of how the book is does look different then how the trailer is. Sometimes it does make me want to get the book, especially if I hadn't considered it. Makes me curious.
(Lena Lee 12:49pm November 6, 2009)
I honestly didn't know book trailers existed until recently, lol. I usually just look at book covers when out buying a book. However, with more and more of my favorite authors being on Facebook, etc., I do watch book trailers now and I find them very interesting and informative. Oh, and I can't wait to read Rainwater!! I love historical novels...my favorite being "Gone With The Wind!"
(Lori Tinkler 12:52pm November 6, 2009)
I've only watched a few book trailers, I'm still getting use to the idea. I liked yours, it made the book stand out and more interesting.
(Theresa Buckholtz 12:53pm November 6, 2009)
Thank to all of you who've left comments. I enjoy visuals, so I enjoy trailers, but quality is key. Some I've seen are amazing, some pretty bad. I'm biased, but I think the one for RAINWATER belongs in the former group. Of course, it helps that I sleep with the producer/director!
(Sandra Brown 1:38pm November 6, 2009)
I usually don't bother with book trailers. What first attracts me to a book is the cover and then I will read the blurb and excerpts to get a better idea if it is something I will enjoy reading.
(Cherie Japp 2:21pm November 6, 2009)
I usually don't bother with book trailers especially if its a book by Sandra Brown. I automatically just buy the book because I know its going to be another wonderful book read.
(Deborah Sullivan 2:27pm November 6, 2009)
What a wonderfully serendipitous chain of events on the journey to making this trailer. I am divided on the subject of book trailers. I like the idea. The problem is some book trailers just - are bad. I saw a recent book trailer of a favorite author - and it was awful. If I wasn't familiar with her work (and actually eagerly anticipating the book in question), I might have bypassed the book altogether (which would have been a shame because it was just as wonderful as I knew it would be). What that has taught me is not only should you not judge a book by it's cover, don't judge it by it's trailer either!!! And oh-by-the-way, I did enjoy the Rainwater trailer!
(Joyce Bair 5:04pm November 6, 2009)
My favorite book trailers were for the Lisa Kleypas trilogy starting with Sugar Daddy.
Can't wait to read Rainwater!
(Kara Conrad 5:04pm November 6, 2009)
I have been paying attention more and more to book trailers actually--and trying to post one on my blog every Friday (whether they're official or fan made ones).
(Lucile Ogie 5:09pm November 6, 2009)
I enjoy watching trailers and getting a peek at the upcoming movies. I have several old leather suitcases and plan on using them stacked as end tables or a low coffee table that can store more stuff.
(Alyson Widen 5:28pm November 6, 2009)
I don't usually wtch the trailers. I am more of a word person.
(Patty Heerdink 5:30pm November 6, 2009)
Book trailers are also fun for seeing interactions of favorite characters and the artistic flair for the bookcover.
(Alyson Widen 5:30pm November 6, 2009)
I been watching more book trailers lately and it just wets my appetite for the book. Can't wait to read Raunwater!
(Kathryn Windland 5:39pm November 6, 2009)
I usually ignore book trailers. Since some of the bestselling books have been made for cinema, I have been watching them lately.
(Kai Wong 5:48pm November 6, 2009)
I really enjoy watching the book trailers. I really enjoyed your book trailer. I just recently watched a book trailer on the book The ocean Between by Linda Coker. U've seen so many lately that is the only one I can think of right now. Thank you. Enjoyed your blog.
(Sue Brandes 6:21pm November 6, 2009)
A few months ago I never would have attempted to watch a book trailer because I was still on dial-up. I got broadband service back in July and have been viewing book trailers a lot more frequently since my internet moves so much faster.

Your husband and the crew did a great job on the trailer in just three days.
Maybe forgetting about the trailer made everything work out better than if you had had more time to plan it all out.
I can't wait to read Rainwater.
(Gigi Hicks 6:35pm November 6, 2009)
I recently started checking on the book trailers and I have to say that I like them. It gives a new perspective and makes the characters come to life. Congratulations! 'Rainwater' sounds like a wonderful read!
(Rosemary Krejsa 9:13pm November 6, 2009)
I really don't care for trailers. I read about the book and if I like it, I'll buy it. In the case of Sandra Brown,I know the book will be good, so I don't need to see or read anything, but the book. A copy of "Rainwater" will be mine as soon as possible.
(Patsy Hagen 10:14pm November 6, 2009)
I like to watch the trailers for books. It helps me picture the characters and gets me more interested in reading the book.
Good Luck !!!
Stay healthy!!!
(Mary Branham 11:21pm November 6, 2009)
I generally don't look at book trailers.
They don't have much influence on book
buying decisions.
(Sue Ahn 11:35pm November 6, 2009)
I love looking a book trailers. They give me an idea of where the characters originated from in an authors mind. Rainwater sounds terrific. Thank you for sharing a piece of your heart in this story.
(Cindy Olp 1:04am November 7, 2009)
I don't watgh book trailers often enless there part of a contest.I'm to bissy to watch them.but there are some nice one's out there out of the one's that i saw.
sasluvbooks@yahoo.com
(Stacey Smith 2:59am November 7, 2009)
I don't usually watch book trailers. Don't usually watch movie trailers, either. This was exceptionally good, though. Would love to read the book.
(Joanne Reynolds 8:07am November 7, 2009)
I sometimes watch book trailers but mainly decide on a book by reading the back cover. A friend starting me reading your book and I have been hooked ever since.
(Joan Woods 8:54am November 7, 2009)
I love book trailers and sometimes it helps to draw the reader into the "flavor" of the story.
(Armenia Fox 12:07pm November 7, 2009)
Interesting post. I don't usually watch book trailers. I do love to read excerpts, though.
(G S Moch 1:10pm November 7, 2009)
I usually watch the book trailers after I read the books! I like my interpetation of what everyone looks like to be based solely on what I read..
(Kimberley Coover 2:06pm November 7, 2009)
I usually don't watch the book trailers because the ones I did watch were more power point presentations with still pictures and words. After reading about how you all pulled yours together, I was intrigued and had to watch it. Now I have to find the book!
(Karin Tillotson 4:23pm November 7, 2009)
I don't watch book trailers, or at least I haven't until I've been on book sites so much lately. I do like to read Sandra Browns book.
(Brenda Rupp 5:23pm November 7, 2009)
I don't find book trailers very helpful. So, I tend not to view them. Not what you want to hear after all your hard work, but there it is. I would rather read reviews & excerpts.
(Mary Preston 5:26pm November 7, 2009)
Like books, book trailers depend on the author and how much control & input she has. I watch Linnea Sinclair's book trailers regularly just for the enjoyment; but others....ugh, don't waste my time!! Yours is very well done. Compliments to your Producer/husband.
(Susan Driskill 6:04pm November 7, 2009)
I don't pay to much attention to book trailers. I prefer a good excerpt from the story.
(Mitzi Hinkey 6:12pm November 7, 2009)
I'll watch a book trailer if it's readily available, but it never influences my decision to purchase. I prefer an excerpt because they allow me to make my own picture of the characters in the book.
(DeeAnn Szymanski 7:36pm November 7, 2009)
I really have never seen a book trailer before. I absoutely adored this one. Rainwater is a book that I think I am compelled to read. As for the characters, I really like to have them come to life during the reading and I was afraid that trailers would destroy that sense. This trailer did nothing of the sort. I dont believe that I saw the characters face and the atmosphere of the book was portrayed well. I hope that I win that aurographed book so that I can start reading Rainwater soon.
(Teresa Ramdial 8:15pm November 7, 2009)
I usually don't watch book trailers but I decided to watch yours. Great job for only 3 days. I'll look forward to others now. Good luck with your book.
(Evelyn Day 8:40pm November 7, 2009)
I don't watch many book trailers, the last one I watched was Jayne Castle's futuristic book Obsidian Prey and really enjoyed it; but I like to read the excerpts.
(Diane Sadler 9:02pm November 7, 2009)

(Susan Leech 9:02pm November 7, 2009)
I watch a lot of book trailers as they give me the feel for the book and sometimes just the way it is presented I get a better feel or view of how the author intended the story to be. I even decided on a book after thinking I was not interested but the trailer changed my mind. susan L.
(Susan Leech 9:04pm November 7, 2009)
I do enjoy book trailers. You seem to have hit it lucky with getting the car and the character in one deal, especially when the car had to be such a special one. Your hubby must be very willing to help. Did you hug his neck? LOL
(Gladys Paradowski 9:09pm November 7, 2009)
Sandra, I am not sure what to say..right now I am speechless. My husband came in while I was viewing the trailer for RAINWATER and was instantly attracted to this book. Now you are hearing from a man who does not read books but the comment he said has me in shock. He said " I think I could get into that book. I am so in shock I have made at least a half dozen errors in typing this up to you..thank heavens for error corrections. ha ha I had to write and tell you this bit of news. There may be hope I can still get him into reading more as I always pictured him and me setting down in the evenings and reading together. Thanks for what you have done so far. susan L.
(Susan Leech 9:12pm November 7, 2009)
Lovely video. I'll have to check and
make sure we got this one in at our
library. I'm pretty sure you are a
standing order, but I need to make
sure. If we don't have it, you can be
sure our patrons will let us know.
I watch a lot of book videos and like
them. There are some very good ones
out there, and some that they should
have forgotten about putting out. The
best I've seen lately was for a western
romance. I like yours: short, sweet
and to the point. Amazing what you
can do on short notice.
Good luck with the releases on all your
new books.
(Patricia Barraclough 9:30pm November 7, 2009)
I don't watch book trailers. I'd much rather read an excerpt or two.
(Ruth Locke 10:31pm November 7, 2009)
Haven't found a Sandra Brown
that I didn't love and this
one sounds like a winner too.
I watch a lot of the book trailers and love that this
one has action rather than
stills.
(Lisa Richards 10:34pm November 7, 2009)
Book trailers are a great way for me to get a glimpse into what may be the next book I read. I like the ones you get in the back of books you have just finished reading, but don't think I've ever seen a video book trailer.
(Donna Holmberg 11:07pm November 7, 2009)
I found this very enlightening and interesting
(George Zimmerman 11:14pm November 7, 2009)
I mainly watch trailers for books that I intend to read anyway, like this one. If I watched more, I'd just end up buying too many books. I very much enjoyed this one and find it interesting that the book has a basis in fact. I had wondered why 2 of your books were coming out so close together and I now realize why. Good luck.
(Sigrun Schulz 11:36pm November 7, 2009)
I dont look at trailers that much. But am doing so more than I have been.
(Pat Lieberman 9:18am November 8, 2009)
I don't normally watch book trailers, but I have watched a few all the way through. I noticed that some of them were really beautifully done and added to the attraction of the book. However, I did notice that some of the trailers were "cheaply" done and did nothing to promote the interest in the book.
(Ginger Campbell 1:18pm November 8, 2009)
Sandra, I have read 37 of your books. Smash Cut, Smoke Screen and Rainwater are next on my list to read. I am probably one of your biggest fans...Thanks for your great writing as I have enjoyed each book you wrote for a number of yrs. I am retired now and can read even more.. LOL
(Brenda Hill 8:59pm November 8, 2009)
To all of you who've posted comments. . .thank you for your interest. The concensus on trailers seems to be that there's no concensus! The jury is still out. I'll probably continue to produce one for each book because I have the resources available via my husband's business. But if I didn't, I don't know that I would. A lot of readers still depend on "words" rather than visuals, and that's not a bad thing at all! I rely on words.
To Susan Leach -- everyone here in the office got a kick out of your post about your husband. I hope he maintains that interest through the story. And to Patricia Barraclough, I hope your library has RAINWATER and that you'll recommend it to your clientele.
Again, to all of you -- many thanks!
(Sandra Brown 12:17pm November 9, 2009)
Sandi, I totally agree. To me,
historical is anything that
occurred before the 1900's.
Like you said, if you feel
like you could know one of the
characters in our time (i.e.,
they could still be alive
today), then it isn't really
historical to me.
Margay
(Margay Roberge 10:43am December 13, 2009)
I also think that a historical is anything before 1900. In a historical the main mode of transportation has to be by horse or ship.
If cars and airplanes can be involved in the story I think of them as being more modern.
(Gigi Hicks 12:37pm December 13, 2009)
I agree with Margay & Gigi... historicals for me are in a time and place in which I can be amazed by the characters lives, not see the story through modern ideas and technology.
(Colleen Conklin 1:03pm December 13, 2009)
I don't know that I agree with that. Two friends have recently published or are soon to publish books set in the 1930s and 1940s (Rebecca Cantrell's A TRACE OF SMOKE, June 2009, and Kelli Stanley's CITY OF DRAGONS, early 2010) and both are firmly historical works. Both authors have done a bang-up job of nailing their time-periods, which may have something to do with it. Those books could not have been set now, but are very well rooted in their respective time periods. I think the problem may be less in the time the book is set, and more in the author's execution. I don't write historicals, but I've always been told that some of the difficulty is in creating characters that are firmly of the time period you're writing about, and not modern men and women dumped into a different time. If you can't do it, maybe time travel is the way to go...
(Jennie Bentley 4:15pm December 13, 2009)
I too was thingking that historical was anything before 1900. Anything between 1900 and say 1960 is tough though and a grey area- not quite modern and not quite historical. That's a tough one.
(Sara Edmonds 4:25pm December 13, 2009)
My mother was a fifth grade teacher. As a writting assignment, she asked her students to pretend they were Rip Van Winkle and had just awakened after a twenty year sleep. They were to tell what was different. Among others, the students thought the men hunted for meat for their families, there were no cars or telephones, etc. This was a lead in to say that I agree with Jennie. If the author nails the time period, I can believe. And, like these students, if I believe it, it is so :>)
(Karin Tillotson 4:47pm December 13, 2009)
Thank you for your post, Sandi.

For me, a story set before or during World War I is automatically a historical. That's because in terms of our society and culture, WWI marks what I consider the most significant watershed.

But a story set since then can be a historical if the main theme, plot, and characters are closely tied to the events, lifestyles, and zeitgeist of its setting. And if they aren't, I wonder what's the point of setting it in that period rather than making it an "eternal present" contemporary story.
(Mary Anne Landers 4:55pm December 13, 2009)
I don't read many historicals but in my mind it would be before car's and airplanes were made. Otherwise it just feels to morden to me.
(Julie Harper 5:12pm December 13, 2009)
I agree with Sara Reyes, in that anything set before 1950 is historical. Since I was born at the end of the 50's, this era is my cut-off point for period settings.

Later,

Lynn
(Lynn Rettig 5:26pm December 13, 2009)
I agree with you Sandi.
(Joyce Mandle 6:29pm December 13, 2009)
Interesting question. I have to agree w/ Mary Anne, there are some stories set in the 60's focusing on civil rights and events of those years that couldn't be set in any other time period and altho' I was young at that time, I guess it is history and would have to consider it historical. I used to automatically consider anything before I was born, meaning WWII and earlier.
(Pam Nolan 6:48pm December 13, 2009)
I guess I judge history by the age of my family members; with my mother being 95, I don't tend to think of the 1900's as historical. I do look forward to reading the book though since I've always like S. Brown.
(Ilene Pedersen 7:13pm December 13, 2009)
I only read historicals, and what I read is really anything set before 1900. The 20th century is an era of its own, its when the "historical" became 'modern' in my eyes. I have read books set in the 20's and WWII and while they may be categorized as historical I really don't see them that way, to me, they're a category of their own, not historical, not contemp. Does that make any sense?? LOL
(Shauna George 7:15pm December 13, 2009)
I don't think that it has to be based on anything prior to the 1900's to be considered a Historical Romance. I think it just makes us feel younger to put distance between now and the time that is discussed in a book targeted as Historical. Truth be told,in History classes some of the topics that are being discussed have happened within the past five years. In the case of Rainwater I think it was called historical because of the topics of race,government,and economics at that time. Yes, the same topics that we are dealing with today. Just goes to show that history does repeat itself sometimes.
(Leni Kaye 7:22pm December 13, 2009)
I think anything that is not in the present and is a past event based on something that was a recorded event would be considered Historical.
(Barbara Ryan 7:22pm December 13, 2009)
Very interesting thought... I guess I would agree with some of the others that historical is before 1950, although the 60's definitely would be historical too. I happen to love historical novels, love history, have a degree in it and so, am probably biased as to what is historical. That being said, I bought a used book this summer, "Warrior's Woman" which had "historical" written on its spine and it was actually futuristic! So I guess the term "historical" is in the mind of the author and the plot she/he develops.
(Trudy Miner 7:29pm December 13, 2009)
I would have said before the 1900s, but
now that we're well into the new century I
might consider moving the date up a
little.
(Sue Ahn 9:25pm December 13, 2009)
I agree that historicals should be set before 1900.!
(Martha Lawson 9:28pm December 13, 2009)
My definition of a historical is one where the writer tries to depict accurately the customs and mentality of a specific period in time. The plot (of the story) allows us to learn how the character(s) deals with the social conflicts of that era.
(Rosemary Krejsa 9:32pm December 13, 2009)
I suppose I have a much broader--or narrower, as the perception may be--of what is contemporary or historical.

Contemporary, for me, is anything that is written at the time that it takes place. Historical is anything that takes place with an actual date before the publication of a book. I even count quite a bit of the 20th C. as "historical." Our times are changing so rapidly and knowledge and technology have changed so drastically that the 1950s, for example, seem very long ago. Many, many changes have come since then.

The strictest sense of "historical" for me means before the time that I know anyone who is still living. That would be starting with World War I.

I also make a distinction between historical novels and historical romances. The "novels" are those that feature actual people and events that can be found in history and do not focus mainly on a love story. This is the type I first read before the historical "romances" became so popular in the late 1970s and 1980s. Historical accuracy in manners, dress, and to a certain extent, language are a necessity. I'm just reading a book set in 1193 in which "spiel" is used. I'm trying to find out when this word was first used in English to mean "a glib plausible style of talk." (The Free Dictionary on-line) It comes from German via Yiddish and is centuries old (noun - a game, verb - to play), but not with the meaning it now has in English and Yiddish. It struck me as an anachronism this book.
(Sigrun Schulz 2:18am December 14, 2009)
I don't have a set time-frame for historical. Sometimes it is a certain feel to a story. If pushed I would say before my birth. So go back at least 50 years.
(Mary Preston 2:31am December 14, 2009)
Hmmmm. Interesting comments, everyone. I've never really thought of putting a date on "historical" before. I very seldom (never) read historicals, so I probably really shouldn't even be commenting. To me, anything I won't read are the stories where the women still wear long bulky dresses -- though that one's debatable -- and where the main mode of transportation is by horse and buggy/covered wagon. I love cowboy stories, but they need to be the modern ones, where at the end of the day they jump into their 4x4 and go home, sort of thing.
(Donna Breitkreuz 10:53am December 14, 2009)
Well, we learn something new every day. I didn't realize historicals were considered before WWII. Like most of the comments, I based it more of pre-1900 and more along the lines with what Donna just said, story-wise. And, for me, just in the romance category. I haven't read one since I was a teenager, as they aren't my fav. But I'm a huge Agatha Christie fan, and I never thought of them (especially her earliest books) as historical. Of course, that could be because a murder is always committed for basically the same reasons, and you just have to figure out the who. Or maybe, as was pointed out, it was a contemporary for the time it was published.

Thanks Sandi. This was an interesting question!
(Amanda Reeder-erdly 1:30pm December 14, 2009)
Just as the word brings to mind, history is something has happened in the past. It can be last week and that is still history but if you read a historical novel then it is usually something that happened a long time ago in another life and another era. We make history every day but it isn't historical till in the future. That sounds all jumbled up but hope it is clear.
(Diana Smith 3:38pm December 14, 2009)
I like the one comment about it having to be before 1950 to be historical. Well I must be historical because I was born before then. HA! Another generation. Good one.
(Diana Smith 3:40pm December 14, 2009)
Technically, a historical novel is one which was written by someone who was not alive during the period she (or he) is writing about. They don't remember the time period; they have to do research on it to be able to write the book. This makes Georgette Heyer's Regency romances historical fiction, but Jane Austen's books, written during the Regency period, fiction.

I found this out when I researched a module on historical fiction for my class. I remember when one of my students, who are graduate students, wanted to read a book set in the Sixties as historical fiction. I thought to myself, that's not historical! but to her, I guess it was. I believe I told my students it had to be WW II or before to count as historical.
(Frances May 6:23pm December 14, 2009)
To me, history is things that happened yesterday. This could and should be considered historical.
(Lisa Glidewell 9:42pm December 14, 2009)
when stories are written that are true to the facts of the time the story takes place
(Deb Soula 12:30pm December 15, 2009)
This is a very interesting topic Sandi!

As far as I am concerned, anything that happens before the last 20 years is historical. History is the past. I'm 36 years old and as far as I'm concerned, even the 80's is the past. It's a different time period, a different generation. The music heard, the way people spoke and interacted was very different that it is today.

So, yeah, I definitely think that something that occurred in 1920 would still be a historical.
(Carrie Hinkel-Gill 1:30pm December 15, 2009)
I agree with Gigi-anything before
1900 is historical and transportation is
wagon, horse or steam engine. I too
almost passed up Rainwater by Sandra
Brown. I opened it and started reading
it and decided to buy it. I was glad I
did.I guess it depends on the who the
author is and their style of writing as
to whether I will pick it up.
(Nancy Alexander 10:40am December 16, 2009)
I loved reading this book, once I started reading it I couldn't put it down. I got so involved with the characters and it felt I was right there with them. I cried like a baby at the end of the book. Very well written!!
(Roseann Engstli 11:10am July 31, 2013)
Registered users may leave comments.
Log in or register now!