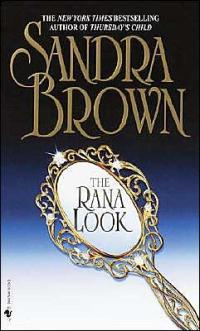 Purchase
Bantam
December 2003
Featuring: Rana Ramsey; Trent Gamblin
226 pages
ISBN: 0553576054
Paperback (reprint)
Add to Wish List

The modeling world called it the Rana Look...the exotic, one-of-a-kind allure that only supermodel Rana Ramsey could deliver. With her green eyes, olive skin, and wildly lustrous auburn hair, Rana posed for ad campaigns and strutted down runways all over the world, naming her own price to sell everything from cosmetics to women's lingerie.
But all of that suddenly ended one day when she looked her demanding mother-manager in the eye and said, "Enough." That was the day Rana packed her things and left New York-- and modeling--forever. Settling in Miss Ruby's boardinghouse in Galveston, Texas, Rana finds success with her own business--and cultivates a new look to go with her new life. Now her beautiful eyes are shielded behind tinted glasses, her famous figure hidden under shapeless dresses, her trademark wild hair falling straight down her back. Rana knows she'll never attract a man this way, and that's just fine with her--that is, until Ruby's nephew, football star Trent Gamblin, moves in to nurse his injured shoulder. Ruggedly handsome, charming, and undeniably charismatic, Trent is the kind of man that Rana findsirresistible...the kind of man she is certain would never look twice at a woman as ordinary as the new Rana.
But to her surprise, Trent seems unfazed by her Plain Jane look. For he is drawn to a beauty that Rana can't hide. He is determined to learn the mystery behind the elusive, reclusive boarder with the secret past. To do so, he proposes an unusual pact: they will only be friends, nothing more.As the days pass, Rana and Trent are drawn together in a sensual idyll unlike anything either of them has ever known. But the outside world cannot be kept at bay forever. And Rana fears that when Trent learns the truth about her past, he'll feel betrayed and deceived. Even worse, he'll never be able to see her as she truly is. Then an unexpected tragedy strikes, and the stakes seem higher than ever. Now they must look deep into each other's heart to determine if their relationship is just an impossibly erotic dream--or a dream of love come true.
Author Biography: Sandra Brown began her writing career in 1980. After selling her first book, she wrote a succession of romance novels under several pseudonyms, most of which remain in print. She has become one of the country's most popular novelists, earning the notice of Hollywood and of critics. There are fifty million copies of her books in print, and her work has been translated into twenty-nine languages. Prior to writing, she worked in commercial television and as an on-air personality for PM Magazine and for local news in Dallas. The parents of two, she and her husband now divide their time between homes in Texas and South Carolina
Comments
No comments posted.

Registered users may leave comments.
Log in or register now!