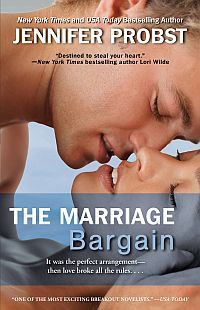 Purchase
It was the perfect arrangement until love broke all the rules
Marriage #1
Entangled
February 2012
On Sale: February 13, 2012
Featuring: Alexa Maria McKenzie; Nicholas Ryan
304 pages
ISBN: 1620612798
EAN: 9781620612798
Kindle: B00790TI0W
Mass Market Paperback / e-Book
Add to Wish List

Romance Erotica Sensual | Romance
A marriage in name only...
To save her family home, impulsive bookstore owner, Alexa Maria McKenzie, casts a love spell. But she never planned on conjuring up her best friend's older brother—the powerful man who once shattered her heart.
Billionaire Nicholas Ryan doesn't believe in marriage, but in order to inherit his father's corporation, he needs a wife and needs one fast. When he discovers his sister's childhood friend is in dire financial straits, he's offers Alexa a bold proposition.
A marriage in name only with certain rules: Avoid entanglement. Keep things all business. Do not fall in love. The arrangement is only for a year so the rules shouldn't be that hard to follow, right?
Except fate has a way of upsetting the best-laid plans…
Marriage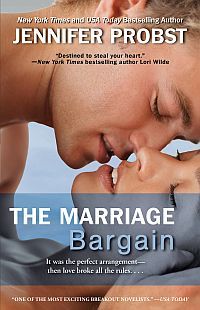 The Marriage Bargain
#1.0
Amazon.com | BN.com | | |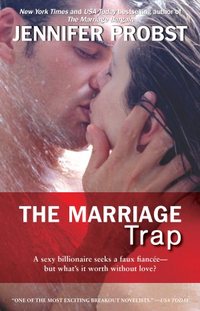 The Marriage Trap
#2.0
Amazon.com | BN.com | | |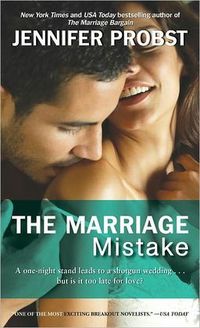 The Marriage Mistake
#3.0
Amazon.com | BN.com | | |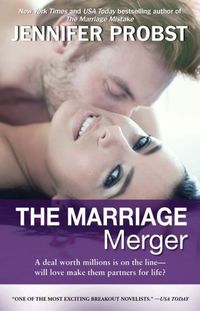 The Marriage Merger
#4.0
Amazon.com | BN.com | | |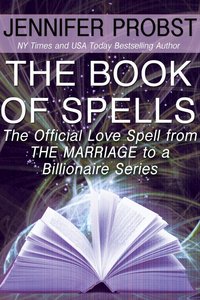 The Book of Spells
#4.5
Kindle | BN.com | | |
Comments
51 comments posted.
Sometimes that seems like a good idea, have the benefits without the attachment, but having someone there for you without question is a huge benefit.
(Deana Connelly 12:46pm June 15, 2012)
I like the big public announcement like Jerry Maguire
(Lisa Elwood 12:49pm June 15, 2012)
I would love to be entered to win. I love endings that keep you wanting more.
(Jane Squires 1:26pm June 15, 2012)
I like a happy ending--too much sadness in the real world to have more in fiction.
(Sue Farrell 1:46pm June 15, 2012)
I have to say I do love a happy ending! The Marriage Bargain sounds great. Nothing better than a good love story that gives the reader what they want in the end
(Holly Sines 1:58pm June 15, 2012)
My favorite movies and stories end with hea. There can be alot of emotional angst as long as the Hero and Heroin find happiness in the end. Congratulations on The Marriage Bargain. It sounds like a great read.
(Christine Stack 2:17pm June 15, 2012)
I like books and movies that end with the complete story told and leave me feeling satisfied. However, I love books that tell the complete story, leave me feeling satisfied AND make me wonder what happens in the couple's future though.
Good luck and happy writing!
(Tracie Travis 2:27pm June 15, 2012)
Oh I have to have the HEA... I love when things work out and the characters come together at the end...
(Colleen Conklin 2:31pm June 15, 2012)
I enjoy a little struggle along the way, but also want to know that all is well that ends well.
Blessings,
Marjorie
(Marjorie Carmony 3:03pm June 15, 2012)
I like the HEA at the very end of the story. I want one of the characters to finally realize their love for the other person. When that happens they will stop at nothing in order to declare it.
(Stacie Deramo 3:49pm June 15, 2012)
i would love to read this i cant wait to read the ending (im getting excited now )
(Denise Smith 4:01pm June 15, 2012)
What a teaser!! I have The Marriage Bargain at the very top of my Wish List and
would love nothing more than to read it now! I think we all have to face those
demons in the closet whether we like it or not. It's what makes us strong and
continue to grow!
(Connie Fischer 4:01pm June 15, 2012)
I like happy endings after all the problems of the book are worked out.
(Cheryl McEwen 4:13pm June 15, 2012)
Oh I like my Best Friend's Wedding too. :) Love it. :) It's a HEA but a different one.
(May Pau 4:44pm June 15, 2012)
i love happy endings!!
(Jennifer Beck 5:01pm June 15, 2012)
There just has to be a happy ending, the hero and heroine must get together some how!
(Ann Thaxton 5:04pm June 15, 2012)
I'll admit I'm a sucker for a happy ending. I love the ending in the Proposal with the big chase...it's the perfect build-up to the confession of love!
(Michele Hayes 6:47pm June 15, 2012)
I read romance and have for a very long time and I still look for the HEA ending!!!
(Diane Sadler 6:56pm June 15, 2012)
I'm definitely a sucker for a happy ending, although I'm also okay with a Happy For Now!
(Rebecca Whitehead-Schwarz 7:05pm June 15, 2012)
When Harry Met Sally, when Harry runs all through the city to go up to Sally at a New Years Eve party, to tell her he wants to spend the rest of his life with her.
(Sharlene Wegner 7:18pm June 15, 2012)
I love endings where the main conflicts are satisfactorily
answered or resolved.
(Jan D 7:34pm June 15, 2012)
I want an ending that fits the story. For instance, Woman In Black, the book, had a very powerful ending but the movie was Hollywood drivel at it's worst! Of course, I love the big HEA but I am a patient reader and I am willing to allow for a HFN or even the possible HEA if the author is a gifted writer. For instance, the Fever series by Karen Marie Moning had a series of endings. And, in the final ending it was more of a beginning but it worked with the series.
(Jennifer Beyer 9:19pm June 15, 2012)
Sounds like a real juicy romance...just up my alley.....looking froward to reading...'The Marriage Bargain'...by Jennifer Probst
(Lnda McFarland 11:16pm June 15, 2012)
I like the type of story where there is an instant click, but one party doesn't exactly see the click. Time goes by, but it's usually the guy who doesn't get it, and goes looking for the girl. They meet up again by chance, and the fire is still burning. He realizes what he's lost, and they take it slowly. It stands the test of time, and goes on through their golden years, where it's time for one of them to go on to meet their maker. The death bed scene always makes me go through a box of kleenix!! It's also a long book, but can keep you interested, if written well. I'm looking forward to your book very much!!!
(Peggy Roberson 11:30pm June 15, 2012)
I love a happy ending. Thanks for giving me a chance to win your book.
(Linda Hall 11:58pm June 15, 2012)
Just now I'm reading one of the MacKenzie men series by Jennifer Ashley. The hero has a hard time believing in love--especially from a woman. Why? Well, he's.... Oops, I can't tell you that, but it is a beautiful, meaningful ending.

Thanks for a chance to win a book. And keep on writing.
(Sigrun Schulz 2:01am June 16, 2012)
I love endings where the hero realizes he can't be without the heroine. :)
(Hyunjin Jeon 3:14am June 16, 2012)
I love the ones that make you cry because they seem to be getting further apart rather than close, but of course, it all works out but not easily.
(Barbara Hanson 5:19am June 16, 2012)
I like an ending which makes me wonder what my choice would have been, because that involves me more in the story. An example is Diana Gabaldon's first book - the heroine has fallen into the past via a stone circle, and at the end the brawny young Scot she has met brings her back to the circle and gives her a day alone to make her choice - him or her husband waiting in the future?
(Clare O'Beara 6:16am June 16, 2012)
I love books that shows the man wake up and sees his life and his happiness right in front of him. It makes for a great ending
(Bonnie Capuano 6:18am June 16, 2012)
I love HEA ending, that's why I read romance. But what I really love at the end of the books is a good epilogue.
[email protected]
(Lori Meehan 8:05am June 16, 2012)
I'm a sucker for You've Got Mail type endings - you know what's going on but she doesn't and you've got to watch!
(Beth Elder 9:37am June 16, 2012)
I love the getting to the happy endings more than the actual happy ending. Mostly that is because I generally know how it is going to turn out but the getting there usually has some surprises.
(Pam Howell 9:59am June 16, 2012)
I like happy endings. There is enough tragedy and sadness in the world, I don't need it in books.
(Wilma Frana 10:55am June 16, 2012)
I must have a happy ending. I have gotten so tired of watching movies that do not end the way I want, that I often look for spoilers BEFORE going to see it just to be sure that I get the ending I want. If not, I don't see it.
(Angie Lilly 12:09pm June 16, 2012)
I'm sure they will live happily ever after and laught at how there relationship started.
(Kathleen Bianchi 1:56pm June 16, 2012)
I tend to enjoy open ended ones that leave it to have another chapter or book in the series...I LOVE Trilogies!
(Darci Paice 3:07pm June 16, 2012)
Oh Jennifer, your story sounds like it is going to have a lot of fireworks lighting up the pages. Lots of congrats on a job well done. Now, out of my genre, but had to read, the Harry Potter series was so overwhelming to me. I waited for the last book with my grandchildren to see the conclusion of such a long saga. I wasn't disappointed at all. In fact, I believe it will stick with me for many years. Best wishes on your future writings.
(Jd Simm 3:19pm June 16, 2012)
I read romance because I love happy endings, why read somthing
that is just going to depress me LOL!
(Carin Walker 4:40pm June 16, 2012)
I'm a sucker for the happy ending...they always leave me wanting to know what happened later.
(Kimberley Coover 9:31pm June 16, 2012)
I absolutely adore everyone's answers!! I noted some new books to check out, completely agree with the movies you mentioned such as YouGotMail and When Harry Met Sally, AND my all time fave thing in the world is a happy ever after ending. Thanks so much for stopping by and commenting and good luck everyone!!
(Jennifer Probst 8:12pm June 17, 2012)
It is always about the story, wherever it takes you.
(Kathy Sullivan 5:03pm February 26, 2013)
I love to read and find that I will devour "category" romance. They are fun, a great read, something that you can look forward to picking up.
(Carla Carlson 10:11am February 27, 2013)
Yes it's always about the story! And sometimes the story takes you in directions you didn't expect. Good luck!
(Clare O'Beara 8:35am February 28, 2013)
I think crossing genres is fine, but I'm not so sure if the bookstores know where to put them since they are in more than one category.
(Alyson Widen 9:48pm February 28, 2013)
I love to read. I read to be taken away from the trials or monotony of every day life. If that means reading a "category" romance then give me one!
(Annetta Sweetko 7:29pm March 5, 2013)
Love to read it is my way of going all over the world and never leave my
home and add a little romance in my life
(Ava Curtis 10:25pm March 5, 2013)
It's always about the story. I read category and mainstream romances. If a story is well written I don't care how it's packaged.
(Marcy Shuler 6:44pm March 6, 2013)
I have been reading category romance since 1980, especially
romantic suspense. I, too, read for the story and the
characters, and to escape into a world very different from
my own. Nora Roberts, Elizabeth Lowell, Linda Howard, Sandra
Brown, Jayne Ann Krentz, and many more of my favorite
authors, all started writing category romance. Long live
category!
(Jeanne Gaskill 6:49pm March 6, 2013)
I read category romances, although not as many as I used to. I read so fast that I can go through one a night. I only buy authors now that I really love in category romance. I prefer bigger books cause it takes longer to read!! Your books sound really great. Putting them on the wishlist.
(Martha Lawson 9:23pm March 6, 2013)
I read one in this series - loved it. Have another and am getting the 3rd.
(Pat Lieberman 7:35am March 7, 2013)
Registered users may leave comments.
Log in or register now!