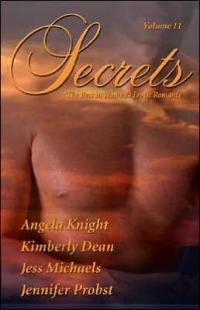 Purchase
Red Sage
December 2004
316 pages
ISBN: 0975451618
Trade Size
Add to Wish List

Romance Erotica Sensual | Romance Anthology
MASQUERADE by Jennifer Probst
Hailey Ashton has lived a repressed life for her thirty years on earth but she is determined to change that in the coming weekend. She tells her best friend, Michael, about the weekend masquerade party that she has been invited to attend. They have heard the tales of their boss's annual wild sex bash and Hailey has decided to let her inhibitions go by the wayside and go after what she wants. She wheedles Michael into finding out what costume her boss will wear little knowing that Michael has been in love with her for the past year and just may attend the party himself. Hailey is in for a little surprise as well as the weekend of her life. Jennifer Probst has chosen the perfect setting for this short erotic tale of sexual fantasy. What better way to lose your inhibitions than at a MASQUERADE party when everyone is in costume and concealed!
ANCIENT PLEASURES by Jess Michaels
In Egypt, 1897, Isabella Winslow and her entourage find the tomb that her late husband discovered and to their surprise, they find the tomb open and two treasure hunters inside. Jake Turner and his partner have been inside checking out the lost treasure as well as the stability of the tomb. When the stones start shaking and falling around them, Jake saves Isabella but in the process, they are separated from the rest of the party. Hearing sexual moans from another room, they discover a string of sexual paintings on the wall as well as Isabella's maid being pleasured by two men. Isabella finds herself hungry for the handsome Jake. Could the ancient pleasure tomb cause them to partake of any and all sexual rapture and satisfaction?
MANHUNT by Kimberly Dean
He caught her as she was coming out of the shower, the handsome police officer that used to be her friend before he became a dope peddler. Taryn is an assistant district attorney hating all dope dealers and especially Michael Tucker whom she believed to be innocent until she saw all of the evidence against him. Now he has escaped from jail and is determined to prove his innocence with Taryn's help. The attraction is as strong as ever and in-between lovemaking and more lovemaking, they go through her files and come up with a way to prove his innocence.
WAKE ME by Angela Knight
Chloe is enthralled with the handsome knight depicted in the painting even though she has no idea who sent it to her or where it came from. All she knows is that the huge knight is a welcome diversion after the desertion of her long time boyfriend and that night, she dreamed erotic dreams about the knight Radolf. Night after night more dreams followed giving her the most fantastic sexual experiences of her life and they always followed by Radolf saying "Wake me". The painting was truly magical and the handsome knight was in need of rescuing by a woman who truly loved him.
Comments
No comments posted.

Registered users may leave comments.
Log in or register now!