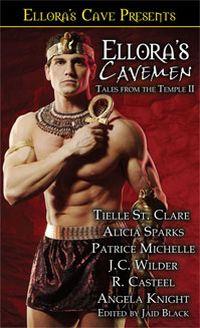 Purchase
Six sexy paranormal stories!
Ellora's Cave
June 2004
284 pages
ISBN: 1843609282
Trade Size
Add to Wish List

Romance Paranormal | Romance Anthology
By Moon Rise By Tielle St Clare
After three years of working as a werewolf's personal assistant, Caitlin didn't think anything could surprise her. When she finds herself locked in a hotel room for two days with her wickedly handsome boss, she learns how wrong she is.
The moon is on the rise and only one thing will satisfy the wolf inside Luc -- sex, and lots of it. It's a sacrifice Caitlin is oh-so-willing to make.
But when wilder, deeper emotions come to the surface, Caitlin fears she won't make it out of that room with her heart intact.
Dream Walker By Patrice Michelle
Erin Stein thought that discovering the ability to travel in time would benefit mankind. Never could she have imagined that moving through time would become so complicated.
Now that her invention has fallen into the wrong hands, she's on a mission to destroy her creation in order to save her world.
Little does she realize just how much the past, present, and future will come to mean to her.
Dragon's Law - Mace By Alicia Sparks
When Mace rescued Eleanora from the clutches of the dragon, he had no intention of mating with her, but fate intervened proving that sometimes the forces of nature and desire are stronger than willpower. In his fevered state, he has no idea that he has spilled Eleanora's virgin blood until he wakes up joined to her soft body.
One Night Stand By J.C. Wilder
Lucius deVille had the face of an angel and the body of an unrepentant sinner. He was the kind of vampire every woman dreamed of calling 'Lover' at least once in her life. The proverbial tall, dark and handsome male that was the fantasy of millions of women around the world and to top it all off, he was educated and possessed a wicked sense of humor that had charmed more than one woman out of her panties.
Tonight, Rachel was determined to claim Luc as her own.
Tail of the Tiger By R. Casteel
Hiding since her ill-fated birth, Kat�half woman/half animal�has lived in on a small tropical island all her life. Upon the death of his father, Cedric Deverone learns of the evil his father has done and feels compelled to seek out this half-ling creature and hopefully find the answers he is searching for and the purpose of his own existence.
In any quest, the answers found are not always to the questions asked, especially in matters of the heart.
Taming Jack By Angela Knight
Motorcycle cop Jack Ramsey hungers for revenge on the inhuman thing that murdered his beloved sister. So much so that his obsession drives him away from the woman he loves. So much, in fact, that he's willing to allow an alien energy being to possess him if it means gaining the power to kill his sister's killer.
Lark finds herself offered a similar devil's bargain - become a host to one of the energy symbiotes, in return for the power to save Jack from himself.
In his obsession, Jack has become a superhuman vigilante, absorbing the evil entities which possess killers like the man who raped and murdered his sister. But every time he kills one of the symbiotes, he runs the risk of spinning out of control.
Comments
No comments posted.

Registered users may leave comments.
Log in or register now!