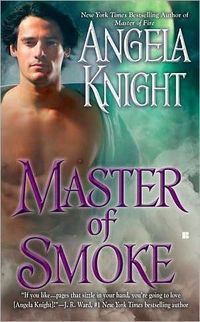 Purchase
Back to the Megaverse
Berkley Sensation
January 2011
On Sale: January 4, 2011
Featuring: Eva Roman; Smoke
304 pages
ISBN: 0425239160
EAN: 9780425239162
Mass Market Paperback
Add to Wish List

When beautiful werewolf Eva Roman discovers a handsome Sidhe warrior being magically tortured by another werewolf, she comes to the rescue. Trouble is, the man she christens David has no memory of why he's being hunted – and no idea how to control his incredible powers. Now both of them have become targets for werewolf assassins. The only hope of survival they have is to turn to each other.
Comments
10 comments posted.
Re: Master Of Smoke

Your book are always great reads and I'm sure I'll enjoy this one also. The idea of taking a paranormal story and sending the message to women to find help is just wonderful.
Thank you for the greats books and keep them coming.
I'm a BIG fan of your work.
(Vickie Hightower 9:19am January 4, 2011)
Reading this I felt like a yoyo. Add this, add this, add this. Sound very interesting. I'll look for this the next time I'm out buying books.
(Maude Allen 10:41am January 4, 2011)
Love your stories with a message; and you are right: goody-goody people in saccharine stories are s-o-o-o-o dull,I'd probably sleep through surgery on them. Since time is limited, I have decided to read only things I enjoy; no mental diabetic comas for me! Can't wait for your next book, so please, go have some fun and write!!
(Susan Driskill 11:56am January 4, 2011)
I enjoyed your blog so much!! Having ADD has to make it tough to be an author, yet you do it with such flair!! Kudos go out to you!! I am anxiously awaiting to read your new book, and although this normally isn't my cup of tea, so to speak, I'm sure that I'll thoroughly enjoy it. You have a special way with words, and I'm sure this won't be that everyday run of the mill paranormal romance book. Thank you for digging a little deeper and setting your books apart from the others!! Have a great New Year!!
(Peggy Roberson 1:14pm January 4, 2011)
Love the strong message threaded throughout. I WILL be reading.
(Mary Preston 4:39pm January 4, 2011)
I loved your blog so much. I always wondered how you came up with stories. I always love reading your books. When I get one I can not put it down until it is done. You take me to a world that intrigues and facinates. I can not wait to see what you have next in the works.
(Cindy Olp 5:58pm January 4, 2011)
Looks great! I'll be adding you to my TBR list :)
(Dawn Vaeoso 3:45am January 5, 2011)
Fun reading about your wildness in thinking and the results that are mind-breaking for the reader. I love when the psche enters into the equation for characters and how they're suppposed to react and then go right ahead and do something different. You keep us on our toes.
(Alyson Widen 4:43pm January 5, 2011)
I've enjoyed your series and will kep reading it with this new book!
(Diane Sadler 7:31pm January 5, 2011)
Just finished Master of Smoke. Loved it. Now I have to wait for Master of Shadows.
(Donna Antonio 8:41pm January 5, 2011)
Registered users may leave comments.
Log in or register now!