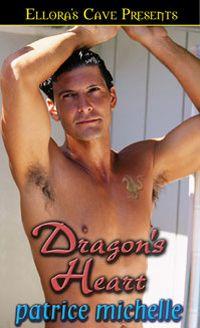 Purchase
Ellora's Cave
December 2003
Featuring: Sydney Johnson; Jake Trask
ISBN: 1843607131
e-Book
Add to Wish List

Necessity demands some sacrifices...
Sydney Johnson is living a double life. No, make that a triple life. The demand for answers forces the ex-policewoman/Private Investigator to seek a job undercover at Virtual Lexigen, a software design company. She hopes to find the link between the exorbitant amount of money Lexigen offered her brother for his computer gaming code and his suspicious death.
In an effort to learn the computer gaming business from the players' perspective, Sydney goes online as 'Skylar' and meets 'Kered', a generous gamer who offers to teach her to play Lexigen's top rated video game, Dragon's Heart. Online camaraderie between Skylar and Kered starts to get hot. When Kered asks to meet her, Sydney refuses, knowing her double life, as Sydney Jones, Virtual Lexigen's Assistant Art Director, won't allow her the freedom she needs in a face-to-face relationship.
But the heart has demands of its own...
Jake Trask has his own agenda for working at Lexigen. He needs to know why the owners of Lexigen won't take "no" for an answer when it comes to a computer code he helped write years ago. Working undercover as Jake Taylor, he needs all his wits about him to get close to the company owners. Going online as Kered, Jake discovers the hot and talented Skylar, a woman with as many layers as he himself has.
And now, Jake can't believe the irony when he discovers Lexigen's sexy new employee, Sydney Jones, is really his cyber Skylar—the woman who made him believe in relationships again. He goes after Sydney full-throttle, but as Jake Taylor, VP of Marketing for Virtual Lexigen, not Kered. He wants Sydney more than he imagined possible, almost as much as his quest for answers.
Recommend Read! ~ "...Dragon's Heart is a well written book with equally well written and developed characters. This book belongs on my "keeper" shelf."
~Reviewed by Mireya Orsini for The Road to Romance
Comments
No comments posted.

Registered users may leave comments.
Log in or register now!