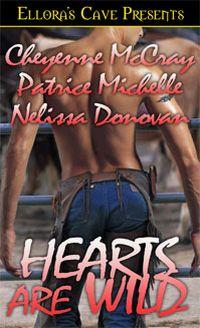 Purchase
Bad and Wild series
Ellora's Cave
October 2005
359 pages
ISBN: 1419952102
EAN: 9781419952104
Trade Size (reprint)
Add to Wish List

Branded Hearts By Nelissa Donovan
When Lily Whitman agrees to a wager with her two single cousins to abandon her prim and proper ways and go after the first man who "trips her trigger", she knows she's finally fallen off the deep end of loneliness. There's always the hope that Nic or Bri will welch first. Lily just has to wait them out. In Big Sky Montana. On a working dude ranch. Surrounded by big and beefy, hard-bitten, real-life cowboys.
Of course, the wrangler who trips Lily's trigger is the last type of guy she'd go for. As big and as wild as the Montana sky, ranch owner Shain Stevenson is only a shade less cultured and refined than grain alcohol--and just as flammable. As is the atmosphere of the Red Bear Ranch where, Lily discovers, things are not always what they seem.
Hearts Afire By Patrice Michelle
Book 3 in the BAD IN BOOTS series, but may easily be read as a stand-alone story.
One man: a hot, seductive cowboy who smells of leather and fresh outdoors and who's more than willing to take a woman on the ride of her life.
One woman: a sexy, petite firecracker whose emerald gaze and silky black hair can make even an angel want to sin.
The mystery: a steamy chance encounter, a burned-out barn, and a potential killer on the loose, waiting to strike.
Wild - Wild Hearts By Cheyenne McCray
When Nicole Landford makes a bet with her cousins to go after the first man who "trips her trigger", little does she know that she's in for the ride of her life. Unfortunately it's with the last man on earth she wants to be with.
Kev Grand's had his eye on Nicole for years. Now that he has her attention, he's got more than his hands full with the wild thing who claims her heart's not up for grabs. Not if Kev has anything to do with it. He intends to tame Nicole's wild heart and make her his for keeps.
Note: Wild Hearts is loosely connected to the Wild series, but may easily be read as a stand-alone story.
Comments
No comments posted.

Registered users may leave comments.
Log in or register now!