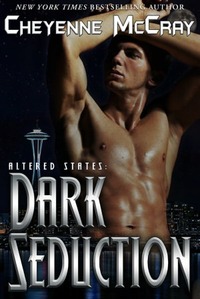 Purchase
Altered States #1
Pink Zebra Publishing
January 2012
On Sale: January 2, 2012
Featuring: Tori Adams; Logan Savage
ISBN: 0013687689
EAN: 2940013687684
Kindle: B006SOMPNC
e-Book
Add to Wish List

Despite the fact that Tori Adams wants nothing better than to relax with a good beer alone in the local cop hangout, she meets Logan Savage who turns her world around. After an evening of cat and mouse, they end up spending one of the hottest weekends together that she's ever experienced. He's everything she could ever want in a man—in bed and out.
Tori is a freelance undercover agent for the Paranormal Intelligence Agency. The PIA is a highly secretive government agency that does whatever it takes to accomplish its missions, including black ops. Tori has special "talents" that make her one of the most sought-after assets in the underground world of espionage.
What she didn't expect was Logan to be her next undercover assignment. He's the owner of Savage Industries, one of the most respected private tech firms in the U.S.… And according to the PIA, he's also one of the bad guys. The PIA reports he's close to selling elite technology that his company has developed to a foreign faction. If he's successful, that would prove extremely dangerous to the U.S. government as well as all governments around the world.
Logan fell hard for Tori, but she's not returning his calls. It's as if she's disappeared. He begins spending time again with his ex-girlfriend, Carla. He finds her somehow different than she's ever been and he's drawn to her in ways he hadn't before, despite his feelings for Tori. He only knew Tori for one weekend—one incredible weekend—but he still finds it hard to forget her despite Carla.
But his paranormal talents are telling him something is wrong… And he intends to find out exactly what that is.
Tori feels like she's being ripped apart. Thanks to her abilities, she's able to take the identity of Logan's ex-girlfriend, Carla. Tori can't help falling for him even harder than before.
He's the enemy she has to constantly remind herself.
It's not long before her true identity is discovered. Logan feels betrayed but needs her to recover the technology that the PIA has stolen. Tori learns that things aren't as they seem and soon she's playing double agent and trying to recover what she'd been assigned to steal.
In a game of lies, betrayal, and high stakes, Tori and Logan are forced to work together and stop what is one of the most dangerous thefts ever to happen in the U.S. At the same time they must trust each other, and trust a love that rises from the ashes.
Comments
3 comments posted.
Re: Dark Seduction

Love your books
(Nancy Owens 12:52pm January 21, 2012)
I've never had the chance to read one of you books but this one sounds like it would be a good story. I like the characters to be strong (especially the men) I like great sex sceens...but most of all I Love a Good story!and when i am able to find an auther i stay with them. and paranormal to? definately up my alley! lol. Can't wait to read it.
(Lynn Falin 1:27am January 21, 2012)
Another great read to add to my list! Cheyenne never disappoints. Always great characters with a fast and furious storyline. Love her books!
(Debbie Santos 9:27am January 31, 2012)
Registered users may leave comments.
Log in or register now!