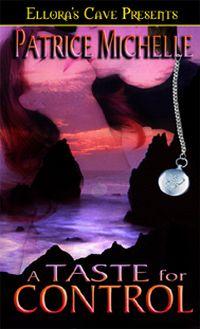 Purchase
Kendrian vampire series #3
Ellora's Cave
July 2005
Featuring: Rose Sinclair; Duncan Mordoor
ISBN: 1419903209
e-Book
Add to Wish List

Duncan Mordoor has lived his entire life in total control. His hybrid vampire status might allow him to walk in the sun, but with his unique mind-reading ability, humans easily bore him and vampires give him a wide berth. Feeling like an outsider, Duncan limits his contact with both races, living by the motto: Never join in, Never let your true emotions be known and above all.Never lose control. He never expected rescuing a `human' woman would turn his life upside down. Everything he thought he was, everything he'd stood for all changed the day he met Rose Sinclair.
Rose has always held her emotions inside, keeping complete control, but there's one heart's desire she's always wanted. When a client offers her seven grand to provide proof that vampires exist, Rose takes the case. One minute she's in a night club asking questions about the existence of vampires, and the next she's running from a very real rogue vampire who's decided she'd make a perfect mate. But nothing scares her more than the seductive hybrid vampire who rescues her. With just one swipe of his tongue, Duncan makes her body hum, awakening a part of her she didn't know existed.
Buy Directly from Ellora's Cave
Comments
1 comment posted.
I really want to know if Patrice plans to write any more Kendrian books! I love this series and I feel there are several characters that need their stories told.
(Denise Tobar 12:43pm May 23, 2010)
Registered users may leave comments.
Log in or register now!