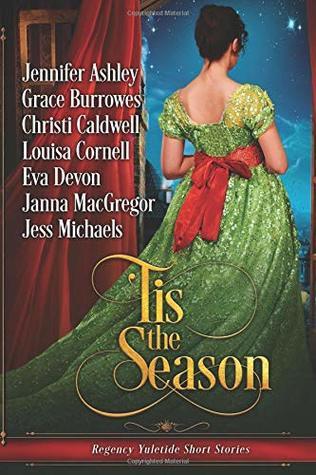 Purchase
Amazon Digital Text Platform
October 2018
On Sale: October 23, 2018
ISBN: 1729332811
EAN: 978172933281
Kindle: B07HDT8R21
e-Book
Add to Wish List

Historical | Romance Historical | Holiday
'Tis the Season, a unique Regency romance collection is sure to fill your heart with holiday cheer!
NYT and USA Today Bestselling romance authors, Jennifer Ashley, Grace Burrowes, Christi Caldwell, Louisa Cornell, Eva Devon, Janna MacGregor, and Jess Michaels are ringing in the holiday season with this limited edition collection of short stories.
You'll be swept away by some of your favorite heroes and heroines. Delight in meeting old friends from previous books and new ones you'll meet again in future titles!
The collection includes: Jennifer Ashley: A First-Footer for Lady Jane (A Scottish Regency Romance) When Grandfather MacDonald predicts Lady Jane will marry the this year's First-Footer--the first guest into the house on Hogmany—she laughs. Her childhood sweetheart is fighting on the Peninsula, and she can't imagine marrying anyone but staid Major Barnett.
But when the clock strikes midnight, and Hogmany begins, a knock at the front door changes Jane's life forever.
Grace Burrowes: A Knight Before Christmas (A Rogues to Riches Story) Chloe Thatcher's livelihood is in peril when her late grandfather's bookshop is doomed to be sold at auction just as the Yuletide season arrives. Aidan Ferris is a man of business for the banker most determined to gain ownership of Chloe's property, but Aidan is also decent, honorable, and prone to lingering beneath sprigs of mistletoe. Will Aidan take possession of Chloe's home--or of her heart?
Christi Caldwell: Home for the Holidays (The Brethren story) Martha and Graham Whitworth are eagerly embracing their first holiday as a new family. But will a summons from Graham's father, the Duke of Sutton steal their holiday cheer? Or mayhap Christmas might prove a time of forgiveness and new beginnings for all…
Louisa Cornell: (A Many Brides of Lord Creighton story) Sebastian and Minerva Brightworth are prepared to celebrate a wonderful first Christmas together. Until Minerva accepts an invitation from Sebastian's estranged brother Will Sebastian and Minerva's first holiday together be their last?
Eva Devon: Joy to the Duke (The Duke's Secret story) When the ghosts of Christmas past come to haunt The Duke of Blackstone, will he and his new duchess be able to put them to rest? In a story that revels in the joy of the holiday, join the characters of The Duke's Secret for a festive escape.
Janna MacGregor: The Earl's Christmas Bride (The Cavensham Heiresses) Cameron Dunmore, the Earl of Queensgrace, is determined to win the hand of his true love, Miss Julia Lawson. Julia never forgot Cameron, but she won't abandon her family, even if she must sacrifice her own happiness. When a Christmas angel in the guise of Julia's little brother brings these stubborn lovebirds together, only Cam and Julia can decide if Christmas wedding bells are in their future.
Jess Michaels: Silent Night (A 1797 Club story) Ewan and Charlotte Hoffstead, the Duke and Duchess of Donburrow, are anticipating a wonderful holiday with their children, family and friends. But when Ewan finds out a secret Charlotte has been keeping, they'll have to face a painful past and redefine their love.
Comments
No comments posted.

Registered users may leave comments.
Log in or register now!