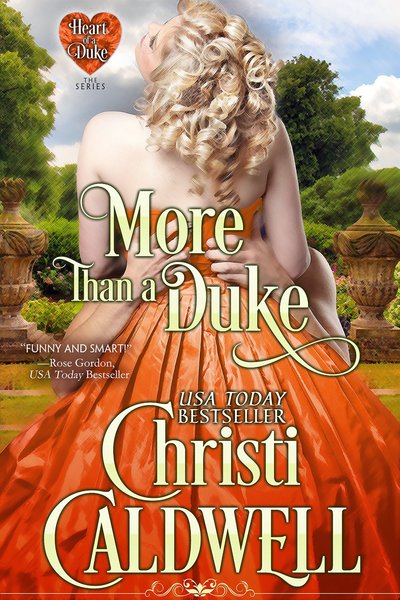 Purchase
Heart of a Duke #2
Author Self-Published
January 2015
On Sale: January 2, 2015
Featuring: Lady Anne Adamson; Harry, Earl of Stanhope; Duke of Crawford
382 pages
ISBN: 0150059418
EAN: 2940150059412
Kindle: B00RPWU2KO
e-Book
Add to Wish List

Polite Society doesn't take Lady Anne Adamson seriously. However, Anne isn't just another pretty young miss. When she discovers her father betrayed her mother's love and her family descended into poverty, Anne comes up with a plan to marry a respectable, powerful, and honorable gentleman— a man nothing like her philandering father.

Armed with the heart of a duke pendant, fabled to land the wearer a duke's heart, she decides to enlist the aid of the notorious Harry, 6th Earl of Stanhope. A scoundrel with a scandalous past, he is the last gentleman she'd ever wed...however, his reputation marks him the perfect man to school her in the art of seduction so she might ensnare the illustrious Duke of Crawford.

Harry, the Earl of Stanhope is a jaded, cynical rogue who lives for his own pleasures. Having been thrown over by the only woman he ever loved so she could wed a duke, he's not at all surprised when Lady Anne approaches him with her scheme to capture another duke's affection. He's come to appreciate that all women are in fact greedy, title-grasping, self-indulgent creatures. And with Anne's history of grating on his every last nerve, she is the last woman he'd ever agree to school in the art of seduction. Only his friendship with the lady's sister compels him to help.

What begins as a pretend courtship, born of lessons on seduction, becomes something more, leaving Anne to decide if she can give her heart to a reckless rogue, and Harry must decide if he's willing to again trust in a lady's love.
The Heart of a Duke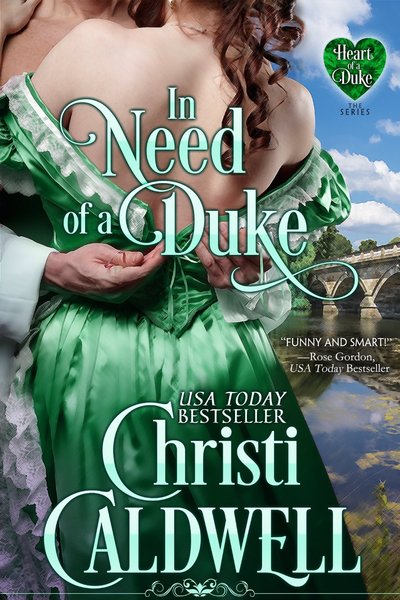 In Need of a Duke
#0.5
Kindle | BN.com | | |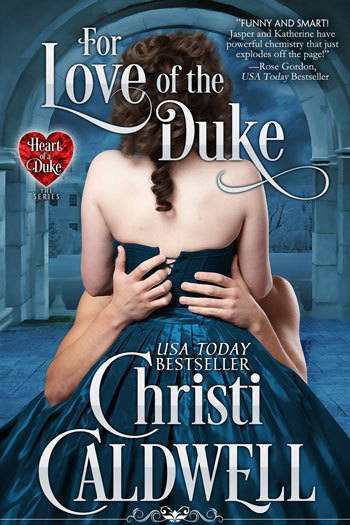 For Love of the Duke
#1.0
Amazon.com | BN.com | | |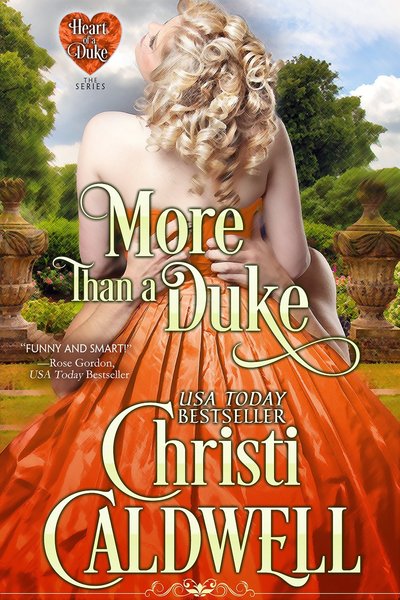 More Than A Duke
#2.0
Kindle | BN.com | | |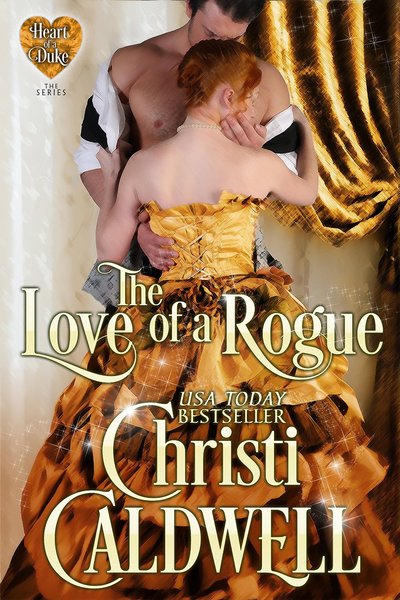 The Love of a Rogue
#3.0
Kindle | BN.com | | |
Comments
31 comments posted.
Re: More Than A Duke

hero has to be a gentleman even though he may have nefarious intentions
heroine must be assertive and be a lady
(Joy Isley 2:55pm January 14, 2015)
I look forward to reading it.
(Deb Diem 3:07pm January 14, 2015)
The gentleman should be kind, with a sense of humor and the lady shouldn't be meek or mild, a strong sense of character.
(Jean Patton 3:26pm January 14, 2015)
The lady should be just that, but one with a sense of self and able to function with strength within the boundaries set by the time. The gentleman needs to have the ability to accept the fact that just being male did not make him a god, and have a sense of honor and humor.
(Carol Gowett 3:29pm January 14, 2015)
Can't wait to read it!
(Donna Robertson 4:32pm January 14, 2015)
Looking forward to reading your next book. I just started reading your books and love them.
(Nancy Ward 5:43pm January 14, 2015)
Thank you so much for the lovely compliments, Nancy, Deb, and Donna! And
these are great, great comments!! Love hearing the different opinions on what
readers are looking for in their heroes and heroines!
(Christi Caldwell 5:56pm January 14, 2015)
Just read a book of yours the first one! Look forward to reading more!
(Susan Mahaffey 8:01pm January 14, 2015)
Flaws, most definitely. It's the imperfections that make heroes and heroines more relatable and the happily-ever-after endings more believable.
(Lisa L. 8:09pm January 14, 2015)
I like fiesty, strong, smart women and men that can
appreciate that and have a sense of humor!
(Kimberly Benyak 8:11pm January 14, 2015)
I like when the characters are more real by having flaws... seeing them get past everything to find their HEA together!
(Colleen Conklin 8:17pm January 14, 2015)
I'm a huge Judith McNaught fan , love all her stories , by the way! I don't think I read any of your books before , but its on my to do list after stopping by this blog page. I love my heroes to be funny , most of my favorite books made me laugh out loud at some point!
(Ioana Churchill 8:47pm January 14, 2015)
A hero is someone who perseveres in spite of his own personal
discomfort. My favorite type of heroine is someone who
participates and contributes as opposed to sitting back and
waiting to be saved.
(Marcia Berbeza 9:57pm January 14, 2015)
What am I looking for.. that is easy.. ability to banter
with the other person, not necessarily fight just banter
back and forth (which your books do)someone out to help
others not him/herself, someone to take up for the little
guy, also someone who can laugh at themselves, has to be
talk for the guy and medium height for the girl, but to
know that they are right for each other to come out in
the writing and flow of the plot.
(Tina Ullrich 10:25pm January 14, 2015)
To put it in a nutshell, what I'm looking for is just a
simple, old-fashioned Romance. The hero should be a
gentleman in every sense of the word, but one with a
sensitive side - with feelings, as well as a sense of humor,
and the heroine should be a lady. She shouldn't be
helpless, but shouldn't be one of these showy, I can do
everything like a man types, either. The love story itself
should be pure and simple in form. One that will cause
goosebumps as you read it. I've come across a few in the
past 4 or 5 years, and those books stay in my mind.
Congratulations on your latest book. All the best to you
and your Son in the future.
(Peggy Roberson 9:26am January 15, 2015)
I love your books!! I can't wait to read this one! You're awesome!! Happy
New Year!! Xoxo
(Cheryll Shubert 10:46am January 15, 2015)
I love that you write about flawed humans. Because, as a race, we ARE all
flawed in some way or other! No one is perfect! Unless he/she is a saint or
God.
Having said that, I can't wait to read your book. I don't see why "flawed "
people shouldn't live happily ever after, do you?
(Kantu Malhotra 12:17pm January 15, 2015)
I'm looking for someone who isn't perfect and learns to
love someone for who they are.
(Kimberly Woodall 1:30pm January 15, 2015)
I love it when her love changes him forever.
(Suzanne Dye 4:59pm January 15, 2015)
Someone who is loving and caring
(Cynthia St. Germain 5:04pm January 15, 2015)
Someone who is sweet and caring and would look after me. Would love to
read this book :)
(Daiane Chen 5:57pm January 15, 2015)
I like heroes who are flawed and fall hard for their heroines. I like heroines who are kick ass and can take care of themselves, but are putty in the heroes hands.
(Cathy Phillips 6:14pm January 15, 2015)
They have to be smart, loyal and able to stand up for their beliefs. They can be flawed, both emotionally and/or physically, but they have to be capable of loving someone else more than themselves.
(Marcy Shuler 8:34pm January 15, 2015)
Definitely need to check it out.
(Elaine Breault 10:36pm January 15, 2015)
I love a heroine who is secretive and doesn't trust people
very well. Maybe she has a speech impediment or something. I
also think it would be romantic if the hero feels pity for her
and wants to help her but he ends up falling in love with her.
(Cathleen Valentine 12:03pm January 16, 2015)
I like a hero who is a gentlemen and who will defend his woman!
(Bonnie Capuano 9:58am January 16, 2015)
You know I love your books, Christi! No need to enter me in
the contest. I just wanted to say congrats!
(Collette Cameron 12:59pm January 16, 2015)
I like the flaws in a hero but, in the long run, I want him to be faithful.
(Anna Speed 1:24pm January 16, 2015)
Laughter and the ability to change something in their world.
(Laura Gullickson 3:56pm January 16, 2015)
I would want a good heart, sense of humor, loyalty. And if
he was tall, dark & handsome with a nice smile, that would
be OK, too!
(Sharlene Wegner 9:37pm January 16, 2015)
alpha male, strong female
(Denise Holcomb 8:45pm January 18, 2015)
Registered users may leave comments.
Log in or register now!