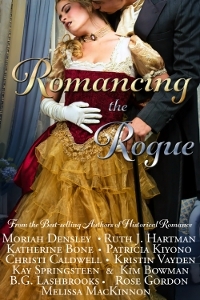 Purchase
esKape Press
November 2014
On Sale: October 30, 2014
ISBN: 0150723865
EAN: 2940150723863
Kindle: B00P1YEV5A
e-Book
Add to Wish List

Romance Anthology | Romance Historical
Rose Gordon's His Yankee Bride

From the movement Carolina Ellis sees one Mr. John Banks, she knows she must have him--no matter the cost. John Banks wants nothing to do with the scandalous, sweet talking, ever-present, American beauty named Carolina, or so that's what he keeps saying...

Christi Caldwell's My Lady of Deception

For Georgina Wilcox, only child of the notorious traitor known as "The Fox", there are too many secrets to count. However, after her interference results in great tragedy, she resolves to never help another... until she meets Adam Markham.

Lord Adam Markham is captured by The Fox. Imprisoned, Adam loses everything he holds dear. As his days in captivity grow, he finds himself fascinated by the young maid, Georgina, who cares for him.

Ruth Hartman's Love Birds of Regent's Park

Lucy Ashbrook discovers that birds aren't the only pleasing things at the Regent's Park Bird Sanctuary. A certain Sanctuary worker, Oliver Barrow, has stolen her heart. But Oliver has a secret that just might get in the way of anything more than friendship developing between them. Can they find a way to be together in spite of the many obstacles?

Katherine Bone's Duke by Day, Rogue by Night

Constance Danbury's only hope of escaping a forced marriage is to trust a clandestine pirate, a man who must choose between vengeance and protecting his identity, an act that forces him to cross into more dangerous territory… losing his heart.

Patty Kiyono's Searching for Lady Luck

A pretty lady named Rose seems to bring Charlie Brannigan good luck every time she appears. Could she be his ticket back to the big time?

Moriah Densley's Song for Sophia

Desperation has led Anne-Sophia Duncombe to a life of exile. Still, she is always just one mistake away from capture and a marriage she would rather die than endure. As a last resort to remain hidden from her former life, Sophia attempts a radical scheme; a life of humility and disguise.

Kim Bowman & Kay Springsteen's Something Like A Lady

Jonathan Durham, Fourth Earl of Seabrook, needs a wife, and Lady Annabella Price's mother wants her to find a husband. But how will Jon convince his unwilling bride to give their marriage a chance when's she's determined to have it dissolved?

Melissa MacKinnon's Return to Me

Marek can't deny his desire for Brynn, but these are wartimes, and she is the enemy. And though love knows no prejudice, the world in which he lives isn't nearly as forgiving.

Kristin Vayden's Redeeming the Deception of Grace

Lady Grace Hashiver has perfected the art of hiding behind a sarcastic wit when it comes to dealing with the rakish Ewan Emmett Duke of Greys, her childhood tormentor. It's her only weapon, for if she let her guard down even for a moment, surely he'd know just how much she loved him. A love she knew could never happen.

B. G. Lashbrooks' Olivia's Journey

When Olivia Manning finds a wounded Confederate soldier on the wrong side of the Ohio River, she has a difficult decision to make. Help him live and risk the wrath of her uncle, or let him die and have his blood on her hands. She risks everything for him, and when he wakes, she has even more difficult decisions to make…like letting him into her heart.
Comments
No comments posted.

Registered users may leave comments.
Log in or register now!