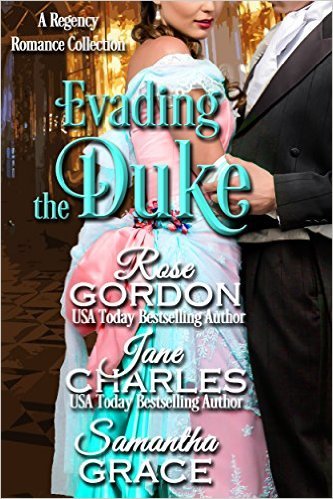 Purchase
When the Duke Comes to Town #1
Author Self-Published
June 2016
On Sale: May 24, 2016
ISBN: 015763017X
EAN: 2940157630171
Kindle: B01CW990ZC
e-Book
Add to Wish List

Novella / Short Story | Romance Historical | Romance Anthology
When the Duke of Danby comes to London for the Season, anything can happen!
Evading the Duke contains...
THE WOOING GAME by ROSE GORDON
The first meeting for James, Earl of Wynn and Miss Charlotte Cavanaugh was not so spectacular. Come to think of it, neither was the second which led to a hasty marriage followed by three years of speculation as to why the two were never seen in the same room. But that's all about to change…
When an anonymous letter of admiration—and scandalous invitation—arrives for Charlotte, James realizes this might be his chance to start over, and thus begins The Wooing Game.
RUINED BY A LADY by JANE CHARLES
There is nothing Samuel Storm wants more than to leave London behind him and return to his plantation in Barbados, until he sees a portrait come to life. At least he's fairly certain the girl across St. Paul's is the same one depicted in the scandalous painting he owns back in the Caribbean. But how can he be sure? And why would a lady pose for such a painting?
Lady Jillian Simpson has made many mistakes in her life, but the worst was falling for an artist who took advantage of her trust. She is fairly certain her father has found and destroyed all of the paintings, all but one, at least until she encounters the dashing Mr. Storm and learns another exists. But after everything she's experienced, how can she ever trust him with her secret or her heart?
ONE LESS LONELY EARL by SAMANTHA GRACE
Colin MacBride, Earl of Blackwood, is well aware that only a fool would answer the Duke of Danby's summons. But with many mouths to feed, poor fields, and a failing flock that might not survive winter, he sets aside a decades' old feud with his neighbor and calls on him to make a proposition. If Blackwood sheep are allowed to winter on the duke's land, Colin will share the profits when they are sheared in the spring. Naturally, the duke has a better idea, and it involves a lovely young lady who is dear to his heart. Colin can use the land if he agrees to hire Meredith Halliday to be his niece's governess, then convince her to quit before the man the duke has chosen to marry her arrives in Yorkshire. Oh, and if Colin would flirt with her a bit to build her confidence, that would be splendid, indeed. Appalled to be labeled a Lothario for hire, Colin storms from the study and straight into the old curmudgeon's trap—and she is every bit as beautiful and charming as promised.
When the Duke Comes to Town
Comments
No comments posted.

Registered users may leave comments.
Log in or register now!