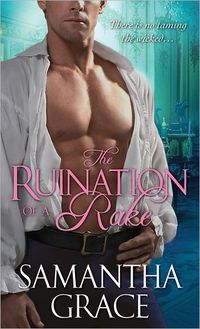 Purchase
Miss Hillary Schools a Scoundrel
Samantha Grace
Beau Monde Bachelors #1
Sourcebooks
February 2012
On Sale: February 7, 2012
Featuring: Lord Andrew Forest; Lana Hillary
384 pages
ISBN: 1402258313
EAN: 9781402258312
Kindle: B006LOVZBC
Paperback / e-Book
Add to Wish List

An exciting debut in a series that introduces the first of four debonair Regency bachelors who have it all: wealth, influence, and women swooning at their feet.
Love 'em and leave 'em Lord Andrew Forest receives a dose of his own medicine when jaded heiress Lana Hillary beds him then disappears without so much as a by-your-leave.
Tossed aside like an old hat by the only woman to capture his heart, Drew is determined to intercept Lana before she reaches London and convince her to marry him. He'll teach the little vixen a thing or two about how to love a man.
Beau Monde Bachelors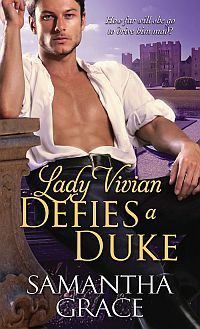 Lady Vivian Defies A Duke
#4.0
Amazon.com | BN.com | | |
Comments
49 comments posted.
Re: Miss Hillary Schools a Scoundrel

I remember going to a one-room schoolhouse. The huge schools they have now are a great difference. They can teach so many more subjects.
(Wilma Frana 10:59am February 28, 2012)
I have been hearing a lot of good things about this book would love to read it.
(Gail Hurt 11:14am February 28, 2012)
SCHOOL NOW SEEMS TO BE GUIDED TO SUCCESS AT STANDARDIZED TESTS, RATHER THAN INDEPENDENT THINKING!
(Silvana Moscato 11:15am February 28, 2012)
Mostly schools have changed for the better, although sometimes I think they are too big now. When they get too big that's less time they can spend with one student.
(MaDonna Lemmen 11:17am February 28, 2012)
HI SAMANTHA YOUR BOOK SOUNDS WONDERFUL!.
(Linda Bass 11:22am February 28, 2012)
I think schools have changed and gotten much bigger. There are definately more kids in the schools. Even 20 years ago when I was in school things have changed. My graduating class had less than 100 people, now the graduating classes have over 200 in them. Had to make the school bigger and add class rooms.
You are a new author for me and would love to win and read this book. Thanks for the chance to win.
(Chris Bails 11:29am February 28, 2012)
Some schools are trying to teach students by using the knowledge in real situations instead of by rote. I'm actually glad I was back in the rote era, I'm a better memorizer than I am a critical thinker!
(Lisa Elwood 11:43am February 28, 2012)
Schools today teach so much more than during my period of time, but some things never change. Some children reach for the stars and others are content to get by with the least amount of work. That's life.
(Anna Speed 11:44am February 28, 2012)
Computers were the first thing I thought of - and with books
we now have the eReaders. But as much as some things change,
so much remains the same, especially as far as people & their
personalities go.
(Diane Sallans 11:45am February 28, 2012)
School(S) have changed in so many ways...from classes taught, class size, teachers, building size, etc...yet the outcome is the same: to teach students not just from books, but how to get along and compromise, etc....
(Leanna Morris 11:49am February 28, 2012)
Thanks for the great post and giveaway! OMG, schools have
changed so much as to be unrecognizable by those previous
generations. But sometimes, I wonder if bigger/"better"
especially when it comes to technology, is not really
benefitting our students.
(Erin Fender 12:33pm February 28, 2012)
a couple years ago, my husband and I renewed our vows. The kids wanted a renaissance theme to go with the renewal. They loved the idea of rebirth/renewal. Anyway, my huusband not only wore a puffy shirt, he wore puffy pants. Not that the pants were much of a stretch...military members often "blouse" the pants to keep the creepy crawlies from climbing into their boots. However, the outfit he wore was of a troubadour, black and white striped. It's amazing what a man will do to please the ones he loves.
(Kelly Knapp 12:35pm February 28, 2012)
Wow just think about the vast difference in the amount of kids that go to school now... the classroom size, the amount of schools built, the technology... so so different. You can even see a difference between my time in school to my young nephew's...
(Colleen Conklin 12:40pm February 28, 2012)
It seems that there is so much emphasis on sports and i-pads that regular learning is no longer important.
Blessings,
Marjorie
(Marjorie Carmony 1:25pm February 28, 2012)
My mom went to an elementary school that was a only a few rooms for the entire school. And women were not really encouraged in math & science. I felt glad that I could excel in all subjects and not be categorized by being female rather than intelligence.
(Pam Howell 2:06pm February 28, 2012)
School has become so based on technology now. It isn't
focused on hands on learning. That is one of the big changes
I have noticed.
(Rebecca Hagan 2:28pm February 28, 2012)
OH my goodness, don't get me started... my hubby is retiring from teaching this year... I think the major changes are that teachers are no longer respected professionals.. everyone & their brother has an opinion on how the job can be done better -- yet those people aren't joining the profession... Plus teachers have to make up for so many deficits in children's lives.. I can't tell you how many times hubby has waited at the school for over an hour after an activity has ended because children haven't been picked up... and cell phones haven't really improved the situation..
Then there's the 'my child couldn't have done 'XX'..' ummm we have them on video tape destroying school property?..
(Cate Sparks 2:31pm February 28, 2012)
Before schooling was for the rich or lucky. It elevated you. It might have meant skilled, having good manners and being acceptable to society. Modern people are more knowledgeable and education is encouraged. Slang and rude behavior is discouraged but more commonplace than it would have been a few decades ago. Now being schooled is more about completing tests and getting through the year.

Advancements through the years have helped build schools faster, making more of them accessible to the public. Mass printing and factories make learning tools easily available. Now having two notebooks is common, not a luxury. (That bit of knowledge is from my mom, who was lucky is she got one in the ranch she grew up in when she was in Mexico.) Technology has helped too. Electric lighting, computers, intercom systems.

Great blog post, I loved the puffy shirt tidbit. If there's some witty banter I'm in.
(Judith Quiroz 2:32pm February 28, 2012)
I'm only in my 30s but I would guess that schooling has changed drastically since then. It seems that teachers are not given the tools and flexibility they need to be effective in the classroom. We should be putting more money into schools instead of defunding them.
(Stacie Deramo 3:23pm February 28, 2012)
Don't even get me started on how different math classes were for my kids, compared to how they were when Hubby and I were students. Homework is all graded now. And sports--from middle school on--are semi-professional career choices.
(G S Moch 3:27pm February 28, 2012)
One room school houses were a much better way to learn...you
could listen and learn with the older students as well as your
own group.
(Mary Hay 3:43pm February 28, 2012)
I know that for me we actually had type writers in school, now my daughter will be assigned her own laptop when she gets to high school. She is allowed an e-reader. Math is taught differently; I can still get the same answer as her but if she she shows the work the way I was taught and not the "new" way it is counted wrong. I don't quite get that concept since not everyon learns the same exact way and the answer comes out the same but hey what do you do? :) I like the of one room schools since then the class sizes would have been much smaller 200 years agoa and each student could have gotten any help they may have needed.
(Wendy Hulbert 3:58pm February 28, 2012)
I don't believe our country is putting enough money into are schools. It has to be hard on the teachers not having enough supplies to teach their classes. Thanks for giving me a chance to win your book.
(Linda Hall 3:59pm February 28, 2012)
One of the biggest differences today is that school is now for all children, not just the privileged or elite!
(Marguerite Guinn 4:02pm February 28, 2012)
Schools have changed in many ways over the last 200 years. One way is that education is available to everyone and that it is broken up into groups/different grades instead of everyone at the same time. Another way education has changed is in the way students are disciplined. Test scores and standards are also being emphasized a lot more.
(Chelsea Knestrick 4:12pm February 28, 2012)
Schools are more top heavy in administration than thy used to be. Lots of money being spent, not necessarily for the benefit of the students.
(Cheryl McEwen 4:31pm February 28, 2012)
There were "connections" but not politics. Kids were sent away to school, away
from parents and home influences. (with the exception of "letters from home")
The were more workers and less admins. There were no unions and the
teacher(s) were on there own. School days were longer with fewer breaks in the
day. Which is better--who knows. A lot could be done to improve the now.
(Sandra Spilecki 4:58pm February 28, 2012)
Everyone is entitled to an education, and if your from a low income family you may have a breakfast and lunch to get thorough the day . A child learns better on a full stomach.
(Deb Pelletier 5:35pm February 28, 2012)
Schools have changed so much in the past 200 years. My father was born and raised in Canada on a farm. When he was only 7 yrs. old, he was journeying with his brother, 5 yrs. old to a one-room school house over 7 miles away on horseback or by sleigh, in bad winter weather. The school had a wood-heated stove in it, and one teacher taught all the different grades. He was strict and punished the kids in front of everyone--striking their hands on both sides with a switch, til they hurt so bad they could barely hold a pencil. Sometimes, my father's parents would instruct him to take his youngest, 2-yr. old brother to school, because they had so many chores to do that day. When he did this, the teacher would punish him for it (because his baby brother did not belong in school). He'd then get punished when he got home from school, again, by his mother, because his 5-yr. old brother would tell her he'd done something naughty at school cause the teacher punished him. Without even letting him explain, she hauled him out to the barn and spanked him with wood planks. I wonder how many kids would go to school today, if they had to travel that far and be responsible for their young siblings or had strict rules including physical punishment? Kids today disrespect teachers in their classes and have computers, more books, and libraries. My father loved reading, and I'm sure he'd have loved to be attending a school with a library in it. When I was in school that was my favorite place to hang out. I spent an hour or more after school every day there, since I lived just across the street. I helped the librarian do all her typing, checking out books and putting them away on the shelves, putting on the new jacket covers on all the new incoming hardcover books, etc. My classes were pretty large (25 to 30 students). My father had that many in his whole school.
(Linda Luinstra 5:41pm February 28, 2012)
Are you kidding...schools don't even use chalk boards anymore. LOL . You book sounds great, Thanks.
(Margie Gagarin 5:43pm February 28, 2012)
Girls and math and science.IT is great to be a nerd. My
daughter Hannah nature science.Shes 8. My daughter Abbey
nuclear studies.23 My daughter Alexis nursing.My son Andrew
26 working toward being a chef. This is a great interesting
time. Girls were never pushed in math or science when I went
to school. I was a reader then and a reader now. Books and
cute boys kept me in school. I still have books.
(Chrislin Payne 6:13pm February 28, 2012)
Kelly Knapp,

What a great sport your husband is!!! And you gave me a great idea. DH has been wanting to attend Ren Fest, so I'll tell him anyone wearing a puffy shirt gets free ale. ;D
(Samantha Grace 6:45pm February 28, 2012)
Thanks to everyone for sharing your thoughts today. Schools have changed quite a bit since I was a kid, and now I have two kids in school. I can't believe what they are learning. My daughter is learning algebra in 3rd grade, but the good part is she's really learning the concepts and how to apply them. I'm sure grateful to my kids' teachers, and I feel fortunate to be in a great school district.
(Samantha Grace 7:12pm February 28, 2012)
when i went to school we had the old step and then they were 3 story high and then i was in class for the about 12 kid in class but they are not good now and then the kid are not learing nothing
(Desiree Reilly 7:23pm February 28, 2012)
this book sounds so good. susan leech [email protected]
(Susan Leech 7:53pm February 28, 2012)
In some ways for the better, keeping up w/ changes in
technology etc...Some ways, not so much. Foreign languages
should be taught earlier and children should be challenged.
Think that helps with boredom. Often bad teachers are kept in
place, which is unfortunate..
(Ivy Truitt 7:54pm February 28, 2012)
I think the focus the schools put on testing is horrible. A love of what my kids learned in school was so they could get through the required testing. Not things that they should have been learning. Not sure that it will change much. But they rely on computers too much. Long division and cursive writing are history.
(Patti Paonessa 9:50pm February 28, 2012)
It would have to be the use of technology for sure. Also the subjects would be very different.
(Mary Preston 9:57pm February 28, 2012)
I don't believe that there is enough space on this page to put all the changes that have gone through schooling in the past 200 years!! For starters, several grades were put in the same classroom, yet they all got a good education, and learned things that would really help them once they "got out," or graduated from school. Once the classroom started to evolve, politics started to rear its' ugly head, and the school books started to reflect that, as well as the teacher's input. The students were being indoctrinated into thinking a certain way, without even knowing it. As years went by, certain things started to be taken out of the curriculum, such as cursive writing, for example. The students of today may be smart in some ways, but stupid in others. I read things on line, and see words that are misspelled, or the wrong use of words. I hear them talk on tv, and they sound like they've never been in a classroom. These are to be our future leaders, inventors, and business people!! Now I know why other countries have excelled!! It's an embarassment. I can't just blame the schools. Part of the blame goes to the parent, and the other part goes to the child themselves. Thank you for letting me vent a little. I would love to read your book to step back in time and read some "pleasant" schooling material. Congratulations on your book. I won't bother you about the cover. :-)
(Peggy Roberson 10:07pm February 28, 2012)
One of the greatest changes in the last 200 years in schools is the technological advancements. There is so much information available at a students fingertips.
Good luck and happy writing!
(Tracie Travis 10:25pm February 28, 2012)
Hi Hilary loved your post! LOL at your husband's comment on the puff shirt. Miss Hillary Schools a Scoundrel sounds like a wonderful historical and I can't wait to read it.

I would think school has certainly changed a lot over 200 years especially in the small rural areas that were still being settled in America. All I can think of are the old schoolhouses like on Little House on the Prairie. Most schools were one just one room buildings - and often was actually the town church or similar so no real dedicated building. All children were in one room being taught together and I think how difficult that must have been to accommodate such an age range. There was no set age nor was it a law that one must attend school.

The quality of materials over the past 200 years and access to technology seem to be amongst the biggest positives. It's also wonderful to have such diversity.
(Pamela Sinclair 11:05pm February 28, 2012)
School has become less about learning and more about fitting the mold - but then that has maybe only been in the last 20 or so years! At least that is how it seems with my kids!
(Sharla Long 11:06pm February 28, 2012)
A lot of what we saw before our kids graduated in the last 8 years or so was that the kids are taught to pass their standardized tests rather than being taught to learn.
(Lisa Kendall 12:45pm February 29, 2012)
School doesn't seem to be a discplined. There are too many mandatory tests and time taken to prepare for them. If they taught more life lessons and skills I think our kids would be better off. Of course respect for authority has changed a lot too.
(Linda Scarchuk 6:02am February 29, 2012)
If I knew then what I know now I would have quit work and
homeschooled my children.
(Carla Carlson 12:10pm February 29, 2012)
200 years or so ago, if people were in school they were very well off and nowadays, people have numerous degrees and need more it seems.
(Debra Simning-Chapman 5:45pm February 29, 2012)
Did kids get kicked out of school back then or were they expected to not interact or ask questions? I know kids nowadays can get "feisty and testy." I wonder what punishments besides writing on a tablet the teacher handed out.
(Alyson Widen 5:47pm February 29, 2012)
School...It's become less conservative. Haha, and as Alyson Widen said in the previous comment, kids can get "feisty and testy". Totally agree. I mean, back in those days, kids wouldn't even have the thought to play truant and stuff. Or at least, most wouldn't.
(Chia Yet Peng 6:55am March 1, 2012)
Hurray! Another Badger author makes good!!

Now, to the question of schools ...

Yes, they have changed a lot in the last 200 years. Heavens, they've changed a lot in the last 20 years!!

To me, the biggest and best change of all is the fact that females are not only allowed to attend school, but positively encouraged to do so. Most of the time, at least. Definitely a good thing, even though there is still a lot of work to do in being accepted by the old boys club, and breaking through those glass ceilings.

Later,

Lynn
(Lynn Rettig 3:43pm March 2, 2012)
Registered users may leave comments.
Log in or register now!