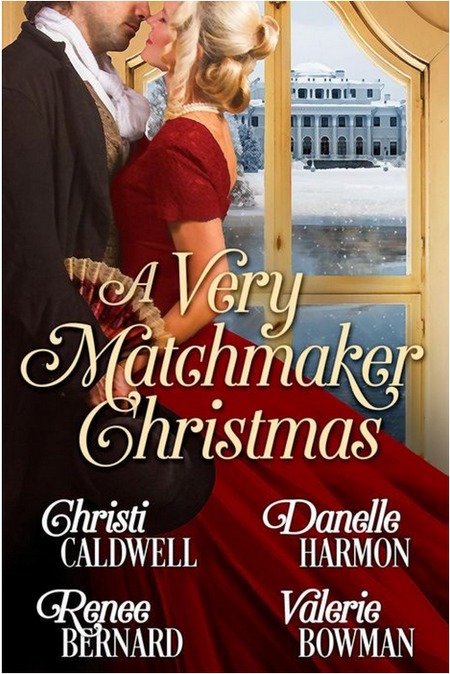 Purchase
June Third Enterprises, LLC
November 2015
On Sale: November 9, 2015
331 pages
ISBN: 0152716890
EAN: 2940152716894
Kindle: B017ESL4X2
e-Book
Add to Wish List

What do you get when you have four despairing mamas with four unwed daughters? A very matchmaker Christmas, of course! This delightful holiday anthology features 4 novellas written by 4 authors, all revolving around the same fun plot involving a Regency holiday house party and hijinks aplenty!

Her Christmas Rogue by Christi Caldwell

Lady Winifred Grisham has been in love with her brother's best friend Lord Trent Ballantine more years than she can remember. The only problem is, Trent is a notorious rogue who doesn't dally with the respectable. Except, Winnie doesn't want a dalliance--she wants his heart.

Born to a miserable family, Lord Trent has found joy and comfort in the folds of his best friend's family. Except, over the years he's begun to notice something. Winnie who he'd always seen as another sister, is in fact something more--a captivating woman. Now, loving Winnie as he does, Trent knows she deserves more than a rogue in her life. With Winnie's mother rushing her off to try and make a match at Lady Weston's annual Christmastide house party, Winnie has but a few days to show Trent, that all she needs is his love. But then this is Christmas...when anything can happen!

To Make a Perfect Scandal by Danelle Harmon

Tristan St. Aubyn, the Earl of Weybourne, is a driven man. Haunted by the bad decisions he made in his youth, his life is all about work ... working to restore his fortunes, working to rebuild the herd of unique racehorses that were his late father's legacy, working to forget just how lonely he really is. Lord Weybourne isn't looking for a wife ... but when a saucy young lady dressed as a lad finds her way into his stable and charms the most irascible colt in the barn, Tristan can't help but be intrigued ... until she flees, frightened of discovery.

The Honourable Miss Letitia Ponsonby comes from a family of seafarers but for her, freedom is found on the back of a horse. She has no desire to wed the dreadful suitor her mother has chosen for her, ready and waiting at Lady Weston's Christmastide house party. All that's needed is the perfect scandal to deter him. But when Letitia finds not the abominable Homer Trout waiting for her at the house party but Lord Weybourne himself, the very desire they each feel for the other is all that is needed to create that perfect scandal...

To Win a Quiet Heart by Renee Bernard

Suffering from crippling shyness, Nicodemus Chesterfield, the Earl of Athmore, would rather battle an army of demons than put one toe inside the treacherous social waters of a holiday house party. But sometimes, a man just has to face his fears—and when Jane Pemberly is the surprisingly beautiful and fantastically charming prize at the opposite end of the gauntlet—it seems there is nothing a man won't do to sidestep scandals and win her love.

To Tempt a Saint by Valerie Bowman

What happens when a saint is tempted by a sinner? Prudence Carmichael is the epitome of well, prudence. But when a rumored pirate—with whom she just might have had a secret scandalous interlude years ago, that she's been beating herself up about ever since—appears at Lady Weston's Christmastide house party and charms the innocent young lady again, can Prudence resist her first and greatest temptation?
Comments
No comments posted.

Registered users may leave comments.
Log in or register now!