Renee Bernard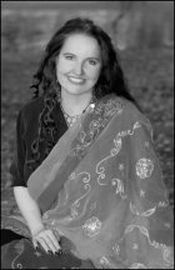 Does anyone really read these things? I'll pretend they don't and say this. It's very true that my father was a chaplain in the Navy and that he has sworn to never read a word I write (not that this keeps him from telling everyone he sees that his daughter writes romance novels that are too hot for him to read.) See the humor? If you've ever met me, or heard me on Tuesday nights on my internet radio show, "Canned Laughter and Coffee with Renee Bernard" that last bit makes a lot of sense.
My mother, however, does read my books. And while I find this far more frightening, it balances the universe out beautifully and makes me very grateful for that sense of humor mentioned above.
It's also very true that if you're not supposed to do something in search of a career in writing, I seem to have accidentally done it. Seriously, all the brilliant advice about not quitting your day job, etc.—those people know what they're talking about! Not that I meant to quit my day job, but comedy abounds in my life and I've simply learned to embrace it.
To maintain my sanity, I write. In the files are romances of every flavor—contemporary, historical, science–fiction/fantasy, paranormal and yes, erotica. I've hidden away most of those manuscripts out of a true respect for the writers who know what they're doing, but somehow the historical romances got out and now, I'm too happy to give it up.
Another truth: Yes, I can write scorching hot sex scenes and yes, I'm too shy to wear open–toed shoes in public. I didn't say it made sense. I said it was true.
There. I think that says more about me than where I live or a list of my food allergies. (I don't have any, but I keep thinking that perhaps that isn't a good thing since being able to honestly say "She never met a food she didn't like" doesn't bode well.)
In any case, since you've read this far, I'll just take the opportunity to say thank you. For reading and caring enough to take a look at that odd woman on the back cover. I'm truly grateful.
Log In to see more information about Renee Bernard
Log in or register now!
Series
Black Rose Trilogy
Books:
A Very Matchmaker Christmas, November 2015
e-Book
Lady Triumphs, September 2014
Black Rose Trilogy, Book 3
e-Book
Devil To Pay, August 2014
The Eternity Gambit #1
e-Book
Lady Rises, August 2014
Black Rose Trilogy, Book 2
e-Book
Lady Falls, July 2014
Black Rose Trilogy, Book 1
e-Book
Desire Wears Diamonds, July 2013
Jaded Gentleman #10
e-Book
Obsession Wears Opals, December 2012
Jaded Gentleman
Paperback / e-Book
Passion Wears Pearls, April 2012
Jaded Gentleman #4
Paperback / e-Book
Ecstasy Wears Emeralds, September 2011
Jaded Gentleman #3
Paperback / e-Book
Seduction Wears Sapphires, August 2010
Jaded Gentlemen #2
Paperback
Revenge Wears Rubies, March 2010
Jaded Gentlemen #1
Paperback
A Rogue's Game, May 2008
Mistress #3
Mass Market Paperback
Madame's Deception, September 2007
Mistress #2
Mass Market Paperback
The School for Heiresses, January 2007
The School for Heiresses #3
Paperback
A Lady's Pleasure, November 2006
Mistress #1
Paperback

Videos