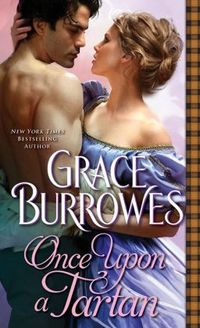 Purchase
Sourcebooks Casablanca
August 2013
On Sale: August 6, 2013
384 pages
ISBN: 1402268696
EAN: 9781402268694
Kindle: B00CA3SHFK
Paperback / e-Book
Add to Wish List

Honor or happiness-he can't have both.
Tiberius Flynn travels to Scot land with orders to snatch his young niece away from her Highland relations. He thinks it's going to be an easy task, until he meets the feisty little girl and her fiercely protective step-aunt. A smart, headstrong beauty, Hester Daniels has no use for an English lord with high-handed ways, no matter how handsome or beguiling he may be...
Tye sets out to seduce Hester and win over Fiona, only to discover that he's losing his heart to a woman who's as untamable as Scotland itself...
Comments
86 comments posted.
I wish I could write books, but I guess I only have the talent to read them! If
I could write, my attention to detail might be helpful. Thanks for the
giveaway!!!
(Linda Brennan 12:50pm August 15, 2013)
I am in awe of people who have double careers. Particularly such wordy careers as writing and law. I know that you aren't the only one managing that hat trick, but it seems to me to be something that draws a certain personality type to both careers. I am a school librarian. I teach boys and girls to find information while I try to arrange the information in such a way as to be found. I know that it took dual certification to get to this point, but I still marvel at your accomplishments. Well done!
(Marcia Berbeza 2:15am August 15, 2013)
Well, and people used to talk about being enamored of someone
as "having a case on" him or her....
I can really see your day job in the plot of this novel, of
course!
(Mary Ann Dimand 7:33am August 15, 2013)
Linda, readers who can recall details are a blessing to an author. I can't tell you how many times a reader has emailed me to note a small discrepancy between widely separated books. Some of those readers have become beta readers, and that means the discrepancies never see the light of print.

Marcia--I have a daughter in college. When she graduates, I'm determined to simplify the professional schedule, and it won't be the writing I cut back on!

Mary Ann, that day job creeps in, though I usually try to hold it at arms' length. In Lady Maggie's book--she was essentially a foster kid in the duke's household--and in Lady Eve's book. She made big boo-boo's as an adolescent that haunted her for years. I'm often the last one to pick up on the cross-pollination. My readers usually see it before I do.
(Grace Burrowes 7:50am August 15, 2013)
If I could write and get all the things out of my mind, the weird dreams that
probably could make an awesome new movie even, I'd probably sleep a lot
better...lol Yet, I'm very content reading the amazing stories other authors
can put out there. Too have a double career on top of it, must mean they get
less sleep then me. Yet I'm sure its how some can come up with even more
characters with those that they meet up in life. 2 lives played out in a book...
sounds like one heck of a read to me.. ;)
(Valerie Rhodes 8:00am August 15, 2013)
Thanks for the joy! I love to lose myself in your stories. I'm
going to be losing myself with those hunky Lonely Lords next!
;)
(Vicki Garlock 8:19am August 15, 2013)
I never thought about it, but the two professions do, in a fashion, parallel
each other. I would think a criminal defense attorney would be especially
adept at creating scenarios that put characters in a particular light. Thank
you for the insight.
(Sebella Blue 8:35am August 15, 2013)
What a great gift to be able to write - to be able to make people, laugh, cry and put a smile on their faces.
(Pat Lieberman 8:51am August 15, 2013)
I would love to write. I am ever intimidated by the words that flow in your books - and am in awe. I've been seriously thinking about trying.....still thinking! The life you bring to your characters makes them real - evoking tears, laughter and sighs. Thank you for the wonderful stories.
(Mickey Smith 9:06am August 15, 2013)
Two other lawyers to authors would be HelenKay Dimon and Carly Phillips.

I've never thought about writing a book. Skills that I have:
perseverance, dedication and commitment: I keep at it until I accomplish my goal
ability to use a dictionary and a thesaurus
lover of all things related to romance
able to do research for background

Now if I had a good imagination....
(Laurie Gommermann 9:21am August 15, 2013)
It's always interesting how the question "What do you want to
be when you grow up?" changes through out our lives.
(Kathy Sullivan 9:26am August 15, 2013)
I love to read; so wish I could really write them; what a gift to be able to do that.
(Helen Livermore 9:33am August 15, 2013)
I have to borrow a line from a wonderful blog, I am a reader not a writer. I have thought about writing a book, but I know me and I just do not have what you have Grace. I am constantly in awe of authors :)
(Emily Tardy 9:37am August 15, 2013)
If I were to write a book, I would have to go by life experience, and things that I've witnessed or heard over the years. That isn't to say that I've been some kind of "loose woman." I've been anything BUT - but I've been living long enough and have had a few experiences that would make the basis for a wonderful story. The only thing that surprises me about you is that after all the stress of the courtroom, I'm surprised that you would want to go into Romance, and not something a bit more lighthearted!! I'm very interested in reading your book, and can't wait to get my hands on it!! This genre is right up my alley!! The cover is amazing as well!!
(Peggy Roberson 9:56am August 15, 2013)
Reading is my entertainment, my escape and has always been my
salvation. I write in a journal and would love to begin
writing in earnest.
(Sharon Berger 9:57am August 15, 2013)
I think the scottish backgrounds of a book at an intriguing element, mysterious
at times even… castles, the kilts and music.. its eerie yet peaceful.

Thanks for the giveaway chance.. its an awesome event you've put on.
(Erika Rhodes 9:58am August 15, 2013)
I love that you can compare the two different jobs and learn from each to help the other. I also admire you for how hard you have worked to achieve both your dreams and raise your daughter. You are amazing and your books show it. I'm positive your other job shows it too. Thank you for being you and doing what you love!
(Kylan Alexander 9:59am August 15, 2013)
I don't think I'd ever though of lawyers and romance books together before.
(Sandy Giden 10:24am August 15, 2013)
I really prefer shape shifters but vampires are good too. Thanks and good luck!
(Bonnie Capuano 10:27am August 15, 2013)
I am a reader, not a writer. lol. I was wondering if you read
historical romance before you started writing them?
(Mary Doherty 10:35am August 15, 2013)
I love what your talent with words brings to your novels. It makes me want to
savor each phrase while I'm enjoying your wonderful family of characters. After
reading Bridegroom, I listened to it on the audible version narrated by Roger
Hampton and if possible it was even more beautiful. Enough can't be said about
what you do for families in your day job and one can certainly see the heart it
brings to your writing.
(Martie Hoover 10:48am August 15, 2013)
I never knew so many authors were lawyers! Especially
J.R.WARD. And the fact that you represent children in abuse
and neglect is even more so amazing! - I have thoughts about
writing romance. I write poems and such, so writing romance
wouldn't be too difficult. The hard part about writing an
actual story, is that, the actual story. I am really bad at
making up stories into words/writing but I have a huge
imagination and I seriously think some of my dreams would
make interesting stories. Thank you for stopping by FF!
(Lazydrag0n Puff 10:53am August 15, 2013)
I'm a reader, not a writer. I so admire today's aspiring authors who often give away their work on Amazon trying to hone their craft and garner recognition. It's a tough business!
Grace, you are an accomplished woman and I am a fan of your books. And representing child in neglect and abuse cases is a noble calling.
(Monica Vargo 11:03am August 15, 2013)
Your books are always a pleasure to buy and to read!
(Ann Martinisi 11:13am August 15, 2013)
My husband thinks that because I read so many romances I should easily be able to write one myself. I know, however, that I don't possess the writing skills necessary. I think I would have the toughest time with writing dialog.
(Cheryl Castings 11:33am August 15, 2013)
Over the years various friends have told me I should write
for something other than business. Romance, Recipes,
Something. Perhaps it is time to sit down and simply write?
(Larisa LaBrant 11:48am August 15, 2013)
I have always wanted to be a romance writer i thought it would
be so great if my husband and i could do it together we would
make a great team
(Denise Smith 11:53am August 15, 2013)
You are an amazing writer and I know you must be equally
amazing at your "Day job".

As I try to begin writing again, I don't know what skills I
bring to it. Maybe my overactive imagination and my eye for
detail. Hopefully, those two things will help.
(Sarah Rosenbarker 11:57am August 15, 2013)
I have such an amazing imagination, but to be able to put it
all down on paper AND for it to all make sense is a talent I
do not have.
(Andrea Diaz 12:09pm August 15, 2013)
I have wanted to write romance, working in a library gives me the opportunity to hear and see many...interesting scenarios that would make for a good story. The only thing is, when you write, you don't have much time to read. :p So, for now, reading takes precedence.
(Diana Neal 12:19pm August 15, 2013)
Valerie, I read romance for DECADES before I tried writing it, and by then, Beloved Offspring had flown the coop.

Vicki, hope the Lonelys do it for you. They were great fun to write and they keep popping up as secondary characters in other books, too.

Sebella, when I started thinking about it, the parallels grew and grew. In both professions, you're better off with a thick skin--but an open heart. In both professions, you must be able to pivot on a dime when a new case comes down or a market trend shifts.... I could go on.

Pat, I like what Julia Quinn says, that romance authors may not be able to change a person's life, but we can change their afternoon. It's a place to start.

Laurie, my guess is you don't have a schedule that lets you enjoy much mental white space, which is when my imagination grabs me. Goof off some, and you might be surprised at the stories lurking beneath the busyness.

Kathy, if you'd asked me as a kid, I would never have said I wanted to be a lawyer OR an author. I wanted to be a farmer's wife and the mother of his many children. Yeah.

Helen, it is a gift, and I can't see that I did anything special to earn it. I'm just blessed, I guess.

Emily, I didn't "have" it until I was in my late forties. Who knows what abilities are incubating in us while we work, raise families, care for elders, maintain a marriage, hit the gym, fold the wash.... We're treasures in the making.

Peggy, I consider romance the court jester in the literary kingdom. It threatens nobody, the "real" literary authors can look down on it, but romance speaks the hard truths in a way people can hear them: Be kind, tell the truth, love boldly, and your life will be worth living. (Or that's the theory!)

Sharon, I never began in earnest, I just couldn't stop writing (also in a journal). One day, that writing focused on a story, and STILL didn't stop. And I STILL keep a journal too!

Erika, what I get from Scotland is lonely majesty, which is an OK p
(Grace Burrowes 12:24pm August 15, 2013)
I have a wonderful imagination, but would never attempt to write a book... I can never get my thoughts down right... I'd rather enjoy books from authors such as yourself.
(Colleen Conklin 1:12pm August 15, 2013)
Scratch me off the list of possible future authors (or lawyers), I couldn't get past the 1st requirement! Writing on a deadline would never happen, I'm one of those people who'll be late to their own funeral! LOL
(Angela Hoagland 1:15pm August 15, 2013)
Hi Grace,
I have had so much fun the last few days reading the blogs, comments and
answers!
I most definitely would not make a good attorney or writer. Sadly I seem to
be at a loss for words.
I always wonder how a character comes to light, now knowing the attorney
side of the coin is neat. I like having these insights!
Thanks
(Cathy Genna 1:20pm August 15, 2013)
I wrote corporate employee communications for years, but I've never thought about writing fiction. I do have lots of fun reading what others write, though. Thanks for visiting, Grace.
(G S Moch 1:29pm August 15, 2013)
I have the ability to babble on paper. I'm not sure I would be a good romance writer. I have never been in love; I just watched people I know be in love.
(Laura Gullickson 1:29pm August 15, 2013)
I had thought of writing a romance but never gave it a try
because I'm bad with English and just adding the details to
the story. I have so many ideas but it will all be in my
mine.
The comparison between a lawyer and romance author...I had
never thought of that before. Thinking about those two I
can see why it's almost the same with the planning and such.
(Sandy Xiong 1:43pm August 15, 2013)
The type of law you do must be heart-breaking. I can see how
certain situations could generate ideas you may be able to use
in writing.
(Sharlene Wegner 1:59pm August 15, 2013)
This is a wonderful give away. Thank you.
(Charlotte Wills 2:06pm August 15, 2013)
Enjoyed reading the comments. it seems like practicing law and writing books
doesn't mesh, however, John Grisham proved that to be the case.
I enjoy reading Grace's books.
(Joy Isley 2:13pm August 15, 2013)
I don't know how authors do it. I am strictly a reader,
wouldn't even attempt being an author. My hat is off to all
authors. Enjoyed this blog post.
(Theresa Fischer 3:08pm August 15, 2013)
I've thought about writing a romance book, but I think dialogue is difficult to write. I am organized, however, and am good at sentence structure.
(Kim C 3:08pm August 15, 2013)
I never thought of it but it makes sense that a lawyer would be a good writer of anything.
(Maureen Emmons 3:11pm August 15, 2013)
Congrats on the new release, Grace. I've never thought about writing a romance, but there have been times where I might come up with scenarios that might work as a plot.
(Jane Cheung 3:37pm August 15, 2013)
Congratulations on the publication of your new romance novel, Once Upon a Tartan! It is amazing how your writing skills are so similar in both professions. Even though I have always loved reading, I have never considered writing a novel. I think my talents of organizational skills and attention to detail are more useful for editing.
(Bonnie H 3:56pm August 15, 2013)
I used to be a legal secretary. I like historical mysteries, etc., so I might be able to write a historical and do the research I needed.
(Michelle Fidler 4:43pm August 15, 2013)
I love The Heir! Looking forward to reading your new book!

Never knew so many of my favorite writers are lawyers!
(May Pau 5:11pm August 15, 2013)
You are quite a bright, talented woman to be successful at being a lawyer and a great author! I would much rather read than attempt trying to write a book. I don't think I could accomplish getting over 300 plus pages written. I don't own an e-reader and so many authors offer free books now. Thanks so much for the chance to win one!
(Rich Cook 5:50pm August 15, 2013)
I'm in awe how authors can create such amazing stories. I'm
strictly a reader and fangirl.
(Diana Emerson 6:15pm August 15, 2013)
I much, much, much prefer reading to having to write. I have to write some for work, mostly correspondence these days, and that's plenty enough for me. some days my fingers just don't like the where the letters are placed on the keyboard which makes for some interesting & frustrating reading afterwards ;)
(d Kenney 6:19pm August 15, 2013)
I've never thought about writing a book. I'm much happier reading them!
(Marcy Shuler 6:49pm August 15, 2013)
Ah Grace, Have you ever thought about writing a romance? Heavens NO! My skill set
does NOT include writing. Give me paint brushes, knitting needles, scrapbook
supplies, paint,glue gun & glitter and I'm all set to create something, not pen &
paper. My imagination works best within the textile medium. "What are some of the
skills you already have that might be helpful if you decided to take up writing
fiction?" Well, I am a great observer of human interactions and always seek to figure
out what makes people "tick". I seek to change myself - to grow out of my failings
and to do so I seek to see those things in others first. I like to see how others
deal with issues then I can turn within myself to grow. Author's writings in romance
novels often show me anther side of issues I haven't perceived and heal them in ways
"outside my box". I love reading romance. Good luck with the release -- I can't wait
to get my hands on my copy =D
(Lenna Hendershott 6:51pm August 15, 2013)
Grace,
I enjoy reading and writing. However, the only writing I've done is lengthy letters and poems. Many have told me I write "books" and I should be an author. I just never took it seriously, even though it would be fun to attempt it. I think I'll stick to reading, which I love to do. I love romance novels of all kinds. You must be such a busy person with both a law and writing career. I don't know how you manage so much. I have so many books I want to read and many new ones are in e-book format (so I could definitely make use of a Nook HD). Best wishes with your newest release!
(Linda Luinstra 7:05pm August 15, 2013)
I have relatives from Scotland and I would like to think they were as dynamic and colorful as Scots are portrayed in your books. Scots are portrayed as not following the rules and running a foul of the authorities and lawyers. Writers may not follow the rules to create a vibrant story line or groups of personalities and are looking for the best outcome for the characters. You must be overloaded at times with balancing law and romance!
(Paula Marshall 7:29pm August 15, 2013)
I'm a math professor, and I recently started writing a romance book. I'm over half way done now. I've found it to be a very freeing and invigorating experience so far. This is just a thought, but maybe some lawyers write romance novels as a way to balance the negativity in the personal worlds. A divorce lawyer, for example, must see so much pain and hatred. Writing a romance novel may be a way to create happy endings which probably don't happen very often in their day to day reality.
(Amy Kincade 7:46pm August 15, 2013)
I enjoy reading more tan writing.
(Cheryl McEwen 9:04pm August 15, 2013)
I definitely believe that what we do and experience in life
gives inspiration for those who write. Personally, I am not
a writer, but I do love reading. I am a teacher, so I
attempt to provide a solid foundation for my children and
students to enjoy reading and hopefully writing.
Mel
(Melissa Bourn 9:17pm August 15, 2013)
I thought I could write a Harlequin Romance once time because it was so formulaic, but when I tried I just couldn't get past the work! I am a writer of sorts - but mostly I appreciate words and the emotions they evoke. I have never met a lawyer that I could remotely imagine writing a romance, and I worked as a legal secretary for several years. Not an ounce of romance in the souls of the ones I met! Thanks, Grace for the giveaway.
(Mary Reed 10:06pm August 15, 2013)
Love to read but my writing skills aren't so good.Love reading
historical romance and looking forward to reading this one.
Thanks for the contest!
(Teresa Ward 10:16pm August 15, 2013)
When I was a in my mid-teens and fairly new to reading romance, I aspired to be a writer of same. I spent a lot of time - especially in study hall - writing on one story or another. Somehow, after that, I quit writing and have never gone back to it. For my strenghts, I have a reasonable facility with the English language (at least when I'm not under pressure), I have a logical mind, and I love to do research.
(Janie McGaugh 10:24pm August 15, 2013)
I am in awe of the talent that authors have. I'd love to be
able to create new worlds, but I am content to visit the ones
others create.
(Stacie Bell 11:21pm August 15, 2013)
Colleen, I think a reader with a powerful imagination must get the most enjoyment out of her fiction. Without imagination, I'm not sure fiction even works!

Angela, a lot of authors have a hard time with deadlines, not because they can't get the words onto the screen, but because parting with the finished product is like releasing a beloved beastie into the wild. You know you should, but...

Hello, Cathy, and thanks for stopping by. There's a whole 'nother side to being a courtroom attorney that has to do with acting and stage play, and I think that somehow comes into novel craft too, particularly at the level of the scene. Though I must say, it's not a part of lawyering I ever enjoyed much.

GS, once upon a long time ago, I edited software manuals. About made my eyeballs ache. MilSpecs are not for sissies--or humans.

Laura, did you know that Jane Austen would not write a scene with two men talking with each other alone, because she said she'd never witnessed that? Maybe watching is all that's necessary?

Sandy, the number of similarities surprised me, but it begs the question: How many of us are married to same guy for decades (LOTS), how many have kids (LOTS and LOTS). Somebody should do a survey...

Sharlene, it's tough, but it also means I really, really, REALLY need my happily ever afters. Romance authors have provided them to me for decades, now I get to cook up a few of my own.

Charlotte, thanks for stopping by. This is the next to last stop. Tomorrow we'll be on my graceburrowes.com website giving away an iPad.

Joy, John is an interesting case--so to speak. He wrote for eleven years, as a hobby, for fun and stress management, before anybody wanted to publish his stuff. I've heard from some editors that "lawyers don't work on the page, they make better drama on the screen," but geesh, they're working pretty well for John.

Theresa, I don't know how authors do it either. I just know I like to write. The rest is... I pinch myself, y
(Grace Burrowes 11:42pm August 15, 2013)
I love that their are people like you that write good books for readers like me. Also while you write you also work! How do you find the time. I'm glad that their are people in this world that have so much talent and that you share with the world. I tell my nieces and nephews that you can do anything you want to do in their life's and you are just one example of many. Keep up the good work.
(Felicia Sidoma 11:50pm August 15, 2013)
My best skill would be my imagination. Unfortunately my ability to stay on
task and finish on time are sorely lacking. I have a tendency to take much
longer to say what needs to be said. If I were a lawyer, my summations would
probably put everyone to sleep.

Thanks for the insight into the similarities between writing and being a
lawyer. You made some good points. I have a few of your books and look
forward to reading ONCE UPON A TARTAN. I hope the release is going well.
(Patricia Barraclough 11:53pm August 15, 2013)
Honestly, the only skill that I have that would help me be a
writer is grammar. I have no imagination when it comes to
stories or characters.
I am so grateful to all of you who do though! ;)
trb0917 at gmail dot com
(Tina Becker 12:04pm August 16, 2013)
I've thought about writing a romance in the past, but my lack of imagination
pretty much convinced me it wouldn't work out. The skills I'd bring to the job
would be excellent typing and spelling, and good research skills. Maybe if I
teamed up with someone who had some ideas I could help round out and needed
my skills, we'd come up with a decent book. :D
(Barbara Elness 12:20pm August 16, 2013)
I have all these ideas in my head for a novel, but then I go
to write them and it fizzles within a paragraph. lol I'm a
reader, not a writer! :D
(Tiffany H 2:08am August 16, 2013)
I've thought about giving writing a try but I don't have the
patience to think of anything that would consist of a novel or
even a novella. I'd be more apt to have my hero appear and
HEA! lol I'd much rather read from those more talented than I.
(Ada H. 3:50am August 16, 2013)
Oh I never thought to be a writer myself. I'd much rather read all the great stories from others than attempt any myself. There are a lot of times I'm surprised by the little things in the book that I would have never considered on my own!
(Anita H 5:09am August 16, 2013)
I envy those wonderful individuals with the talent to put their thoughts, imagination and work experience into writing stories that keep people reading page after page and wishing for more. I always wanted to write, and the fear of failing, lack of confidence and the imagination needed perhaps has been my nemeses. Please keep writing so I can keep on reading!
(C Culp 8:46am August 16, 2013)
As a lawyer you will have skills of both precision and embroidery in words!
I have just independently published a romance and I based a lot on my experience of horses and modern business. As I am self-employed I make my own hours so I had time to write, and the recession has helped with that aspect. As a lifelong reader I being a good standard of English and enjoyment of books.
(Clare O'Beara 9:28am August 16, 2013)
That is a very interesting analogy - one I wouldn't have
thought of before! But it makes so much sense.
(Margay Roberge 9:34am August 16, 2013)
I am definitely not a wordsmith---numbers are my thing so I became an accountant. There's even too much writing in this profession to suit my taste.
(Sue Farrell 10:09am August 16, 2013)
I have written two romance books for my own enjoyment but I'm not sure if anyone else would think them enjoyable. Hm-m-m do some of us not realize we have skills?
(Dot Salvagin 11:02am August 16, 2013)
I don't even write letters, let alone a book. I do love to read though. I'm always in the process of reading a book.
Your anthology suons great.
(Carol Woodruff 11:27am August 16, 2013)
Thank you for being here. I used to write stories for my children when they
were young and I have alot of ideas for books but I need a boast of confidence
to help me put my thoughts down on paper. I just need a little push to make it
all happen. It will, when I don't know but it will! : )
(Lisa Glidewell 11:35am August 16, 2013)
Can't that I have thought of writing. Though I do love reading. I knew several authors were also lawyers but you named several that I didn't realize were lawyers too. Intersting and with what you have writen it definitely shows the similarities between the two that I never realized. Very interesting.
(Larena Hubble 12:07pm August 16, 2013)
I would love to write, I think my colorful imagination might be an asset but my biggest setback for me is being descriptive. I can write conversations but I lack in the descriptive dept. That and lack of confidence.
(Donna Newman 1:58pm August 16, 2013)
I wish I could write. I cringe when I try to write something creative. I just seemed to freeze. How do you get over that?
(Kai Wong 5:18pm August 16, 2013)
I don't think I have the creativity or dedication to be a
writer. I would probably just combine a little of this book
with a little of that book (which would be so wrong even
without meaning to do it) plus, I would probably quit long
before I ever got a book wrote. Guess I will just stick to
reading them. I never give up on that LOL!
(June A, Manning 1:45am August 17, 2013)
I've never thought of writing a book, but I do have the utmost
respect for those who do. I can clearly see the writing
connection between being a lawyer & a Romance writer.
(Mary Preston 6:49am August 17, 2013)
I always thought a good sense of logic was important to both professions--constucting a good argument has to be similar to constructing a good plot. Both depend on laying groundwork and leading forward to a logical conclusion, whether or not it is a predictable conclusion. What an excellent way of thinking about writing!
(Janet Martin 10:54am August 17, 2013)
Hi! Great post! Very interesting. I cant say that i ever thought of law and writing going together. I dont have any skills. I dont write. But i do read, a lot! Helps me escape and i like to think that anyone can have a happy ending.
(Shadow Kohler 2:47pm August 17, 2013)
I'm new but this was interesting (:
(Ana Martinez 12:16pm August 18, 2013)
I have toyed with the idea of writing but I don't think that I have that spark to create an enthralling story. I have the advantage that I have read quite a few books during my lifetime so I can discern a compelling story but I think my muse is more technically oriented so my writing comes out stilted...but I probably could write an excellent brief, lol.
(E Felder 7:45pm August 18, 2013)
I've thought about writing fiction some time in the future.
(Jan D 10:15pm August 18, 2013)
Registered users may leave comments.
Log in or register now!