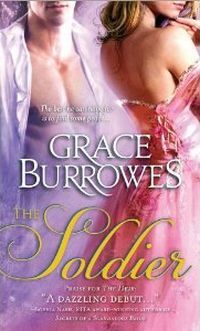 Purchase
The best he can hope for is to find some peace
The Duke's Obsession #2
Sourcebooks Casablanca
June 2011
On Sale: June 1, 2011
Featuring: Devlin St. Just
448 pages
ISBN: 140224567X
EAN: 9781402245671
Kindle: B004XOZ9EG
Paperback / e-Book
Add to Wish List

This Regency era battle of wits, wills, and the sexes features a wily duke determined to see the succession of his line secured. The duke can't force his sons to marry, but he can make their lives miserable until they do. Resisting his pressure, each gentleman holds out for true love.
The second book in the series features Devlin St. Just, the duke's oldest, but illegitimate, son. He arrives at his new estate weary in body and spirit only to find the previous owner's bastard daughter and her beautiful cousin are his responsibility and making his life almost unbearably complicated.
Duke's Obsession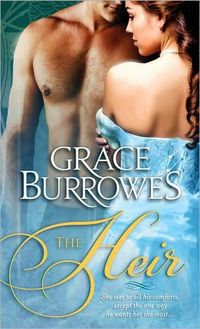 The Heir
#1.0
Amazon.com | BN.com | | |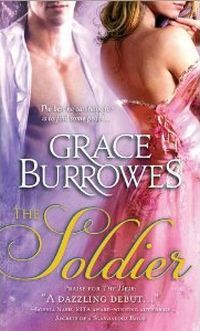 The Soldier
#2.0
Amazon.com | BN.com | | |

The Virtuoso
#3.0
Amazon.com | BN.com | | |
Windhams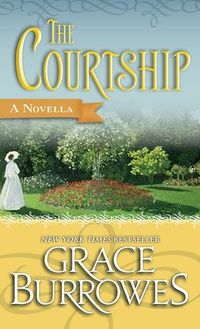 The Courtship
#0.3
Kindle | BN.com | | |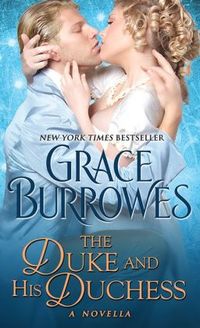 The Duke and his Duchess
#0.5
Kindle | BN.com | | |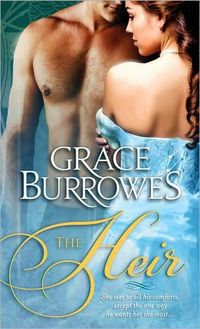 The Heir
#1.0
Amazon.com | BN.com | | |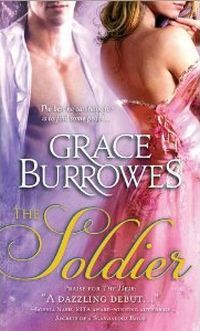 The Soldier
#2.0
Amazon.com | BN.com | | |

The Virtuoso
#4.0
Amazon.com | BN.com | | |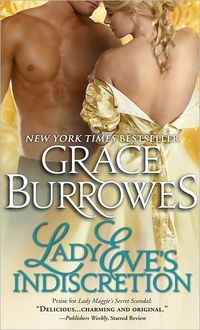 Lady Eve's Indiscretion
#7.0
Amazon.com | BN.com | | |
Comments
53 comments posted.
Re: The Soldier

This novel sounds wonderful and is just MY kind of read. I love Grace Burrowes'
books and can't wait to read this one. I shall mark my calendar for its June 1st
debut.
Connie Fischer
[email protected]
(Connie Fischer 3:41pm May 29, 2011)
Loved the first book and can't wait to read the second!
(Tammy Sommervold 1:00am June 2, 2011)
When I was younger (okay, a lot younger) my Uncle Joe was my favourite Uncle. He used to tell us great stories. Still miss him after all these years.
Can't wait to read this book, loved the first one.
(Barbara Hanson 4:12am June 2, 2011)
It is fun to imagine that we are the character in a book.
Blessings,
Marjorie
(Marjorie Carmony 7:54am June 2, 2011)
Family is all important. Unconditional love.
(Mary Preston 8:04am June 2, 2011)
I think that imagining one is a character in a book is part of the magic and mystique of reading. If you get lost in a book it transports you to other places and times and lets you experience things you might not otherwise experience.

A favorite memory I have concerning family and reading is playing school and making my little brothers sit thru my lessons which of course involved learning to read!
(Holly Caulfield 8:08am June 2, 2011)
My father passed away when I was a baby leaving my wonderful mother with
three children all a year apart and all under the age of three. My Mom worked
hard and provided us with love while teaching us good values for life. My
grandparents lived nearby and we were all a very close knit family. Mom has
been gone for many years now and I have my own family. Love, laughter and
open communication is key for in the end, family is really what is important in
life.
(Connie Fischer 8:40am June 2, 2011)
My grandmother's older brother and I shared the same birthday. He was exactly 50 years older than myself. I remember for my 6th birthday we shared a Bugs Bunny birthday cake. Can you imagine being a 56 year-old man with a cartoon birthday cake? LOL
(Stacie Deramo 9:00am June 2, 2011)
Tammy, Glad you enjoyed, "The Heir," and when you're done with "The Soldier," stand by for "The Virtuoso" in November.

Barbara, I only had two uncles and their visits were big occasions. Part of their function was simply to make me realize at a very young age that my mom was somebody's sister, not just "ours." Funny how little kids view family.

Marjorie, It isn't just fun to imagine you're a character in a book--if you're an author, it's irresistible. And who wouldn't want to play an extended game of let's pretend?

Mary-You said it. For the Sourcebooks Author blog on June 7, we're supposed to blog about a woman we've admired. I just wrote my piece and it will be about my mom. She hasn't always understood me, hasn't always liked me, hasn't always approved of me, but by heaven, she has loved me. I hope I can be half the mom she has been.

Holly-Such lucky little brothers you have! They owe their success in life to their literate older sister.

Connie--When our parents show us what it means to love somebody, to pull our share of the load in a relationship--we're wealthy in a way we seldom realize early in life. I think part of the charm of romance novels is that by the end, we're looking at a man and a woman with the courage and determination to begin their own family, even if it's a family of two (until the sequel comes out).
(Grace Burrowes 9:03am June 2, 2011)
I have two feelings of family. While my Mother was alive, my family stuck together. I was always there for everyone, including my Mother, who had Alzheimer's Disease, and helped my Dad with her until her death. We were a close-knit family, as it should be, and got together for special occasions. After her passing, our family started to break up, in a way. During that time, my Husband lost his job, and we also ended up losing our house. I got NO help from my family, and we ended up packing up our belongings in our little pick-up truck and pop-up camper, grabbed the dog, and headed for the nearest campground, which was to be our new home. We have since started a new home, with no thanks to my family. You can say that I'm a bit bitter, but I have learned to survive, and have become a better person. My Husband never found a job, and it's sad because I have health problems, and my Doctor had fits that my Dad didn't offer us a place to stay, but that's all water under the bridge. Sorry to carry on so long, but I found that blood is not thicker than water. I did everything for my family, but would really have to think twice now, after what I've been through. I've just given you a brief synopsis.
(Peggy Roberson 9:12am June 2, 2011)
I think imagining yourself as a character is the joy and adventure we take in reading. I always imagine myself as the character - what I would do differently, would I say that? I can't wait to read the book!
(Renee Brown 9:18am June 2, 2011)
It is fun to imagine a different family and I love imagining what it would be like to be in the families of some books I read. But at the end of the day, I wouldn't trade my family for anything in the world.
(Pam Howell 9:20am June 2, 2011)
Funny how hard it can sometimes be to think of siblings as grown-ups lol.
Especially when they drag you back into age-old patterns of picking on each
other or whatever. Like St. Just, I still tend to think of my brother as he was when
he was a little boy as my first mental image of him LOL!
(Bella Franco 9:21am June 2, 2011)
I didn't come from a very loving family, but I met my second husband who taught me what that looks like so that I could give that to my children and now they are passing that on to my grandchildren. So as much as I love the heroes of the novels I read, he is my HERO and I am lucky that he loves me back! :) Thanks for sharing.
(Patti Paonessa 9:36am June 2, 2011)
FAMILY IS EVERYTHING!
(Margaret Murray-Evans 10:13am June 2, 2011)
Not sure about most people but when I read, and one the main reasons I love reading, I am drawn into the story and tend to switch feeling as the hero or heroine progress through the story. The gamut of dramatic emotion from grief to joy along with the characters.
(Marcelle Cole 10:21am June 2, 2011)
My paternal grandparents were the family that I was closest to---they loved, supported and forgave just like grandparents are supposed to.
(Sue Farrell 10:42am June 2, 2011)
The world may turn it's back on you, but not your family. It's
nice to read a book that not only focus on the romantic side
of life, but family as well.
(Lory Diocampo 11:25am June 2, 2011)
My Mom means the world to me now that I have kids of my own and can appreciate all that she did for us.
(Renee Pajda 11:44am June 2, 2011)
I didn't have a very good family life growing up, and was passed around like a bad book. I had several children, 6, and maybe it was so I could have alot of love to give them to make up for the rough start in life. I love my family.
(Stephanie Bondlow 12:06pm June 2, 2011)
I cant imagine ever replacing a character in a book. But when I read a good book, I do imagine it all as I go. I imagine what the room looks like. Or the lake. Or the carriage. Or the dress. Everything. I picture it in my mind what each person is doing. I see them. I dont need the author to give too much detail. But I do hate when an author misses something. Like has a character moving or doing something impossible. "He latched onto her nipple..." When she had just been face down on the bed. Come on, read it out loud and fix these things! LOL Anyway, I cant imagine myself in the book, but I do imagine everything else. As for family, without them , where would any of us be? I am blessed with a wonderful one. Just as it seems that Val, Dev & Gayle are. I am half way thru The Heir. Such a fun different sort of story. Love the characters. No run of the mill predictable peeps in this story! None! Well, maybe Her Grace. A loving wonderful mama. I still have no idea what could be the big secret that Anna & Morgan share and fear. And I already cant wait to read The Soldier. You gave away an awful lot of it already in Fresh Buzz. But still looking forward to it. :-)
(Lisa Hutson 12:38pm June 2, 2011)
Family is the beginning, end and middle of life. i can't
imagine not having my family close by. Although all my kids
are adults, they and their family have supper with us
several times a week. Since we have a family business, my
son sees my husband nearly every day. I can't imagine going
more than a few days without seeing or talking to all of
them.
(Lisa Richards 1:11pm June 2, 2011)
Peggy, Hats off to you for doing what you had to when family was such a disappointment. There have been times in my life when I've turned to "family of choice" rather than "family of origin." I hope in the future the people you stood by for years will come to understand they've let you down, and to make amends for it.

Renee, it used to be we were told women reading romance were identifying with the heroine and vicariously enjoying the tricks she got up with with the hero. I don't think it's that simple. I think a lot of women in the present day find themselves identifying just as strongly with the hero.

Pam, I feel the same way about my family, but like Peggy (above) there were times when I wasn't so appreciative of them. Then too, my brothers want to know which one of them is Westhaven, etc. Hah.

Bella, my mom is in her late eighties and she still refers to my aunt as "Baby Sister." I think it's kinda wonderful that I might be a baby sister even decades hence.

Patti, I think we have an instinct for seeking what's healthy, though it can take some wrong turns before we find it. Maybe a bad example and the sure conviction that you don't want to follow it is an efficient lesson--one even your grandchildren can benefit from.

Margaret--You said it! Family is the one "for better or for worse, in sickness and in health," that we get upon entering the world, and heaven help those for whom it's nothing but worse.

Marcelle, I read for the emotional arc too, particularly for hope and trust, which are such precious, fragile gifts when first given.

Sue, I work with a lot of children who would otherwise be in foster care with strangers but for the courage, generosity and determination of their grandparents and relatives. I'm not a grandma yet, but when I see grandparents stepping up like that, I'm in awe.

Maria Lory, ...but sometimes we turn our backs on family, don't we? It seemed particularly as a young adult, I was determined to ba
(Grace Burrowes 1:19pm June 2, 2011)
There's nothing more important than family! I love series books that are about siblings! They make for such great reading!!
(Kelli Jo Calvert 1:23pm June 2, 2011)
I love my family very much even though we are not the type to show it... I would feel lost without them.
(Colleen Conklin 1:50pm June 2, 2011)
well i always say family is family and nothing is more important or comes before family. it is kind of our motto and something we make sure all of the younger generations know as well.
(Tammy Ramey 2:03pm June 2, 2011)
Family is a funny thing. I love my family members who are unconditional in their support and love but I sure wouldn't mind losing THE family member who has something negative to say about everyone and everything they do. Way too much wasted emotion and energy for me.
I try my best to be unconditional in my support and loyalty to my family (and friends) or just keep my mouth shut.
Good luck and happy writing!
(Tracie Travis 2:14pm June 2, 2011)
Family is family; thank goodness the good usually outweighs the bad.

I love reading books where I can imagine that I am the characters in them; that is what I enjoy most about reading.
(Jody Hollenbeck 2:48pm June 2, 2011)
my family is my friends not blood relations they are the family i choose
(Sherri Stephens 2:52pm June 2, 2011)
Kelli Ho, then stay turned because there are six more Windhams to go, plus a few spin-offs and prequels.

Colleen, I feel the same way. My closest sibling lives 600 miles from me, and yet I'd say we're a close family.

Tammy, I like the idea of a family motto, and I like that you say it. Sometimes we fail to state the obvious and kids don't pick up on it the way they will when we put it into words.

Tracie, I think there might be a lot more happy families if we all worked a little harder on keeping our mouths shut. Thanks for the reminder.

Jody, so which character would you be, from what book, and why?

Sherri, Family of Choice has been there for me when Family or Origin could not (or would not) be. The way I see it, family teaches us to love, sometimes by negative example. We get to keep the lesson, we don't necessary have to cling to the family if they're going to undermine our wellbeing.
(Grace Burrowes 3:22pm June 2, 2011)
I started working at fourteen to support my mother and sister. I did everything for them, while, my mother was horrible to me (she should have been put in jail for things in my childhood.)It took me a long time to realize I don't have to do anything for them anymore. As soon as I stopped helping my mother,she moved away to live with my sister and I haven't heard from them since.
I take care of my special needs son all by myself. They will have nothing to do with him. He says you can't miss what you never had. The two of us are a family, and that is all that is important.
(Debbie Penny 3:35pm June 2, 2011)
Congrats on the new release, Grace. I don't want to imagine how life would be if my family weren't around to share the good and bad times.
(Jane Cheung 3:53pm June 2, 2011)
It's been kinda a hard year for us with my mom's health failing. But we've all pitched in where we could and helped when we can. I feel sorry for those who don't have the close family ties, I know I've been blessed.. I love reading and books kinda unwind in my mind like a movie.. when sometimes disappoints me when a favorite book is made into a movie. Keep on writing because I'll keep on reading!! Thanks for the nifty contest too!
(Cate Sparks 4:21pm June 2, 2011)
I would be lost without my family. Hubs is the closest friend. My two daughters have provided me with six grands; 3 of each. Any kin on my side of the family are long gone or just don't care anymore. I gues that is what happens when a person lives many, many miles away from their place of birth.
(Cynthia Netherton 4:39pm June 2, 2011)
Debbie, I commend you for being able to call a spade a spade. The family you have with your son (who sounds like he has his head on straight) is family deserving of the name. I have been a single mom since my daughter was born. It's hard, but so, so, unquestionably worth it. Would not change one thing about being her mom.

Jane, when I told my family I'd landed a publishing contract, they sorta smiled and wished me well, but the subsequent comments suggested that of the nine of us, I was the only one who wasn't sure it would ever happen. They know me in some ways better than I know myself, which is a little scary.

Cate, my parents are still mentally with it, but getting frail, and Dad decided to stop driving when he turned ninety. There's a dialogue among my siblings that we hadn't undertaken five years ago, about what it means to love and support the Aged P's (Dickens' term) now. We're also looking forward to our own older ages, and gathering our courage accordingly. I'm surprised at the number of women eighty and older reading romances--may God allow me to eventually be among them! And I'll stop writing when I stop breathing... I hope.

Cynthia, my folks have been married 65+ years. My dad said Mom's hearing loss isn't as big as burden as we might think, because he and Mom almost CAN read each others' minds by now. Interesting perspective, and probably an example of the kind of closest friends you're alluding to.

It's interesting to me as well how varied the comments are in response to a simple question about family--and how strong and honest the feelings. Even when they're miles away or long gone, our family members still make an impression on us.
(Grace Burrowes 5:25pm June 2, 2011)
Trading places...interesting though...i think i'll keep my life.
(Doris Stewart 6:30pm June 2, 2011)
Family ,we try to stay in touch ,but we lived in different cities. I loved it when the older members came to vist and tell us about their stories.I miss them and try to pass on their stories to the kids.
(Deb Pelletier 6:39pm June 2, 2011)
I was raised in an immigrant family. Tradition and each other are everything and instilled into you at an early age. Blood is thicker than water, you can always get another spouse but not another sibling, strange ideas-but deeply ingrained. The loyalty to each other, the responsibility that a younger person has to the older generation, the Sunday dinners - from celebrations, to the deep sorrows we turn to each other and hold tight. We are simply a tie that binds between old and new and continues the stories, the lessons, the love. My grandmother says it best when she says she is so glad she chose the parents she did. I know I am blessed for them too.
(Carla Carlson 7:08pm June 2, 2011)
Doris, you like your life. What a nice thing to be able to conclude on a moment's reflection!

Deb, my oldest siblings are thirteen years my senior and as a kid growing up, I hated to see them leave home, and loved when they'd visit. They were that perfect blend of adult and friend.
Carla, it was my mom who pointed out to me that my siblings will know me longer than anyone else, and that the first female toward whom a boy usually feels a protective impulse is his sister. I bet your grandma also had good advice about how to know when you've met a keeper, and what to feed a guy on a first cooked dinner date. You wonder how young ladies without grandmas like that manage.
(Grace Burrowes 9:50pm June 2, 2011)
It is so much to imagine about books and characters. They do stay in my mind a lot if the books are good. :)

Btw, I enjoyed The Heir a lot. That's a great book! :)
(May Pau 10:06pm June 2, 2011)
ahhhh family - such a complicated thing. Sometimes you can't live with them but you could never live without them. Many books turn into our fantasy families :) Now authors and books are something I could never live without!
(Jeanne Sheats 10:21pm June 2, 2011)
My DH has 4 brothers, we are all very close. I have a half brother and half sister. I was always close to all six of my mom's brothers and her sister. Family is very important and I think growing away from family is sad indeed.
(Lisa Kendall 10:25pm June 2, 2011)
my family is very close! I couldn't live without them. We do a lot together but still have our own lives. My little sis is about to move away (2 hour plane ride). Not looking forward to that day and I am jealous!
(Sherie Lagarde 10:30pm June 2, 2011)
Family is the most important thing there is in life. Getting together is so much fun! Even tho they are the ones that can make you the most crazy, they are the ones that are always there for you.
(Diane Sallans 11:02pm June 2, 2011)
I agree that it is irresistable to imagine you are a character in a book. How else can you live a different life without aging too much. When I was a child and was mad at one of my siblings I would imagine what it would be like to be an only child. No one to share my room with, or fight with. I could be alone. Later I thought about it and realized I would be alone when I didn't want to be. No one to share the good and the bad with. Family: you hate them and you love them, you're stuck with them but they stick by you.
(Lorna Thomas 11:36pm June 2, 2011)
I recently lost the elder of my two brothers to cancer. Today I was thinking that we really didn't get together very often, at most twice a year. Yet there have been so many instances lately when I've thought of telling him something or of something he might do, only to realize that he's no longer here. I guess I've really been closer in mind and thought than real contact with my 3 siblings and their families. Since I have no family myself, that's very important for me. The baby of one of my nieces was due today. There are still 16 minutes left for her to deliver today. She already has a boy and a girl, so the gender is not terribly important, though my sister told me about a possible boy's name. So we'll see.
(Sigrun Schulz 11:48pm June 2, 2011)
May, thanks for the compliment. I hope you think "The Soldier" is even better!

Jeanne, you said a mouthful. When my daughter was young, she'd catch a nap on our commute home and recharge her batteries for an evening of watching Mom drag around packing lunches and so forth. But then I'd head upstairs to the latest Mary Balogh or Loretta Chase, and I'd be the one who suddenly found a reason to stay up another hour. Such a comfort!

Lisa, you are wealthy in the ways that count, but your poor mother in law! FIVE boys! Yikes!

Sherie, the trick is to have your sister move to somewhere lovely. My parents live in San Diego, and long about January, everybody wants to go visit them.

Diane, and it seems they can make us most crazy even WHEN they're being "there for us!"

Lorna, I used to relish the rare moments when I had "the house to myself," almost as if the physical dwelling were an entity. And now... it isn't so hard to finish four MS a year when solitude is easy to come by (she says with a sigh).

Sigrun, condolences on your loss. I treasure my four brothers dearly. Like you, I'm the "unattached sibling," and sometimes I think my family doesn't understand how precious that makes them to me. I hope the new baby can restore some joy to you and yours after your loss, or at least help balance the loss with love.
(Grace Burrowes 12:07pm June 3, 2011)
When I was young I wanted a pony worse than anything,awwww to be Winnie with a chance of her own pony soon.
(Bonnie Gonzales 2:37am June 3, 2011)
I think it's true that you can't choose your family, but you can choose your friends and make them your family. That's not to say my family is that bad, but well, I have a family of choice :-) !
(Birgit Lehner 3:36am June 3, 2011)
family is very special to me, can't wait to read this book.
(Frances Namuth 10:32am June 3, 2011)
My Uncle Bob was my shinning light. He was a quiet man who never spoke of his own courage but instead showed you what was important by always being a shinning light in the darkness. He never boosted about his accomplishments but instead lived a life of giving not only to others but always living a quiet life and by his deeds alone inspire to accomplish your dreams.

He was a PT boat captain and served along side John Kennedy during the war but never boosted or spoke of his accomplishments. He was an accomplished electrical engineer and spoke to my younger son when he was young about always following your dreams but to keep in mind that service to others was more important than the things that you could accumulate. With his encouragement he gave my son the knowledge to overcome what others thought of as the impossible. My son had a full leg brace at a youngster to compensate for a birth defect and my uncle encouraged him to not let that hold him back. In grade school he ended up not only playing little league baseball but also soccer wearing the bracde. When he struggled in school Uncle Bob encouraged him to never give up.

I'm proud to say my son learned from my Uncle Bob to follow his dreams and to do all that he could do and be considerate of others short falls and hardships. Because of my Uncle Bob's encouragement and wise advise my son strived to be all that he could be. He ended up playing football in high school as well as wreastling, getting a full scholorship to The Citadel, to earn his electrical engineering degree as well as an MBA and today is a manager for a large national company!
(Jeanne Miro 12:58pm June 3, 2011)
Oh but I do live my life vicariously through my authors books!!!! Oh how I'd love to be a herion from one of the books, but be able to return......lol
(Joanne Bozik 1:28pm June 3, 2011)
I check out classy guys in stories and otherwise, but like the ones who have many sides better than the ones condensed into a book. I try to identify with certain types and qualities in a character like cherry-picking the cafeteria plan.
(Alyson Widen 3:11pm June 7, 2011)
Registered users may leave comments.
Log in or register now!