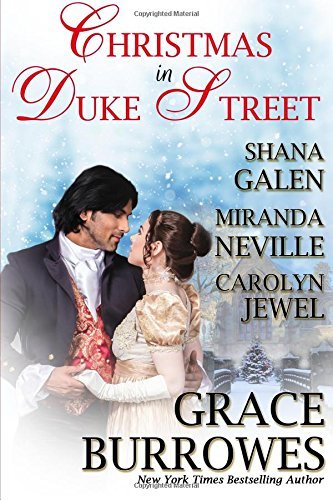 Purchase
Self Published
October 2015
On Sale: October 10, 2015
304 pages
ISBN: 1937823431
EAN: 2940150984349
Kindle: B016G1IEK4
e-Book
Add to Wish List

Romance Historical | Romance Anthology
Christmas in London is a busy time at the little bookshop in Duke Street, for love, literature, and shopping. Four couples come and go and discover that happy ever after makes the perfect Christmas gift. A new anthology from the bestselling authors of CHRISTMAS IN A DUKE'S ARMS and DANCING IN THE DUKE'S ARMS.
THE RAKE WHO LOVED CHRISTMAS by Miranda Neville
Sir Devlyn Stratton wants to save his brother from an unprincipled adventuress, especially when he meets Oriel Sinclair and wants her for himself. Oriel won't marry for convenience or become a rake's mistress. But succumbing to Dev's seduction is all too tempting.
Sir Devlyn Stratton stays in London for Christmas to celebrate his brother's engagement to an heiress—until Merrick gets cold feet because he fancies another woman. Dev will do anything to save his brother from a misalliance with a shopkeeper, even seduce the fascinating adventuress himself.
Oriel Sinclair is hanging on by her fingernails, with a sick father and an ailing business. She's trying to make a living in her tiny shop, even if it means being nice to customers like the rich, leering Lord Frogmore. Despite her straits, she won't take advantage of a young man's infatuation. Especially once she meets his elder brother who is everything she ever dreamed of in a man. Trouble is she doubts Dev's intentions are honorable and she won't be reduced to a kept woman, by the the vile Frogmore or the delectable Dev.
A SEDUCTION IN WINTER by Carolyn Jewel
He's an artist and a duke's heir. She's sheltered and scarred. Can he show her by Christmas that love can be theirs to share?
As the holidays approach, Lieutenant Leoline Marrable, now Lord Wrathell, travels to London where he's expected to fulfill longstanding expectations and propose to his former commander's daughter. Wrathell longs to ease the strained relationship with his ducal father. The key may be an unfinished portrait of his late brother.
Honora Baynard has a terrible facial scar as a result of a childhood injury. She has never forgotten Leoline, who came to her defense when other children tormented her. Now, her over-protective artist father keeps her indoors, creating the beautiful detail work that makes his paintings so sought after.
As Wrathell and Honora spend more time together, mutual interest becomes mutual attraction. Can Wrathell convince Honora that for Christmas, he'd like to give her not only passion and pleasure, but his heart to keep for her own?
A PRINCE IN HER STOCKING by Shana Galen
Lady Cassandra has always done as she's been told. Meek and malleable, she's lived a life devoid of passion. When she meets a handsome man rumored to be an exiled prince, she sees one last chance at excitement. Little does she know, too much excitement can be dangerous.
When it's cold outside…
Prince Lucien of Glynaven flees to England when his family is killed in a revolution. Homeless and penniless, he spends the winter days in a small bookshop, searching for documents his mother secreted among a box of books shipped to London. Lady Cassandra is the first woman in months to look at him like a man and not a vagrant, and he can't resist flirting with her. When assassins find Lucien, he must end the budding romance and abandon his last chance to reclaim his identity.
A prince is the perfect hero to make Christmas cozy.
Cass Ashbrooke married for duty. Now that she's a widow, she remains under the thumb of her late husband's sister. When Cass glimpses an attractive man in her favorite bookshop, she offers him friendship, hoping to add a spark of excitement to her dull life. The prince's kisses are more passionate than Cass imagined, but she and Lucien need a holiday miracle if they're to thwart his enemies, find the missing treasure, and celebrate a happy new year together.
THE APPEAL OF CHRISTMAS by Grace Burrowes
The best Christmas present is the one he didn't realize he desperately needed.
She's his favorite bluestocking...
Hester Hooper loves beautiful prose and old books, but she loves barrister Gervaise Stoneleigh more. For years, she's helped Gervaise polish his legal arguments, beat him at chess, and tolerated his annual holiday grumpiness, hoping all the while that this Christmas, her friend will finally see her as more than a reliable confidante and shopping partner.
He's the best argument for loitering beneath the mistletoe...
Gervaise Stoneleigh has no time for holiday sentiment, though he tries to humor Hazel's seasonal enthusiasms--she is his oldest friend, after all. When Gervaise finds an unsigned draft of a love letter at Hazel's favorite bookshop, he's intrigued by the author's passion and eloquence. The lady who wrote that letter is bold, courageous, and lusty--not at all like his sweet, demure Hazel. And yet, when Hazel accosts Gervaise beneath the mistletoe, he's in for quite the holiday surprise!
Comments
No comments posted.

Registered users may leave comments.
Log in or register now!