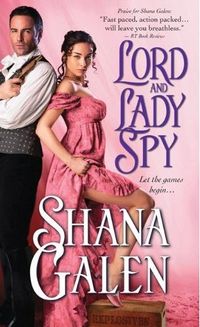 Purchase
Let the games begin.
Lord & Lady Spy #1
Sourcebooks Casablanca
September 2011
On Sale: September 1, 2011
Featuring: Adrian Galloway, Viscount Smythe; Sophia Galloway, Viscountess
384 pages
ISBN: 1402259077
EAN: 9781402259074
Kindle: B005CKKDZU
Paperback / e-Book
Add to Wish List

No man can outsmart him…
Lord Adrian Smythe may appear a perfectly boring gentleman, but he leads a thrilling life as one of England's most preeminent spies, an identity so clandestine even his wife is unaware of it. But he isn't the only one with secrets…
But one woman almost certainly can…
Now that the Napoleonic wars have come to an end, daring secret agent Lady Sophia Smythe can hardly bear the thought of returning home to her tedious husband. Until she discovers in the dark of night that he's not who she thinks he is after all…
Videos
Lord & Lady Spy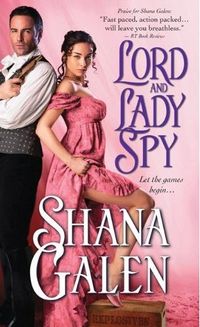 Lord and Lady Spy
#1.0
Amazon.com | BN.com | | |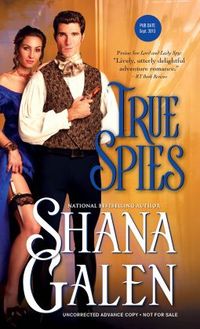 True Spies
#2.0
Amazon.com | BN.com | | |
Comments
53 comments posted.
I absolutely love the idea of this! Sounds very fun, indeed. When I read this, and I will, I will be thinking about the actors you mentioned. From your descriptions, they sound like they mesh perfectly. Liam can definitely do bad!

Thanks for posting, and I look forward to getting to know your Regency world of spies. :)
(Sonia Remo 1:28am September 8, 2011)
I LOVE Liam and Kirsty they are awesome!
(Darci Paice 2:38am September 8, 2011)
Oh your book sounds so great! I love the people you would
cast and I love that you've chose Hugh Grant as Adrian's
brother because that would suite him so well! My favourite
actor at the moment is Gerald Butler, He's fantastic and I
think he'd be another good Adrian but then maybe he would
play a good bad guy as well ;)
(Bex Challoner 6:15am September 8, 2011)
Love Liam as your main choice! good call!
(Diane Brixius 6:52am September 8, 2011)
Yes, yes you definitely mentioned two of my favorites--Liam and Hugh Grant, Great choices you made. I look forward to reading the book, sounds exciting
(Shirley Younger 8:31am September 8, 2011)
I'm not a Daniel Craig fan (I may change my mind if he is good in the Dragon Tatoo movie). So other than that, I agree with your casting.
(Pam Howell 8:57am September 8, 2011)
interesting casting. not sure about Daniel Criag but think Liam & Hopkins are great choices
(d Kenney 10:04am September 8, 2011)
Your selection was interesting, but I thought I might throw a few names into the mix to make it a bit interesting. I thought about Robert Downey Jr. for Edward, Kate Winslett or Valerie Bertinelli for his wife, and Pierce Brosnan or Robert DeNiro for your villian. I favor Pierce a little more, because I thought it would be interesting to see the 2 James Bond characters playing against each other, so to speak. Your book sounds very interesting, and I'm in love with the cover!! It's very well done. I'm sure I'll be taken on an exciting ride as soon as I open the cover.
(Peggy Roberson 10:41am September 8, 2011)
This book sounds great - I love your casting - think they might make a film of it???
(Barbara Hanson 11:00am September 8, 2011)
Interesting list of cast- I could see it. Congrats on your book Shana. I can't wait to read it.
(Christine Arcidiacono 11:05am September 8, 2011)
Thank you, Sonia. I agree Liam is so good at being bad.
(Shana Galen 12:16pm September 8, 2011)
Me, too! Darci. Thanks for the comment.

Bex, I can totally see Gerard Butler as Adrian. Good call.

Thanks, Diane. I can see I have a lot of Liam fans.

Thanks, Shirley. I confess I have a weakness for Hugh Grant.
(Shana Galen 12:18pm September 8, 2011)
You know what, Pam? I'm not a big Daniel Craig fan either. That's why I added that touch of Brad Pitt.

Thanks, d Kenny. It's been a while since I've seen Hopkins in anything.

Ooh, Peggy! You are good at this! Thank you so much for the suggestions.

Barbara, I doubt they'll make a film of it. But I think it would be fun if they did.

Thanks, Christine!

I'll be back later to read more comments.
(Shana Galen 12:20pm September 8, 2011)
Love most of those choices. I smiles when I heard Daniel Craig & Rachel Weisz married. Love Hugh, Liam & Anthony. Just not to sure about Kirsty as Hugh's wife, but you know Cordelia better than me. Hopefully I'll get to know them all better soon. I think you should send copies of this book off to all the selected actors (especially Daniel & Rachel).
(Diane Sallans 12:34pm September 8, 2011)
What about Owen Clive ? I like him too! Although Daniel craig is one of
favorite too!
(May Pau 12:44pm September 8, 2011)
Love your casting ideas! I think Liam Neeson would make a great villain; Hugh & Kirstie would be funny together, although do you think she could pull off an English accent? Love Anthony Hopkins. I'm not that familiar with Daniel Craig or Rachel Weisz but just from your descriptions in this blog, I'd say they'd be good as Lord and Lady Spy. Can't wait to read the book. (And see the movie if THAT should ever happen!)
(Sue Klepinger 12:47pm September 8, 2011)
Patrick Swayze would have been one of my choices. The book sounds wonderful!
(Barbara Andersen 12:51pm September 8, 2011)
Cannot wait to read this story! I think Daniel would be a great spy. Rachel, if she can run with mummies she can easily handle a few bad guys. Great Choices!

I love Resse but she wouldn't make a good spy.
(Sherie Lagarde 12:55pm September 8, 2011)
Nice casting choices! Loving the sound of your book! Thanks for sharing this post with us!
(Colleen Conklin 1:12pm September 8, 2011)
It's fun to picture celebrities as book characters. I think the TV show Castle's lead actor and actress would be cute to see in these roles.
(Cheryl Castings 1:13pm September 8, 2011)
Love Liam and Daniel Craig! Magnificent choices. Kirstie Alley, too, love that
choice. I quite agree with everything in Peggy Robersons post above. What great
ideas! Especially the 007 contest! LOL
(Lisa Hutson 1:19pm September 8, 2011)
William Hurt always plays characters that have depth. Right now, Helen Mirren is a great villain/spy in The Debt.
(Alyson Widen 1:20pm September 8, 2011)
I agree that the "Castle" stars would be perfect!
Blessings,
Marjorie
(Marjorie Carmony 1:38pm September 8, 2011)
I absolutely love Jeffery Donovan from Burn Notice, Nathon Fillion from Casle and Firefly, and also Alexander Skasgaard for True Blood.
(Ora Amis 1:48pm September 8, 2011)
Daniel Craig is so hot.. I can understand picturing him in anything and
nothing, wink. I also love Ryan Gosling. Men that have talent and are eye
candy, boy, I have a sweet tooth... Gerard Butler, Clive Owen, wow..my list
goes on...women spies I like Cate Blanchett..brillant actress, classic.
(Carla Carlson 2:02pm September 8, 2011)
I'm still a great fan of George Clooney---couldn't he be worked in somewhere?
(Sue Farrell 2:10pm September 8, 2011)
That's an awesome idea, Diane! I wonder if the actors would actually read the book.

Ooh, Clive Owen! Great suggestion, May. I didn't even think of him. Now I'm wavering...

Sue, good point about Kirstie Alley and the English accent. Maybe she could be an upstart American in the movie version?

Barbara, I always loved Patrick Swayze.

Good point about Reese, Sherie. I really like her too.
(Shana Galen 2:26pm September 8, 2011)
Thanks, Colleen!

Cheryl and Marjorie, the Castle stars are great choices. That's such a fun show.

William Hurt is a great actor as is Helen Mirren, Alyson. She's a little old for Sophia, but if she wanted a role in the movie, I could write her a part. No problem!

Ora, you have very good taste.

Carla, great suggestions on the guys. I hadn't thought of Cate Blanchett, but I like her so much. She's a really strong female actress.

Sue, we can always work George Clooney in.
(Shana Galen 2:29pm September 8, 2011)
OOOH... I like Rachel Weisz and Daniel Craig. They make an awesome couple. Thanks for the giveaway!
(Erin Fender 3:05pm September 8, 2011)
Hi Shana,

What a great cast you have lined up. However, did you consider Henry Cavill (The Tudors) or Richard Armitage for Daniel's part? Both of them are georgeously sexy.....

I love spy stories and, this one is intriguing as it's both the husband and wife.

Thank you for another opportunity Shana.
(Diane Diamond 3:15pm September 8, 2011)
oops, I meant "gorgeously".
(Diane Diamond 3:16pm September 8, 2011)
Hi, Shana! Loved your ideas for a casting couch for Lord and Lady Spy. How about Roger Moore or Sean Connery, thinking of James Bond characters, and they are both British?

Looking forward to reading Lord and Lady Spy. It is on my to buy or win list.
(Cathy Phillips 3:35pm September 8, 2011)
Oh i love the actors you chose. I have been hearing a lot of good things about this book can't wait to read it.
(Gail Hurt 4:03pm September 8, 2011)
How interesting! I like the idea of the husband and wife leading a double life. This is a book I would enjoy reading.
(Anna Speed 4:55pm September 8, 2011)
Well, are you sure you don't moonlight as a casting director? I love those choices.... and the excerpt of your book is really a wonderful start .... If my TBR pile gets any larger, it will topple & shake my house's foundation!!
(Cate Sparks 4:56pm September 8, 2011)
I really would love to win!
(Nylne Still 5:56pm September 8, 2011)
You're welcome, Erin. Good luck!

Diane, you have very good taste. I think I might have to change my mind because both Cavill and Armitage are pretty gorgeous.

Hi Cathy, I think Sean Connery would be great for Lord Melbourne. Great suggestion!

Thanks so much, Gail.
(Shana Galen 6:05pm September 8, 2011)
Cate, I know what you mean about that huge TBR pile.

Good luck, Nylne.

Thanks so much, Anna!
(Shana Galen 6:07pm September 8, 2011)
It's so much fun for readers to hear the author's own vision for casting their novels. I love your choices and am looking forward to reading Lord and Lady Spy. Thanks for visiting.
(G S Moch 6:17pm September 8, 2011)
A great selection of actors. Some of my favorites. I love Clive Owen too.
(Mary Preston 8:10pm September 8, 2011)
I love Hugh Grant,Anthony Hopkins and Liam Neeson,but my leading man would be Richard Gere. My leading lady Catherine Zeta Jones, and as Codelia, Jennifer Aniston.
(Deb Pelletier 8:40pm September 8, 2011)
Shana -
You got me fascinated as soon as you told us the premise of Lord and Lady Spy and I can't wait to read it. Then you mentioned secondary characters. Now you have to understand that for some reason in every book I read I always ended wanting to know more about one of the secondary characters and for them to have their own book. As soon as you mentioned Adrian reminded you of Hugh Grant you got me hooked. I think Hugh is a master at portraying characters that are a little outside the normal "hero" or love interest and I love, as you said it, to appear "bumbling and unsure. Right away it endears him to my heart and he always makes me laugh (with an occasional snifle or two)!

Hopefully Adrian will someday have a book of his own because it always seem the bubbling ones end to actually be not only smart but loveable and a little cunning as well.

Who knows he could actually be a spy himself!
(Jeanne Miro 8:42pm September 8, 2011)
It was fun to think about my dream cast, GS Moch. Everyone here has so many great suggestions.

Mary, I'm really thinking about Clive Owen now. He is so sexy.

Ooh, Deb. I like Catherine Zeta Jones for Sophia, but I think Richard Gere is too old for Adrian. Maybe a younger Richard Gere.
(Shana Galen 9:02pm September 8, 2011)
Oh, Jeanne, it would be tough to make Edward, Adrian's brother, a hero. I could try it, but I'm not sure it would work.
(Shana Galen 9:03pm September 8, 2011)
The perfect Lord and Lady Spy are British actors Ben Barnes (Prince/King Caspian of the Narnia film franchise as well as "Dorian Gray") and Lucy Griffiths (Marian of the BBC's last "Robin Hood" TV series).

Try Colin Firth or Sean Bean as Lord Melbourne and Mads Mikkelsen ("Casino Royale"'s Le Chiffre) as Fouch. Brit Eddie Redmayne would make a good brother Edward with Amanda Seyfried as his wife Cordelia.
(Carla Schuller 10:01pm September 8, 2011)
Love your books. Your casting is great, but consider the cast of Bones. Can see them in this book. Can't wait to finish reading. One book is better than the next!
(Constance Biller 10:34pm September 8, 2011)
Hugh Jackman? Kiera Knightly?
(Lisa Kendall 10:43pm September 8, 2011)
Your book sounds great! Cute Jackman is my favorite actor. He's a great actor and very versatile. For women, I really like Kate Winslet and Rachel Weitz.
(Molly Wilsbacher 10:55pm September 8, 2011)
Sounds like an interesting twist. Can't wait!
(Lisa Richards 12:07pm September 9, 2011)
My sexy man of the hour is David Boreanaz. I just adore him. I think I should play his lady love though..just kidding..
Sounds like a great read.
Thanks
(Patti Paonessa 2:27am September 9, 2011)
I find the idea of Hugh Grant and Kirstie Alley as a pair kind of intriguing. :)
(Penny Mettert 5:53am September 9, 2011)
Hi Shana,

I'm so glad that you liked my choices of the two veery delectably gorgeous men, Henry and Richard. I'm overwhelmed that I won, and want to say a huge "Thank You" to you. I can't wait to read "Lord and Lady Spy". By the way, the cover art is amazing, I adore the color of Lady Spy's dress.

Thank you again for choosing me.
(Diane Diamond 11:51am September 9, 2011)
I'd love Liam and Kate Blanchard!
(Joanne Bozik 3:18pm September 10, 2011)
Registered users may leave comments.
Log in or register now!