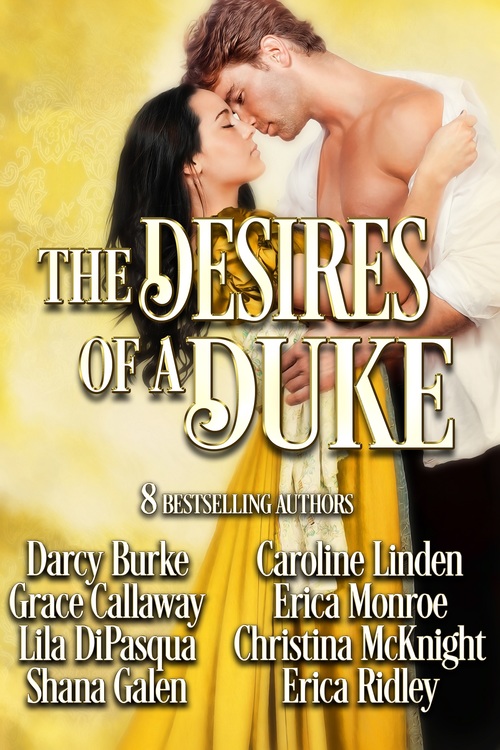 Purchase
Historical Romance Collection
La Loma Elite Publishing
December 2017
On Sale: December 12, 2017
1516 pages
ISBN: B075X3Y512
EAN: 2940158824326
Kindle: B075X3Y512
e-Book
Add to Wish List

Romance Historical | Romance Anthology
Enjoy eight historical romances from bestselling authors, featuring dashing, roguish dukes who are willing to risk it all to get the lady their heart desires. When these powerful, bold men take a chance on love, nothing can stop them.
THE FORBIDDEN DUKE by Darcy Burke
The Forbidden Duke helps ruined Eleanor find a second chance for happiness. What will she say when she learns of the role he played in her downfall?
THE DUKE WHO KNEW TOO MUCH by Grace Callaway
A spinster and rake join forces to catch a murderer. Wills clash and passion flares; will they risk all for love— before it's too late?
THE DUKE'S MATCH GIRL by Lila DiPasqua
The only woman Leo, Duke of Mont-Marly, has ever yearned for is the adorably unconventional beauty who got away. Suzanne creates and selling matchsticks, elixirs for the ill…and is still so damned alluring. Leo is determined to give her a Christmas beyond her wildest imagination...
WAITING FOR A DUKE LIKE YOU by Shana Galen
Pursued by assassins, Princess Vivienne of Glynaven escapes to England. The Duke of Wyndover aids her, but is he the man she's been waiting for?
WHEN I MET MY DUCHESS by Caroline Linden
The Duke of Wessex realizes he's about to marry the wrong woman when he meets his bride's sister…and the wedding may become a scandal.
I SPY A DUKE by Erica Monroe
A governess entering into a marriage of convenience with a duke gets more than she bargained for, as he's also a spy for the crown.
THE MISFORTUNE OF LADY LUCIANNA by Christina McKnight
The Duke of Montrose has only one choice: find a wealthy heiress to wed. When his quest brings him to Lady Lucianna, he can't deny that he wants her for more than just her dowry.
THE DUKE'S ACCIDENTAL WIFE by Erica Ridley
The unflappable Duke of Ravenwood meets his match in this rollicking romance read.
Limited Release
Comments
12 comments posted.
My favorite duke is Wulfric Bedwyn, Duke of Bewcastle, from Mary Balogh's Slightly Dangerous. Imperious and seemingly humorless, his downfall was sweet and extra special. No duke can wield a quizzing glass as arrogantly as Bewcastle. And he has eight of them! :-D
(Maida Malby 12:03pm December 13, 2017)
Hmm, a fav Duke... not sure, I have read so many great stories... a specific fav is not coming to mind...
(Colleen Conklin 12:15pm December 13, 2017)
My favorite duke is Alexander Moncrieffe, Duke of
Falconbridge, from Julie Long's What I Did For a Duke. He
was mature. And he was willing to sign over his property all
in his love for Millicent.
(Sharon Doucett 12:20pm December 13, 2017)
My favorite duke is definitely the Duke of Hawkshire, James
Fielding, from Anna Depalo's "One Night with Prince
Charming!" I just love everything about him and the book,
and it's definitely one of my go-to's for when I am looking
for a good historical romance.
(Lindsey Postula 12:22pm December 13, 2017)
Devil Cynster, Duke of St. Ives :)
(Miranda Owen 1:50pm December 13, 2017)
My favorite duke is Sylvester "Devil" Cynster, Duke of St
Ives from Devil's Bride by Stephanie Laurens and Royce
"Dalziel" Varisey from Mastered by Love also by Stephanie
Laurens.
(Jennifer Coleman 5:32pm December 13, 2017)
My favorite is Devil Cynster from Devil's Bride by
Stephanie Laurens. I'm calling dibs on him as my
historical book boyfriend. Honoria is his perfect match
as I love sassy, feisty, strong intelligent women. What
makes him so wonderful is because he knew she was perfect
for him. He didn't fight it but had to fight to win her
and he was not going to fail. All the Cynster men are
that way...LOVE THEM!
(Tina Hairston 6:57pm December 13, 2017)
Oh dear! Well, since the question asked for historical
dukes not fictional ones, I actually had to do a little
bit of research first! ;-) I think my favorite is the
Duke of Lancaster, John of Gaunt, 4th son of King Edward
III, from its creation in 1362 until his death in Feb
1399. So many English kings traced their bloodlines and
their claim to the throne to him. I find him rather
intriguing!! Cannot wait to read this book! Thanks so
much for the opportunity!
(Marcia Berbeza 7:10pm December 13, 2017)
Devil Cynster is by far my favorite Duke!
(Meghan Lovell 8:28pm December 13, 2017)
I have to admit Erica Ridley had one of my favorites from
Rebellious Desires. Julie Garwood was the first historical
romance author I've read! My other HAS to be Devil, because
how could he not be perfect!
(Patricia Wissore 9:21pm December 13, 2017)
I tend to like the non-dukes better than the dukes, but I
did love Ash from Tessa Dare's The Duchess Deal.
(Janette Gryniewicz 11:29am December 14, 2017)
Sorry, I don't think I have a favorite duke.
(G. Bisbjerg 4:46pm December 14, 2017)
Registered users may leave comments.
Log in or register now!