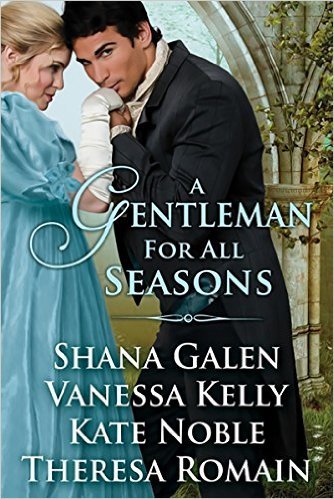 Purchase
Author Self-Published
November 2015
On Sale: November 10, 2015
ISBN: 0150773951
EAN: 2940150773950
Kindle: B014K3JD32
e-Book
Add to Wish List

Romance Historical | Holiday | Romance Anthology
The tiny village of Hemshawe is the sort of place where nothing ever happens…until a handsome ex-soldier and his matchmaking sister let the imposing manor house at the edge of town. The friendly Londoners shake up the staid people of Hemshawe, and villagers see each other in a new and oh- so-appealing light.
Suddenly long-sparring enemies become lovers, a town festival heralds a new start for a fallen woman and a dandy, and a man who has given up on love gets a second chance with the woman he never forgot. And the matchmaker herself? She won't rest until she finds her own happily- ever-after…
A MADNESS IN SPRING in Spring by Kate Noble
Adam Sturridge has made Belinda Leonard's blood boil since childhood, and the feeling is mutual. But when a would-be matchmaker arrives in the village of Hemshawe, she'd determined to erase the thin line between love and hate. Now, Belinda and Adam are faced with falling for someone they've always considered an enemy — can they overcome old prejudices and discover how to rub each other the right way?
THE SUMMER OF WINE AND SCANDAL by Shana Galen
When viscount's son and dandy Peregrine Lochley is temporarily exiled from London to the country for his misdeeds, the last thing he expects is to encounter an intriguing woman. But Caroline Martin has a secret to hide, and it just might be too scandalous for even this debauched rogue.
THOSE AUTUMN NIGHTS by Theresa Romain
Ten years ago, wealthy Eliza Greenleaf broke lowly soldier Bertram Gage's heart—but the last decade brought changes in fortune to them both. Now that he's made his mark on the world, a twist of fate brings the Greenleaf family under his power. Will this war-hardened officer triumph over his former lover…or will Bertie and Eliza give love a second chance?
THE SEASON FOR LOVING by Vanessa Kelly
Miss Georgie Gage, matchmaker extraordinaire, is resigned to life as a spinster—almost. When notoriously aloof bachelor Fergus Haddon arrives from Scotland to spend Christmas with the Gage family, Georgie thinks she's finally found her own perfect match—if, that is, she can get the handsome Highlander to agree!
Comments
36 comments posted.
Re: A Gentleman for All Seasons

I would love to win!
(Joddy Lantigua 9:25am November 11, 2015)
What I like, is that these books are quaint, have a bit of
History thrown in, although stretched, and the Romance isn't on
the erotic side in most cases. You also get a flavor of another
life - across the pond, from another time, and it makes for an
enjoyable read. Congratulations on your latest book!! It should
do well, and I've already put it on my TBR list!!
(Peggy Roberson 9:38am November 11, 2015)
From an atmospheric perspective, I love the "Lady" and "House
of" delineations. I also like the fact that the books have a
gentility and class about them that is missing from a lot of
the more contemporary set novels.
(Edward Washington 9:47am November 11, 2015)
I love to read about their life styles and their customs. There is nothing like a good regency romance. Actually it's all I like to read!
(Bonnie Capuano 10:45am November 11, 2015)
I love reading about the balls... Imagine seeing how they dressed... the dances...
(Colleen Conklin 11:34am November 11, 2015)
I enjoy the little taste of history along with the romance. The customs, style of dress, rules of behavior, and the settings are fascinating. I have visited Great Britain, so I can picture it all as I read.
(Cheryl Castings 11:47am November 11, 2015)
I love everything about Regency romances.. from the settings
to the balls and dresses... everything
(Natasha Persaud 12:07pm November 11, 2015)
The simpler times when men were gentlemen and ladies could count on them.
(Debbie Haston 12:39pm November 11, 2015)
I love reading the richness of the history of Europe. I'm Asian so all is so
cool to me. As I read, things are pictured in my head like a movie!
(Tracey Lee 12:56pm November 11, 2015)
The balls.
(Marissa Yip-Young 1:31pm November 11, 2015)
The clothes, the manners and the fact that people actually
had to interact with each other.
(Angela Daffern 2:26pm November 11, 2015)
the authors actually build a story instead of having the character jump directly into bed.
(Angela Parrish 2:55pm November 11, 2015)
I love the settings of the Regency--the grandness of the
country houses and the elegance of the clothes---and of
course,the romance.
(Sue Farrell 3:58pm November 11, 2015)
I love everything about the Regency romances . Their homes ( I picture plantations ), the way they traveled then , the way they dressed , the Balls they had ,I can picture myself dancing in one of the beautiful gowns they wore with a tall , dark and handsome Duke . Love them .
(Joan Thrasher 5:15pm November 11, 2015)
I LOVE ROMANCE PERIOD!! I adore Vanessa and I can't wait to
read this!!!
(Diana Tidlund 7:33pm November 11, 2015)
Well, I love all the things you listed Vanessa! One of my favorite things to read
about is the social occasions - the teas, balls, house parties, etc.
(Barbara Elness 7:34pm November 11, 2015)
I love the balls, clothes and how people behaved back then.
(Molly Laird 8:07pm November 11, 2015)
The setting, clothing, and regarding the wealthy...the balls
and house parties.
(G. Bisbjerg 11:30pm November 11, 2015)
Thank you.
(Micielle Carter 4:54am November 12, 2015)
I love the clothes and manners of that time.
(Janie McGaugh 10:39am November 12, 2015)
I enjoy learning about different eras and how bits of history are interwoven into some stories.
(Kim C 12:06pm November 12, 2015)
I love history and reading romances...combine them and I've got a winner! Thanks for the post and giveaway.
(G S Moch 12:33pm November 12, 2015)
I love romances and like that these add a tad of history and a different
lifestyle from the ones that we live now.
(Lily Shah 2:26pm November 12, 2015)
Thank you for a great contest. Can't wait to win and read
them.
(Jeri Dickinson 3:14pm November 12, 2015)
I like the Regency era when men were gentlemen (for the most part, let's hope!). I enjoy the clothing and stories set in London.
(Michelle Fidler 4:34pm November 13, 2015)
I love these authors - Regency anthologies are a favorite read
for me!
(Diane Sallans 8:41pm November 13, 2015)
Love Regency books, so would be thrilled to win.!!
(Mj Chesick 11:37pm November 13, 2015)
love to read about in that time period - great escape
(Dianne McVetty 7:07am November 14, 2015)
There is nothing more fascinating than reading a Romance suspense novel. I especially love a man in uniform. Thank you for the opportunity to read your novel.
(Lorraine Bromley 8:45am November 14, 2015)
I love that time period...it's so romantic and I love a strong heroine! Thanks for this great giveaway!!!!
(Bonnie Capuano 10:57am November 14, 2015)
I enjoy the history and the way the couples interact with each other. It's very different from the present.
(Anna Speed 11:53am November 14, 2015)
I just love the manners and the time period.
(Pam Howell 12:57pm November 14, 2015)
I love the pretty dresses & tight breeches, rules &
manners, flowery language.
(Sharlene Wegner 7:18pm November 14, 2015)
I always loved historical/regency time books. I love
everything about that time, the dresses, the way couples
interacted with each other, the romance, the balls they
attended and the gowns they wore were beautiful, the
suspense/mystery, the homes and traveling they did. I do
like the characters to to be strong, especially the
women/heroine. Thank you for the chance. I would love to win
this book.
(Joanne Altieri 10:19pm November 14, 2015)
I love to read about the history of the time era. I took
picture of needlework tools on the table in a manor house in
England one time as I do needlework and was impressed.
(Leona Olson 10:08am November 15, 2015)
Four excellent authors! Looking forward to reading this!
(Sharlene Wegner 4:24pm December 2, 2015)
Registered users may leave comments.
Log in or register now!