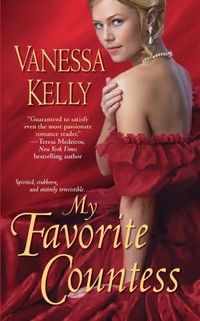 Purchase
Kensington
May 2011
On Sale: May 3, 2011
Featuring: Countess of Randolph; John Blackmore
352 pages
ISBN: 1420114832
EAN: 9781420114836
Paperback
Add to Wish List

She is difficult, demanding, and at times, quite fierce. And Dr. John Blackmore can't take his eyes off her. The Countess of Randolph is the most striking woman he has ever seen...and the most infuriating patient he has ever tended.
Mired in responsibility, Bathsheba doesn't have time to convalesce in the country. She should be in London, hunting for a wealthy new lover to pay off her late husband's vast debts, not dallying with a devastatingly handsome doctor.
But it is only a matter of time until the good doctor and the obstinate countess will have to contend with the sparks that fly between them. And once their bodies surrender, their hearts may follow…
Author Note
Dear Reader,
I had a great time writing My Favorite Countess, for two reasons. The first was that my heroine Bathsheba, the Countess of Randolph, was the villainess of my previous book, Sex And The Single Earl. In that story, Bathsheba made a lot of mischief for the hero, who was formerly her lover. Actually, she made mischief for just about everyone, which is the kind of thing she likes to do.
Reforming a villainess can be a bit of a challenge and it's not often done in historical romance. Usually it's the guy who's in need of reformation, and there are many, many examples in romance novels of bad boys turning into heroes. But Bathsheba really latched on to me, and I had to find out if she was really as bad as she seemed in Sex And The Single Earl. I'm happy to report that she wasn't!
That didn't make my job any easier, though. The first step in reforming a villainess is finding the right hero, one who can both challenge her and bring out her best qualities. And my hero, John Blackmore, was the second reason writing this book was so much fun.
Writing John was a bit of a departure for me. He's not a duke, or an earl, or a spy, or a soldier, or any of your other typical Regency heroes. He's a physician, and a crusading slum-doctor at that. Since Bathsheba is on the lookout for a rich husband, the last person she wants to get involved with is a doctor on a mission that frequently puts him in danger. John's not really interested in money, but Bathsheba tends to think it's very important, indeed.
And did I mention that both Bathsheba and John have secrets? Big ones, that threaten everything they hold dear.
Secrets, reformed bad girls, and sexy doctors—sounds like fun, doesn't it?
Comments
70 comments posted.
No, I don't like doctors who are the focus of the story. Except for Markus Wellby, M.D., and M.A.S.H., I don't think I've even watched any Doctors' shows in the last 20 years.
(Molly Wilsbacher 12:56pm April 28, 2011)
Is DR GREGORY HOUSE a hero? Perhaps not, but certainly fascinating.
(Mary Preston 4:11am April 28, 2011)
Love Markus Wellby M.D. Doctors are heroes, one saved me when I had a heart attack, so I thing Doctor's are Hero's.
(Frances Namuth 4:47am April 28, 2011)
I'm definitely like you. There's just something really awesome about doctor heroes. I used to be a nig fan of Greys Anatomy (and McDreamy) but at the moment I don't really have a favourite. And in response to a comment above, I don't think House could be counted as a hero, he's not exactly remotely heroic.
(Jessica Sutton 4:50am April 28, 2011)
Naaa. I like the manly man heroes. To me, the doctors in books are all money, and frufru. BUT, then I haven't read your book yet- maybe it will change my mind
(Patti DelValle 5:13am April 28, 2011)
Thank you for your post, Vanessa. How great to read about a Regency romance in which the hero isn't some arrogant duke!

I haven't been much of a TV watcher for quite a while, so I'm not up on current and recent medical dramas. But during my formative years I was a big fan of "Ben Casey" and "Dr. Kildare".

As for memorable doctors in film, I could name many who would ring a bell only with fellow old-movie buffs. Still, one might be more widely known: Omar Sharif in the title role in "Dr. Zhivago".

Good luck with your new release!
(Mary Anne Landers 5:16am April 28, 2011)
I'm a 4th year medical student, and I love Dr. House. But in terms of movies, Dr. Zhivago was truly inspirational and memorable!

I think Doctors make for great heroes because they understand human frailty, and they deal with life AND with death, which serves to make them sensitive as well as tough in difficult situations.
(Hira Hasnain 6:02am April 28, 2011)
I don't mind a doctor who is a hero. I loved Mash. I watch House, but in no way see him as a hero. He is way too narcistic to be a hero.
(Debbie Penny 6:48am April 28, 2011)
Doctor heroes in fiction are great, in real life, wonderful!
Blessings,
Marjorie
(Marjorie Carmony 6:53am April 28, 2011)
I believe Doctors save lives every day and I am so grateful that they take the time to educate themselves to help people in need. Doctors are heroes and sometimes I even feel they are sometimes Angelic.
(Cheryl English 7:13am April 28, 2011)
I love doctor heros.. Between Dr. Kildare and that group of MDs on Mash [both movie & tv] Ahhhhh..
(Cate Sparks 7:15am April 28, 2011)
I like Dr heros but my favorite doctor show is House.
(Pam Howell 7:26am April 28, 2011)
Mash was one of my favorite shows. I read all the time, but haven't read too many books with doctor heroes; am looking forward to yours!
(Jody Hollenbeck 7:29am April 28, 2011)
Nah. I'm an RN and docs don't thrill me.
(Lisa Garrett 7:45am April 28, 2011)
don't mind doctors, i only go once a year and get everything done.
(Julie Barett 8:07am April 28, 2011)
I think all alpha males are great!
(Barbara Hanson 8:20am April 28, 2011)
Once again an author I have not read, but I look forward to this one, too. I love a strong woman. Turn the doctor inside out and make him beg like a lap dog. haha
(Shonda Abercrombie 8:37am April 28, 2011)
Doctors DO make good heroes, because they are heroes in real life!
(Beth Foster 8:41am April 28, 2011)
I love the idea of Regency doctors. I can't wait to see what you do with it!
(Renee Brown 8:44am April 28, 2011)
I have always liked Hawkeye in M.A.S.H. - Funny, handsome, smart...heroic. I can't wait to read about your Doctor hero!
(Michele Lawrence 8:58am April 28, 2011)
i love to read the book and the alpha
they are so good looking and act like genteman
(Desiree Reilly 9:00am April 28, 2011)
Thanks, everyone, for all the interesting comments! My doctor hero is certainly an alpha male, but not the kind who goes around busting things up. As Hira mentioned, the doctor hero deals with life AND death, which allows him to be both sensitive and strong, able to face any situation or danger. That's certainly how I envision John Blackmore, the doctor in my book. He's even up for dealing with an arrogant countess!
(Vanessa Kelly 9:17am April 28, 2011)
I loved George Clooney in ER...and I love a couple Doc's on Grey's Anatomy....I watched All My Children for sometime and I love "Dr. Jake Martin". All in all I just love books and I love to read...anything..Thank you

[email protected] 8:17 am
(Leisa Prater 9:19am April 28, 2011)
Can't say that I get really excited about Doctors. Always enjoyed watching MASH, watching House, he just irritates me.
(Jean Patton 9:21am April 28, 2011)
I like Hawkeye in MASH but don't like to read about doctors. After all, I read books to escape reality and the alpha male is the one I want to escape to!
(Susan Davco 9:48am April 28, 2011)
I love House. He is such an ass to cover that he truly cares about people. Like so many men I know. *SMH*
(Tracie Travis 9:48am April 28, 2011)
When I was growing up my father's best friend was not only an old college chum but also a docter just starting his practice. He also lived on the same street as we did. I grew up thinking of "Uncle Dick" as one of my Dad's fishing buddies not as a docter. I remember him in beat up old clothes playing in the dirt with his children.

I think because of this I think of docters as regular people. I adore the docter that saved my first son's life when he was born and the docter who saved mine when I had a heart attack. I respect them for their skill, their hard work and their dedication.

When I read stories with docters what I want to read about are their personal feelings and hardaches - just like any other hero. I feel the same for firefighters, public servants and those in the military defending our country. The funny thing is I also feel the same way about the plummer who comes out in a blizzard to get my water to work.

It's what the hero does that makes him a hero not his profession.
(Jeanne Miro 9:53am April 28, 2011)
There are two types of doctor--those who make it a career and those that make
it a profession. The first one is in it for the money and the second is in it for the
patient. I know which one I would want and "good looks" are not necessary. It
would seem that your book is about one with a profession--good going!
(Sandra Spilecki 10:01am April 28, 2011)
I don'thave a particular doctor, but do love drs in books and movies!
(Leanna Morris 10:03am April 28, 2011)
I don't think I have ever read a book where a doctor was a hero. Like so many others, I adored Ben Casey, Dr. Kildare, and of course the Mash doctors in the movie and tv series. I like both the alpha and beta males, and your book sounds like a must read.
(Cathy Phillips 10:23am April 28, 2011)
Hawkeye, of course! With House a close second.
(Kelli Jo Calvert 10:26am April 28, 2011)
I loved the doctors on Diagnosis Murder!! Funny & Witty !!
(Dawn Staniszeski 10:30am April 28, 2011)
I always did have a soft spot for balls in any story. I always loved the way rank and titile in society came about in those times.
(Anthonia Sharp 10:41am April 28, 2011)
I'm a throwback to the past, so I used to love characters like Dr. Kildaire, if you can remember him. Dr. Welby was a kind soul as well, even though he was not the type of doctor you would go after romantically. lol As long as a book is well-written, and the love scene is done tastefully, I really don't care if the main character is a doctor or a ditch-digger. The main thing is that he's lovable and has all the right characteristics to make him so, without coming on like an alpha-male. Congratulations on your latest book. It sounds like a great story, and I'm anxious to read it.
(Peggy Roberson 11:49am April 28, 2011)
I love Derek Shepard on Grey's Anatomy.
(Margay Roberge 11:49am April 28, 2011)
I always liked Marcus Welby, M> D. and Dr. Kildaire (not sure of spelling). I just don't seem to have much interest in doctor dramas on TV anymore. As far as doctors in books
they are as intersting only if weel written.
(Carol Woodruff 12:00pm April 28, 2011)
Hate 'em.
(Nan Zahar 12:07pm April 28, 2011)
I loved George Clooney on ER. YUM!
(MaryEllen Hanneman 12:34pm April 28, 2011)
i have always like doctor's in t.v. or books. i use to love to watch MM.A.S.H. but now my favorite is not really a doctor but a medical examiner. i love the show NCIS and my favorite character's are 1st) Ducky and 2nd)Abby. i love the way he is always so gallent and the way he rambles on and on. it's hilarious.
(Tammy Ramey 12:36pm April 28, 2011)
Hawkeye of MASH made quite an impression on me. I do love doctors as heroes in romance.
(G. Bisbjerg 12:39pm April 28, 2011)
I just read When Beauty Tamed the Beast and loved the main character. Your book sounds great!
(Renee Pajda 1:36pm April 28, 2011)
Ben Casey over Dr Kildaire and George Clooney in ER. Love the idea of a crusading doctor who worries about women and children
(Cheryl Ricin 2:04pm April 28, 2011)
It has been some time since I read a doctor hero, but have enjoyed quite a few of them from M. Ferrarella.
(Colleen Conklin 2:19pm April 28, 2011)
Love Dr. House on tv..........
(Joanne Bozik 2:26pm April 28, 2011)
Gotta love M*A*S*H's Hawkeye Pierce! Your book sounds very interesting. Thanks for the visit.
(G S Moch 3:00pm April 28, 2011)
I "like" Dr. House but I absolutely ADORED Trapper John and Hawkeye on MASH. I love the name Bathsebda, quite unusual for a heroine! I can't wait to read this one, it sounds really good.
(Martha Lawson 3:52pm April 28, 2011)
When Beauty Tamed The Beast is a great doctor-hero book, and so is Marry Me by Jo Goodman. Both out in the past year, which is interesting. I guess doctors are popular in romance this year!
(Vanessa Kelly 4:11pm April 28, 2011)
I loved MASH and George Clooney in ER.
(Deb Pelletier 5:03pm April 28, 2011)
George in ER was great! House isn't a typical hero but he is interesting to
me.
(May Pau 5:07pm April 28, 2011)
My favorite doctor would have to be Eidolon from PLEASURE UNBOUND, Book 1 of Larissa Ione's Demonica Series.
(Cynthia Netherton 5:11pm April 28, 2011)
Doctor heroes are great! Of course, my estimation of doctors took a nosedive when a few of my friends started med school; though they are now very competent physicians (tops in their fields even), at the time I couldn't help but think "if these goofballs could become doctors..."
(S Tieh 5:17pm April 28, 2011)
I liked the doctor in the book/TV Show 'Christy'. As a bonus he had that great Scots accent!
(Diane Sallans 5:43pm April 28, 2011)
I have seen many doctors in movies and such, but have never known one in person.
(Debra Simning-Chapman 6:06pm April 28, 2011)
Although I remember the occasional doctor hero, these days it is more likely for the heroine to be a doctor. There was the midwife series by Gay Coulter. Spacedoc space opera series by SL Viehl.
I like the idea of a doctor hero for Regency romance. We don't see many working class heroes.
(Carol Drummond 6:38pm April 28, 2011)
wow sounds like a sexy book
i think we all love doctors .. i loved trhe ones in the old australian tv series The flying doctors .. and some In Shortland street
and who can forget the SEXY Dr Carlisle Cullen in Twilight saga mmmmmm :D
(Rachael Kennedy 6:53pm April 28, 2011)
Actually, the doctor I like most is a woman. Jane Seymour as Dr Quinn,
Medicine Woman, one of my favorite TV shows. I loved William Hurt in
the movie, THE DOCTOR. Richard Gere was an arrogant workaholic doc
in NIGHTS IN RODANTHE. But is was a great movie and Richard Gere is
hot, even now.
(Mona Garg 6:56pm April 28, 2011)
Trapper John and Hawkeye are by far my favorite hero doctors. Dr House in today's TV is the best for me.
(Sue Farrell 7:26pm April 28, 2011)
I don't think I've read that many books with a doctor as the hero. Not that I dislike them. I have many favorite doctors on TV, Hawkeye from Mash of course, Dana Delaney's medical examiner character on the new Body of Proof TV show. I always liked Quincey. Dr. Andy Yablonski, Alex O'laughlin from Three Rivers. Dr. Who, David Tennant. I could go on. Thanks for the contest. I'd love to win.
(Lisa Kendall 8:09pm April 28, 2011)
Wow! I had forgotten a lot of those TV and movie doctors. This is such a great thread!
(Vanessa Kelly 8:19pm April 28, 2011)
Favorite doctor, wow I hadn't thought about it and after seeing everyone else's comments I would have to say the men of Grays Annatomy!
(Brenda Rupp 8:36pm April 28, 2011)
I love a good Doctor book! My newest favorite is Too Hot Too Handle by Robin Kaye. I love MIKE!! I wish I had one like him at home! Cannot wait to read your doctor!
(Sherie Lagarde 8:55pm April 28, 2011)
House is my favorite! He follows his own code of rules. He doesn't take crap from anybody! And Patrick Dempsey is really hot too!!!
(Andrea Schiffner 9:12pm April 28, 2011)
After reading some of the comments I see I'm not the only Marcus Welby M.D. fan. Enjoyed the enterview. Carmen sent me.
(Sheila True 11:20pm April 28, 2011)
The hot Grey's Anatomy doctors are so yummy!
(Robin Daily 11:40pm April 28, 2011)
I recently read a Carla Kelly regency with a surgeon hero. Lieutenant Philemon Brittle was his name, and he was a wonderfully sensitive and brave man who truly deserved his Lady Laura! The book was THE SURGEON'S LADY and like all of Carla Kelly's books, it was terrific!
(Laurel Chevlen 11:54pm April 28, 2011)
I've enjoyed different doctor shows over the years (though don't watch any currently). I think my faves were MASH (of course, having grown up during those years) and later Trapper & Gonzo from Trapper John MD -- they were both sexy, sweet & slightly goofy :) Congrats on the upcoming release!
(d Kenney 11:59pm April 28, 2011)
Yes, my dear, Eric Dane as Dr. Marc Sloan in Grey's Anatomy, and of course Patrick Dempsey as Dr. Dereck Shepherd, They are so Adorable, I love them... you also have to say George Clooney when he was in ER too, and I love my Gyno.. he looks just George Clooney, I am so LUCKY!!! anyway I guess I do have a thing for Doctors damn why did I marry a football player, I am way off the field, LOL... oh well ! thats between all of us girls! SSH! :) ladyfiera at aol dot com
(Lisette Reyes 12:09pm April 29, 2011)
Laurel, I loved The Surgeon's Lady - wonderful book with wonderful characters!
(Vanessa Kelly 12:12pm April 29, 2011)
Thanks for weighing in, everyone. Really fun discussion!
(Vanessa Kelly 12:12pm April 29, 2011)
Dr. Benjamim Franklin Pierce was a good TV doctor. Of course, Major Frank Burns was terrible.
(Ann Garland 7:24pm May 1, 2011)
Registered users may leave comments.
Log in or register now!