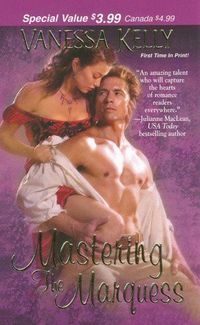 Purchase
Zebra
April 2009
On Sale: April 1, 2009
Featuring: Meredith Burnley; Stephen Rawlings
352 pages
ISBN: 1420106546
EAN: 9781420106541
Paperback
Add to Wish List

Since the loss of her parents, Meredith Burnley has contented herself with a solitary life looking after her half-sister, Annabel. But Meredith's peace is shattered when her uncle schemes to marry her off to his son in order to gain her inheritance. Desperate, Meredith has only one choice: to flee with Annabel to their estranged grandparents' home. But their arrival soon reignites a family scandal—and kindles unexpected romance…
Happily reunited with the girls, Annabel's grandmother resolves to convince her nephew, Stephen Mallory, the Marquess of Silverton, to abandon his rakish lifestyle and wed Annabel. Stephen is clearly captivated—but with the wrong sister! Determined to make Meredith his own, Stephen embarks on a seduction that will leave her with no choice but to surrender to his touch…
Author Note
Inspiration for stories comes from all kinds of places—movies, a friend's life, a conversation we overhear in a café. The inspiration for my novel, MASTERING THE MARQUESS, came from a topic which captured my imagination in school.
I spent several years in graduate school studying the theme of women and madness in 18th and 19th century British literature. Women were sometimes committed to asylums by their male relations, for a variety of reasons. Sometimes these relatives decided the unfortunate woman was troublesome or disobedient, and the best punishment for that was confinement. In other cases, they simply wanted access to the poor woman's money. I thought the later reason would make a great basis for a story, plus I would get to use some of the arcane bits of knowledge that had been floating around in my brain since graduate school!
So even though MASTERING THE MARQUESS is a Regency novel, I included elements of a classic gothic tale, including incarceration in a madhouse. It's a suspenseful storyline that places both the heroine and her sister in extreme danger.
This kind of suspenseful storyline allowed me to explore some really fascinating themes, which I wanted to develop through the actions and emotions of my heroine. Meredith is a very serious person, and she'll do anything to protect the people she loves. She'll sacrifice her own needs and desires, especially to protect her little sister, Annabel. Meredith's had a hard life, and doesn't expect much good to come her way. She's much more tortured than my hero, Silverton, who has the world pretty much at his fingertips. Putting Meredith and her sister in danger allowed me to explore the themes of self-sacrifice and heroism and, ultimately, the redemptive power of love.
And the redemptive power of love is really what romance is all about, isn't it? Happy reading!
Comments
14 comments posted.
I LOVE this book. I can't seem to put it down.
(Shawna Nunnery 8:37am April 11, 2009)
It amazes me to see in print some of the ways we females were "held in check" if we but had an idea that didn't agree with our husbands! Off to the asylum to settle the little woman down!! Thank God those days are in the past!! Your book sounds fascinating! Look forward to reading it.
(Jean Merriott 10:40pm April 12, 2009)
After reading the excerpt, I'd love to win a signed copy of this book. Thanks.
Lorraine
MOML1@COX>NET
(Lorraine Larose 5:33pm April 13, 2009)
Hi Vanessa. I liked your post, but I commented on the other blog.
(Stacy Ahlgren 6:55am April 16, 2009)
I have six sisters - oh the drama, lol. I'm
the oldest. When we were young there
were tiffs. Not so much anymore. But
we're also spread all over the US!
(Mary Hundley 8:53am April 16, 2009)
No sisters. But, I grew up the eldest with one brother and three very close cousins who I was supposed to watch over. My mother often told people that we never fought and that was true. The boys wanted to play cowboys and we girls wanted to play house - so the cowboys came home to dinner!
(Karin Tillotson 11:34am April 16, 2009)
I'm an only child, so I don't know personally about having a sister, but I used to watch my younger cousins fight all the time and then I would tell them they would be best friends someday. For the most part, I was right!! As for sisters in fiction, I love the sisters of the heart in Sherryl Woods Sweet Magnolias series. And I also love the sisters (and brothers) from Dee Henderson's O'Malley Family series1
(Kelli Jo Calvert 12:31pm April 16, 2009)
As the mother of three children, I know how all their personalities are so very different. I love to see that in novels. I think the sister fascination for many readers goes way back to "Little Women." Those girls were portrayed as different personalities and that's one reason why I enjoyed the book.
(LuAnn Morgan 12:32pm April 16, 2009)
I have three sisters!. We had our spats when we were younger but are really close now. We always had each others back and tried to keeep everyone out of trouble.
(JoAnn White 2:27pm April 16, 2009)
I have two sister and we didn't get along at all when we where younger as children at all, but we get along great now!
(Gail Hurt 2:49pm April 16, 2009)
Yep, sisters - it always generates a lot of discussion! I had forgotten about Little Women. I love that book - and I still cry at all the versions of the movies! Thanks for your comments, everyone. It's really interesting to hear about your different experiences.
(Vanessa Kelly 4:47pm April 16, 2009)
I have a sister who is 18 months older. We got into a few tiffs when we were younger but as adults we are very close!! We have two older brothers too... one tends to be more close than the other who is the "odd man out" in our family with different politics and religion etc. We still love him though!! Recently read a book where the younger sister really took advantage of the older... stole her boyfriends etc. Not so nice! Can't think of any others right now.
(Martha Eskuchen 6:34pm April 16, 2009)
As the oldest of 6, I always felt like the
odd man out. My relationship with my
middle sister wasn't all that great
when we were younger, but we both
have grown up and our good friends
now. My baby sister was never really
involved in the sibling rivalry thing - I
was out of college and overseas by the
time she was in 5th grade. Can
actually relate to the sisters in Pride
and Prejudice. They are all very
different and that is the way it should
be.
(Patricia Barraclough 11:35pm April 16, 2009)
After reading the excerpt, I would love to win a signed copy of this book. Thanks.
Lorraine
MOML1@COX.NET
(Lorraine Larose 10:32am April 18, 2009)
Registered users may leave comments.
Log in or register now!