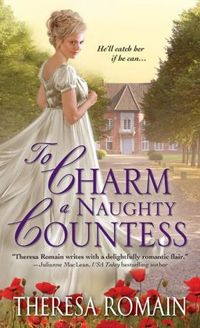 Purchase
He'll catch her if he can...
Sourcebooks Casablanca
May 2014
On Sale: May 6, 2014
Featuring: Caroline; Michael
352 pages
ISBN: 1402284020
EAN: 9781402284021
Kindle: B00HUTVFZ8
Mass Market Paperback / e-Book
Add to Wish List

If she doesn't start behaving, she'll lose her reputation-and her heart
Caroline, the popular widowed Countess of Stratton, has no wish to remarry. But when the brilliant, reclusive Duke of Wyverne-her counterpart in an old scandal-returns to town after a long absence, she finds herself as enthralled as ever.
Michael must save his family fortunes by wedding an heiress, but Caroline vowed that she would never sell herself in marriage again. The only way she can keep Michael near is to help him find the wealthy bride he requires. As she guides him through Society, Caroline realizes that she's lost her heart again. But if she pursues the only man she's ever loved, she'll lose the life that she holds dear.
Comments
43 comments posted.
Re: To Charm a Naughty Countess

Hi, I hope I win!
(Susan Mahaffey 12:35pm May 22, 2014)
the book looks really good i have been wanting to read this
thanks for the chance
(Denise Smith 12:45pm May 22, 2014)
I love the sound of this book. I know it will be fun to read. Hope I win a copy!
(Karen Haas 9:49am May 22, 2014)
This book sounds like a charming romance. I am a sucker for cheesy words of love, so something like this would hook me: "You are a balm to my soul."
(Cheryl Castings 10:44am May 22, 2014)
How about 'I love being with you because I really like you' -
I think the basis for a long term relationship should be a
genuine liking of each other.
(Diane Sallans 11:26am May 22, 2014)
"I love you" works for me
(Julie Parrish 11:41am May 22, 2014)
When my husband calls me "My Love", it just melts my heart!
(Robin Driscoll 11:45am May 22, 2014)
HI, everyone--so glad to be visiting Fresh Fiction today to chat about romance
with you! Thanks for stopping by, and for your comments.
(Theresa Romain 11:51am May 22, 2014)
Well, I am not one for mushy "I love you" because most times
if you are just getting to know one another that is just not
there. However, it has only happened twice with me but it was
uttering the words "ALL NIGHT LONG" that melted me.
(Tina Ullrich 12:10pm May 22, 2014)
I suppose the words "I need you in my life" would do it for
me, just thinking off the top of my head. If I really
stopped and thought for a while, I would probably come up
with a much better line. I thought that the cover to your
book was breathtaking, and I'm looking forward to reading
your book very much!! Congratulations!!
(Peggy Roberson 12:39pm May 22, 2014)
"When I looked in your eyes, I knew I loved you"
(Quina B 12:46pm May 22, 2014)
If someone told me that I make them happy or smile... that warms my heart...
(Colleen Conklin 1:02pm May 22, 2014)
Susan, Denise, and Karen--thank you, and good luck!

Cheryl, sounds like a historical romance hero could win you over. :)

Diane, so true! And in fact, Michael and Caroline become friends first. That's how
they start to trust each other.

Julie, that's always the big moment in a romance. It works for heroines too!
(Theresa Romain 2:39pm May 22, 2014)
Robin, your husband sounds like a very sweet guy.

Tina, sounds like there is quite a story there! Hope it has a great hero.

Peggy, thank you! I love that cover art too. The heroine's mischievous expression
is just perfect.

Quina, have you ever thought of writing romance? :)

Colleen, that's a wonderful compliment! I like to hear that too.
(Theresa Romain 2:42pm May 22, 2014)
The apple of my eye.
(Sylvia Leija 2:44pm May 22, 2014)
"I'm here for you" would be a great start. Thanks for the post and giveaway.
(G S Moch 3:03pm May 22, 2014)
I think I have one of your books on my shelf!! Guess I'd better get busy. :D
(Joy Johnson 3:56pm May 22, 2014)
I have your Matchmaker series, and they're on my TBR pile.
(Jk Vaid 4:25pm May 22, 2014)
Sounds great. I also like "you are the best."
(Michelle Fidler 5:22pm May 22, 2014)
Oh definitely, "I need you" would win me over, or "I miss you."
(Barbara Elness 6:52pm May 22, 2014)
I'm lonely without you.
(Lynne Mauro 7:10pm May 22, 2014)
You are my soul mate or I can't live without you. Of course, those words would only work if I felt the same way.
(Cathy Phillips 7:29pm May 22, 2014)
"You are the best thing that ever happened to me" is what my husband wrote on the card he gave me for our 36th wedding anniversary. It melted my heart! More than 4 words, I know but so touching.
(Debbie Kelly 8:29pm May 22, 2014)
L, Sylvia, and GS--so much goodness in just a few words!

Joy, that's so cool! Which book is it? Hope you enjoy. :)

Neicrunel is spam, yet I like the phrase "the clang" between the mutants.
Onomatopoeia!

JK, thank you for getting hold of my books! This is the second Matchmaker
book, but you can read each story on its own/in any order.
(Theresa Romain 10:18pm May 22, 2014)
Michelle, I hope someone tells you that all the time. :)

Barbara, those would work for me too. Maybe I need to direct Mr. R to this
thread…

Lynne, knowing that one is missed is really powerful, isn't it?

Cathy, so true! Those words fizzle if the feeling isn't returned.

Lenna, that makes me think of the line from As Good As It Gets: "You make
me want to be a better man." That's pretty much the only part of the movie I
remember (well, that and the fact that Jack Nicholson's character was a
romance novelist), and I think it stuck with me because it was such a powerful
compliment.

Debbie, that is beautiful! Hope you two enjoy many more anniversaries.
(Theresa Romain 10:22pm May 22, 2014)
You give meaning to my life.
(Janie McGaugh 10:32pm May 22, 2014)
"You own my heart."

I can't wait to read this book, Theresa!
(Marcy Shuler 10:45pm May 22, 2014)
I'm sorry, I'm sitting here cracking up at the first
comment. I can just imagine a hero saying "Hi, I hope I win"
to the heroine and winning her over with those five words.
It can happen though!

As for what can win me over? Nothing that I can think of.
Words don't mean to much to me, it's the person's actions
that matter.
(Alyn Yang 11:35pm May 22, 2014)
You had me from hello. ;-)
(Lisa Hutson 12:41pm May 23, 2014)
Pretty cover. Sounds like a great book.
(Sue Brandes 7:45am May 23, 2014)
I love historical romances and I love the cover. Can't wait to read this book either! Thanks Theresa!!
(Bonnie Capuano 8:58am May 23, 2014)
This sounds like a great book. Thanks for the chance to win. As for words that would win me over - anything positive. My husband tells me all the time I make him happy - or make him laugh - or just that I'm so smart. Those kind of positive words make me feel the luckiest person - I've got on one of "the good ones" and I know how blessed I am.
(Nancy Reynolds 10:49am May 23, 2014)
Well, I'm a romantic, but I tend to be somewhat cynical as
well. I would need something a bit more than just words to
win me over.
(Karin Anderson 11:05am May 23, 2014)
This made me think of the line in Jerry MacGuire - You had me at hello.
(Pam Howell 11:33am May 23, 2014)
Looking forward to reading this book.
(Deb Diem 11:46am May 23, 2014)
A sincere "I love you" would win me over.
(Anna Speed 11:48am May 23, 2014)
I love you!
(Denise Holcomb 2:16pm May 23, 2014)
I am a die-hard romantic, so I'd love this book!
(Maria Proctor 2:35pm May 23, 2014)
I love you, babe!
(Denise Austin 5:11pm May 23, 2014)
"You make me smile!"
(Mary McCoy 6:17pm May 23, 2014)
I love you!
(Betty Hamilton 4:32pm May 25, 2014)
Life's better with you!
(Beth Fuller 10:23pm May 25, 2014)
What a lovely book! A sincere "I love you" would win me over.
(Bonnie H 11:46am May 28, 2014)
Registered users may leave comments.
Log in or register now!