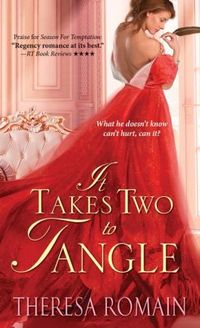 Purchase
Sourcebooks Casablanca
September 2013
On Sale: September 3, 2013
352 pages
ISBN: 1402283997
EAN: 9781402283994
Kindle: B00D2XA34U
Paperback / e-Book
Add to Wish List

Wooing the Wrong Woman...
Henry Middlebrook is back from fighting Napoleon, ready to re-enter London society where he left it. Wounded and battle weary, he decides that the right wife is all he needs. Selecting the most desirable lady in the ton, Henry turns to her best friend and companion to help him with his suit...
Is a Terrible Mistake...
Young and beautiful, war widow Frances Whittier is no stranger to social intrigue. She finds Henry Middlebrook courageous and manly, unlike the foppish aristocrats she is used to, and is inspired to exercise her considerable wit on his behalf. But she may be too clever for her own good, and Frances discovers that she has set in motion a complicated train of events that's only going to break her own heart...
Comments
40 comments posted.
I love your books! My family has a Molly every other generation, even though
that girl is really named Mary. It's an Irish thing like Jack is a nickname for John.
(Molly Wilsbacher 10:33pm September 12, 2013)
I'm with Molly - I love your books!

Nicknames are OK as long as you don't have old men still called Billy or Jimmy.
(MaryAnne Banks 10:36pm September 12, 2013)
Mine is Missy Prissy-- and honestly, I've always loved it
;-)
(Chelsea Brooks 10:38pm September 12, 2013)
I've always wanted a nickname. It seemed as if all of the people in the world had one except me. Not sure what it said about my personality. The closest I came was that my name was shortened from Marcia (Mar-see-a) to Marcy. And then I had children. After spending so much time choosing a great name, I am annoyed to this day that my son has shortened his name. He did the first day he hit school. Of course it could be because I used both his first name and middle name every time he got into trouble, and he did THAT a lot! My daughter is still using her full first name and occasionally uses her middle name (after her Ukrainian grandmother) as well. Interesting thread!
(Marcia Berbeza 10:42pm September 12, 2013)
My generation is remarkably short of nicknames. We have
various incarnations of John going back at least 5
generations. I had a hard time remembering to respond to "Red"
when the relatives called me that. It was mainly since we
didn't see them that often.
(Laura Gullickson 10:57pm September 12, 2013)
I've had so many nicknames over the years. Some were endearing, and some made me cringe when I heard them. A few were taunts from fellow classmates when I was going to school (boys) who wanted my attention, but I ignorned them. As to your book, I love Historical fiction!! I also gravitate towards books that are set in England, so this one is right up my alley!! I'm sure that your story will make me smile, as well as bring a tear to my eye in parts. As for the cover - it is breathtaking!! Thank you for keeping History alive by writing your story!! I'll be sure to keep this book on my radar!! It's on my TBR list!!
(Peggy Roberson 9:10am September 13, 2013)
I'm rather fond of nicknames-and actually prefer them!
(Cherie Durbin 9:37am September 13, 2013)
As a little girl, to one uncle, I was NOISE and to another uncle, I was PUDDIN. I have three grandchildren now and I call them by nicknames and times. I love their names and I hope they do too.
(Melanie Backus 9:40am September 13, 2013)
never had a nickname. Love real names. Your novel sounds
captivating and very special. Wonderful and dramatic cover.
(Sharon Berger 9:59am September 13, 2013)
Never had one... Not sure why...
(May Pau 11:07am September 13, 2013)
I was always called Marcy as a shortened version of my name, Marcelyn. But sometimes other kids would call me Moosey or Mousey. My online friends call me Marshy (shortened from Marshmallow, or Marshy-mallow because I'm so sweet. *gg*) and I use a flaming marshmallow as my FB picture. LOL My hubby will sometimes call me Snookums. :D
(Marcy Shuler 12:41pm September 13, 2013)
Molly W--I love that nickname for Mary! Polly is another, right? Or is Polly a
nickname for Margaret?
(Theresa Romain 1:31pm September 13, 2013)
MaryAnne, thank you so much! Ha, there are probably lots of older people who
can't shake their family's nicknames. One man in my family is nicknamed John,
and he'll be called "Johnny" by his siblings until he's 100.
(Theresa Romain 1:33pm September 13, 2013)
Chelsea, who first called you Missy Prissy? Someone who likes to play around
with words, I bet!
(Theresa Romain 1:35pm September 13, 2013)
Marcia, you made me laugh with your son getting his first and middle name
when he was in trouble. That's how it was for me too. Maybe that's why I've never
been that fond of my middle name? Very cool that your daughter has a name
passed down from earlier generations. Family naming traditions make for such
interesting family history.
(Theresa Romain 1:37pm September 13, 2013)
Laura, none of those men named John had a nickname? Conversations about
family must have gotten confusing. :) How did you like being called Red? (I'm
guessing because of hair color? Red hair is so gorgeous!)
(Theresa Romain 1:39pm September 13, 2013)
Peggy--"some were endearing, and some made me cringe" is a perfect summary
of nicknames for most people. I hope you have only nicknames that you like
now. Thanks for adding IT TAKES TWO TO TANGLE to your TBR list! I love history
too, and I am in awe of the gorgeous cover my publisher created for the book.
(Theresa Romain 1:42pm September 13, 2013)
Cherie, they can be fun--like an inside joke with people you love. My husband
and I have always called our daughter "Noodle," and she's still young enough to
like it. :) What's your favorite nickname?
(Theresa Romain 1:44pm September 13, 2013)
Melanie, ha! Your uncles sound fun. I probably should have been nicknamed
"Noise" too as a little girl.
(Theresa Romain 1:46pm September 13, 2013)
Sharon, I agree--the cover is beautiful! My publisher designed it. Both the red
dress and the quill are part of the story; I love that they included those hints.
(Theresa Romain 1:47pm September 13, 2013)
May, Henry and Frances would think you were lucky. :)
(Theresa Romain 1:48pm September 13, 2013)
Marcelyn/Marcy/Marshy--a flaming marshmallow makes a great image. "Sweet,
but fiery!" Should I ask what you call your husband? :)
(Theresa Romain 1:50pm September 13, 2013)
A red dress looks good on almost anyone. The cover is no exception. Growing up, I never had a nickname. No one in my family did.
(Kim C 3:55pm September 13, 2013)
I always wanted a name I thought was like my friends, you know something cute like Linda, Patty, Suzy...normal. No I had a name that was spelled and was pronounced different than it looked and no one ever called me or said it right. I always wanted a cute nickname...same thing...just called by my mispronounced misspelled name...forever! So if you had a nickname or name you liked.....super for you! Just call me envy. lol
(C Culp 4:44pm September 13, 2013)
My father used to call me McFly like Marty McFly in Back To The Future... I hated it! My grandfather called me Collie like the dog... was not fond of that either... A Teacher gave me one in high school that I did not mind... generally now no one bothers with calling me one.
(Colleen Conklin 5:08pm September 13, 2013)
I so want to read this book! I have since I discovered from DANL's chat you dealt with the left-handed thing =D. I've never really had a nick name. Mine is short and unusual and I've just always been called Lenna. I had a couple friend in college who called me "Leonard" for a while just to bug me but that's it. I had a camp name in middle-high school when I was a Girl Scout Camp Counselor but that doesn't count, lol. I had a hard time coming up with one as I didn't have a nick-name, lol. Best of luck with your release :-)
(Lenna Hendershott 5:48pm September 13, 2013)
Kim, I want a dress like the one on the cover, even though I don't know where I'd
wear it. Maybe for writing? Surely it would help me get into a Regency mood. Do
you own a red dress?
(Theresa Romain 8:34pm September 13, 2013)
Carletta, your name is beautiful! I think I know what you mean, though; as a kid I
wanted a "normal" name too. Maybe you could give yourself a nickname you like?
You could tell new acquaintances, "Please call me Wonder Woman," or whatever
you like. :)
(Theresa Romain 8:36pm September 13, 2013)
Colleen, it does seem like we outgrow nicknames, doesn't it? My family doesn't
call me anything other than my name or "T" anymore. That's certainly ok with
me.
(Theresa Romain 8:37pm September 13, 2013)
Hi, Lenna--thanks for stopping by! That's right, you are a fellow lefty, aren't you?
I hope you enjoy the left-handed moments in IT TAKES TWO TO TANGLE. :)
(Theresa Romain 8:39pm September 13, 2013)
My mother had a nickname for me that I have always disliked--Suekey. Luckily no one else ever used it.
(Sue Farrell 9:22pm September 13, 2013)
I'm like you and never had a real nickname that I was known by. My parents, too, called me by the usual (and not so usual) endearments, and my brother had his own made-up nicknames for me that changed over the years. I never minded the ones my parents called me, but I found the ones my brother called me somewhat annoying (of course!). I should mention, though, that he had his own nicknames for everone, including our parents, so I didn't take it too personally.
(Janie McGaugh 10:01pm September 13, 2013)
I never really had a nickname growing up, beyond the endearments my
parents or siblings had for me. I do know what its like when siblings don't
realize you've grown up, however! Your book sounds wonderful and the
cover is so beautiful! Congratulations on It Takes Two to Tangle and
thanks for the chance to win!!!
(Linda Brennan 10:30pm September 13, 2013)
My nickname in Chinese is Big Demon's Head. I really don't know why my mother would give me that kind of nickname.
(Kai Wong 12:15pm September 14, 2013)
Some less smart girls in school used to try to nickname me but nobody else was interested.
(Clare O'Beara 6:57am September 14, 2013)
Most of my friends call me Pat (which is my name - lol) some friends and my family calls me Patty - not much of a stretch.

I agree with one poster - I dont care for grown men being called Billy or Bobby.
(Pat Lieberman 8:09am September 14, 2013)
I've never had a nickname, but I always wished I had a nice one.
(Carol Woodruff 7:09pm September 14, 2013)
I was given the nickname of PUMPKIN at High School. I got a
short bob, & with my hair color I look like a Halloween
pumpkin. It was kindly meant & I actually loved it.
(Mary Preston 10:50pm September 15, 2013)
Sounds like me... I have a history of setting myself up for
disappointment and heart ache
(Gina Keitz 3:29pm September 19, 2013)
My nickname is Ina. I've been called with that name since i was a baby.
My beloved dad said that INA is represent of my country, Indonesia. Hahaha..
(Rina Darmayanti 5:57pm September 25, 2013)
Registered users may leave comments.
Log in or register now!