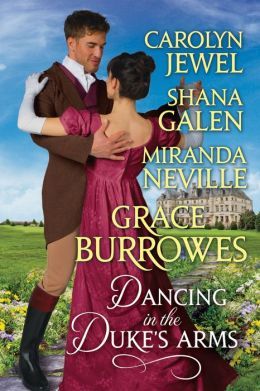 Purchase
Self Published
July 2015
On Sale: June 23, 2015
330 pages
ISBN: 1514165406
EAN: 9781514165409
Kindle: B00YK9AOBC
Paperback / e-Book
Add to Wish List

Romance Anthology | Romance Historical
Why Do Dukes Fall in Love? Every summer the cream of society gathers at the Dukeries, named for the ducal estates concentrated in one small corner of Nottinghamshire. While the entertainments include parties, balls, and a famous boat race, the ducal hosts and their guests find adventure, passion, and happy ever afters.
Four heartwarming stories from four bestselling authors of historical romance.
MAY I HAVE THIS DUKE? by Grace Burrowes The trouble with houseparties... Gerard Hammersley, Duke of Hardcastle, is dragooned by an old friend into attending a house party, though Hardcastle refuses to fall prey to the matchmakers who relish such gatherings. He recruits his nephew's prim, prickly governess, Miss Ellen MacHugh, to preserve him from being compromised by the conniving debutantes, and offers in exchange to deflect the drunken viscounts who plague Ellen.
Is that they must end. Ellen agrees to Hardcastle's scheme for two reasons. First, she's been attracted to His Grace since the day she laid eyes on him, and knows that behind Hardcastle's lack of charm lies a ferociously loyal and faithful heart. Second, she's departing from Hardcastle's household at the conclusion of the house party, and two weeks safeguarding His Grace's bachelorhood is as much pleasure--and as much torment--as she can endure before she leaves him.
WAITING FOR A DUKE LIKE YOU by Shana Galen There's no such thing as the perfect hero... Nathan Cauley, tenth Duke of Wyndover, is so handsome ladies swoon--literally swoon. His blond hair and blue eyes certainly draw attention at the Duke of Sedgemere's house party, but Nathan doesn't want a fawning young miss for his duchess. He stumbles upon a bedraggled woman sleeping under Sedgemere's bridge, and his protective instincts stir. When he recognizes her as the princess he fell in love with eight years before, he's determined to win not only her affections but her heart.
Or is there? After revolutionaries massacre Princess Vivienne's family, she and the head of her guard flee to England. Before they can reach London to beg asylum, assassins kill the last of her defenders. Vivienne is alone and on the run when the Duke of Wyndover comes to her rescue. She barely remembers meeting him years before, and isn't comfortable with gentlemen who are more attractive than she is. Nathan is more than a pretty face, though, and when the assassins return, he might just prove to be the duke Vivienne has been waiting for.
DUCHESS OF SCANDAL by Miranda Neville Too Many Scandals After months of marriage, the Duke of Linton agreed to live apart from his wife. Thrown together due to a scheduling error, Linton finds Althea still has the power to make his heart race. Linton seems different from the critical, indifferent man Althea married. But though she burns for him as a lover, can she trust him to be the husband she needs?
AN UNSUITABLE DUCHESS by Carolyn Jewel
Is she an unsuitable duchess, or the perfect lover?
The Duke of Stoke Teversault has well earned his reputation for bloodless calculation. Indeed, recently widowed Georgina Lark has no idea he's loved her since before her late husband swept her off her feet. Stoke Teversault means to keep it that way. The cold and forbidding duke and the blithe and open Georgina could not be less suited in any capacity. And yet, when Georgina and her sister arrive at his home, his ice-bound heart may melt away.
Georgina Lark has never thought of the Duke of Stoke Teversault as a man capable of inducing passion in anyone. He's long disapproved of her, but she will be forever grateful to him for his assistance after her husband died. It's been a year since she's realized he's not the man she thought. Can she find a way to convince him to open his heart to her?
Comments
4 comments posted.
Re: Dancing in the Duke's Arms

Great review and a great a book!
(Kristina Birch 11:37pm July 10, 2015)
I enjoyed the review and I really enjoyed the book as well. Four great stories
by four fantastic authors.
(Barbara Elness 11:39pm July 10, 2015)
Thanks so much!
(Shana Galen 6:45am July 11, 2015)
Cant wait to read this one.
(Lisa Hutson 2:51pm July 11, 2015)
Registered users may leave comments.
Log in or register now!