Carolyn Jewel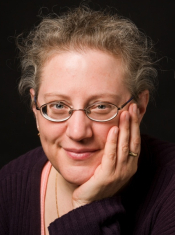 Blogging at Fresh Fiction
Carolyn Jewel | Vampire Reproduction
Comment to Win!
May 25, 2009
The other day over at my writing blog, I mused about something that's often puzzled me; that is, the subject of Read More...
Carolyn Jewel | Confessions of a Historical Romance Junkie
Make Your Blog Reading Pay Off Comment and WIN
March 6, 2009
Will you Join Me in my Affliction? Thanks, Fresh Fiction, for inviting me to blog here today! It's no accident Romance is Read More...
Carolyn Jewel has been writing stories ever since she could scribble.
Now that she's grown up (mostly) she writes historical and paranormal romance because she loves history and imagining the lives of people who lived in years past, and because she's fascinated by the loves and travails of the not-exactly-human in any time period. Carolyn lives in Northern California with her son, three cats, a border collie, several chickens, some sheep and various strays and other rescued critters. Ms. Jewel is also a Microsoft SQL Server Database Administrator who specializes in, uhm, administering MS SQL Server databases. It's not nearly as exciting as writing. She loves to hear from readers, so don't hesitate to email!
Log In to see more information about Carolyn Jewel
Log in or register now!
Series
Crimson City | My Immortals
Books:
Surrender to Ruin, December 2017
Sinclair Sisters #3
e-Book
My Demon Warlord, January 2016
My Immortals #7
e-Book
Christmas in Duke Street, October 2015
e-Book
Dancing in the Duke's Arms, July 2015
Paperback / e-Book
Dead Drop, December 2014
My Immortal
e-Book
A Notorious Ruin, October 2014
Sinclair Sisters #2
e-Book
Christmas in the Duke's Arms, October 2014
e-Book
Whispers Collection No 1: Erotic Short Stories, January 2014
Paperback / e-Book
My Darkest Passion, December 2013
My Immortal #5
e-Book
Not Proper Enough, September 2012
Paperback / e-Book
Free Fall, April 2012
My Immortal
e-Book
Not Wicked Enough, February 2012
Paperback / e-Book
My Dangerous Pleasure, June 2011
My Immortal #4
Paperback / e-Book
Future Tense, May 2011
My Immortal
e-Book
My Immortal Assassin, January 2011
My Immortal #3
Mass Market Paperback / e-Book
Indiscreet, October 2009
Paperback
My Forbidden Desire, June 2009
My Immortal #2
Paperback / e-Book
Scandal, February 2009
Paperback
My Wicked Enemy, August 2008
My Immortal #1
Paperback / e-Book
Shards of Crimson, January 2007
Crimson City #7
Paperback
A Darker Crimson, November 2005
Crimson City #4
Paperback
The Spare, February 2004
Paperback
Lord Ruin, December 2002
Paperback