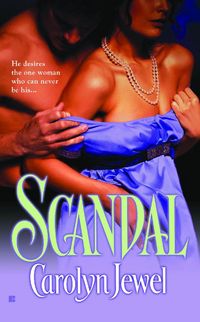 Purchase
He desires the one woman who can never be his...
Berkley Sensation
February 2009
On Sale: February 3, 2009
Featuring: The Earl of Banallt; Sophie Evans
320 pages
ISBN: 0425225518
EAN: 9780425225516
Paperback
Add to Wish List

The earl of Banallt is no stranger to scandal. But when he meets Sophie Evans, the young wife of a fellow libertine, even he is shocked by his reaction. This unconventional and intelligent woman proves to be far more than an amusing distraction-- she threatens to drive him to distraction. Unlike the women who usually fall at Banallt's feet, and into his bed, Sophie refuses to be seduced. And soon Banallt desires her more than ever-- and for more than an illicit affair.
Years later, the widowed Sophie is free, and Banallt is determined to win the woman he still loves. Unfortunately, she doesn't believe his declaration of love and chivalrous offer of marriage-- her heart has already been broken by her scoundrel of a husband. And yet, Sophie is tempted to indulge in the torrid affair she's always fantasized about. Caught between her logical mind and her long-denied desire, Sophie must thwart Banallt's seduction-- or risk being consumed by the one man she should avoid at all costs...
Comments
32 comments posted.
Re: Scandal

I enjoy reading historicals because its almost an escape. The big dresses, the chivalry, even though the treatment of women almost like horses leaves a lot to be desired.
(Virginia Hendricks 8:11am March 6, 2009)
I read to escape from everyday things in life and what better way than to a different time, something different than I experience in mine.

Carolyn, A Summer to Remember is a favorite for me, too, along with her Slightly Dangerous. A few others: Lord of Scoundrels and Mr. Impossible by Loretta Chase; Dreaming of You by Lisa Kleypas; All Through the Night and As You Desire by Connie Brockway.
(Pamela Pellini 9:10am March 6, 2009)
Outlander is still my favourite historical.Jamie and Claire are always vivid in my mind. I am always on the lookout for a new good historical.
(Julie Bourne 10:39am March 6, 2009)
I love reading historicals because you get to escape to a different time and place. My favorites eras to read are Regency England and the American Old West
(Crystal Broyles 11:04am March 6, 2009)
Historicals is my favorite genre to
read. Some of my favorites are: A Rose
at Midnight by Anne Stuart, Whitney,
My Love by Judith McNaught, The
Devil's Waltz by Anne Stuart and In Bed
with the Devil by Lorraine Heath,
(M E 11:47am March 6, 2009)
I like historicals because I love to learn about how people lived in other times and places.
(Shannon Scott 1:04pm March 6, 2009)
I forgot to mention my favorite series -- Angelique (long out of print)
(Shannon Scott 1:05pm March 6, 2009)
Reading historicals gives me the opportunity to escape for a while in their detail and history. It is a learning experience. The way they communicate, you just don't hear anymore. It's beautiful. I can't really name a favorite because I haven't read one that I didn't like. Have a great day.
(Roberta Harwell 1:29pm March 6, 2009)
I read both historical and contemporary novels. I love Pamela Clare because you get the best of both worlds with her books. I like the history of the historical but also I realize how lucky I am to be living with the modern conveniences that we have.
(Judy Anderson 1:43pm March 6, 2009)
I enjoy reading Historical Romance books. One of my favorite authors was Kathleen Woodiwiss. I will miss her wonderful stories. I also fell in love with the Angelique series. Historical books take me back to a time when honor and intregrety meant something.
(Robin McKay 2:15pm March 6, 2009)
Historicals are my favourite romance genre. There seems to be more conflicts in the stories because of what is 'proper' at the time and it is amazing to see how much has changed during the different eras. I don't really have a favourite author because I love them all.
(Lisa White 2:19pm March 6, 2009)
I love historical romances. Some of my faves have been Lisa Kleypas' Wallflower series, Monica McCarty's Highlanders, and Julia Quinn's Bridgertons. Also, Linda Lael Miller's McKettricks.
(Cheryl Castings 2:24pm March 6, 2009)
Once the man falls in love there isn't anything he wouldn't do for her. He wouldn't cheat or hurt her. I like regency england and the american old west. I also read books like Fern Michaels Weekend Warriors.
(Brenda Waters 3:39pm March 6, 2009)
I don't usually care for Historicals - and maybe I've just tried to read some that weren't necessarily well written - there have been a few that I've liked. My degree is in History, so you'd think that I'd prefer Historicals - but I prefer Contemporaries. I read one years ago that I really liked, but I don't remember the name of it and one I read recently that I really liked was actually a cross over - Contemporary & Historical - Seducing Mr Darcy by Gwen Cready.
(Kelli Jo Calvert 3:59pm March 6, 2009)
I like to read historical and I like paranormal.my favorite historical is a set of books stephanie laurens I like set because they are all connected and you get it to the characters better and they become like a family to you. the longer a set the better.
(Stacey Smith 4:11pm March 6, 2009)
Nice post Carolyn. I join you in the affliction! Reading is my form of relaxing and historicals are more inclined to take me away...And I like to learn about real times and themes like the Peninsula War, women's rights or lack thereof, etc. The majority of the authors for whom I like to collect ALL their books are HR authors. I have keepers by Mary Balogh, Catherine Coulter, Christina Dodd, Julie Garwood, Judith McNaught, Julia Quinn, Mary Jo Putney and Susan Wiggs. And that's just a start of many HR authors I collect!
(Martha Eskuchen 5:42pm March 6, 2009)
Historicals are my favorite read. I love them. When I am reading a historical I am traveling back in time to the why it use to be. I love visiting the past.
(Gail Hurt 6:12pm March 6, 2009)
I love historicals because they are good escape reading! I like reading about the "lords & ladies" and plain "misses" lived back in the day. they are just plain fun! Whitney, My Love is my all time fav. I also love all of Catherine Coulter's historical's - they are just too funny! Lisa Kleypas is also a terrific writer. I could go on & on!
(Martha Lawson 9:49pm March 6, 2009)
I love historicals because they are an
escape from the present day, but still
reality based (and thus believable for
me). There is a thread that ties
humanity together no matter the day
or age, and you hit the nail on the
head when you said relationships bind
us together. Thanks, Carolyn, for a
thought-provoking blog today.

Julie
(Julie Robinson 10:34pm March 6, 2009)
I am generally a reader of non-fiction but appreciate a historical romance occaisionally. I find the stories put a face on the time setting and and if accurate,gives a good sense of the life and daily habits of the characters. If written very well,a historic romance bears quite alot of information concerning the era. I appreciate the efforts of the author researching the history of their settings and social conditions,it serves to strengthen the story and may easily be used as a plot device. The author becomes a semi-socio-historian, no mean feat!
Vampires,werewolves,etc., are fun to read about,everyone loves that chill of fright,but as stated they are not real (yes,Iam sure)and are purely escapist-not a bad thing just not my thing!
My favorite historical romance is an older book I have had for 20+ years becuse it is one of my all-time favorites: "Fortune Made His Sword" by Martha Rofheart.
Very interesting topic, thank you, Ms. Jewel.
(Dawn Raymer 6:19am March 7, 2009)
I love a good historical. Particularly one that is well researched. It can give a very nice little window into a bygone era. One of my very favorite historicals would probably have to be Whitney My Love.
(Heather Stewart 8:03am March 7, 2009)
Historicals give a sense of being back in a different time surrounded by a setting rather foreign to present day living. I like them, because of the traditions carried on in the culture that I contrast to nowadays. Learning about morals and values held dear at that time make me feel like I have seen a slice of history revolving around real people. It brings the past to life immersed in a timeline of expectation and anticipation.
(Alyson Widen 9:25am March 7, 2009)
I like most of the other bloggers enjoy the Historicals because they just take you back to another way life was lead. I do not like the Vampire,warewolf and paranormal books that alot of authors are now writing about.
(Pam Alderson 11:56am March 7, 2009)
I like reading historicals because it's simply soo different than real life but I can still kind of imagine myself doing these things. In paranormals, you can't really see a dragon here or a werewolf there, it's a pretty far reach out. BUT with historicals, I can see myself in that crazy dress and still be removed from normal life. I don't know really how to describe it, but it's fabulous!
(Rachael Grime 2:21pm March 7, 2009)
I love historicals. Most authors take
time to research the time and place of
their story and in a way turn it into a
bit of a history lesson. In some cases,
I've followed up with research about
something mentioned in a romance.
My first romance was Julie Garwood's
The Prize. It was the first of many and
a to read bookcase (actually several)
that keeps getting more full.
(Patricia Barraclough 11:12pm March 7, 2009)
Funny you should mention A Summer to Remember because I just re-read it and loved it just as much as the first time I read it.

Other favorites are Lisa Kleypas' Worth Any Price and Jo Goodman's Only in My Arms.
(Leslie Gladnick 12:54pm March 8, 2009)
I like the feeling of accuracy and reality
when reading hhistoricals. One of the
first ones I read was Evergreen by Belva
Plain and I still love it.
(Susan Pertierra 4:00am March 8, 2009)
I love historical romances - both regency and medieval. It takes me away from the every day reality. I love the historicals with real history in it - ex. Roberta Gellis' Roselynde Chronicles.

Favorites? Chase's Lord of Scoundrels, Some of Mary Balogh's, Jo Beverley's Company of Rogues, Mary Jo Putney's other Rogues series.
(Robin Greene 2:10pm March 8, 2009)
I love a good historical that takes me to other times and places with accuracy and a good story. One of my favorites is Green Darkness by Anya Seton (long out of print)
(Ruby Davis 9:31pm March 8, 2009)
Robin - Just saw your comment and wanted to let you know that I LOVED "Lord of Scoundrels"!! I was just re-reading it this morning. :)
(Rachael Grime 4:03pm March 9, 2009)
Wow, you guys named some great authors. I love Catherine Coulter's historicals and yes to Lisa Kleypas and Loretta Chase (Oh, Lord Of Scoundrels, please come live at my house!)

I love to read historicals for a lot of the same reasons as you guys -- the details, and the better the details the more I love the book because I am a history nut.

Georgette Heyer is, of course, the perfect marriage of sexual tension and historical detail.

And oh my gosh, yes, the Angelique series! I managed to find many of them at the library. They're fantastic.
(Carolyn Jewel 10:06am March 10, 2009)
I am turned off by books with vampires, werewolves. Why not angels?
(Chrislin Payne 9:31am March 22, 2009)
Registered users may leave comments.
Log in or register now!