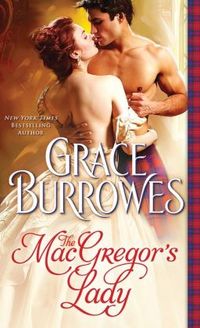 Purchase
Sourcebooks
February 2014
On Sale: February 1, 2014
Featuring: Hannah Cooper; Asher MacGregor
416 pages
ISBN: 1402268726
EAN: 9781402268724
Kindle: B00FG9GUGS
Paperback / e-Book
Add to Wish List

What if the steps you take to avoid marriage...
Asher MacGregor's new life as the Earl of Balfour is nothing but a string of obligations, such as squiring a Boston heiress around her first London season. Surprisingly, the girl is no more interested in matchmaking than he is, allowing him to mourn his first—and secret—wife in peace...or so he thinks.
Lead you straight to it?
Hannah Cooper intended to endure a social season, then get back to Boston as quickly as possible, sans spouse. She fears for the family she left behind if her scheming step-father is left too long to his own devices. The reticent Scottish earl is her savior—until they are stranded together on the moors and can no longer deny their attraction. For if Hannah and Asher fall in love, an ocean of impossibilities stands between them.
Comments
109 comments posted.
I'm looking forward to reading The MacGregor's Lady! It sounds really good!
(Carol Mintz 9:54am February 6, 2014)
I love Scottish romance, it's one of my favorite genre to read. I love this
series and I can't wait to start this book. My question is if and when you find
time to read, what genre to you like to read?
(Sheryl Nyary 2:22pm February 6, 2014)
I love Scotland too! Beautiful. .. the men too. :) is there a specific
place that you love to visit there?
(May Pau 2:51pm February 6, 2014)
MacGregor is what my ancestors name was before they got banished from Scotland a few hundred of year ago.

Amy
(Amy Watson 3:00pm February 6, 2014)
I'm enjoying your Scottish triology in audio and was wondering if either the Wyndhams or Lonely Lord series might be recorded in audio.
(M Reed 3:12pm February 6, 2014)
You had me at "Gerard Butler"! I'm assuming you've heard him sing? THUD!

My question for you: in the name of your research, which is your favorite single-
malt Scotch whisky?
(Donna R. 3:19pm February 6, 2014)
LLam, oh, how I wish. You've given me an idea for my bucket list!

Sheryl, I will read ANYTHING provided it's well written. I'm particularly enjoying JR Ward's Black Dagger Brotherhood and Fallen Angels series, Kristen Callihan's Darkest London, and Joanna Bourne's Spymaster series.

May, I spent some time on Mull this last trip, and found it lovely. My next objective is Skye, and the Great Glen is magnificent... There's a hotel right on the river in Dunkeld that's crying out to be a writing retreat.... I could go on and on.

Amy, many of the MacGregors fled, took sept names, or affiliated with other clans. They haven't had an easy road.

MReed, funny you should ask. I've had The Duke and His Duchess, and The Courtship, also Morgan and Archer done as audio downloads, and they'll be available on the graceburrowes.com website VERY soon.

Donna, I have a lot more investigating to do, but for now, I keep a bottle of The Macallan on hand at all times. The really good stuff is made in batches of only about 200 bottles, and most of it doesn't leave Scotland. So...
(Grace Burrowes 3:47pm February 6, 2014)
When researching where do you stay? A hotel, manor house, a
castle or a bed and breakfast?
(Leona Olson 3:50pm February 6, 2014)
I really enjoy the senerio of highlander meets american girl. Do you enjoy writing different cultural people meeting and working out all their differences to make a HEA?
(Debbie McCreary 3:52pm February 6, 2014)
I'm not a drinker but my late father liked scotch before he
switched to Vodka. I'm not sure of the reason for the
switch. When are the Source books Victorian books coming
out?
(Robin Greene 4:05pm February 6, 2014)
Do you have a favorite part of the writing process? Your definition of
favorite doesn't' have to be easiest.
(Kathy Nye 4:07pm February 6, 2014)
Congrats on the new release, Grace. I wonder how well most of us can understand a thick burr.
(Jane Cheung 4:19pm February 6, 2014)
I confess. I devoured The MacGregor's lady on Tuesday as soon as it
was delivered to my kindle. So my question is - Will there be anymore
MacGregor stories? I know the main characters have been HEA-ed, but I
still want more! :)
(Catherine Wenschlag 4:20pm February 6, 2014)
Thanks for the opportunity!!
(LeeAnne Hardin 4:27pm February 6, 2014)
I think this may be my favorite series of all and I can't wait
to start reading them. My question is about your novellas -
will they all be available in print? Thanks and as you know, I
love your books!
(Jeanne Sheats 4:32pm February 6, 2014)
I follow you on Twitter and see that you had recently visited Scotland. Was this your first trip? What kind of research do you do, setting wise, for each of your novels?
(Michelle Gorman 4:36pm February 6, 2014)
Hello Grace. I'm wondering if you can recommend a book that I could either find at the library or purchase on Amazon that has descriptions and pictures of the Scottish plaids in it? I've got a plaid wool poncho/shawl or whatever that's black, green, white, and yellow in color. The label reads "Creagaran; 100% Pure New Wool, Made In Scotland" and I'd love to see if it's an actual clan plaid. If by some chance I were to win one of the iPads you're giving away it will remain with me, I've even found someone who will help me learn to use it.
(Molly Moody 4:38pm February 6, 2014)
I just realized that this plaid also has some blue in it.The yellow and blue are very narrow stripes while the other colors are larger.
(Molly Moody 4:40pm February 6, 2014)
I am so happy this page finally showed up right for me. I have been trying to comment for about 10 minutes and I kept getting brought back to the homepage of this website.

Congrats on your newest release. I have to wonder how you find so much time to write these fantastic books. My mom is wanting to try out some of your books and if she does I think my paperback collection will be expanding more because I like to hog my kindle so it's not like I can say here read the eBook.

I think I asked you this on the other blog as a reply to your reply, but have you ever considered doing anything in the paranormal genre? When you go on different trips places does any of that inspire your books?
(Tiffany K 4:41pm February 6, 2014)
Grace,
It's always nice to see a favorite author branching out elsewhere. But my question has to do with your "bread and butter" books--the Windhams. Have you considered returning, maybe when Gayle is Duke and some of those Windham kids are ready for their own stories? Thanks for visiting.
(G S Moch 4:57pm February 6, 2014)
Thank you, Grace. My question: what do you consider the very
essence of romance? In fiction, in real life, or both?

Good luck with the release of "The MacGregor's Lady"!
(Mary Anne Landers 5:04pm February 6, 2014)
Grace, where do you find inspiration for the physical
descriptions of your characters? movie stars? models in
magazines?
(Diane B 5:05pm February 6, 2014)
I lived in Scotland for two years and absolutely loved
everything about it. My question to you. Have you ever lived
in a foreign country? and if so where?
(Denise Austin 5:06pm February 6, 2014)
What are your favorite single malts?
(Larisa LaBrant 5:21pm February 6, 2014)
Wouldn't a Scottish version of Mr. Darcy or Mr. Rochester make for interesting reading?
(Angela Simmons 5:22pm February 6, 2014)
I have loved the Lonely Lords series, can't wait for David!
It is great to have a change of pace with the MacGregors, do
you plan more for that either series?
(Annette Berg 5:41pm February 6, 2014)
Grace. How is your Victorian series connected ? Is it by
family like your last two ?
Thanks
Jayne
(Jayne Smith 5:44pm February 6, 2014)
Ooohh I agree with you! Kilts and Scottish accents and
dramatic scenery, how can you beat that! Have you been to
Scotland yourself? If so, where did you go and what was
your favorite thing about it? If not, what is at the top of
your list of things to do?
(Gretchen Harman 5:54pm February 6, 2014)
Looking forward to starting this book
(Pam Alderson 5:56pm February 6, 2014)
So do you address Highlands Clearances past? It sounds like
it! Which makes me wonder whether you've considered doing a
Victorian Scots-Canadian. :)
(Mary Ann Dimand 6:08pm February 6, 2014)
There's no accent I'd choose to listen to over a Scottish one!! And
Gerard Butler, mmmm. I guess it's ok with you Grace if I pictured him
while reading The Bridgroom Wore Plaid. :-)

Are you going to have a series related to the MacGregor Trilogy similar
to your Lonely Lords and its tie in with the Wyndhams? PLEASE??
(Glenda Martillotti 6:10pm February 6, 2014)
Hope to be able to read your book from the contest.
(Sharon Rabner 6:45pm February 6, 2014)
How often do you get to take a trip to Scotland Grace? That's somewhere I
dream of visiting, I want to see those sexy Scots in kilts in person.
(Barbara Elness 6:46pm February 6, 2014)
Kathy, I love all of it, but a particularly lovely moment sometimes befalls me, when I've written myself into a corner, and I'm thinking, and hoping, and wishing an answer would come... and it finally does. Sometimes I have to wait months to figure out a solution, but that moment of insight is wonderful.

Jane, I got a chuckle out one of the tour managers the last time I went to Scotland. We were going to hear a fiddler from the northwest, and our manager, from Perth, said, "Ye can hardly understand 'im, he's accent is sae thick..."

Catherine, Tiberius Flynn's sisters are next up, and there are three of them, and they ALL fall in love with Scotsmen. The first of that batch comes out in October--What A Lady Needs for Christmas.
(Grace Burrowes 6:50pm February 6, 2014)
I love Scotland and it is my #1 place that I want to visit. I don't see that
happening any time soon, so I will pretend I am there when I read your
book. :)
(Mary Doherty 6:52pm February 6, 2014)
Have you every thought of staying in a castle when you travel to Scotland, that's been rejuvinated into a hotel or would you have second thoughts thinking it may be haunted with ghostly spirits? Have you toured or seen many castles while on your visits? I'm looking forward to reading your latest book!
(Linda Luinstra 6:59pm February 6, 2014)
Hi Grace - I hope the downed trees around you have been
cleared and that we all get warmer weather soon to melt all
this frozen snow!

Can you suggest any good Scottish Romance movies that have a
happy ending?
(Diane Sallans 7:04pm February 6, 2014)
Thanks for stopping by, Lee Anne!

Jeanne, I have a few copies of the novellas that I had left over from submitting them to the RITA contest. I'll have to ask my publisher what their plans are for commercial print availability for them.

Michelle, I've been to Scotland three times, and my next trip is planned for June. The research is a combination of online, reading, loops, and in-country. To me, the best advantage of traveling in the UK are the things you stumble on by accident that just MAKE a scene come alive. In a vintage 1811 house in Edinburgh, I saw chamber pots stored under the sideboard in the formal dining room.... they REALLY did that.

Molly, I'll have to fish around and get back to you. I do know Creagaran is the company name, not the clan name (probably Creagaran Mills?).

Tiffany, I do think of using characters with psi abilities, but so far, an entire series hasn't taken root in my mind. Alexa Egan has a wonderful ability to write paranormal historicals, and I really enjoy Kristen Callihan's Darkest London series.
And yes, places inspire me. A single cow wandering up a hill can inspire me.

GS Moch, those VERY Windhams wandered into this Scottish Victorian--what cheek! I do think about a series for Windham grandchildren, but given that the ideal Victorian family size was nine children (like the royal couple), that could be a looooong series.

Georgie, I haven't been to edradour, but I've been on some whiskey tours (whiskey is a daily part of the Beltane Tour). Marvelous stuff, whiskey, and I always know what to bring my stateside friends as a present from Scotland.

Mary Anne, to me the essence of romance is when love gives a person the courage to grow into the best they can be.
(Grace Burrowes 7:07pm February 6, 2014)
Diane B, my accountant is one of most appealing guys I know--tall, dark, handsome, green-eyed, and the nicest guy you'd ever want to meet. He knows all my secrets too, now if only there was a DROP of wickedness in him. A SCINTILLA... as for movies and TV... I don't own a TV, so nope, not so much.

Denise, I have not. I've visited for several months at a time (Germany), visited family living far away (Brazil), but I haven't yet lived overseas. I'd like to spend some years in Scotland, but if you're not from the EU, immigrating there is hard (unless you're in IT or petroleum engineering).

Larisa, am I limited to three? I don't really have a favorite, because sometimes I want to the rolling smoke, sometimes I want flowers, sometimes I want that hint of banana but don't call it that. I'm probably less of a heavy peat smoke drinker, but even that could go well with certain snowstorms.

Angela, SHHHHH! Mr. MacDarcy is whisperin' in ma wee ear.

Annette, well, let's see. For this year, the Lonelys will include David, Trenton Lindsey, Hadrian Bothwell, and Worth Kettering, and the next Scottish Victorian will be What A Lady Needs for Christmas, out in October. As for next year, three more Lonelys (Matthew and Axel Belmont, Thomas Jennings), and probably two more of Tiberius Flynn's sisters.
(Grace Burrowes 7:15pm February 6, 2014)
Grace, how do you go about selecting your names for the characters for your books? Do you use some you've heard while on your travels? Asher MacGregor is a nice sounding name (but haven't heard Asher used much in the U.S.).
(Rich Cook 7:24pm February 6, 2014)
Jayne, for the first three, at least one protag was a member of the MacGregor family. For book four, we've invited a MacGregor in-law to the MacGregor holiday house party, and she's fallen in love with one of the other guests, a cranky Scot...

Gretchan, I've been three times so far, and I'd be hard put to choose. The Braemar Highland Games were cool--more kilts than Culloden, as the locals say. Culloden was a lot like Antietam battlefield, because Scots died on both sides, and for what? Mull is lovely and charming, Edinburgh delightful. Pitlochry is beautiful, Perthshire makes you want to tramp like a traveler all summer...

Pam, hope you love it!

Mary Ann, the Clearances come up more in a book due out in September, The Laird, which is actually a Scottish Regency. The Clearances didn't really stop until the 1880s, when the courts finally intervened and said a lifelong leasehold tenant has an expectation of permanent access to the land... that's a long time to drain the countryside of hardworking, food producing people.... and Scotland feels the effects to this day.

Glenda, I'm working on extending the MacGregor's by adding stories for the three Flynn sisters. We'll see where things go from there.

Sharon, I hope you do too!

Barbara, I'm aiming for one big trip a year. This year it will include both Scotland and Eloisa James's writing seminar in Tuscany. I'm a a hardworking author or what?

Mary, dream big--it could happen. Scotland is worth saving up for.

Linda, as one of the tour managers said, "Scotland is polluted with castles." I wouldn't put it QUITE like that, but stone was abundantly available to build with, and stone holds up for centuries, sooo... I'd like to manage a writing seminar in Scotland in 2015, and we're looking at spending at least part of the ten days in a refurbished castle.

Diane--Let's hope Outlander gives us one, and I liked The Three Lives of Thomasina for giving the handsome, bitter Scot a happy ending... not
(Grace Burrowes 7:26pm February 6, 2014)
Grace,have you ever visited any of the Scottish islands?
(Jadeen Johnson 7:27pm February 6, 2014)
Rich, I'm in something of a corner with respect to names. I've completed about forty manuscripts, and each of those has att least eight characters, so I've used about 300 names, and my editor likes for names to be distinctive. Archer and Asher were too close, in the opinion of some, which means Anton, Anthony, etc have all been knocked out of the running, along with Archer, Archie, Archibald...

I have met a Scot named Asher, and there were Victorians named Asher. The trick is to find a name that's only slightly unusual, but still credible for the time and place. Some of the actual names I've stumbled across must have been real burdens for the people stuck with them.
(Grace Burrowes 7:31pm February 6, 2014)
Jadeen, I've visited Mull, and thoroughly enjoyed it. The Hebrides are scheduled for 2015, and I'd like to grab some time on Skye then too.
(Grace Burrowes 7:32pm February 6, 2014)
Congrats on your new release! My question is: How long do you
do research before you start actually writing the book?
Thanks in advance for answering my question!
(Samatha Hodges 8:02pm February 6, 2014)
Not a question, Grace, just a comment. I've been working with accountants for 30 years. Mine don't look like yours.
(Bonnie r 8:06pm February 6, 2014)
Mr. Darcy is hard to top, but a Scotsman has many charms, to be sure! ;-)
(Chelsea Brooks 8:10pm February 6, 2014)
I love the cover of this book. How much input to you have in selecting the
covers and titles of your books?
(Susan Gorman 8:24pm February 6, 2014)
I love your reply to me grace :) The comment about a cow wondering up a hill inspiring you made me laugh. I always wonder how authors come up with their amazing books because I don't think I have it in me to write more than 10 pages of anything.

I have to say I so admire that you are responding to everyone who writes a comment to you. It makes me so happy that I am a fan of an author who cares that much about her readers!!
(Tiffany K 8:27pm February 6, 2014)
Hi Grace: You might not know but I was born in the highlands of NC. Do you know where they are? And the connection? Little old lady from the lake now. LOL
(Peggy Wright 9:00pm February 6, 2014)
Samantha, it's a chicken or the egg situation with the research. I'll be reading along in Robert Burn's letters, and get an idea, about a man served with a writ of paternity sworn out by a woman he thinks he'd never met (Burns was served with one from a lady he had, um, met). Then I have to look up writs of paternity, and then I have to study up on what legal proceedings followed, and then I might find Scotland had different divorce laws from England, and then.... it's all fun, which is what matters.

Bonnie, John is a gem, but alas, also QUITE happily married. It's enough that he deals with the dollars for me because I did not get that gene.

Chelsea, maybe the Laird of MacPemberly will ride over the horizon if we wish hard enough and have enough wee drams.

Tiffany, it's ALL about the readers. The readers pay me to do something I love, and that means the readers matter A LOT. Wonderful people, those readers!

Peggy, the Highlands of North Carolina long, long time ago, were contiguous with the Highlands of Scotland. The north western part of Scotland broke off and wandered until it smacked into the southwest part of Scotland, but in terms of flora and fauna, Scotland and the East Coast of the US are kissing cousins. Maybe that explains a few things about you?
(Grace Burrowes 10:13pm February 6, 2014)
:) I hear a lot of authors say that, but I don't think there are that many out there that reply to everyone like you. So far my mom is loving your book The Heir, and it looks like I may know a little bit more that I can get her for her birthday coming up. A book habit is definitely something I will support for someone. Have you had a favorite character that you've written so far?
(Tiffany K 10:25pm February 6, 2014)
I am all in on this one. Keeping my fingers crossed!
(Melanie Backus 10:43pm February 6, 2014)
Other than the men, what's your favorite thing about Scotland?
(Janie McGaugh 11:11pm February 6, 2014)
I can see why you'd like a scot for a hero (I do too) :) sounds like a fun story line. any preference as to time period?
(d Kenney 11:16pm February 6, 2014)
Melanie, I wish I could give everybody the e-reader of their choice or a gift card of comparable value. Maybe some year...

Janie, I wouldn't say Scottish men are my particular favorites, but I do love the sense of social conscience I feel there. Scotland is more closely tied with Scandinavian culture than England is, and because there has been so much population lost from Scotland, folks do not take their culture's continued existence for granted. They're also more immigrant friendly than a lot of places, and tolerant of the resulting diversity. I respect tolerance, I respect it A LOT.
(Grace Burrowes 11:20pm February 6, 2014)
Some of my ancestors were Scottish last name McFarland . Started out in
Old Fredrick and raised on Martins mountain near Flintstone Md.
What Scottish goof do you like to eat and do you try to incorporate folk
Lore in your stories?
(Connie Miller 12:37pm February 7, 2014)
Oh my goodness, Grace. I love the Scottish romance when I can listen to it. Love the audio books!
(Lisa Hutson 12:43pm February 7, 2014)
Hi Grace, I love your books but I was wondering if you've ever considered writing contemporary books?
(Anita H 3:28am February 7, 2014)
What is your process with a new story. Do you come up with
the characters first, the plot or do you just write?
(Karin Anderson 7:02am February 7, 2014)
This sounds like a great series. I'm looking forward to reading it! What is coming next?
(Carol Mintz 7:11am February 7, 2014)
How have I not seen your books? I will be looking for you on Facebook and Kindle. I keep up with things there easier than always coming to sites like these I can't wait to read your books. I found this site through Jade Lee's Facebook post.
(Ann Gonzalez 7:16am February 7, 2014)
Found and liked your Facebook page!!!
(Ann Gonzalez 7:18am February 7, 2014)
Grace, If you could choose one time period in Scotland's history to live in forever, what era would you choose?
(Lili Booth 7:30am February 7, 2014)
I love historical romances and this looks like a wonderful book to read! Thanks Grace for the great giveaway!!!
(Bonnie Capuano 7:44am February 7, 2014)
I think it's awesome that you can travel around Scotland
researching... I'd write many more Scottish romances!
(Linda Townsend 8:25am February 7, 2014)
Totally loving thinking of Gerard Butler's voice and imagining him saying the lines while wearing a kilt.
(Pam Howell 9:07am February 7, 2014)
If you could uproot yourself today, where would you choose to live?

What person would you most like to meet?

Who do you most admire?
(Laurie Gommermann 9:14am February 7, 2014)
Your research must be fascinating. What locale is your
favorite ever? Your series is captivating.
(Sharon Berger 10:31am February 7, 2014)
If you couldn't write regencies anymore, what would be your
second choice to write about?
(Cindi Clubbs 12:36pm February 7, 2014)
I went straight to the comment section, so forgive me if this question was asked already. Which do you prefer to write about - the Scottish or the English, and why?? Also, is the Lady on the book cover in the dress of that period?? I adore the cover, but noticed the bare back of the dress she is wearing. I thought for that period, they wore high collars. Your book sounds like a great read to wind up my Winter, and I can't wait to get my hands on it!! Congratulations!! Have a Happy Valentine's Day!!
(Peggy Roberson 1:07pm February 7, 2014)
I love Gerard Butler! Have you seen his movie
"RocknRolla"? I think it's a riot although some might think
it a little dark.

Also, a funny anecdote, I just bought a car from a man
whose last name is MacDonald. He has relatives in Scotland,
so he has visited them a couple times and they have taken
him site seeing. When they came to Michigan to visit him,
they also wanted to go site seeing. They wanted to go to
the Grand Canyon, Mount Rushmore, the Redwood Forests, etc.
He had to explain to them that these were trips people in
America planned as vacations, not just a quick daily
excursion as in Scotland.
(Michelle Whitwam 1:31pm February 7, 2014)
Hi, Grace! I'm a little late to your party, but am wondering when and what made you want to write historicals?
(Cathy Phillips 2:25pm February 7, 2014)
Who is your favorite character that you have created with your words?
(Colleen Conklin 3:42pm February 7, 2014)
Do you visit all of the countries you write about?
(Janet Gould 6:32pm February 7, 2014)
How do you keep up with all of the media blitzing & still have time to write so many wonderful books?
(Sharlene Wegner 8:43pm February 7, 2014)
I love a good Scottish burr, too, and I adore a kilted man. *sigh*

Do you plan more than three books for this series, Grace? If so, how many more.
(Marcy Shuler 9:00pm February 7, 2014)
I always wanted to have a little Scotch in my background. After doing some family research,I have discovered that I have some on my maternal side!
Marilyn Collins
(Marilyn Collins 9:13pm February 7, 2014)
i am a bit of scotish also the book look really good thanks
so much
(Denise Smith 12:05pm February 8, 2014)
When I think of Scotland, I kept thinking of Colin Farrell and that Irish accent of his. Weird but for some reason, my mind accepts this association.
(Kai Wong 2:34am February 8, 2014)
Scotland is a beautiful country so it's easy to visualize your book. Thank you!!!
(Bonnie Capuano 8:07am February 8, 2014)
Congrats on the release. Would love to read and thanks for the giveaway.
(Kathleen Beale 8:09am February 8, 2014)
Congrats on another release. I tend to enjoy the Victorian
period books myself!
(Vicki Hancock 8:41am February 8, 2014)
Besides listening to Gerard Butler and seeing him in a kilt, do you watch his movies? I love him. He is so funny!
(Sue Galuska 10:57am February 8, 2014)
I can't wait to read it! I love Scotland!
(Teresa Stebbins 11:19am February 8, 2014)
Great blog today, thanks for being here!
I can't wait to read this.
Penney
(Penney Wilfort 12:34pm February 8, 2014)
All heroes sound American in my head because not even my internal voice can do a decent accent. I agree about kilts - they're something about a man in one that is just hot.
(Jamie Fortney 1:52pm February 8, 2014)
Will the " MacGregor's Lady " be the last book in the series. Sounds like a great book.
(Sheila True 3:05pm February 8, 2014)
Do you feel as if you are transported back in time in a dream
when you write?
(Karen Gonzalez 3:18pm February 8, 2014)
I think a Scot in a kilt top's Mr. Darcy EVERY TIME. Thanks so much for the post and
the peek into a Scot's appeal. You know I'm right there with you about the change in
pace and Scotland. I like to think my Oregon is a more temperate Scotland with it's
rugged beauty and usually (not so much this year, lol) warmer temperatures ;-). Thanks
for the generous giveaway!!!
(Lenna Hendershott 3:19pm February 8, 2014)
Ach! Those Scots and their kilts will get me every time.
(Sue Farrell 3:54pm February 8, 2014)
Hi Grace!
I love all of your books and you are so wonderful that they seamlessly make them a delight to read but I always wondered which one was the hardest for you to write because of a connection that you had made with one of the characters?
(Jeanne Miro 3:58pm February 8, 2014)
I have read many of your books and loved them. Would love to read this
series too.
(Tina Lechuga 4:40pm February 8, 2014)
favorite caste, favorite cottage
(Denise Holcomb 5:41pm February 8, 2014)
oops, castle
(Denise Holcomb 5:41pm February 8, 2014)
Hi Grace! We just bought this book at Barnes and Noble today. Can't wait to read
it. A kindle version would be nice too. :)
(MaryAnne Banks 7:33pm February 8, 2014)
Grace, what book has inspired your writing the most? What is your favorite book ever, (other than yours of course)?
(Renee Brown 8:07pm February 8, 2014)
This is my kind of read, thanks.
(Deb Pelletier 8:15pm February 8, 2014)
I love Scottish romances and I agree Gerard Butler is yummy. :-) How did you do your research for your Scottish romances?
(Larena Hubble 10:05pm February 8, 2014)
Hello Grace,how are you? I happen to be of Irish/English descent,and I
have always wondered about something! What would you say,the Scottish
and Irish have in common? The reason I ask,is because,my grandmother
who hailed from Belfast Northern Ireland,would alway's say,that the two
were quite similar! Thank You,for this Contest!
(Elizabeth Calligan 10:31pm February 8, 2014)
If your hero drinks whisky for breakfast what does he eat with it? Would a traditional be different in your historical and contemporary novels?
(Laura Gullickson 10:34pm February 8, 2014)
I have loved all of your books. The first one that I read was The Soldier and I was hooked. How have you been able to write so many books in such a short period of time? (Keep them coming, please!!)
(Betty Hamilton 12:55pm February 9, 2014)
sounds good
(Aaron Polish 7:20am February 9, 2014)
I love the way your mind works. If you can't have Mr. Darcy, go to Scotland. I've had a thing for Jamie Frasier for nearly 20 years. So my question and I'm pretty sure I know which you'd prefer is, Scotsmen past or present? Would you prefer the wild, wooly danger of the past or something sleeker. A modern Scot. Something intriguing about that thought isn't it? Sean Connery caused some consternation at one point because he didn't wear underwear, and at the time I was shocked. But knowing what Scots do not wear under their kilts, it makes perfect sense. :-) Have a great day!!
(Marcia Berbeza 10:37am February 9, 2014)
Hi Grace,

What is your favorite genre to read? Do you have any favorite books and/or authors?

brooke811 at ymail dot com
(Brooke Showalter 1:25pm February 9, 2014)
Would you like your book to be made into a movie
(Carolyn Johnson 2:21pm February 10, 2014)
Oh yes, I LOVE Scottish accents! That's why Sean Coonery is so beloved,
I think. nd Ewan McGregor totally does it for me too
(Make Kay 12:44pm February 11, 2014)
Should I read your series in order?
(Elaine M 10:52pm February 11, 2014)
You got me at Scottish. The kilts, plaids, clans and brogue
all make me want to turn the pages.
(Alyson Widen 6:02pm February 25, 2014)
Registered users may leave comments.
Log in or register now!