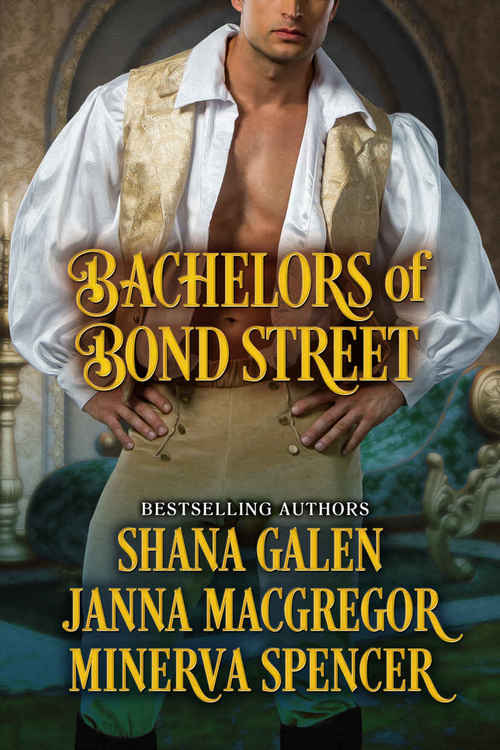 Purchase
Kydala Publishing
October 2019
On Sale: October 11, 2019
287 pages
ISBN: 1699002673
EAN: 2940161015919
Kindle: B07YJ146FD
e-Book
Add to Wish List

Love by the Letters by Janna MacGregor
Miss Portia Bellingham, a wealthy merchant's daughter, wants her sister's eighteenth birthday to be the best-ever. She's ensuring it's spectacular by giving her sister the ultimate gift—her heart's desire. Portia is convinced she'll never find her own true match, but she'll do anything for her sister including crafting a love letter, one that Portia pours her heart and soul into. She'll even personally deliver it to her sister's secret beau. But something goes horribly wrong when she slips the love note to the wrong man, the dashing Bond Street bookstore owner, Mr. Gabriel St. Aulyn. Desperate to get the note back, Portia changes her identity, then risks everything, even her heart.
Could finding your heart's desire be that easy? Believing in fate, Gabriel can't help but be intrigued when the mysterious Portia Belmont repeatedly comes to the store asking for research help. But soon he suspects she's there for something else when he finds her in his storage room, then his bedroom. But Gabriel can't be angry when he discovers her true identity— not when they share so many common interests, namely books and all those delicious kisses. When he comes upon the love letter by accident, there's only one thing to do—ask Portia to marry him.
But love never comes easy, especially when it's revealed the letter wasn't intended for Gabriel, and Portia's betrothed to someone else. Will both decide to push fate aside and take this chance for a love that comes only once a lifetime?
How to Brew a Perfect Kiss The Survivors: a Novella by Shana Galen
Sometimes the best blend is a little business with a shot of pleasure.
Thomas Gaines has one chance to make a name for himself on London's famous Bond Street. He's willing to work hard to make his coffee and tobacco shop a success. If anyone can do it, it's Thomas. Many years ago, he escaped slavery on a tobacco farm in Virginia. He knows the best tobacco and has educated himself on what makes superior coffee. But when his new employee, a dark-eyed beauty with the lilt of the islands in her voice, spills hot coffee all over his trousers, Thomas realizes he wants more in his life than account books and profits. But Raeni has a secret, and his involvement with her puts them both in danger.
Raeni Sawyer stepped off a ship in London with little more than a handful of money and the clothes on her back. And then her money was stolen. She ran away from her father's plantation on Jamaica to live as a free woman in England. But her father has wealth and power, and she knows he won't let her go that easily . When Thomas Gaines hires her as a clerk to assist with accounts and advertising for his fledgling business, she jumps at the chance for a brighter future. If only she can escape the shadows still.
A Second Chance for Love by Minerva Spencer
Justin Taylor hasn't seen Oona Parker for a decade, but he's never forgotten her. How could he ever forgive or forget the woman who ruined his life? Surely the gods of vengeance have placed her in his path for a reason? Oona can hardly reconcile the wealthy, successful businessman standing before her with the handsome but poor young groom she once knew. Juss Taylor might look different, but he still exerts the same dangerous pull over her thoughts and body as he ever did.
When Oona loses her job it's Juss who steps in and offers her a position that will last only seven days but pay enough to support Oona and her young daughter for years. All she has to do is accompany Juss to a house party and pretend to be his mistress. It all sounds so simple. So why does Oona believe feel there's more to Juss's offer than what she can see on the surface?
Comments
No comments posted.

Registered users may leave comments.
Log in or register now!