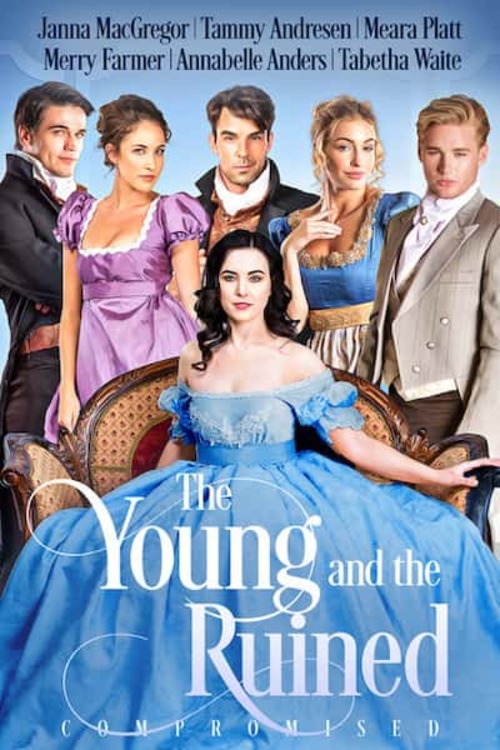 Purchase
The Young and the Ruined: Compromised
Janna MacGregor
Independent
April 2021
On Sale: April 6, 2021
ISBN:
Kindle: B08H7ZF7BF
e-Book
Add to Wish List

These members of the peerage are young, beautiful and full of trouble... the sort that might just get a lord or lady ruined. Don't miss out on this set of six stories of romance, passion and a fair bit of societal difficulties...
Ruined by Design by Janna MacGregor - Nash Talbot's frustration at losing the Royal Society's annual competition for the best new architect is second only to his determination to discover the identity of the elusive newcomer who bested him for the coveted position. Entering as a man, Juliana Northwick never dreamed she'd be named the winner of the competition and must keep her identity a secret while fulfilling her duties. When Juliana's brother throws a house party, Nash is invited and discovers Juliana's true identity when they're locked in a secret room at the house party. Ruined the next morning, married by the next evening, these two rivals must decide if they have the necessary talent to build their most important project together-a happy marriage.
A Rescued Heart by Meara Platt - Annie Whitcomb often helped out her father in his medical practice in their quiet seaside village, and his worst patient without doubt was Major Peter Croft. His surly disposition and abuse of spirits and opium to ease the pain of his battle injuries left him fit company for no one. Yet, when her father unexpectedly passes away, leaving her destitute and with nowhere to turn, it is Peter who comes to her with a startling proposition...marry him.
How to Avoid a Scandal (Or Not) by Merry Farmer - Lady Diana Pickwick has hated John Darrow, Lord Whitlock for years, so why can't she seem to stay away from him? John has had his eye on Diana from the moment they met, and baiting her has been so much fun. But when they are accidentally caught in a compromising position and forced to marry, their games are over. Or have they just begun?
A Captivating Compromise by Tabetha Waite - Younger brothers have become a bane to Miss Garnett Younghusband's existence. As she travels out one night to drag them back from Vauxhall before they destroy the family soap business, she finds that she is the one compromised at the hands of the infamous Lord Rafe Pembroke! Can anything good come from such a brief torrid affair?
Trapped with the Duke by Annabelle Anders - Miss Collette Jones, as the illegitimate daughter of a baron, is determined to become a respectable teacher. The Duke of Bedwell isn't interested in respectable teachers. He's interested in being proper, honorable, and fulfilling his duties to his title. So what is Bedwell to do when honor demands he show more than a little interest in one particular respectable teacher? Why, marry the chit, that's what.
The Wicked White by Tammy Andresen - Lady Isabella White appears to be the perfect daughter to her very strict father, The Viscount of Whitehall. But deep in her heart this pillar of virtue longs to be wicked...just once. And the Earl of Sinclair appears to be perfectly sinful. But Isabella knows well enough... looks can be deceiving.
Comments
No comments posted.

Registered users may leave comments.
Log in or register now!